Bathroom Remodeling in Bethesda, MD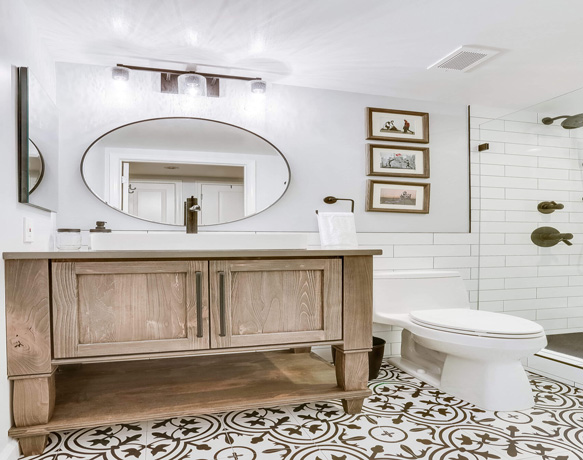 Taking a relaxing bath after a long day is something many people dream of doing. However, if your bathroom's setup does not allow you to do so, it's time for a remodel. The bathroom is where you start and end each day. If it's not fully equipped for your needs, completing simple tasks, such as washing your face or having space to move around in, can be frustrating.
At Bath Plus Kitchen, we offer exceptional bathroom remodeling in Bethesda, MD, to help you enjoy your space to the fullest. Whether you want a jacuzzi bath, heated floors, or new hardware, our team can accommodate a variety of tastes. We work with you every step of the way to ensure everything you want and need is incorporated into the design. Our designers and architects will develop a bathroom you could only dream of!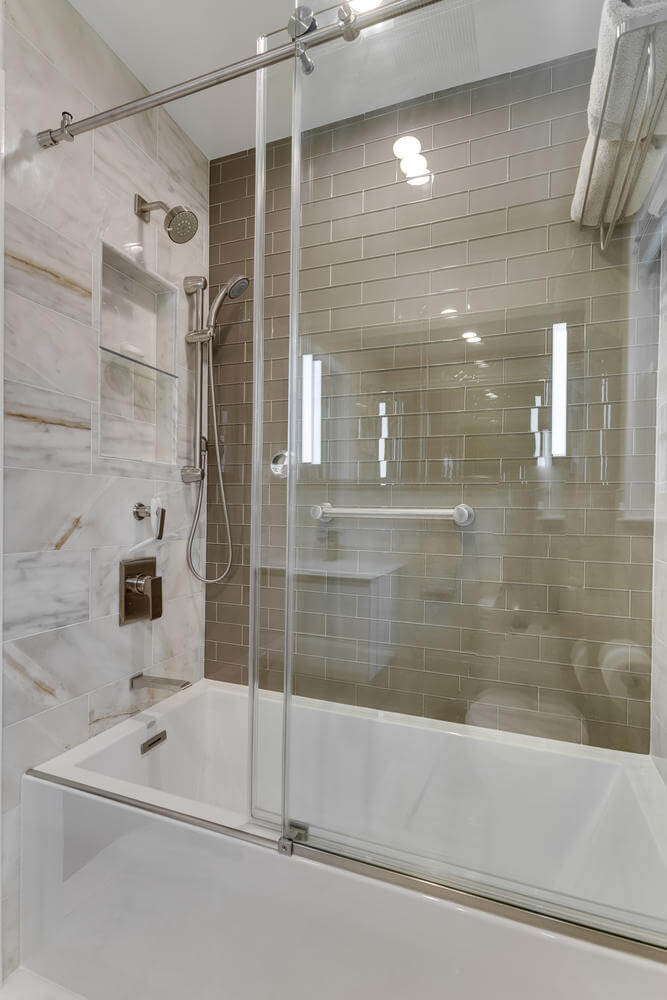 Bathroom Design in Bethesda, MD
Every remodeling project is different, and our team will help you create a customized space that fits all of your family's needs. We'll ensure to include all of your "must-have" requirements, along with any other fine details you want. Our consultation will begin with the following questions:
If you're tired of your outdated cabinets or stained and faded floors, Bath Plus Kitchen can transform any bathroom. Our designers and architects will diligently work to turn your primary bath, hallway bath, or powder room into something incredible.
You deserve to have everything you ever dreamed of, and more, in a new bathroom remodel. When you choose our team, you are placing your trust in skilled professionals. We also offer a bathroom visualizer tool on our website to help you select styles and materials you like.
Bathroom Remodeling Services in Bethesda, MD
There's nothing more relaxing than standing under a waterfall shower or stretching out in a giant bubble bath. When you require bathroom remodeling services, our team is here to help. All of our remodelers are experienced in installing luxury features, from heated towel racks to double vanities. We will help you transform your bathroom with the following upgrades.
Your bathroom's flooring is one of the most critical parts. Not only does it need to look beautiful, but it should be durable as well. When moisture accumulates, you want flooring that can hold up against all of the spills and steam. We offer a variety of bathroom-friendly tiles, such as porcelain, marble, ceramic, granite, pebble floors, and more.
Your bathroom countertops in Bethesda, MD, are also an essential component of the remodeling project. Whether you have children who can barely reach the sink or do your makeup in the bathroom every morning, you need countertops that can handle everything your lifestyle requires. Our team can install a variety of materials, such as granite, quartz, marble, and tile. These materials come in a variety of colors to match your dream design to a T.
You want to ensure the walls in your bathroom are protected, as water and moisture from your shower or bath can cause major structural damage if undetected. At Bath Plus Kitchen, we can install stunning wall features to enhance the look of your space while protecting the structural integrity of your property. From wainscoting to beadboard, we offer a variety of options to transform your walls.
Showers, Baths, and Jacuzzis
Your shower or tub is the central part of your bathroom. When it comes to a bathroom remodel in Bethesda, MD, your options are endless. We can install many different options, including rain heads, steam showers, couples tubs, accessible tubs, and more. We can also install frameless shower enclosures, grab bars, and any other features you can think of!
As a remodeling company, we also help homeowners select decorative features, such as lighting and hardware, for their bathroom. We'll even install custom features to help create a space that is entirely your own. Whether you want custom tiling or a specific accessory for your sink or shower, we can help you develop the perfect bathroom for your needs.
The Best Bathroom Remodeling in Bethesda, MD
We have the dedication and experience necessary to complete your remodel to your exact specifications. Our team of professionals will provide incredible results, no matter the size or shape of your bathroom. Whether it's simple or complex, we will get the job done within your exact specifications. If there's anything you are not satisfied with, we will do any repairs or adjustments necessary to ensure you are 100% happy.
Contact Bath Plus Kitchen today to take your bathroom design in Bethesda, MD, to the next level. Call (703) 755-0479 to schedule a consultation.