Gorgeous Custom Kitchen Cabinets for your home in Alexandria, VA & Beyond!​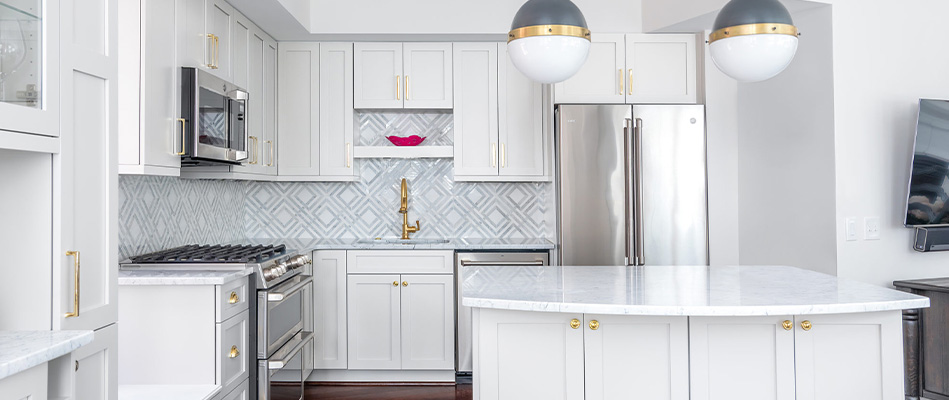 Adelphi Kitchens & Cabinetry – Robesonia, PA

Lead times: 12 to 14 weeks
Full custom line offering framed and frameless cabinetry
Frameless lines:

Ridgewood: all plywood, custom, 70+ door styles
Woodbrier: particle board, custom, 70+ door styles
Brier Select: budget friendly 22.5% less than Ridgewood. Only 3 door styles available, limited species and finishes
Fabuwood

Stock cabinet line with more to offer.
Full overlay door with mortise & tenon construction and applied molding detail.
Full overlay MDF reversed center panel door with mortise & tenon construction
Traditional overlay door with mortise & tenon construction

North Point Cabinetry – cabinets stocked in York, PA

Premier Collection

Full-overlay
Soft-close doors and drawers
Sturdy all-wood cabinets
Premium dovetail drawer boxes

Essentials Collection

Partial-overlay doors
Shaker door style
Sturdy all-wood cabinets
Premium dovetail drawer boxes
Your Gorgeous Kitchen is On the Way!
Cabinets are at the heart and soul of everything we do.
As a result, we offer the best selection of quality kitchen cabinets in Alexandria, VA.
So, not only do we offer fully custom cabinets that do everything you dream of, we also offer semi-custom cabinet lines. This saves you money and allows you to have the unique and functional kitchen you want.
Our design pros have decades of experience and know exactly how to make your vision come alive. We are with you every step of the way, from design plans and renderings to building and renovations.
We even help you put the finishing touches on your space!!
Kitchen cabinets may seem unimportant, but we assure you they are the building blocks of a beautiful design. You are going to love your new kitchen!!
Contact us online or call us at 703-755-0479 to see our gorgeous showroom in Old Town Alexandria, VA!
Plain & Fancy Custom Cabinetry​
If you want the best quality kitchen cabinets in Alexandria VA, look no further than Plain & Fancy Cabinets.!
The Plain & Fancy line is the ultimate in luxury custom kitchen cabinets. With the perfect blend of innovation and craftsmanship, their quality, fit, and finish are unparalleled.!
The Plain & Fancy cabinet line is one of our top sellers and it is easy to see why!
For instance, every cabinet is handmade to be beautiful pieces perfect for your home.
The Plain & Fancy cabinet line is a luxury kitchen cabinet line. They are available in multiple beautiful styles.
In other words, Plain & Fancy is a high-end cabinet line to create the gorgeous custom kitchen of your dreams.
First, let's take a look at some of the features of this line of kitchen cabinets available to you in Alexandria, VA and other areas:
Sanded by Hand. As a result, this creates a very smooth finish ready for paint or stain and adds to the elegance of your kitchen.
2 coats of primer & 2 coats of paint. Therefore, you'll have a thick and even layers which will hold up for many years to come.
Cabinets joined together. This creates a seamless look and makes it easier to install cabinets for your kitchen remodel.
Walnut cabinets are available if you prefer stained instead of painted cabinets.
Lighting inside and routed into the cabinets.
Motorized doors and drawers that open and close with a touch or push of a button.
Fully custom down to 1/16th of an inch.
Six of the most popular Plain & Fancy cabinet door styles are Apollo, Contempo, Quaker, Shaker, Vogue, and Vintage.
Made in North America, NorthPoint Cabinetry™ by Hardware Resources features a wide array of QuickBuild™ cabinet designs, providing value yet with a quality, custom look. Cabinets are in-stock, shipping quickly from our strategically located warehouses across the U.S.
NorthPoint Cabinetry offers two popular, high-quality cabinet collections.
Premier cabinet line features elegant upgrades like soft-close doors and drawers.
Essentials cabinets deliver on style at an impressive value.
Dura Supreme Custom Cabinetry​
Dura Supreme has been making gorgeous kitchen cabinets for over 50 years. They are a national brand but remain a family-run business. They are fully committed to quality and value.
This is a very popular brand and one of the largest cabinet companies in the U.S. Their growth is due in part to great customer service and beautifully finished cabinets. They've achieved success by continually investing in improving manufacturing, ordering processes, and forecasting design trends.
To improve these, Dura Supreme hires some of the smartest people in robotics and systems engineering. Also, Dura Supreme has their own line of 'curated colors'. These are paint finishes which will be trending for many years. In sum, Dura Supreme offers complete packages for kitchen designers and homeowners alike.
They won top honors at the Wooden Globe awards, and won "best of Houzz" six years in a row!
Dura Supreme offers styles to fit any décor and almost unlimited custom options. As a result, you find what you need for transforming any kitchen into something amazing.
The Dura Supreme custom cabinet line is a mid-range line with many options.
When looking to create custom kitchen cabinets in Alexandria, VA, and surrounding areas, you might want options. But may not need all the additional luxury Plain & Fancy cabinetry has to offer.
In that case, Dura Supreme still offers many custom features but at a lower price point.
Above all, custom cabinets at the right price mean you get the kitchen of your dreams!
Now, let's see some features of the Dura Supreme custom cabinets:
Custom paint colors. This means you get to choose from a large selection of colors to match your style.
Choose between frameless full-access cabinets, framed full-overlay cabinets, and inset cabinets. As a result, get the exact look you want in your kitchen.
Save space and remove seams on inset cabinets by getting combo cabinets. This means building two or more cabinets as one cabinet piece. For example, take a close look at the beautiful photos of this kitchen.
Wood type choices include cherry, maple, knotty alder, red oak, and even quarter-sawn red oak, hickory, or rustic.
Choose from glazes, heritage paint, weathered finishes, an heirloom, and patina. Therefore, you have the finish you want.
Fully custom down to 1/16th of an inch. Cabinets designed to perfectly fit your home, guaranteed.
Adelphi Kitchen & Cabinetry
Adelphi has a nationwide network of nearly 250 dealers, some who have been customers since the late 1950s. With more than 70 years of experience producing fine cabinetry, the Robesonia factory produces sixty kitchens a week with a workforce of around 120 people. Throughout all of its history, Adelphi Kitchens & Cabinetry has remained family-owned and operated. They remain on the cutting edge of new finishes, trends, and designs truly unique in today's world. While technology upgrades and expands, Adelphi strives to continue producing kitchens and baths the old-fashioned way: one cabinet at a time.
Adelphi manufactures two types of cabinets: face-frame (also simply called "framed") and frameless full overlay (usually called "frameless", "32-millimeter", or "European-style").
Framed cabinets are available with four different door styles: standard offset, marginal overlay, full overlay, and two types of inset—beaded and flush. All framed cabinets are built using premium fully solid-wood stock and plywood.
Adelphi builds frameless cabinetry using two different materials: plywood stock, called Ridgewood; or engineered wood, collectively referred to as 'the Briers': Woodbrier, Whitebrier, and Brier Select. There are also several specialty door programs available exclusively in frameless styles. Because most measurements for the frameless lines are taken in metric, they are sometimes referred to as European-style or 32mm cabinetry.
Cabinets Beyond The Kitchen: Bath Cabinetry, Built-ins, Closets & More​
Did you know Bath Plus Kitchen Design Remodel is so much more than just kitchens and bathrooms?
Yes, we're known for providing great kitchen cabinets in Alexandria, VA. But we also do custom cabinets in every part of the house!
For instance, we create custom built-ins, freestanding cabinet furniture such as a hutch or credenza, anything you think of!
Custom cabinets fit your life in every area of your home. For example, a TV stand!
That is to say, our designers love creating the perfect home for you. With all of the custom options we have available, we have you covered — or cabinet-ed!