Bathroom Design & Remodeling in VA, DC, & MD
Your bathroom is a place where you likely begin and end each day. From brushing your teeth and tidying your appearance to taking a warm bath before bed, your bathroom has likely become one of the most used rooms in your home—which is why it's important that it's tailored to your every need. If you've grown tired of your bathroom's impractical layout and outdated aesthetics, a remodel is an ideal solution for you.
Bath Plus Kitchen Design Remodel is the design and remodeling company that homeowners throughout Northern Virginia and the DC Metro area trust.
Our team understands that no two jobs are alike. Every home is different, as are the home's residents, so the bathroom must be customized with your family in mind. With our decades of experience, we work with your style and your budget to build you the bathroom you've been dreaming of. Whether you're looking to renovate your primary bathroom, a 5′ x 7′ bathroom, or the downstairs powder rooms, our skilled designers and craftsmen will transform your space into a masterpiece.
Bathroom Remodel Services
Designing a new bathroom is like piecing together a puzzle. In order to create the picture perfect bathroom, it takes time, dedication, and the right team to piece together all the different elements that make up your dream space. At Bath Plus Kitchen Design Remodel, our team specializes in floor to ceiling bathroom remodels and our services include but are not limited to:
Depending on your preferences, our team can install ceramic, porcelain, marble, granite, travertine, mosaics, pebble shower floors, and more.
Granite, marble, quartz, and tile are some of the many options you will get to choose from for your bathroom's countertops. With these options, you can also choose from a variety of colors that help to complete the look.
Do you love the look of wainscoting? Maybe you prefer the clean appearance of beadboard? Allow us to install beautiful wall features that will help to transform your one-of-a-kind space.
Some might say the most important element of your bathroom is the shower or tub—but how do you determine what type you want? At Bath Plus Kitchen Design Remodel, we install a wide variety of tubs, and showers, including: rain heads, steam showers, couples tubs, easy-access tubs, and more! You can add extra features such as a frameless shower enclosure, barrier-free showers, and grab bars to customize the space even more.
As a remodeling company, we also help homeowners in Northern Virginia decide on bathroom features such as cabinets, lighting, flooring, and fixtures. We can even install extra features such as heated floors and custom tiling to make the space your own.
When you choose to work with Bath Plus Kitchen Design Remodel, you can rest assured knowing we only work with the most reputable vendors to guarantee the highest quality in our bathroom remodels. Our vendors include The Tile Shop, Ferguson, Next Day Cabinets, MSI International, Forever mark, Wolf Designer, Signature Hardware, Adelphi, Kohler, Grohe, Rohl, Panasonic, and more.
Want to learn more about the bathroom remodeling services we offer to homeowners throughout Washington, DC, Bethesda, MD and Northern Virginia, including Arlington, Alexandria, Falls Church, McLean, Springfield & more? Contact us today!
Have you been scouring Pinterest for images of luxurious bathrooms? Do you have a stack of magazines with the corners turned down? Come to the team at Bath Plus Kitchen Design Remodel with all your ideas, and we will help you piece them together to formulate your dream bathroom. In order to get a clear picture of the look and feel you want to create, we will start by asking you a few questions :
Not every remodel is the same. In fact, most are quite different because everyone has a unique vision for their bathroom remodel. That's why at Bath Plus Kitchen Design Remodel, we work closely with you to get a good feel for what you want out of your Northern Virginia home's bathroom. We've transformed outdated bathrooms to into beautiful spaces—from modern to traditional, our experience will help you decide what you love most.
We also have experience working with a wide variety of budgets. No matter if your project is big or small, we give you our full and undivided attention. Our team understands how stressful remodels can be and we work hard to provide you with a stress-free experience.
Bath Plus Kitchen Design Remodel is the company to choose for your Northern Virginia bathroom remodel— Schedule a consultation!
Our Bathroom Remodeling Process
As a homeowner, you need an experienced team you can count on to complete your bathroom remodeling in an efficient manner. We seamlessly guide you through every step of the remodeling process so you never have to feel overwhelmed with your bathroom remodel. When you work with Bath Plus Kitchen Design Remodel, you can expect the process to follow the steps listed below :
Still have questions about your bathroom remodel? Click here for more detailed information on the remodeling process.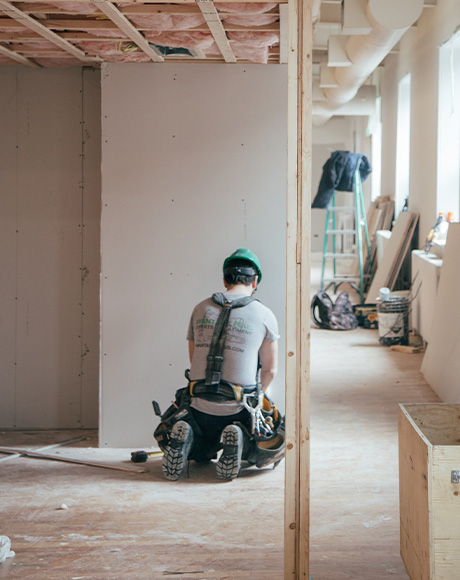 Washington, DC, Bethesda, MD, Northern Virginia Bathroom Remodeling
We have decades of experience when it comes to bathroom remodeling and because of that we will always provide you with a reliable remodel so that you can get astounding results at all times. We have a great team of professionals to get the job done. It doesn't matter how simple or hard your bathroom remodel project might be, Bath Plus Kitchen Design Remodel is here to help you. From wainscoting to beadboard, painting, and more, we bring you all the services that you might need in order to change the looks and appeal of your bathroom.