Custom Cabinets in Palisades, DC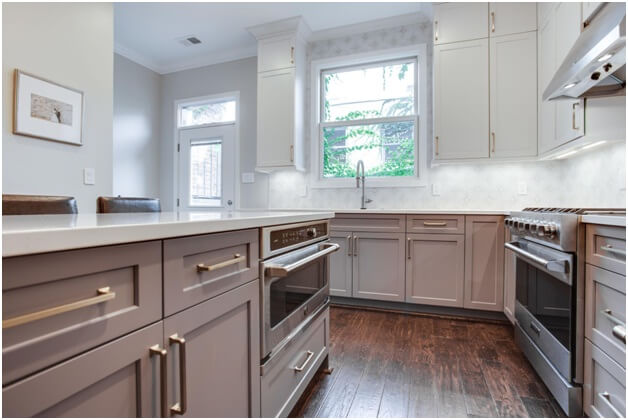 For many people, the kitchen is the most important room in the house. It's also one of the places you spend the most amount of time. Whether your cooking meals, sitting down or dinner, or just gathering with friends and family, you spend hours in the kitchen each week. The memories made in the kitchen are also some of the most important, like during birthdays, holidays, or seemingly mundane moments.
Out of everything in your kitchen, the one thing most people will notice first is your cabinets. For something so prominent in your kitchen, your cabinets should be something that you absolutely love. However, many people have cabinets that aren't right for them. At Bath Plus Kitchen, all of our clients come in looking for the best quality materials and custom made designs. If you're looking for new custom cabinets in Palisades, we can help you create something perfect to add to your home.
If you want something that's perfectly made for your kitchen, custom cabinets are the only way to go. This ensures you'll get exactly what you want and something that will fit your kitchen just right. Custom cabinets might seem like a dream, but they're easily attainable when you work with Bath Plus Kitchen. With custom cabinetry, there countless options for you to choose from. Browsing styles you might be interested in for your home is made easier when you use our kitchen visualizer.
By providing custom cabinetry, we can help you create something that works with your unique tastes. Traditional, modern, and transitional are the most popular styles that many people choose for their cabinets. While traditional is typically very ornate, modern is sleek and simple. A transitional style will give you the best of both. These might seem very different, but you can't go wrong with any. Any cabinets you get from Bath Plus Kitchen are sure to last for years to come because of our timeless designs and durability.
Custom Cabinet Brands in Palisades, DC
We work with several different custom cabinetry brands to meet the needs of all our clients. The brands we work with use only the best materials, so you can count on long-lasting cabinets. These are nationwide as well as local brands, spanning across multiple different price points. No matter the size of your kitchen, the style you want, or your budget, you can find something amazing with one of these brands.
Choosing Your Cabinets in Burleith, DC
Selecting new cabinets is an exciting process, but the number of choices available to you can be overwhelming. Our team of designers at Bath Plus Kitchen will help you understand all the different styles so that you can make the most informed decision.
Personalization in the kitchen begins with your cabinetry. Our experienced designers work with you one-on-one to develop the perfect custom cabinets in Burleith, DC. By building your cabinets to your exact specifications, you will have peace of mind that your kitchen caters to your lifestyle. Our custom cabinetry is available in many different finishes and colors, and come with a variety of storage options. When you want the ultimate in durability, design, and fit, look no further than our custom options.
Adelphi Kitchen & Cabinetry
Adelphi has a nationwide network of nearly 250 dealers, some who have been customers since the late 1950s. With more than 70 years of experience producing fine cabinetry, the Robesonia factory produces sixty kitchens a week with a workforce of around 120 people. Throughout all of its history, Adelphi Kitchens & Cabinetry has remained family-owned and operated. They remain on the cutting edge of new finishes, trends, and designs truly unique in today's world. While technology upgrades and expands, Adelphi strives to continue producing kitchens and baths the old-fashioned way: one cabinet at a time.
Full custom line
Premium offering framed and frameless cabinetry
For some of the most luxurious cabinets on the market, Plain & Fancy is the brand to go with. These cabinets are all hand-crafted to ensure that everything is made just for you.
With Plain & Fancy, you can get some of the following:
Fully customizable interior storage.
Customize your cabinets down to 1/16th of an inch.
Get extra additions to your cabinets, like built-in LED lighting.
Cabinets made just for you
The kitchen is the heart of your home, so you deserve to have kitchen cabinets that you love. When you're having new cabinets installed, you should be able to tell they were made with care. Custom cabinets are the only way for you to get something that truly represents your home and your style. With Bath Plus Kitchen, you won't have to worry about having to settle for cabinetry that is only slightly what you want. Our expert designers can work with you to create something unique that will become the focal point of your kitchen.
Everyone should have kitchen cabinets that work for their lifestyle. Contact us for a consultation to get started.