Kitchen Remodeling in Alexandria, VA - A Stunning Kitchen Awaits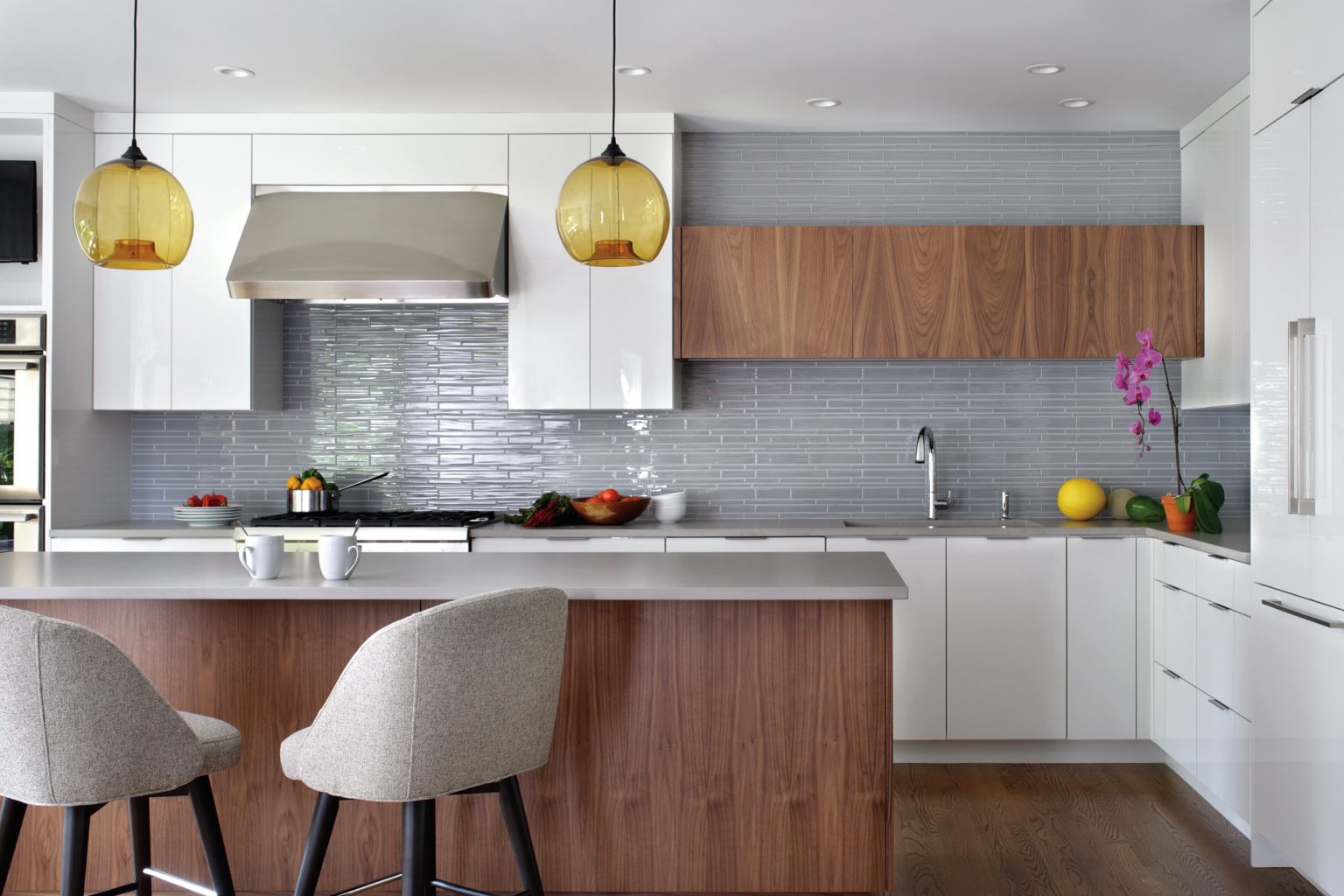 If your kitchen feels small or outdated, Bath Plus Kitchen can provide a gorgeous kitchen remodel in Alexandria, VA, that is suited to your needs. Out of all the rooms in your home, the kitchen is one of the most frequently used and highly trafficked. It is a gathering place where the family hangs out, grabs a snack, talks about their day, and comes together over a delicious meal.
As such an incredible place, you want to ensure it is up to par with all of your family's needs. Get inspired and start your new remodeling project today!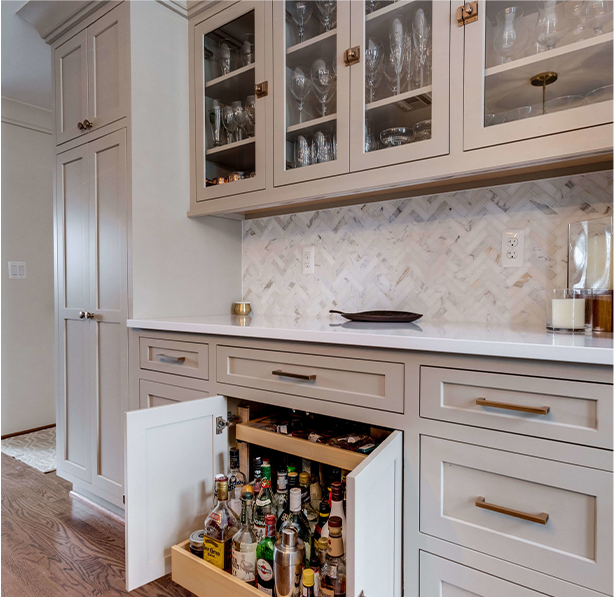 Get the Best Kitchen Remodel in Alexandria, VA
Developing a new design for your kitchen can be challenging. Choosing the style, design, and determining a starting point can be hard decisions. That is where we come in. We have a team of design professionals with many years of experience creating brand new kitchens from the ground up. We take all of your needs and wants to create a kitchen made for your home. Our team will help you choose the following:
The designers at Bath Plus Kitchen start with listening to your overall vision for the space. We then provide plans and renderings, help you select the right materials, and offer interior design and consulting services. We do everything it takes to create a kitchen in Alexandria, VA, that is perfect for your family.
Cabinets, Hardware, & Under-Cabinet Lighting
We offer three cabinetry lines to create the kitchen you have always dreamed of. When it comes to luxury cabinets in Alexandria, VA, we provide the following brands:
These high-end and award winning lines come together for a seamless look in your kitchen. There are many wood options to choose from, such as cherry, maple, knotty alder, red oak, hickory, and rustic.
Bath Plus Kitchen also offers a variety of hardware and under-cabinet lighting options to customize your space to your exact preferences. Whether you specifically want brushed gold hardware or are looking for a cost-effective way to add additional lighting to your cooking space, we can do it all!
Countertop Installation in Alexandria, VA
As one of the most-used features in any kitchen, selecting the right countertop material for your remodel is essential. At our company, we offer a beautiful options such as quartz, granite, marble, limestone, soapstone, and corian. Let our design specialists know what your cooking and lifestyle preferences are, and we will help select the perfect material to withstand all of the chopping, spills, and more.
If you want to add a more personal touch to your kitchen, backsplash tiles are a great way to incorporate a pop of color or texture to your design. Our kitchen visualizer tool allows you to select a variety of backsplash options to see in real-time how your design will turn out. Whether you to match the countertops or want to incorporate an ornate pattern, we will help every element of your vision come to life.
Like your countertops, you also want to ensure your flooring choice is able to withstand daily life within your kitchen. Whether you have children, pets with the morning zoomies, or tend to be accident prone while cooking, we have the flooring options for you. With a variety of wood, tile, and laminate options, we will provide a kitchen floor that is strong and stunning.
We offer a variety of textures, designs, and colors to help your kitchen feel like a space created just for you. From timeless neutrals to your ultimate power color, our team will provide the perfect mix of everything you love for your kitchen remodel. Be sure to check out our kitchen design visualizer to play around with all of your ideas!
Styles for Your Kitchen in Alexandria, VA
We do not stop with just our exceptional remodeling services. Bath Plus Kitchen will also help you develop the overall design and style of your kitchen remodel in Alexandria, VA. The style you choose sets the tone for the entire space. Once you have decided on the style you like, your kitchen design and custom elements are pieced together to bring your vision to life.
There are many different styles, but the three most popular are traditional, modern, and transitional. If you are not sure which style you want in your home, our friendly team will help you determine the best suited for your preferences.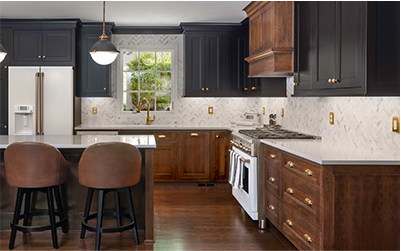 Styles for Your Kitchen in Alexandria, VA
A classic, more traditional kitchen is known for its use of natural materials, muted color palettes, and open shelving. This type of kitchen gives off a rustic or vintage feel with ornate decor, drawer pulls, and crown molding. This look is timeless, welcome, and homey and provides that perfect, warm feeling during holiday gatherings.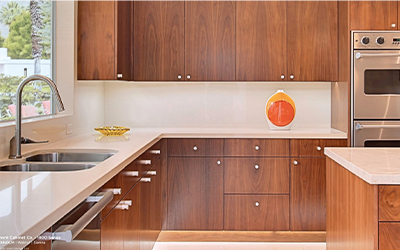 Styles for Your Kitchen in Alexandria, VA
Modern kitchens are defined by clean lines, glass or metal materials, and stainless steel appliances. They do not feature detailed or curved elements and are often monochromatic. The design generally sticks to one or two colors, including those incorporated in the countertops and cabinets. If you consider yourself a minimalist, this is the style for you!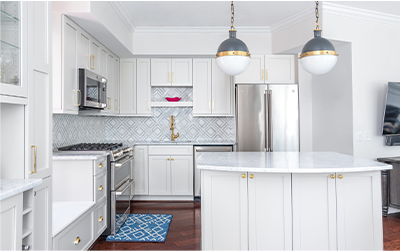 Styles for Your Kitchen in Alexandria, VA
If you are still unsure on which style fits you best, or you like a mixture of the two, a transitional kitchen could be the right choice. This style combines elements of classic and modern styles and are incredibly popular due to the freedom to mix textures and styles. Transitional kitchens can feature traditional wood cabinets with modern, sleek lighting fixtures and appliances. It is a rule-bending style that allows you to create a truly one-of-a-kind kitchen.
Design Services for Your Kitchen in Alexandria, VA
One area of kitchen design and remodeling is not knowing what to put around the space after it is complete. It can be easy to get overwhelmed with options, so Bath Plus Kitchen offers interior design and consulting services to help finalize your remodeled space
Recreating any area of your home is a big deal, and we want to keep the entire process stress free as we perform your kitchen remodel in Alexandria, VA. Our experienced team will help you from start to finish.
From providing plans and digital renderings to helping you find the perfect decorative accents, you can create the kitchen you have always dreamed of with design experts by your side.
Your kitchen is the heart of your home and it should reflect your family's personalities. We make it easy to work with trained professionals and top-of-the-line materials to bring your dream to life.
A Stunning Kitchen Awaits!
Your next project for kitchen remodeling in Alexandria, VA, starts here! Contact us online or call us at (703) 755-0479 to schedule your remodeling and design services today.