Kitchen Remodeling in Georgetown, DC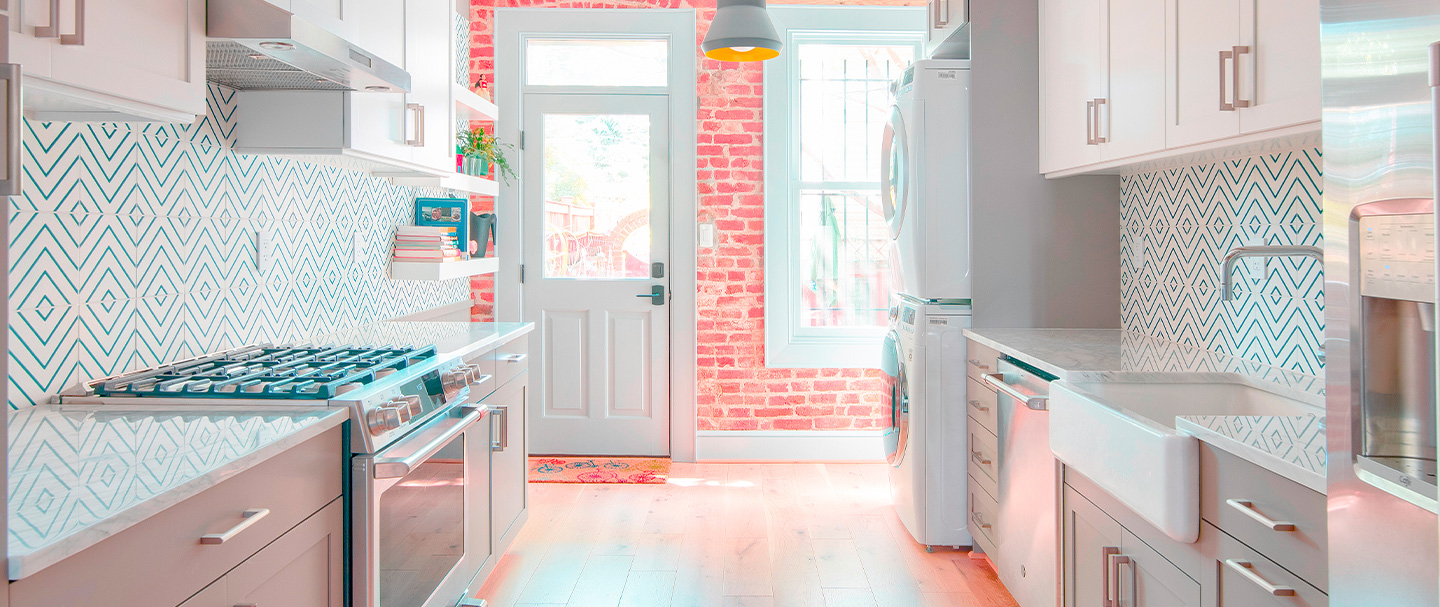 Everyone has that dream kitchen in mind where the layout, design, and functionality are just what you need. However, planning a kitchen remodel can be overwhelming. You want to ensure you have a company on your side that specializes in kitchen remodels so that the process can be easy and stress-free. When it's time to start your kitchen remodel in Georgetown, DC, Bath Plus Kitchen is the company you need.
No matter what you want your new kitchen to look like, our experts will work with you to perfect every detail. Whether you need a lot of entertaining space or want to install a breakfast nook, an update to your kitchen is precisely what your home needs.
Kitchen Remodeling Services in Georgetown, DC
Bath Plus Kitchen will handle everything your next remodeling project needs. From custom cabinets to durable flooring and countertops, working with us will result in a kitchen you can be proud to show off. We believe in total customization so you can have a kitchen you will love for years to come.
Your kitchen cabinets in Georgetown, DC, are an essential part of any remodeling project. Having the right amount of cabinet space in your kitchen can drastically improve your organization and storage. Our team can install plywood cabinets with many different options, such as framed, frameless, inset, full overlay doors, crown moldings, and soft-close doors and drawers. We also offer cabinets from a variety of high-class brands, such as Dura Supreme Cabinetry, Plain & Fancy Cabinetry, and Adelphi Kitchen & Cabinetry.
Just like cabinets, the countertops you choose for your remodeling project can make or break the overall design. You not only want to select a material that matches your tastes, but you want to ensure it can endure everything you throw at it. Whether you love to prep cooking show-worthy meals or your children love to help along the way, our selections of marble, granite, and quartz can withstand it all!
Kitchen flooring can quickly become stained, dirty, and worn if you do not have the correct type installed for your lifestyle. At Bath Plus Kitchen, we will help you select the perfect kitchen floors to withstand all of the drops, scrapes, children, and pets in your household. Not only can we install new flooring, but our team will also refinish your existing wood floors. We will work with your budget and needs to ensure you receive the best kitchen design in Georgetown, DC.
The right lighting is essential to your kitchen. Not only will it help the space feel more comfortable, but proper lighting can help with food prep and cooking too. Whether you want pendant lights, chandeliers, recessed, or under-cabinet lighting, our team can provide it all. Under-cabinet lighting is a great way to increase the amount of light in your kitchen without completely rearranging your existing fixtures.
On top of the primary parts of a kitchen remodel in Georgetown, DC, Bath Plus Kitchen also assists with the smaller details. Our experienced team will help you select and replace fixtures, knobs, and will even install any new appliances you have purchased for the remodel. When we're done, you will have a fully functional kitchen that is ready to use for dinnertime!
Kitchen Design in Georgetown, DC
Whether you are interested in traditional or modern kitchen design, our designers and architects will develop a kitchen that fits all of your needs. Our team works on projects big and small and always gives our full attention to your needs and specifications.
With Bath Plus Kitchen, you will be left with a kitchen design in Georgetown, DC, that you are 100% satisfied with. If you are not happy with any of our work, we will come in and complete any necessary maintenance or repairs to resolve the issue. When you work with our team, you can expect the following from our process:
Consultation & Design Agreement
During your initial consultation and design agreement, we will sit down and discuss all of your kitchen remodeling ideas in Georgetown, DC. Our team will also walk through and inspect your existing kitchen to determine what needs the most attention and to discuss your budget. Finally, we will develop and sign a design agreement with you.
After we have your design in mind, our team will start preparing the plans for your remodel. These plans will also include photo-realistic renderings that we will share with you before starting your project. Our designers and architects will make any adjustments necessary to ensure you have the perfect design planned for your kitchen.
Materials, Tradesmen, & Numbers
Once your plans are finalized, we will begin selecting the materials you want to use for your remodel. We will share our list of showrooms with you, so you can schedule appointments to view and choose the materials. You can also utilize our kitchen visualizer tool. Our tradesmen will then review the scope of work required in your kitchen, and we'll work through the budget, contact, terms, and conditions with you at that time.
After the contract is signed, our sales designer, job supervisor, specialty tradesmen, architects, and anyone else involved will meet to discuss the plans. This will ensure we are all on the same page of what your kitchen needs so we can accurately and efficiently complete the job.
Project Launch & Completion
Finally, we can start your kitchen remodel in Georgetown, DC! We will conduct any necessary prep work and then get to work on your kitchen. We will also prepare any plumbing, electrical, or carpentry work required for the job, and then install all of your selected materials. We will keep you informed of everything being done throughout the entire process, so you know exactly where we are at with your remodel. Once we are finished and you approve of the work, your new kitchen is ready to be enjoyed.
The Best Kitchen Remodeling Services in Georgetown, DC
Bath Plus Kitchen has decades of experience, making us the leading kitchen remodeler in Georgetown, DC. Our vast experience within the industry allows us to work with any vision or budget. We also have access to many different manufacturers and industry professionals to secure the highest-quality products at prices you can afford.
For a kitchen remodel that you will love for years, we are the remodeling company in Georgetown, DC, that you need. Call Bath Plus Kitchen today at 703-755-0479, to schedule a consultation with our team. The kitchen of your dreams is right around the corner!