Kitchen Remodeling in Kent, DC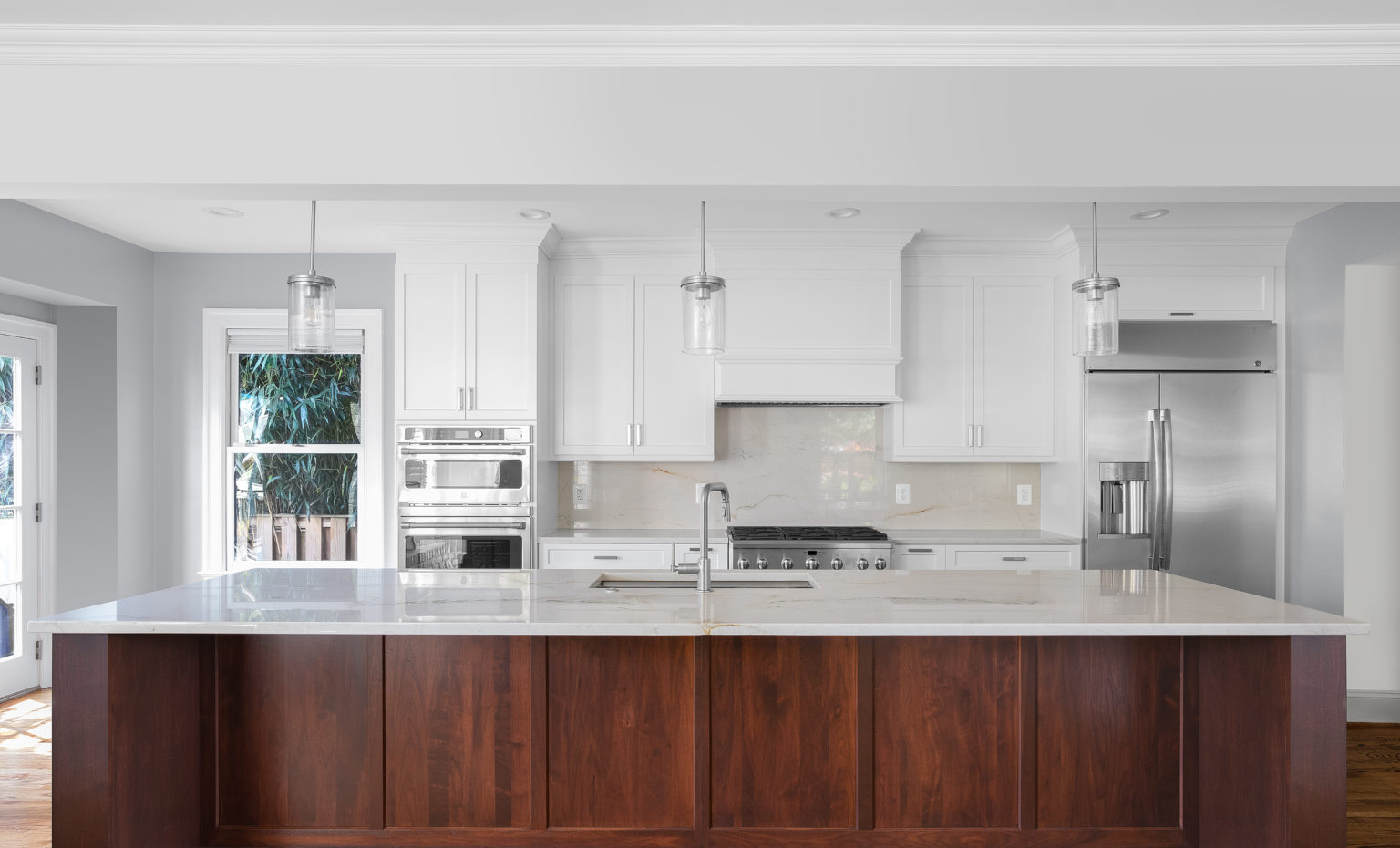 Your kitchen is the central place where your family meets for meals, to discuss their day, do homework, and so on. However, if the design of your kitchen does not meet your needs or expectations, it may not be as well utilized as it could be. It may be time to start planning a kitchen remodel in Kent, DC.
Finally having your kitchen remodeled should be an exciting time as a homeowner, not something that causes you stress. Bath Plus Kitchen is a full-service design and remodeling firm that will work with you every step of the way. From planning and drafting to interior decor, our team puts their best foot forward for every aspect of your project.
Kitchen Design in Kent, DC
A good kitchen remodeling contractor in Kent, DC, will provide service and guidance every step of the way. The kitchen is where your family creates memories, and our team is dedicated to building a space that will be memorable for a lifetime.
Some people know what they want when they call on us for service. They know the exact material they want their cabinets and the specific colors for their overall design. Others, however, do not have such particular ideas in mind. When it comes to their kitchen, people generally have a greater sense of what they dislike in their current design.
Our team will not only deliver high-quality craftsmanship but a design that you are 100% satisfied with. We will help you determine which cabinets and appliances to choose, what layout your lifestyle needs, and how to choose the perfect accents for your finished design.
Kitchen Remodeling Process in Kent, DC
Every kitchen remodeling project in Kent, DC, begins with the design. As the first step in the process, our professionals will walk through your existing space to determine room size, ceiling height, and surrounding rooms in the home. We will also ask why you want to remodel the area to begin with, so we have a good idea of what you are looking for with the new design.
Understanding the pain points of your kitchen is the most crucial part of the design process. This will ensure we work together to create a plan that eliminates your least favorite features and replaces them with cabinets, drawers, or an entire layout you are happy with. No matter how you want the final result to look, our team at Bath Plus Kitchen can handle the task. Below is what to expect from our remodeling process:
Kitchen Remodeling Services in Kent, DC
When working with your designer to create a space suitable for you and your family, you may want to jump right ahead to selecting your materials, cabinets, and appliances. However, the first step should be ensuring the overall layout of your space meets your needs and vision. At Bath Plus Kitchen, our kitchen designers in Kent, DC, will help you develop a flow to your area for maximum functionality.
Consider what you need to utilize your kitchen to the fullest. Is your oven across the room from your open counter space or is there an island or jutting countertop that gets in the way of everything? Our team will help you redesign your area to ensure each part of the kitchen is located in an ideal layout for your lifestyle. With us by your side, you will no longer need to run from one side to the other to complete a simple task.
A crowded kitchen can be incredibly inconvenient, especially when you're trying to get holiday or special event meals in and out of the oven. Our team can help widen the walkways so while your guests linger around the wine bottles or coffee pot, you can still get past with the roast. If you have helpers in the kitchen, wider walkways will ensure everyone can navigate the space with ease.
If you have children in the household, their safety is your top priority. If your stove is currently in a high-traffic area of the kitchen, you may be worried about spills and hot pans getting knocked or grabbed. We will help you design your kitchen remodel so that cooktops and other safety hazards are out of the way and out of reach.
Focal points are a vital part of any room, and the kitchen is no exception! Your focal point does not have to be solely decorative either. You can easily bring the focus to the center of the room with an island where friends and family can congregate. This is also a great way to include an entertaining space in your kitchen that keeps everyone out of your cooking path.
Kitchen Cabinets in Kent, DC
When it comes to your kitchen cabinets in Kent, DC, Bath Plus Kitchen offers a variety of custom and luxury options for you to choose, including:
Alongside our beautiful luxury brands, we also offer custom cabinetry options for you. Our team will work with you to build the perfect cabinets for your kitchen design — from the materials to the hardware! We can also install a variety of additional features, such as under-cabinet lighting to improve the brightness in your cooking space.
Our team of professionals will also assist with the design and installation of many other kitchen features, including:
Countertops
Flooring
Backsplash Tiles
Textures & Color Schemes
We also recommend utilizing our kitchen visualizer tool to help select the visual elements you like for your space without committing.
Your Kitchen Remodel in Kent, DC
The most important and exciting part of kitchen remodeling in Kent, DC, is that it is your project. Though your budget and room size may dictate some aspects of the project, the outcome is a one-of-a-kind kitchen design and a space you can be proud of.
Work with Bath Plus Kitchen today to turn your ideas and inspirations into reality. Contact us online or call us at 703-755-0479,to schedule a consultation with our team.