Washington, DC Kitchen Remodel - Catch a glimpse of the possibilities
We invite you to take a look at a recently completed, timeless kitchen remodel in an early twentieth century townhouse located in SE Washington, DC. Our clients for this project, Casey and Clay, were great to work with, and the end result of our collaboration is a very stylish and more functional kitchen that promises years of enjoyment and memory-making. We all put in a lot of hard work making this happen, and the end result left Casey, Clay, and the rest of our team quite satisfied and happy.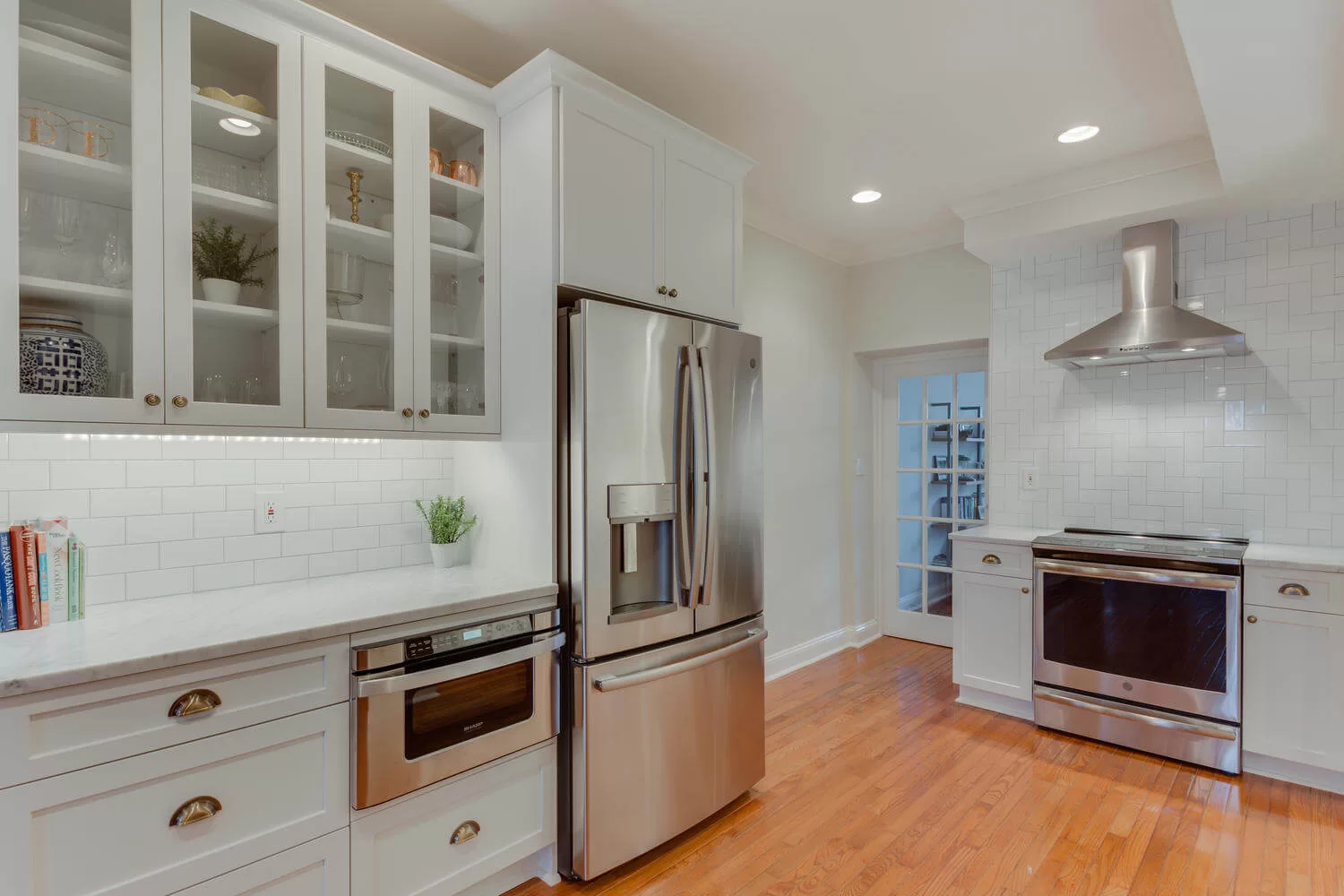 The biggest challenge with this project was the fact that the existing kitchen was cramped. Sometime in the last 30 years, an addition had been built onto this home. The result was an add-on kitchen that was very small due to two large posts from the original exterior wall that had been left in place when the addition was built. Besides being structurally integral, one of the two posts contained the main soil stack—this made it very costly to remove the posts, which explains why they had been left in place until now. Because of the cost, Casey and Clay decided not to remove them, as their plan was to live in the home for only another five to eight years. The problem created by the posts was obvious—hardly any room for cabinets, and a sink and range practically on top of each other.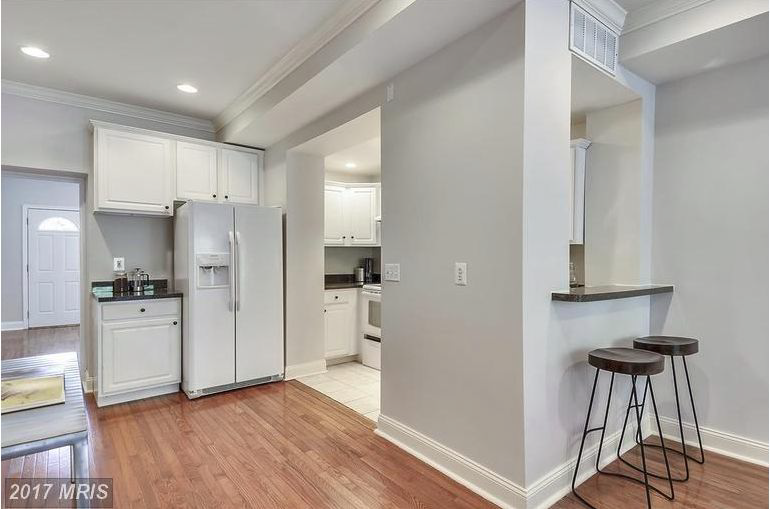 So we faced a challenge: it was cost-prohibitive to remove the posts and create a more traditional, L-shaped kitchen, so we would have to get creative using the space we had. The first order of business was cabinetry, as the existing kitchen was badly lacking cabinet space. We solved this problem by using a large wall directly across from the kitchen—after relocating the coat closet door, we were left with a perfect space for cabinetry. The finished design incorporates a large pantry cabinet, glass front wall cabinets, a drawer microwave, and a 36" counter-depth refrigerator.
In doing this, not only were we able to add badly-needed cabinet space, but moving the refrigerator freed up a great space adjacent to the main kitchen area itself for a beautiful induction range and hood that we made the focal point of the kitchen. We did all this using the GE Café line of appliances and a semi-custom line of painted cabinetry from Durasupreme that offered the flexibility Casey and Clay demanded, while not putting their budget in a crunch. As cabinets are usually the big-ticket item in any kitchen remodel, finding the right blend of customization and economy is always crucial to a satisfying end result, and here we scored a success that really made the whole project work.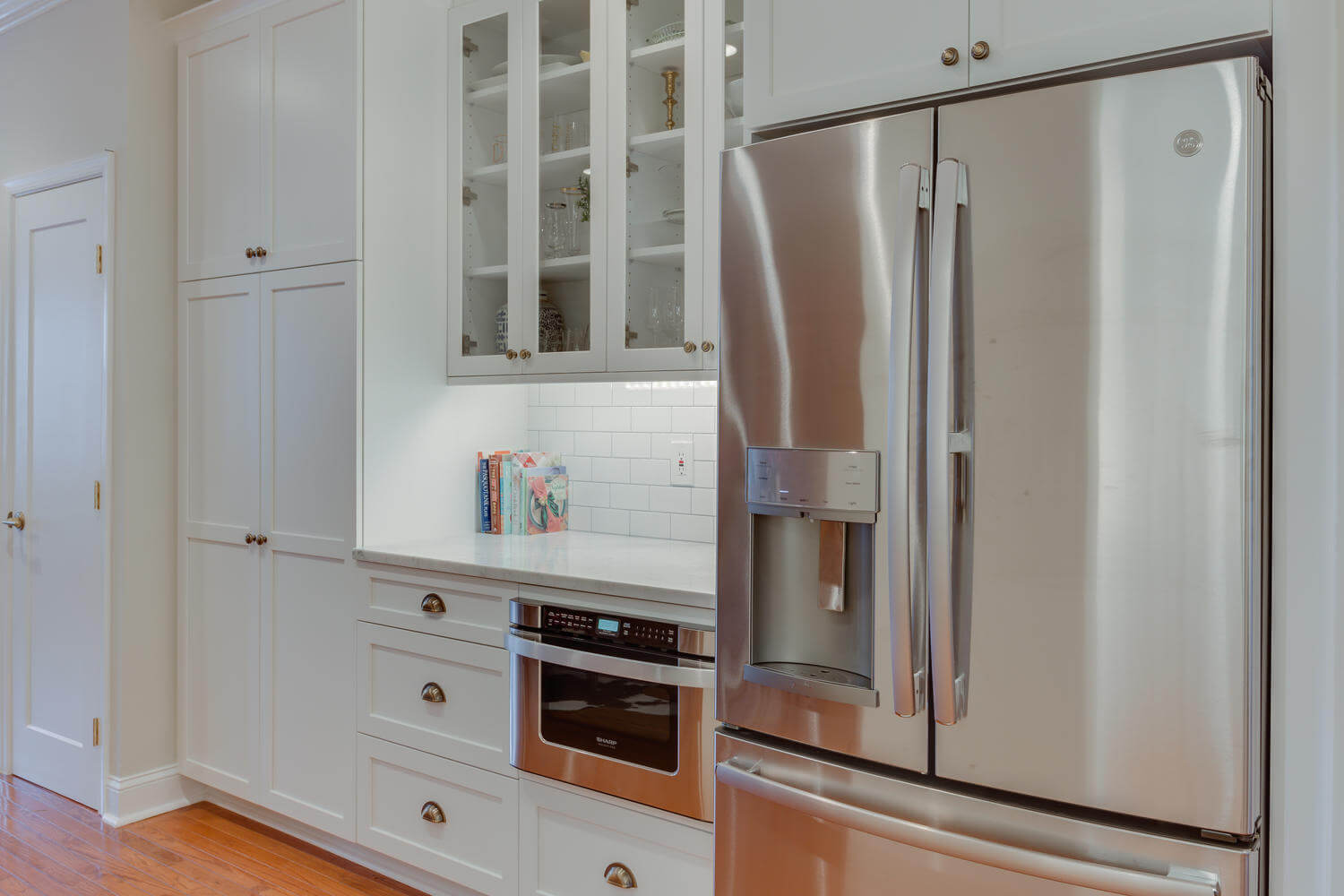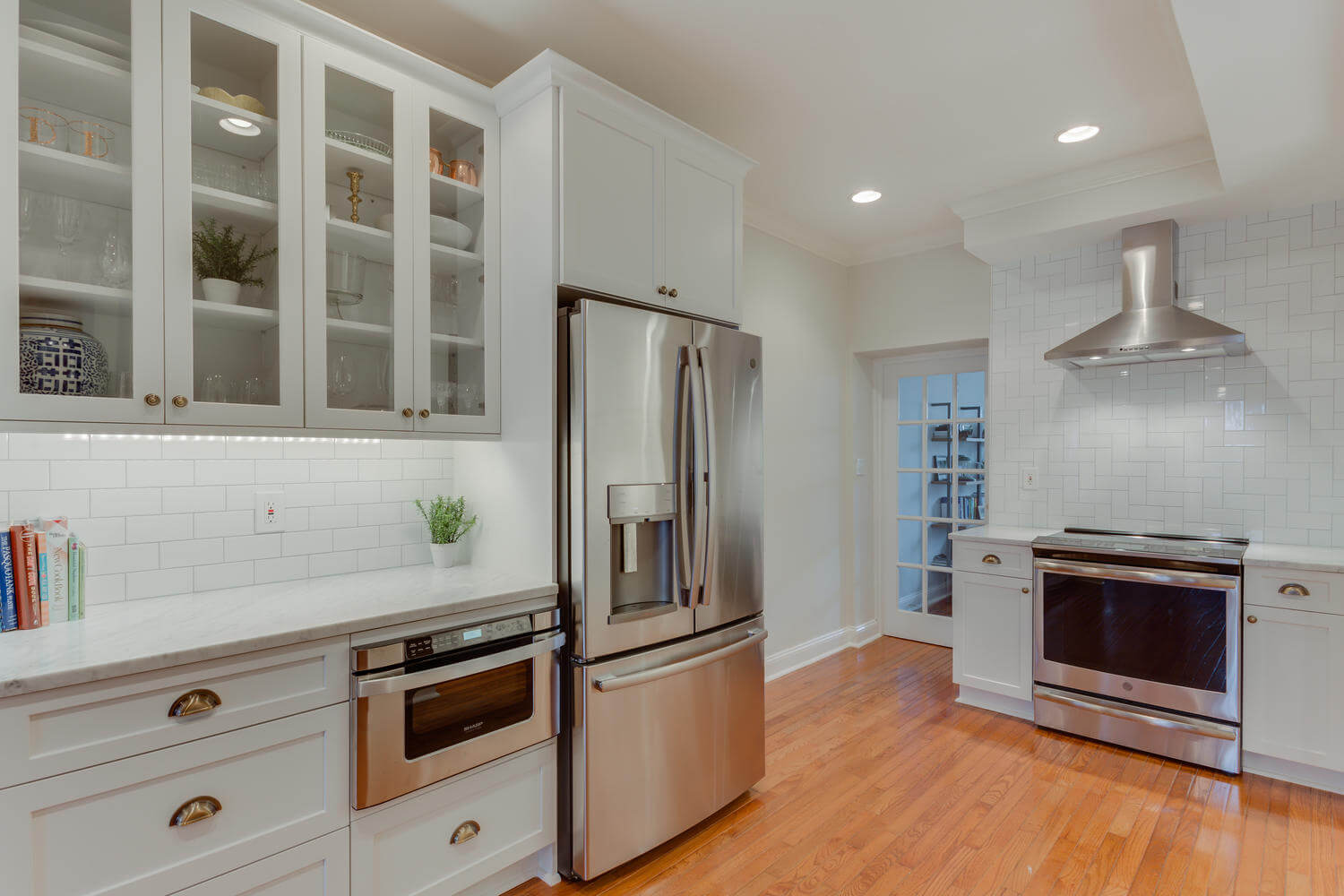 Using the space we created by relocating the range, we added more countertop space, as well as a large farm sink. The stunning Supreme Carrara marble countertops and white subway tile backsplash create an elegant background to highlight the satin brass cabinet hardware and faucet fixture—the effect is a very clean, timeless design that's beautifully simple. With the dishwasher conveniently situated next to the sink, what used to be a cramped and ineffective space is now a calming and inviting place to be.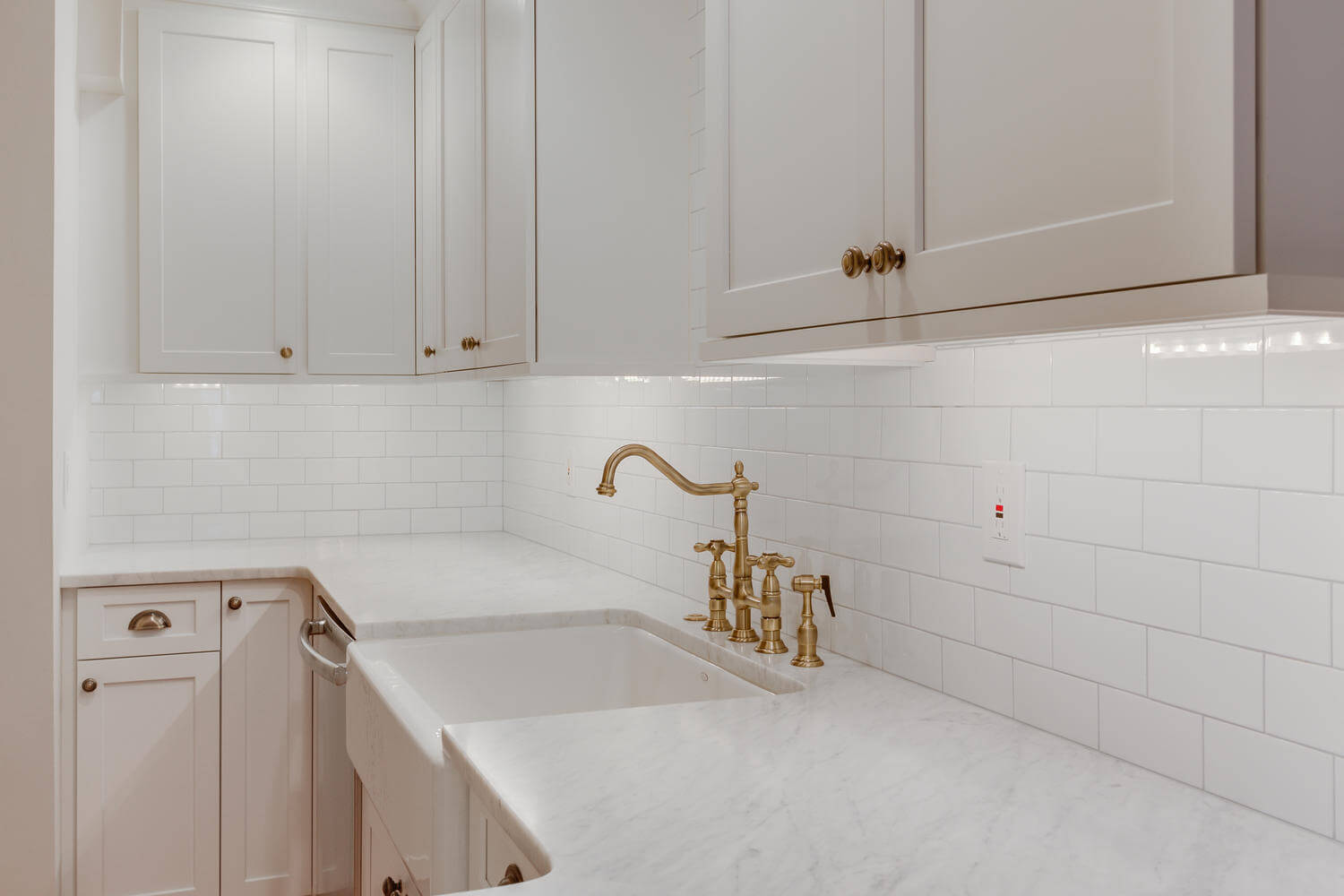 We also included a couple of design elements to give the space some color and character. We took a look at the original brick walls and found them to be in great shape, and exposed the brick on the dining room wall to give the room a bit of character and an industrial feel. We also included wood shelves on the wall above the sink (not seen in the photos, as they were custom-made and the final touch on the project) that break the white monotony of the subway tile in a very natural fashion. This small touch adds utility and beauty to the sink area, making the room much more inviting.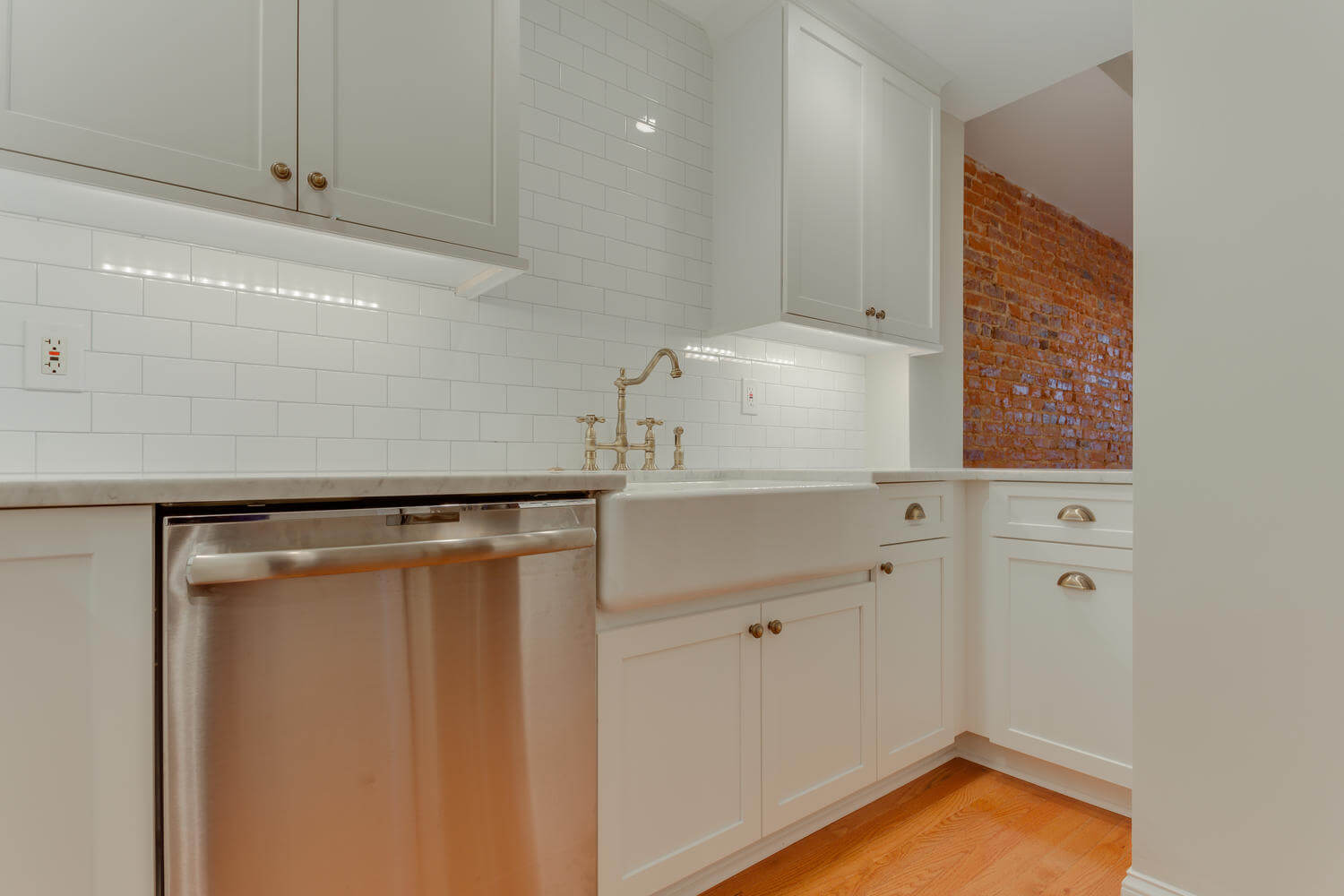 Below is a detailed list of the materials used in this project:
Cabinets: We used Durasupreme Cabinetry – Hudson Cabinet Door Style with a painted white finish to provide a classic, clean look that is exceedingly functional.
Cabinet Accessories: Roll-out Trash Can (Double 35 Qt cans), roll-out trays, and lazy susan in pantry cabinet.
Open Shelving: Lovely set of 3 – 30" Depth Open Kitchen Shelves with Industrial Pipe shelving found on Etsy. We used one set of three shelves above the sink and one set on the wall.
Countertop: Allowance prevented use of marbles in the exotic price range, but we were able to find some beautiful Carrara marble to use from Marble Systems. We kept the color simple, and it looks as stunning as it is timeless.
Sink: Gorgeous Whitehaven® Self-Trimming® 32-11/16″ x 21-9/16″ x 9-5/8″ under-mount single-bowl sink with tall apron. Simple and functional.
Sink Faucet: Vintage III 5.25″ Two Handle Widespread Kitchen Faucet with Cross Handles and Side Spray (WHKBCR3-9106-AB). Elegant with a beautiful finish.
Garbage Disposal: InSinkErator Badger 5XP 3/4 HP Household Garbage Disposer and Power Cord Kit Bundle. Reliable and affordable.
Backsplash in kitchen alcove and between fridge and pantry: For a clean and modern look, we used Choice Tiles 3" x 6" in White Gloss (F14CHOIWH0306P) and Emser Polyblend grout in Platinum Unsanded. As you can see, we used a staggered, horizontal design which looks elegant and fresh.
Backsplash Range/Hood Wall: Again, we used Choice Tiles in White Gloss (F14CHOIWH0306P), but for a variation in design, we used a diagonal herringbone pattern.
Trim: We matched the trim with the same Choice Tiles in White Gloss (F14CHOIWH0016JLPP32), but size ½" x 16".
DRAWER Hardware: To match the sink faucet and closet door handle, we used Satin Brass and Black Cup 3 Inch Center to Center Cup Cabinet Pull by Baldwin (4423050). These are so simple and beautiful, and easy to use as well.
CLOSET Door Hardware: Matte Brass & Black Federal Passage Leverset with Traditional Round Rose by Baldwin (PSFEDTRR049).
Under Cabinet Lights: These are a nice touch for both function and ambiance. We use the Hampton Bay 6-Light Xenon Black Under Cabinet Puck Light Kit to provide lighting under cabinets in the sink and dishwasher area, as well as under the glass cabinets.
Appliances:
Dishwasher: Sleek and functional GE Profile™ Stainless Steel Interior Dishwasher with Hidden Controls (PDT845SSJSS).
Refrigerator: GE Profile™ Series ENERGY STAR® 27.8 Cu. Ft. French Door Refrigerator with Hands-Free AutoFill (PFE28KSKSS).
Oven Range: GE Profile™ Series 30″ Slide-In Front Control Induction and Convection Range (PHS930SLSS).
Microwave: Insight Pro Microwave Drawer Oven, Stainless Steel. Installed in the base cabinet next to the pantry.
Hood: And in matching stainless steel, the fabulous GE® 30″ Wall-Mount Pyramid Chimney Hood (JVW5301SJSS).