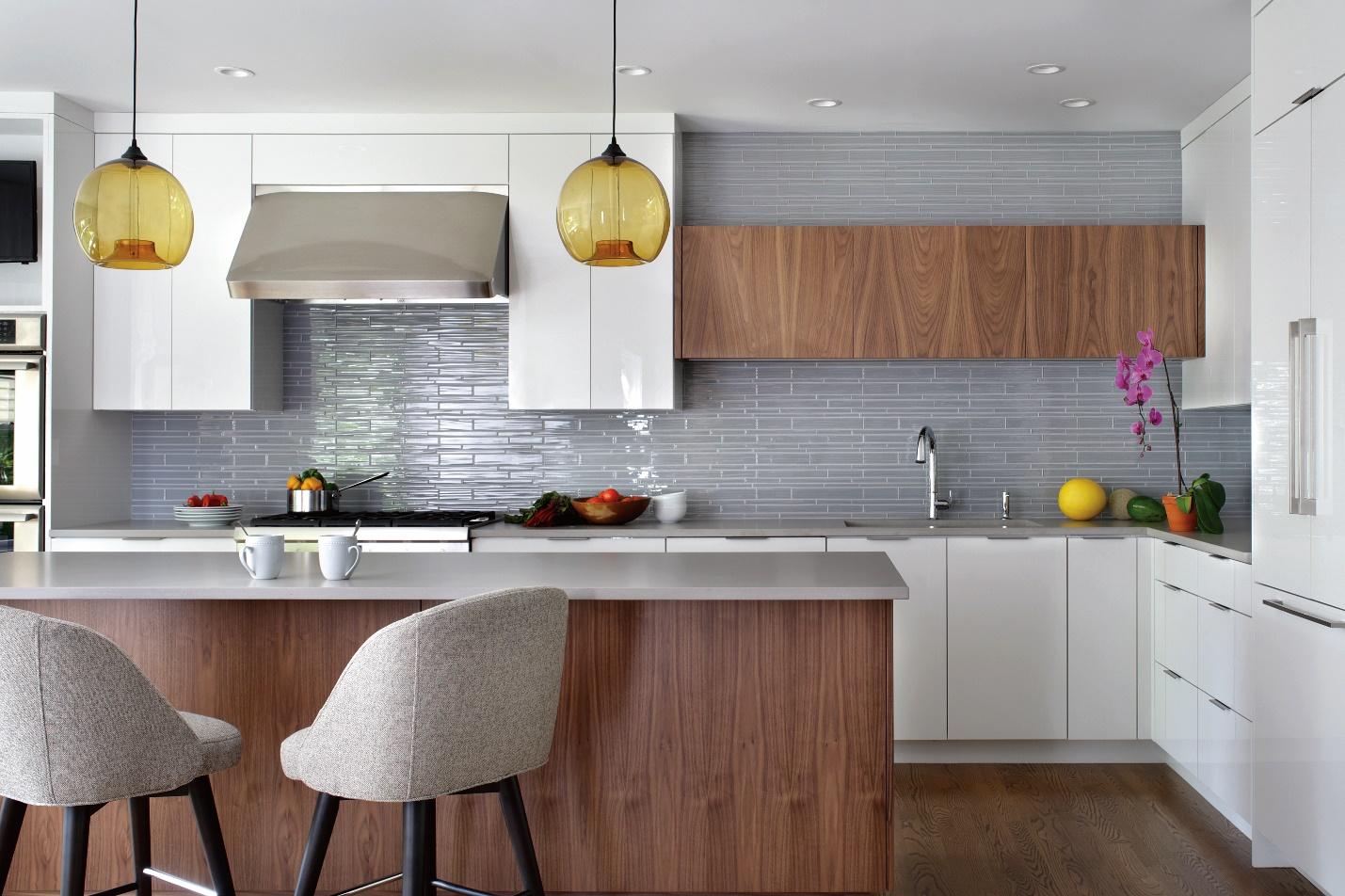 Contemporary & Modern Kitchen Cabinets Washington, DC , Northern, VA, & MD
Are you interested in contemporary kitchen cabinets for your home? If so you may want to take a close look at the cabinets in the gallery below of a Kalorama kitchen we remodeled. You might also like the new kitchen cabinet trend of different wall and base cabinets.
What Makes a Contemporary Kitchen in Washington, DC?
Sleek and clean lines, flat edges, and minimal detail make for a contemporary or modern kitchen. Kitchen cabinets are the main competent of a contemporary kitchen design. Many contemporary Washington, DC kitchens feature high gloss or an acrylic look a very European look. Full-access or frameless cabinetry are what you'll find in a contemporary kitchen. Framed full-overlay cabinets are not used much today unless you are working with a semi-custom cabinet line. Deciding if frameless cabinets are right for you is the first step in the process. The major benefit of frameless full-access cabinetry is they provide you with 10 to 15 percent more storage space. This is especially important for Washington, DC kitchens since most are smaller than ideal. Also, who doesn't want more storage in their kitchen? Another pro to frameless kitchen cabinets is they tend to be more affordable than framed inset cabinetry. The reason for this is there are less materials used in construction (after all the cabinets do not have a frame). Also it takes less carpentry skill to build a frameless kitchen cabinet. A framed inset cabinet requires employing skilled carpenters to ensure the doors and drawers will fit flush within the frame of the kitchen cabinets.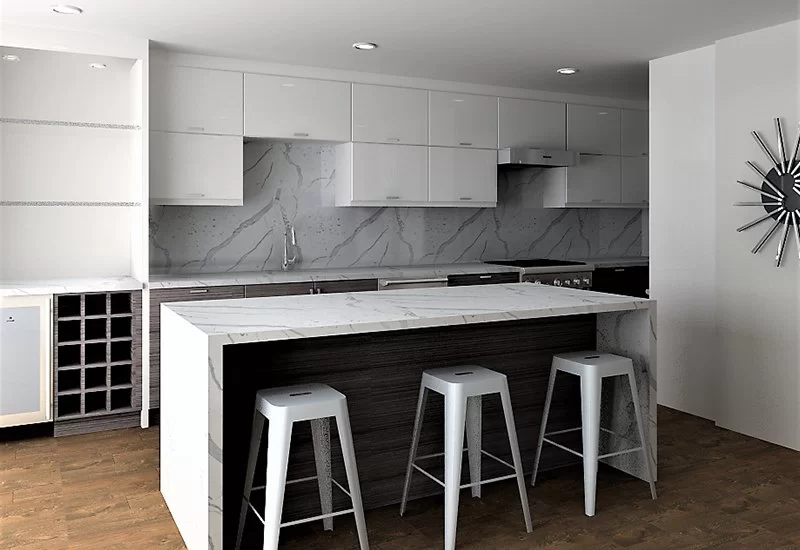 A downside to frameless cabinets is they are harder to install. Because there is no frame frameless cabinets are less forgiving to the carpenter when installing. Also you'll want to make sure your frameless are manufactured by a reputable custom kitchen cabinet manufacturer. Some kitchen designers will recommend a 3/4″ thick plywood case over a furniture board or particle board. If it's in your budget plywood is the way to go. However there are varying degrees of plywood and furniture board. Check with your Bath Plus Kitchen designer for more on this topic. Besides install and construction you'll also want to see kitchen cabinets in-person. Be sure to schedule a time to visit our showroom at 1215 King St Alexandria, VA 22314. Sometimes but not always frameless kitchen cabinetry will feature wall cabinets that open up instead of to the left or right. Kitchen cabinet doors that flip or open up is a tell-tale sign of a contemporary or European kitchen.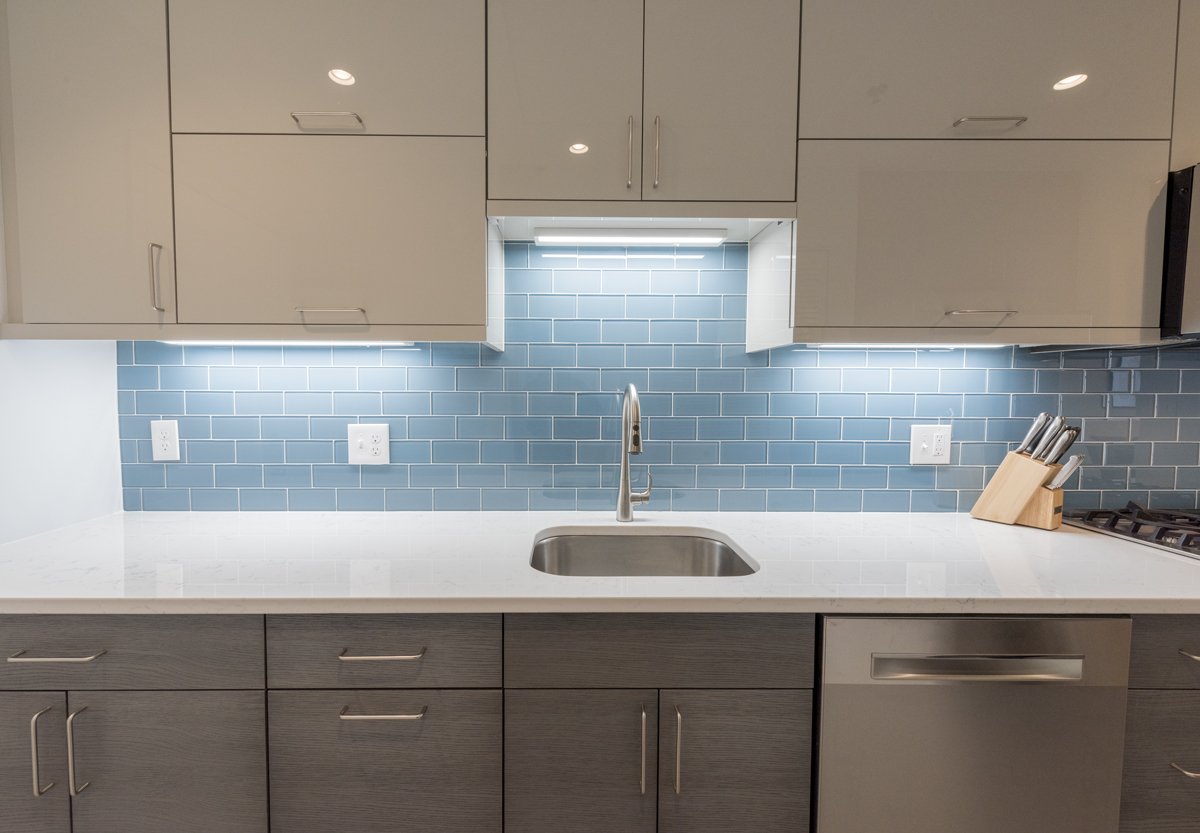 Acrylic, High-Gloss, and Laminate Contemporary Kitchen Cabinets – What Cabinets Are Best For Your Washington, DC Kitchen?
Of course if you're considering a contemporary kitchen you're going to be looking at a slab door style without any stiles, rails or raised center panels. Almost all slab doors are made out of a medium or high density furniture board at it's core and covered with an acrylic, laminate, or veneer. This is because wood is known to expand and contract due to variations in climate. A hot and humid summer day in Alexandria, VA will cause the wood in your home to expand while a cold wintry day will do the opposite. This is if you keep your house at a consistent temperature. Furniture board does not expand and contract anywhere close to the amount solid wood moves. Therefore if you had a solid wood slab cabinet door it would warp and bend over time. The most popular finishes for a contemporary kitchen are acrylic and laminate. Acrylic cabinets provide a shine to the cabinets and have a durable finish. They are easy to clean with soap and water. Typically acrylic is the most expensive style for a contemporary kitchen. Laminate cabinets have a thin layer of material, usually a more affordable pressed wood material. They tend to have a texture feel.
Kitchen Remodel Washington DC – Recap
In this kitchen we have acrylic-gray wall cabinets. The base cabinets are a laminate. The design is an oak rift cut with a horizontal grain. Specifying grain and rift cuts are only possible with custom cabinetry. The floor tile is a porcelain faux wood, which gives the kitchen a natural feel. If you like quartz counter tops take a close look at these counters. They are a quartz from MS International. Th​is​ apartment is located on 20th St ​NW Washington, DC 20009. For kitchen remodeling services in Washington, DC call us at 703-755-0479 or contact us here to get started.