Our Line of Luxury Kitchen Cabinets
If you're planning a high-end kitchen remodel, nothing says quality and attention to detail like beautiful, handmade cabinets. Kitchen cabinets are the most important part of any kitchen remodel, and getting them right can mean the difference between a lifetime of loving your kitchen and years of regret. Make no mistake – to realize your dream kitchen, the cabinets need to be right.
As purveyors of dream kitchens, we here at Bath Plus Kitchen are proud to offer you the finest in high-end cabinets from Plain and Fancy. If you're looking for kitchen cabinets with legendary Pennsylvania Dutch quality, manufactured using the perfect blend of innovative technology and old-world craftsmanship, we think Plain and Fancy is just what you're looking for.

Who Is Plain and Fancy?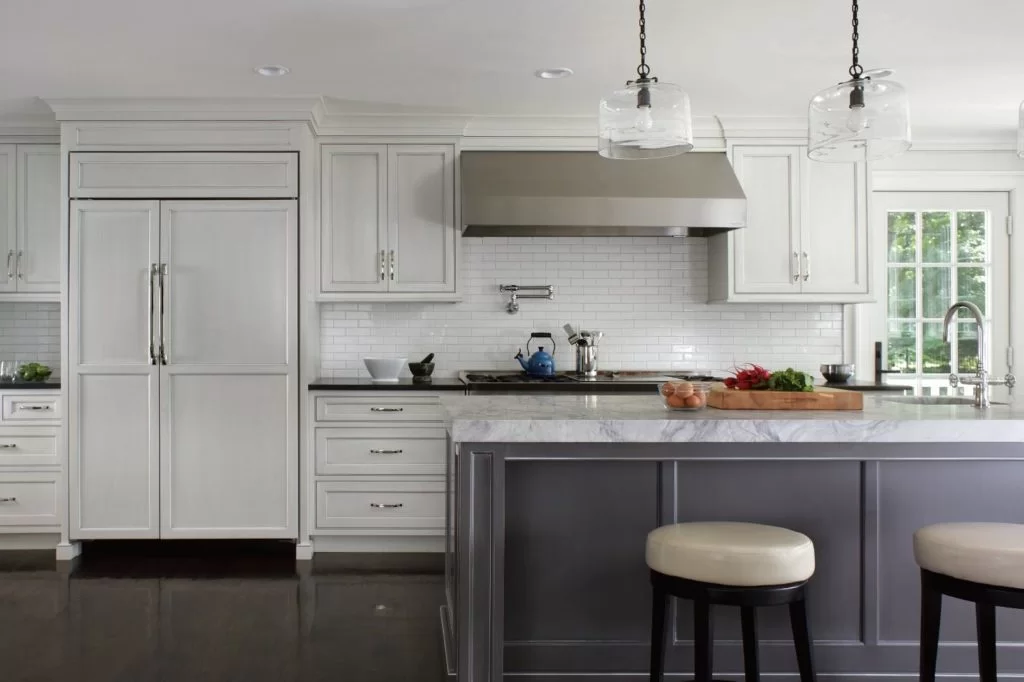 For nearly 50 years, Plain and Fancy has been making handmade cabinets with the love and craftsmanship the Pennsylvania Dutch are renowned for. Founded in a Richland, PA garage by National Kitchen and Bath Association Hall-of-Famer John Achey, Plain and Fancy has gone from one man's passion to a nationwide leader in fully custom handmade cabinets. Still a family-owned business after all these years, the company now has its manufacturing facility in Schaefferstown, PA, and employs over 120 craftspeople, engineers, and customer service representatives. They offer high-end cabinets in traditional, transitional, and contemporary designs, and they manufacture any kind of home cabinetry you can think of. As they've grown in size, so has their reputation for expert quality and fit.
The Plain and Fancy Advantage
So why Plain and Fancy? Plain and Fancy combines unparalleled craftsmanship with state-of-the-art manufacturing equipment to deliver the finest quality high-end cabinets available anywhere – all backed by a limited lifetime warranty. But Plain and Fancy also offers an innovative array of features, like integrated LED lighting and fully-customizable interior storage solutions, that make them work better for you. All their kitchen cabinets are hand made by quality-minded craftspeople and supported by a dedicated engineering team that works with us on every detail to ensure your cabinets arrive on schedule and fit perfectly the first time. Plain and Fancy also maintains a dedicated customer service team, always ready and willing to help with whatever our clients need. They even have their own trucking, and their projects go out on time, every time, without shipping damage. They really do dot their i's and cross their t's.

Features of Plain and Fancy Cabinets
Hand-Applied Finishes
Plain and Fancy builds all doors and cabinet panels one-at-a-time. All parts are finished flat for maximum coverage. The process involves meticulous hand-sanding, two primer coats, and an ultra-durable enamel coat for a finish quality you'll seldom see on kitchen cabinets. You really do have to feel these finishes to understand the quality. Add to this their custom color option (their most popular finish option), and there's no limit to the possibilities for you and your kitchen – give them a sample, and they'll match any color perfectly.
Fit and Inset Cabinetry
Plain and Fancy produces only high-end cabinets known for their meticulous fit. This level of precision can only be achieved by painstaking hand-sanding and fitting of all doors and drawer fronts. And after each door and drawer front is perfectly hand-fit, it's numbered to ensure the installation looks as good in your home as it does on their shop floor.
Flush Floors and Dust Covers
All Plain and Fancy handmade cabinets come with floors mounted flush with the cabinet fronts for easy cleaning and ease of use. All their cabinets also come standard with full tops, ensuring perfectly square cabinets and providing dust shielding for your cabinets during installation.
Construction Techniques
Plain and Fancy relies on time-tested construction methods to ensure their products deliver a lifetime of worry-free enjoyment. Their craftspeople use mortise and tenon joints, dados, and dovetail joints for unbeaten quality and lasting durability. All cabinet bottoms and backs are fully captured for strength, and every drawer box is dovetailed. These quality standards apply to both framed and unframed cabinet styles.

Hardwoods, Veneers, and Foils
Plain and Fancy uses only the highest-quality hardwood veneers from sustainably harvested wood. Most of their hardwoods are local to the East Coast, and many come from within their home state of Pennsylvania. They also offer trending European styles with laminates, foils, acrylics, and glass.
Finished Sides and Decorative Ends
Sides and ends are an area manufacturers often skimp on, but not Plain and Fancy – every cabinet they build comes with standard finished sides with no upcharge, and they offer a host of customization options for sides and ends on their high-end cabinets. They can make your cabinet sides match your doors or mimic the inset look of the rest of your kitchen cabinets – it's up to you. They also offer beautiful beaded panels and non-working doors, so your kitchen cabinets look great from any angle.
Full Customizability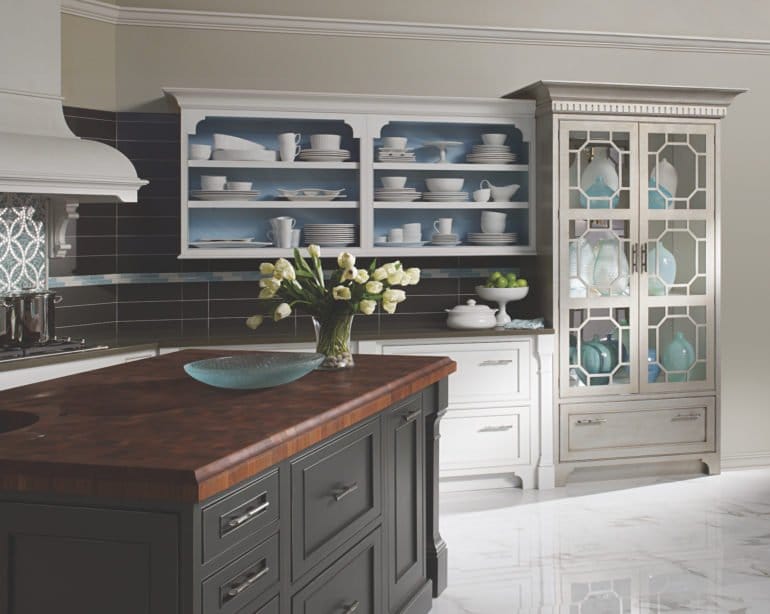 If fully custom kitchen cabinets are what you want, Plain and Fancy has you covered. They can build any custom high-end cabinets – angled, curved, or whatever you like. They offer finished interiors; a popular option is to use interior accent colors that take your kitchen cabinets to the next level. Combined with beaded backs, sides, and interiors, the end results are absolutely stunning. They also offer unlimited door and drawer options to give your remodel a truly personal touch.
Top-Quality Hardware and Accessories
Plain and Fancy uses only the best soft-close hinges and drawer guides; you'll never have to worry about hardware again. They also offer interior storage solutions that are adaptable to whatever you may need, from cutlery trays to spice racks and everything in-between.
Integrated LED Lighting
Plain and Fancy was one of the first companies to offer handmade cabinets with integrated LED lighting, and they continue to lead in lighting innovation. Whether you'd like a dimmable option or a warm, under-cabinet glow, they have the lighting to put your high-end cabinets over the top.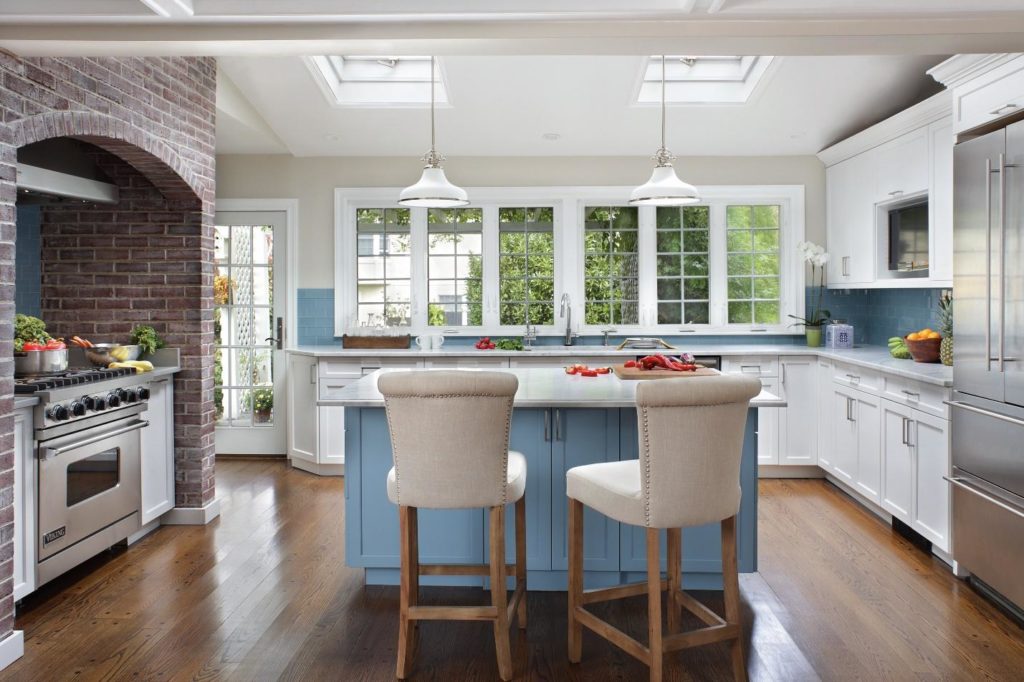 Come and See These Exceptional Cabinets
We invite you to have a look at all Bath Plus Kitchen, in conjunction with Plain and Fancy, can offer you. If you're interested in learning more about these amazing handmade cabinets, contact us to get your Plain & Fancy Cabinetry brochure. Discover the difference high-end cabinets can make for your remodel.