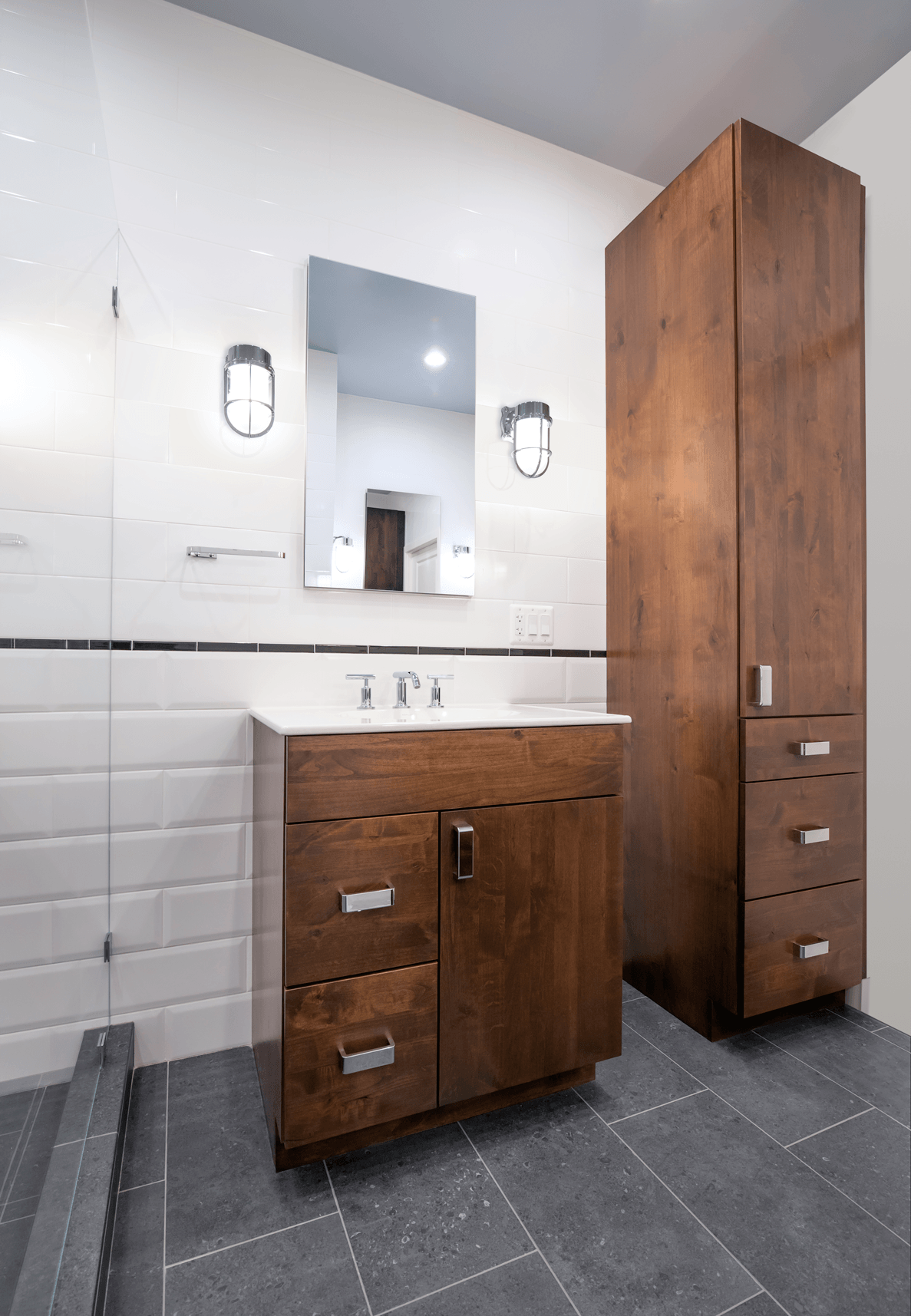 Are you considering an Alexandria primary bath remodel project? Good news, you've come to the right place. 
in Alexandria primary bath remodels are our specialty.
Alexandria Primary Bath Remodel – Start With Design
Alexandria Primary Bath Remodel – Before & Project Details
Maybe you have a primary bath like this, small, closed off, dark, and dated. Does that sound familiar. First of all, it's not your fault! It's all too common to see non-functional primary baths in Old Town Alexandria, VA. Likewise, many townhouses built in the past decade are already in need of bathroom remodeling.
Enter your email for the latest in bath and kitchen design / remodel news plus amazing cabinet sales!
In this Alexandria primary bath remodel we removed walls dividing the shower and vanity. Further, we eliminated the linen closet and separate toilet room. As a result, the new primary bathroom is equipped with a larger shower, more vanity space, and a linen cabinet. Also this Alexandria primary bath is brighter! Are you sharing a primary bath? How would it feel to open it up?
Alexandria Primary Bath Remodel – A Showcase of Tile Talent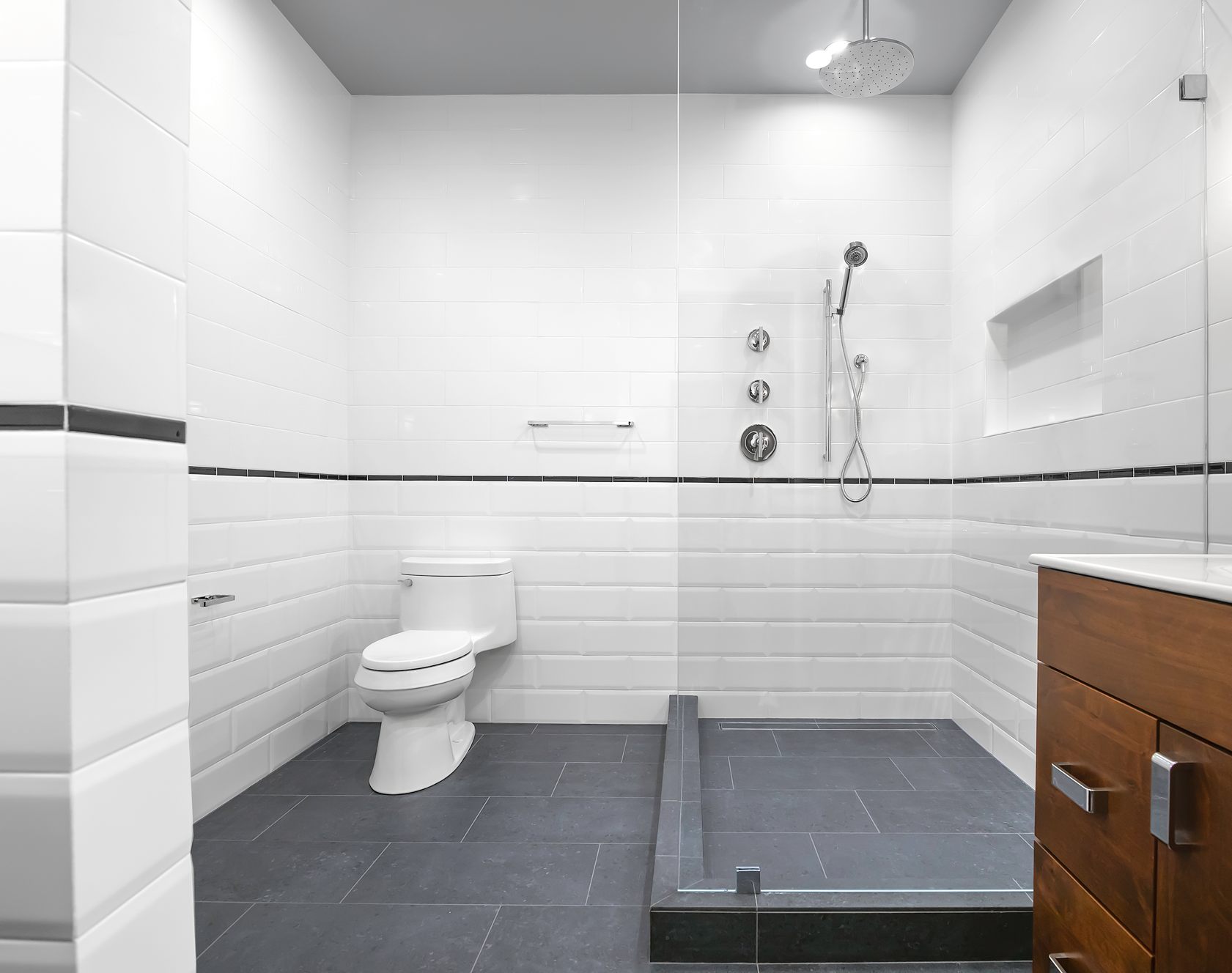 Look closely and you'll notice tile from floor to ceiling. The first 7 rows of wall tile are a 6″ x 16″ beveled tile. Above the 1″ x 6″ black liner are 11 rows of a 6″ x 16″ subway tile without a bevel. In addition, the 12″ x 24″ floor tile is carried into the shower floor. To sum up, this Old Town Alexandria primary bath is a showcase of the talent level of our tile installers.
Alexandria Primary Bath Remodel – To Keep a Tub or Not?
Are tubs necessary in a primary bath? If I remove my primary bath tub will it hurt resale value?
Because you're asking these questions tubs you should eliminate the tub from your primary bath. Above all this is YOUR primary bath. Therefore, remodel it the way you want. For example, if you want the largest shower you can get, do it! Forget about the tub.
On the other hand, if you like tubs, you're in luck. Due to advances in technology and design you'll find many suitable tubs to choose from for your Alexandria primary bath remodel.
Alexandria Primary Bath Remodel – Vanity Cabinets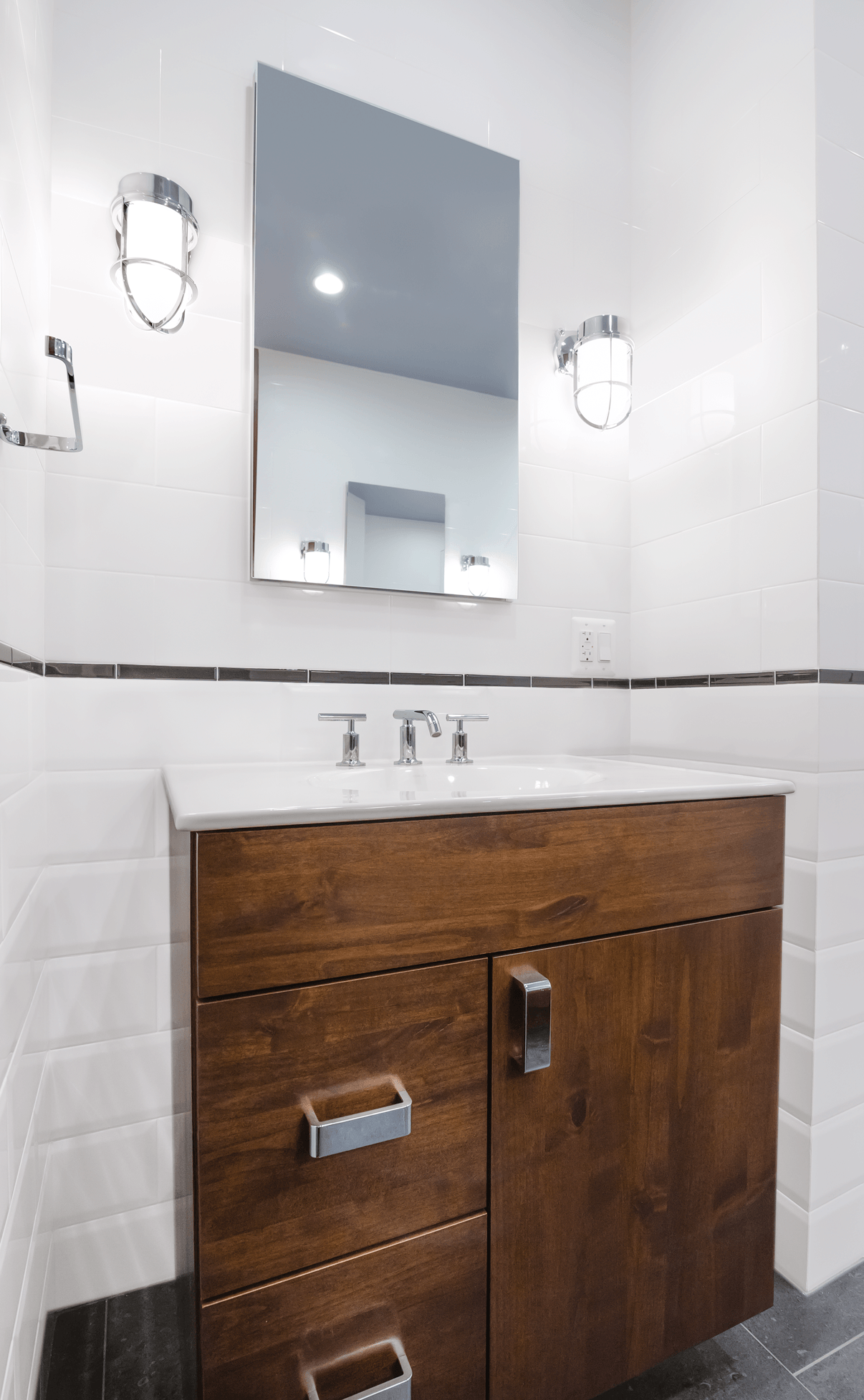 The vanity and linen cabinets are from Dura Supreme. Firstly, the cabinets are constructed of knotty alder and finished in a low-gloss hazelnut stain. In addition, the Camden door-style and platform pull-handles create a contemporary feel. Finally, the cabinets are topped with integrated sinks, the ceramics / impressions collection by Kohler.
Alexandria Primary Bath Remodel – The Fixtures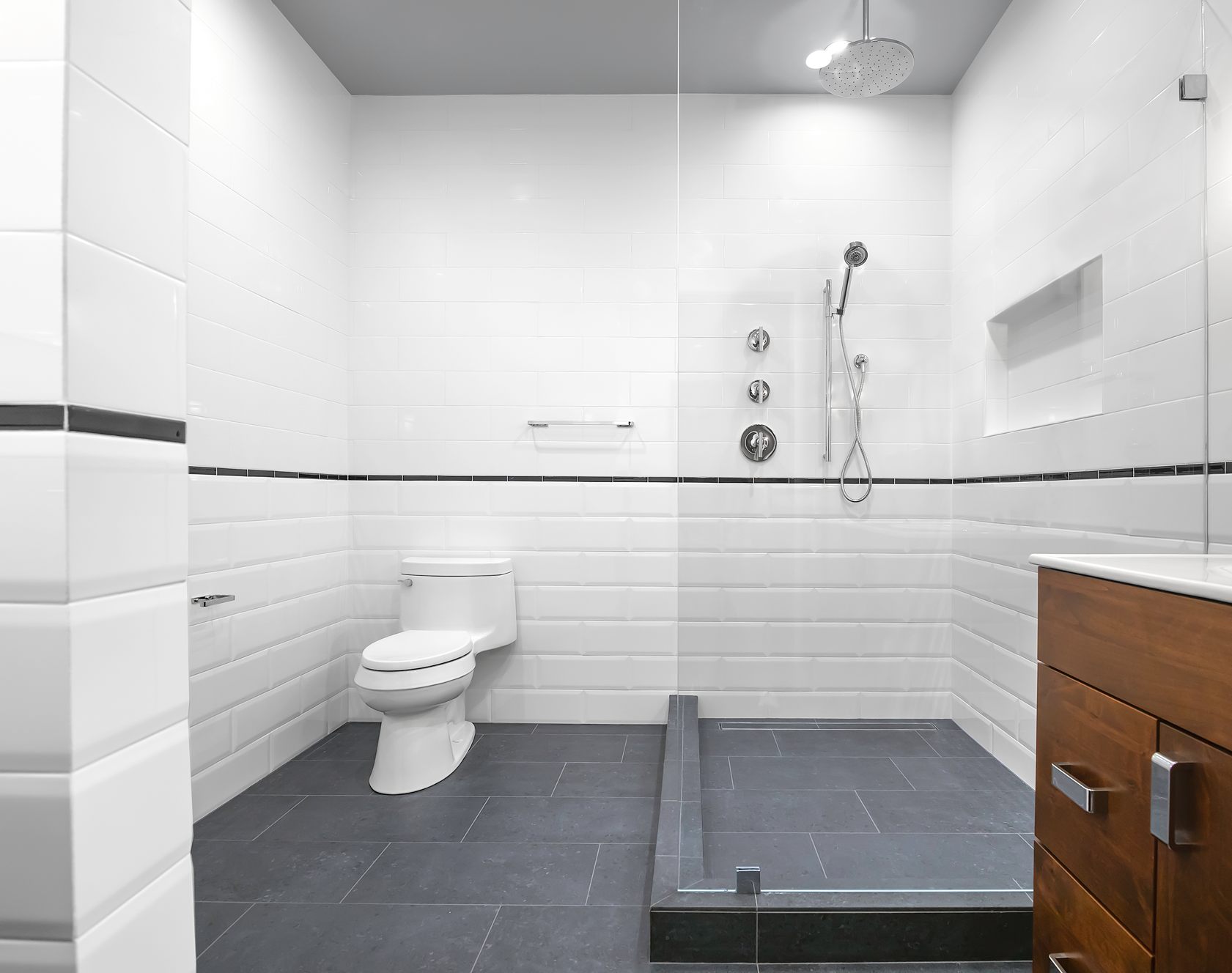 All fixtures and fittings are from the Kohler Purist collection. Consider the Purist collection for your Alexandria primary bath remodel for a contemporary style.
Pressure valves control your water flow. Therefore, select one pressure valve for each shower fixture. To clarify, the temperature vale will not turn on the water. You set the temperature once and leave it for future showers.
Did you notice the shower doesn't have a door? All of the walls are tiled therefore no door is okay.
Alexandria Primary Bath Remodel – Blue Painted Ceiling
The bathroom ceiling is Icy White form Sherwin Williams. An emerging design trend is to paint ceilings a shade of blue instead of white. In short, if you're looking for contrast in your Alexandria primary bath remodel consider a blue ceiling.