Chic, sleek, a dash of color, and a place for Fido, too.
This year's current kitchen  design trends feature a marriage of beauty and function that can work with both traditional or contemporary styles. Let's have a look at some of the more exciting designs popping up in the DC Metropolitan area and see how kitchen design is evolving to be more vibrant, elegant, and functional for the whole family – even our four-legged friends get the goods in this one!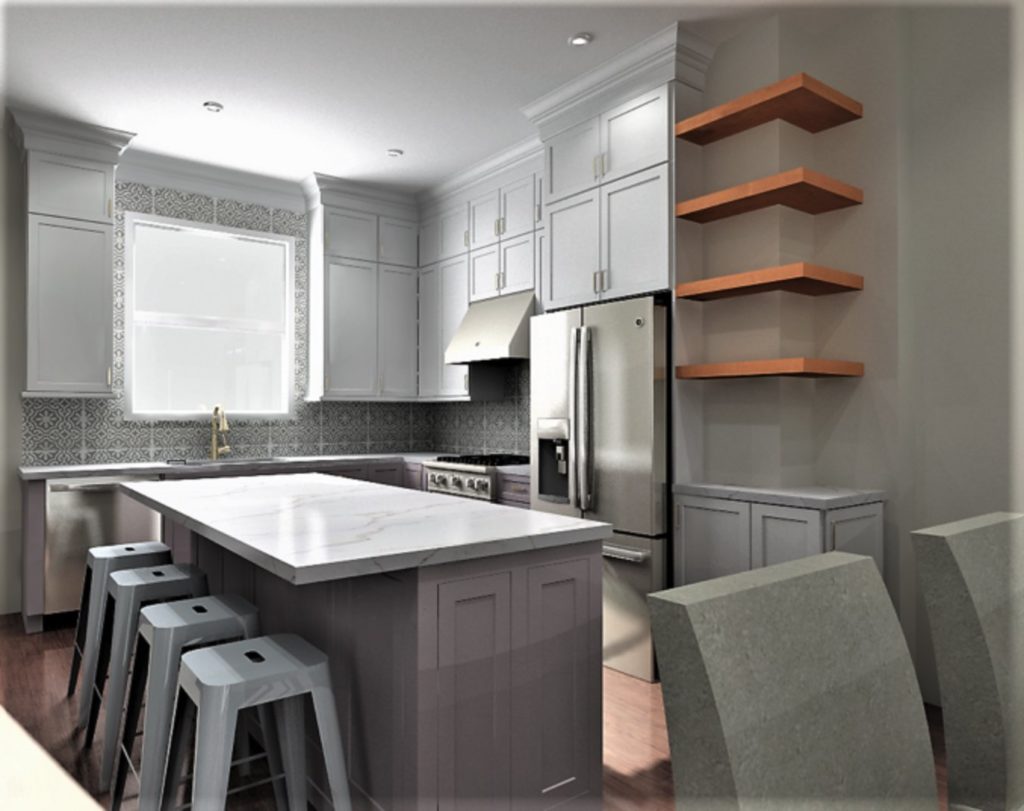 1. Two-Toned Cabinets
With kitchen design trending toward warmer hues, natural wood, and natural colors, many homeowners can get a little befuddled when it comes to deciding just how much color they should be incorporating into their remodel – too little can leave the room feeling cold, too much can cause your kitchen to lose its airy, spacious feeling. For those who might not want to go all-in with color but still want a look that pops, two-toned cabinets are becoming a very popular choice.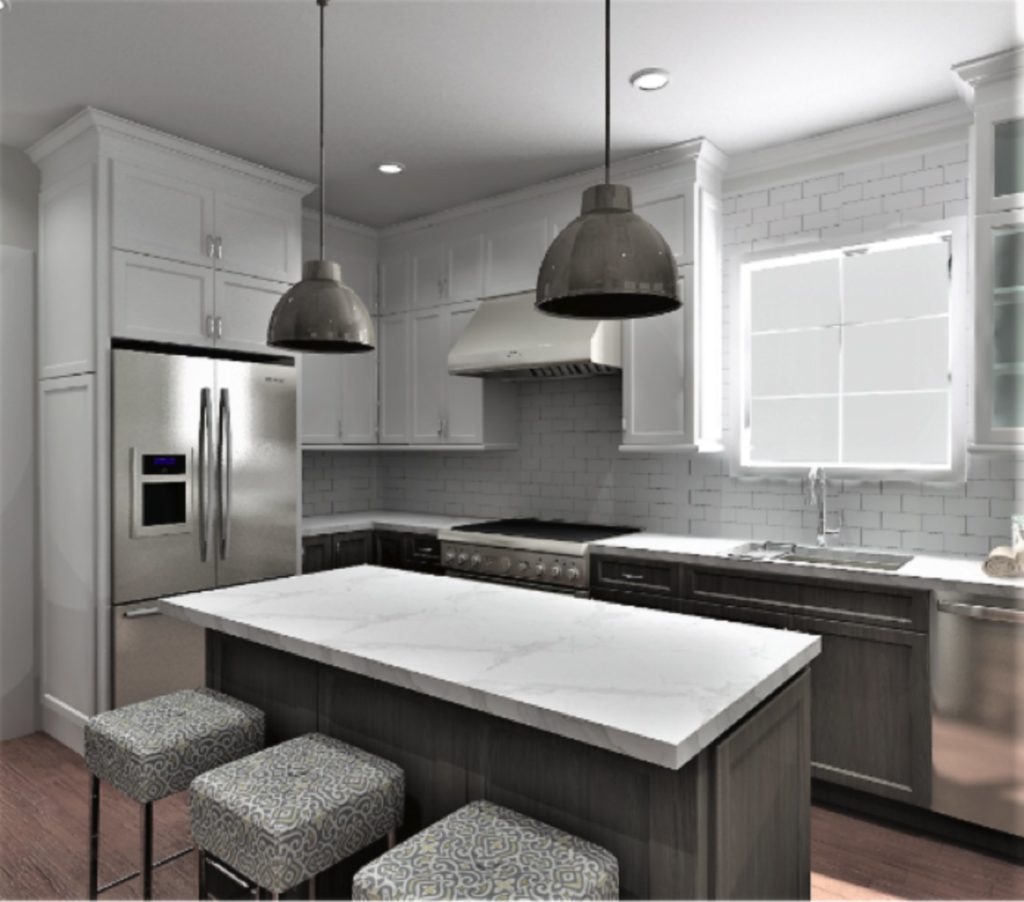 Combining a more traditional white kitchen scheme with just enough natural wood can transform the entire room, often giving the feel of built-ins; many designs incorporate the use of more neutral grays and blacks to subtly break the white monotony without committing to an all-out color revolution.
2. Green Cabinets
For homeowners who aren't afraid to live on the edge with colorful kitchen design, green is the color for cabinets in 2018. Most designers choose a more earthy green that can give cabinets a vintage look and greatly enhance the warmth of brass hardware. These verdant hues also make a great contrast with stylish, white countertops – making the countertops themselves a focus of light, and an invitation to make memories in this most important room in the home.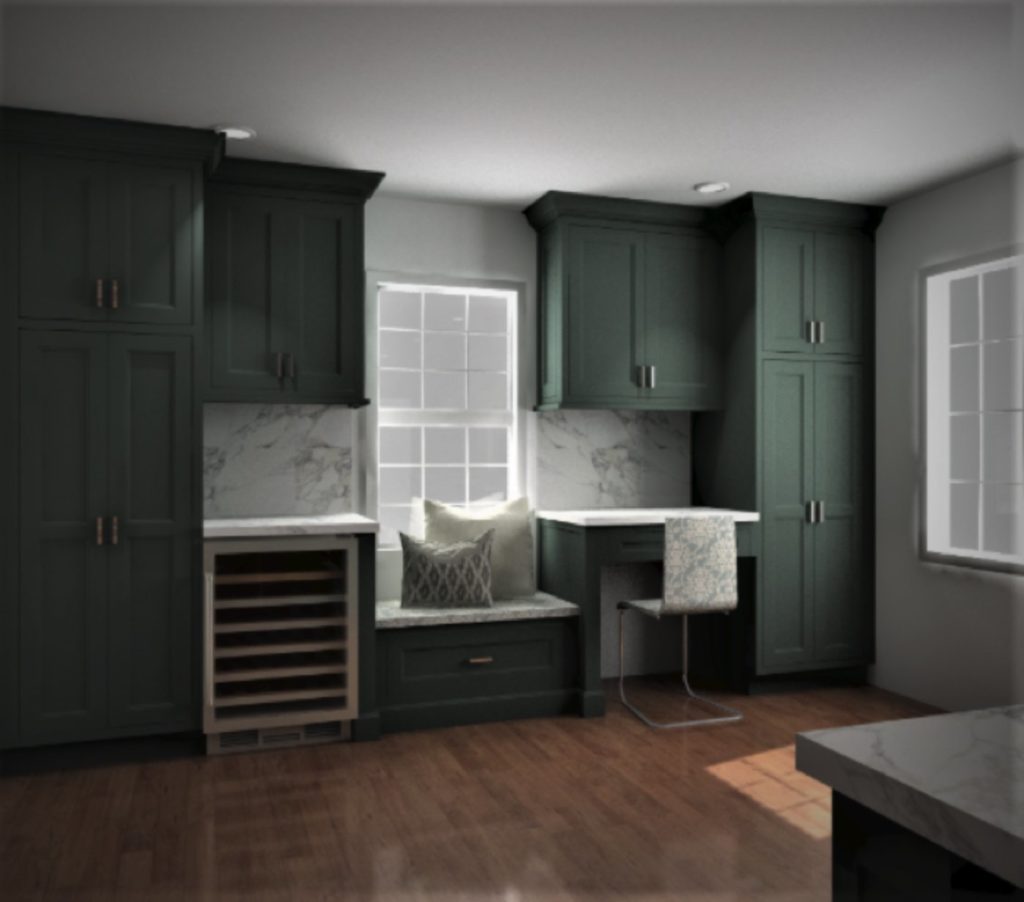 3. White Countertops
In the most stylish of kitchens, white continues to be the color of countertops. Veined marble is in, the hottest variety being Carrara marble. Granular stone and dark colors are out, as well as beiges and yellows – the clean white and "fluid" look of marble has a very classic appeal that's much more inviting than granite countertops and gives kitchens a timeless feel. Marble is also not prone to some of the problems of granite countertops (flaking and coating maintenance), and so offers a much better solution for a kitchen that can play host to a lifetime of living and loving.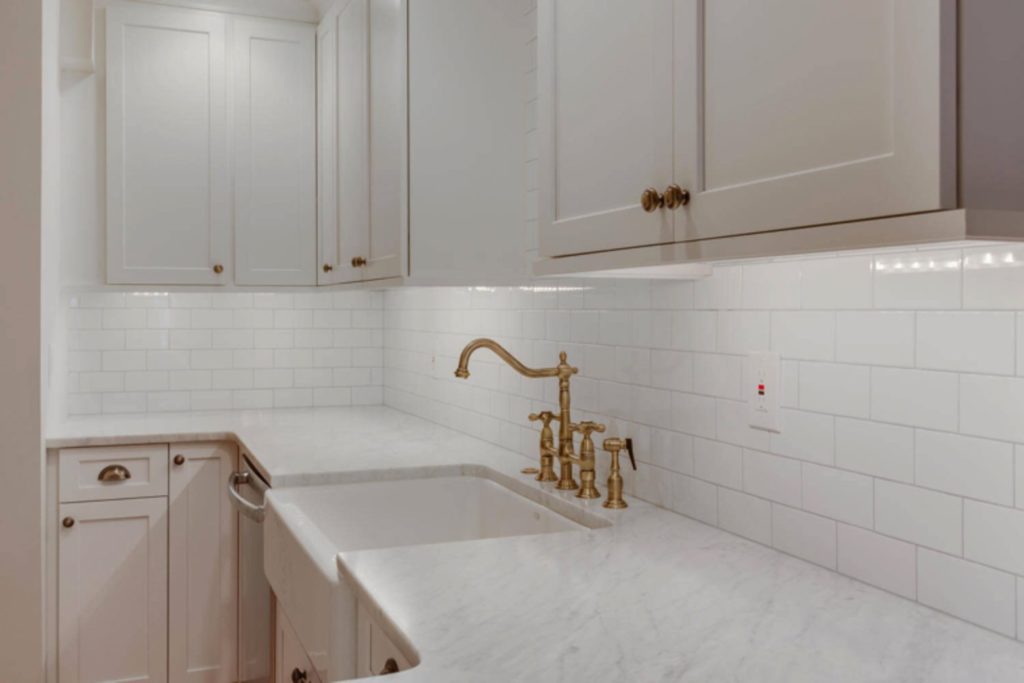 4. Lighted Power Strips
One of the coolest innovations in kitchen design is the lighted power strip. Making use of cutting-edge LED technology, these fixtures are stylish, unobtrusive, and really go a long way toward a "cleaner" look by eliminating the need for outlets in the backsplash. This can really make a difference, especially in smaller kitchens where counter space is at a premium. They're also easy to keep clean, and safely out of reach of tiny hands if you have a little adventurer in your home. They save energy as well, which makes you look just as smart as your kitchen. We believe this is a trend that won't be going anywhereanytime soon – it just makes sense to include this great piece of design in any new kitchen.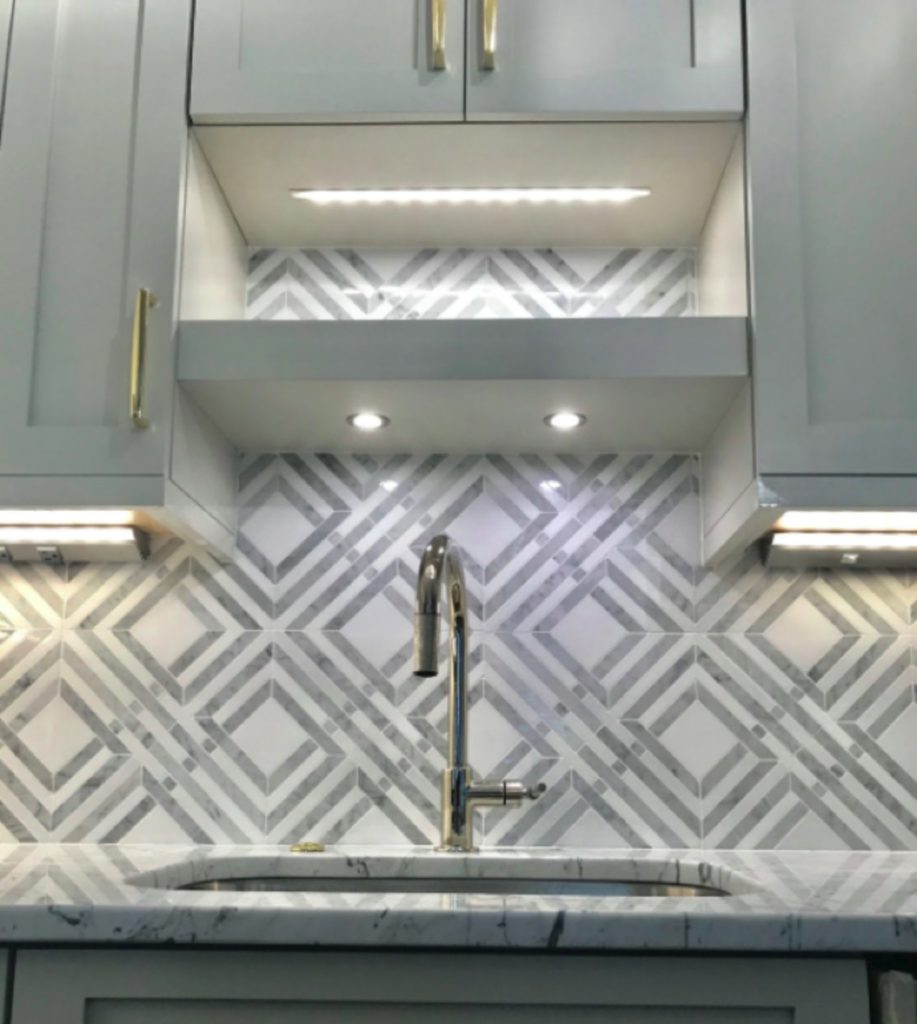 5. Slab Front Cabinet Doors
For a more contemporary, minimalist look, many designs now include flat cabinet doors. A far cry from more conventional shaker style doors, flat doors offer a sleek look that's much less busy. Flat cabinet doors are mounted flush with the cabinet frames, and use recessed pulls instead of exterior hardware – the result is very clean and elegant, and cabinets that function just like ordinary cabinets. They're available in a myriad of finishes from foil to acrylic to natural wood, and their popularity is booming due to their beauty and functionality. This is a timeless design touch that promises to age well in modern kitchens, and if simplicity is a priority for your remodel, these cabinets might be right up your alley.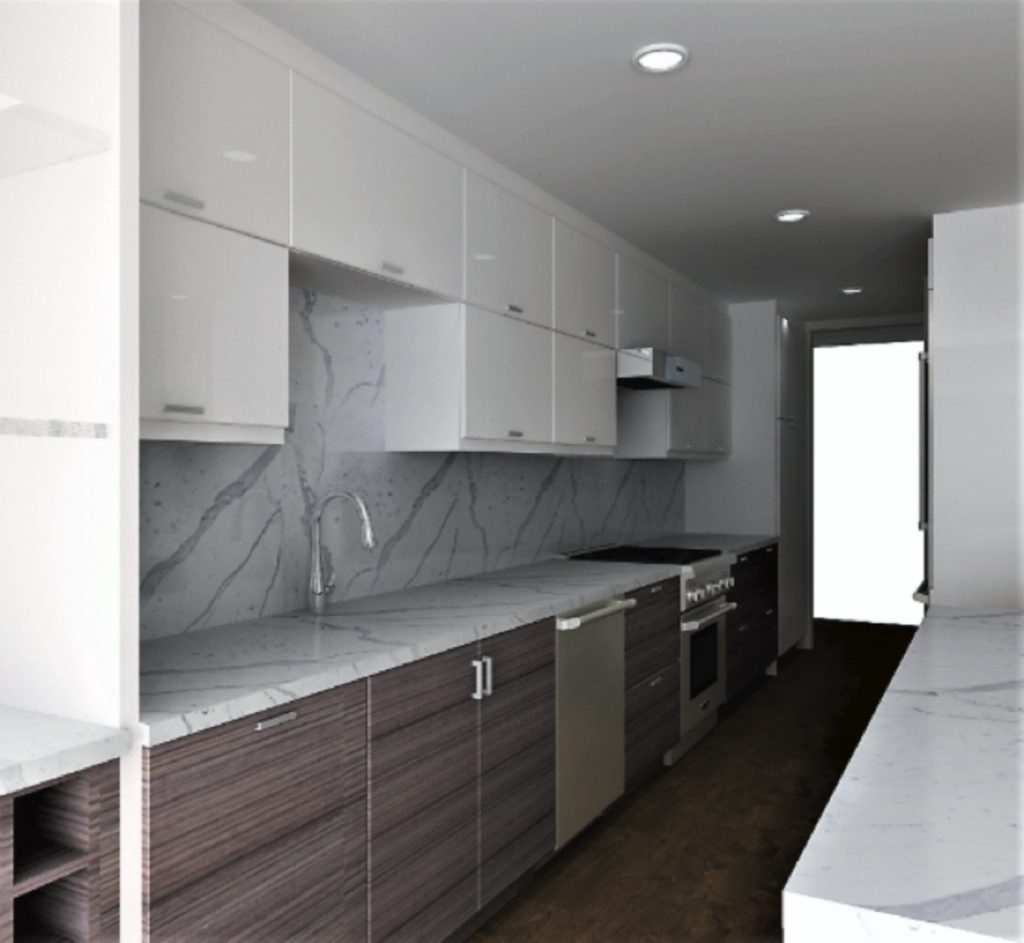 6. Mixed Metals
One way to really get creative and give a kitchen its own personality is by using mixed metals. By combining different materials and finishes, many homeowners find they can create focal points in their kitchens through thoughtful placement of contrasting elements. Mixing metals also creates a more dynamic space, and offers the opportunity to combine more traditional finishes like brass with more "exotic" materials like rose gold and copper. The results of these combinations can be spectacular – a dazzling pair of sconces or a range hood, for example, can light up the whole kitchen with contrast. Mixing metals also offers homeowners more subtle design options; adding touches of color here and there in this way can really be eye-catching without being garish or clumsy – an effect many modern kitchen designs seek to achieve.
7. Designing for Pets
And finally, for our furry friends, we're pleased to see kitchen design that really brings pets into the fold. From built-in feeding stations to feeding drawers to islands complete with dog beds underneath, if your pets like to hang out in the kitchen, there's a design out there that's perfect for you. These really are design elements that benefit the entire family and give your pets a safe place to call their own in the kitchen.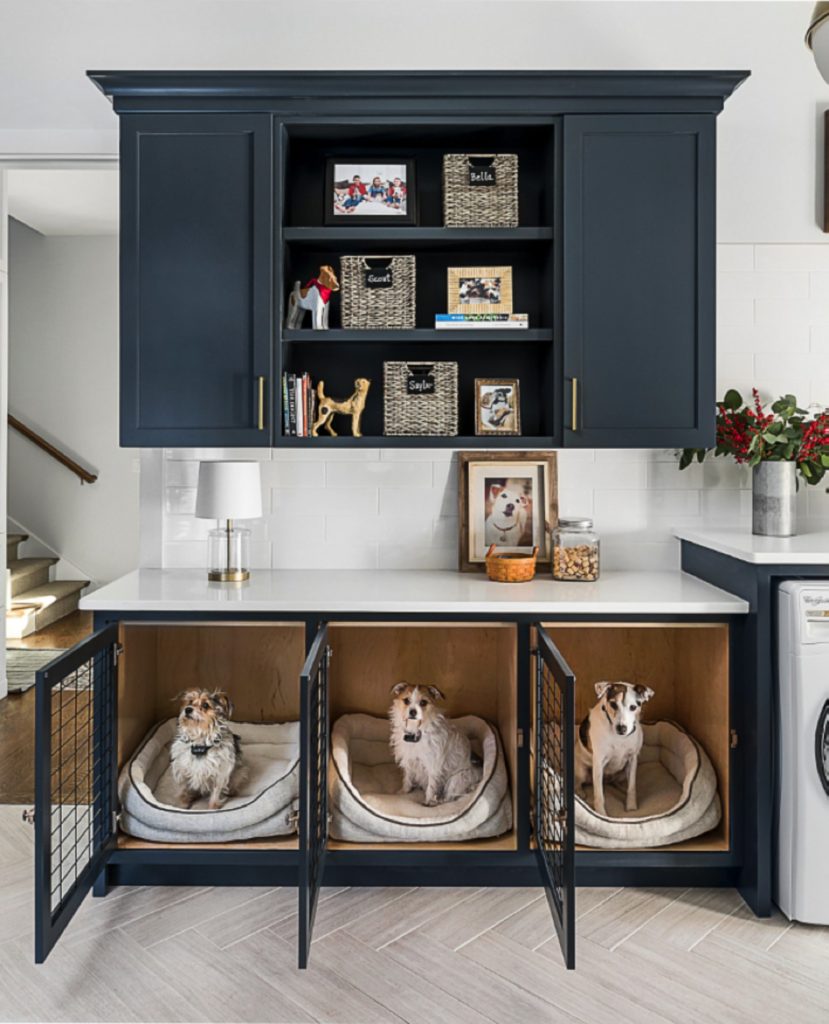 Many designs also offer kenneling in the kitchen, which your best friend will appreciate when you don't have to send her to the laundry room while you prepare dinner. Pets are important parts of our families, and they love to share in the excitement as much as anyone, so shouldn't your kitchen have a happy corner for Fido? We think so.
We are delighted to see the trend towards beauty plus functionality truly come together in these lovely kitchen designs. Here at Bath Plus Kitchen, we pride ourselves on offering the most contemporary design options available in the metropolitan area, and creating kitchens that are truly enjoyable is always our goal. To discover your kitchen cabinet style schedule a time to visit our showroom at 1215 King St Alexandria, VA 22314.
Sources:
https://beckiowens.com/design-trend-2018-two-toned-kitchens/
https://houseandhome.com/gallery/green-kitchen-cabinets/
https://www.silestoneusa.com/color/eternal-calacatta-classic/
https://tasklighting.com/featured-products/lighted-power-strip/
https://bathpluskitchen.com/work/washingtondc20009/
https://www.studio-mcgee.com/studioblog/2017/5/31/how-to-mix-metal-finishes