How the Bath+Kitchen team transformed Susan's 1909 kitchen with contemporary design and functionality, construction work included 
Big Changes & Small Details – Bath Plus Kitchen – Bath+Kitchen
Marissa Shipe, Designer at Bath+Kitchen, pictured in Susan's new kitchen
Marissa's expertise lies in material selection and color coordination.
This design and remodel project was completed in 2021 for her mother, Susan.
This project was a special one for our core team, Eric and Marissa Shipe. We designed and remodeled this 1909 kitchen for Marissa's mother, Susan, in New York. Not only was it a chance for us to create a beautiful space for someone close to us, but it was a wonderful way to mark a pivotal moment for Susan—when she responded well to treatment for cancer.
It was further away from our usual service areas, but our personal relationship with Susan made it comfortable for our team to stay at the house during the construction phase. This phase was extensive, and included replacing all the plumbing, supply lines, and drains for the entire house.
Project scope and design challenges
This was a major design and remodel of a 1909 kitchen, where B+K did everything except the countertops.
The design took about two months and several dozen revisions, mostly to do with color choices. There were also certain design trade-offs to be made, such as forgoing a large cooking range for a smaller one to accommodate a second oven and tall cabinetry. This kind of back-and-forth helps our clients identify exactly what they want, and what they'll be happy with for years to come.
There were a few things that added complexity to the design process:
The new layout, which was going to be an open kitchen with a long and narrow layout; it can be challenging to work with such a space

We had decided to remove a non-load bearing wall to expand the kitchen and change the layout, which required us to consider many factors
Tip:

Any time there's major construction involved, it's important to be extra diligent about the design, to ensure all aspects of it work together seamlessly. That's why we use high-quality photorealistic renderings, like the one shown below (R), to get a clear picture of how everything will come together.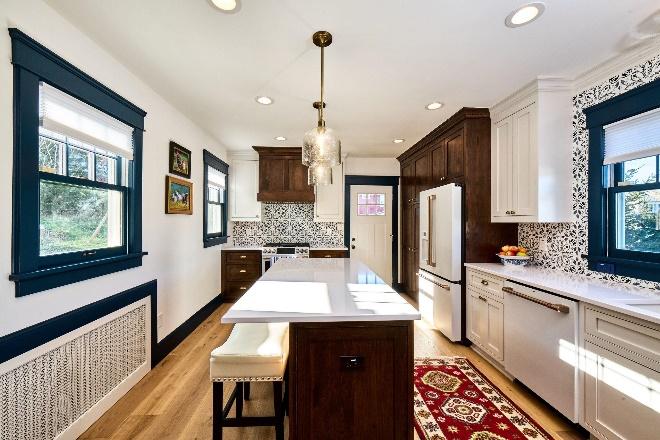 Open kitchen with a long, narrow layout.
Design changes for a new look with excellent functionality
As with all our projects, we poured a lot of thought into every single detail. Here's an overview of some of the big ones, and a look at how they turned out in the finished kitchen:
Susan's kitchen had beautiful vintage cabinetry, but the drawers were difficult to use. It was missing the kind of smooth functionality and effortless experience you get with newer cabinetry. That's one of our top priorities—we work with top-rated cabinetry manufacturers to ensure quality and ease of use for our clients. Here, we chose soft-closing doors and drawers for a smooth experience.
Cabinetry: Old vintage cabinets (L), new custom beaded-inset cabinetry (R)
There was some back and forth on which cabinets to do painted and which ones to do stained, so we looked at a number of renderings before we settled on the final design.
The final choice was custom beaded-inset cabinetry from Adelphi Cabinets. The door style is Legacy. The painted finish is Snowcap (R), and white oak is Acorn (L). As we're sure you can tell just by looking, the great thing about inset cabinetry is it's all built as one seamless cabinet.
New cabinetry by Adelphi Cabinets: The painted finish is Snowcap (R), and white oak is Acorn (L)
The backsplash tiles are hand-painted. It took 16 weeks to get them made, and our client agrees they are worth it! But what makes them unique also creates irregularities that need to be worked with carefully during installation. Still, we're always happy to go the extra mile to create something customized and special for our clients!
Backsplash with hand-painted tiles below a gorgeous, paneled hood
Marissa had a great idea for the base molding and window trims—she opted to do them in blue. We love how this deep, rich color adds contrast and frames the windows beautifully. We also maintained some of the original trim.
We also put outlets in the window trim, which is an area-specific requirement that needs to be met for a remodel to pass the inspection. This is one reason why working with a trusted remodel company is important: you need to be able to trust that they're committed to getting everything up to code so you don't run into issues down the road.
We put in a light above the sink, pendant lights, and recessed lights. Having the lighting on a dimmer switch makes for a customizable experience.
Recessed and pendant lights create task, ambient, and decorative lighting
Eric recommends: A touchless faucet with an indicator light that tells you what temperature the water is. He uses one in his own kitchen as well.
For Susan, we put in a touchless faucet by Brizo, where the indicator light turns red when the water is hot, and blue when it's cold—excellent functionality!
With decorative paneling and retaining some of the original window trim, we were able to preserve the charm of Susan's more traditional kitchen, while giving it a fresh new look and feel.
Susan's vintage cabinetry (L); New cabinetry with traditional charm and modern functionality.
Getting to the finish line
After a two-month design process, we were ready to start construction in the summer of 2020. Sadly, just as we were finishing the design, Susan was diagnosed with stage 4 lung cancer. She was treated at the Memorial Sloan Kettering Cancer Center.
Susan has responded very well to treatment. Because of that, she wanted to proceed with the remodel in the fall of 2021.
Marissa handled all selections for the project. In addition, to support Sloan, where her mother was treated, Marissa joined Fred's Team and ran the NYC marathon to raise money. She raised $16,495, surpassing her goal of $3,500.
B+K's Marissa Shipe, Susan's daughter, at the NYC marathon to raise funds for the Memorial Sloan Kettering Cancer Center
Construction challenges & delays
There were two factors that made this remodel challenging:
This project had several construction-related change orders due to the age of the home.
Conditions were impossible to know without doing the demolition first.  When a project involves demolition, there are usually a few challenges and surprises along the way. These can extend timelines by as much as 3x or 4x. 
To keep delays to a minimum and prepare clients as well as possible, we are careful to note and communicate any additional steps that have to be taken to ensure the job is done right. 
In Susan's house, one of the biggest challenges was leveling the walls, floor, and ceiling, to help the remodel progress smoothly. These surfaces can be out of plumb, i.e., not level, in many older homes.
At B+K, we don't believe in skipping steps, because we know any shortcuts will cost you in the long run. So, we leveled the walls for Susan's new cabinetry to sit right and added floor joints to get the floor to the same level. We also completed vital steps such as sistering and framing to strengthen joists and prevent sagging, which we always recommend.
Tip: Ask your contractor about sistering, and if you need your floors, walls, or ceilings leveled. Many low-ball remodel estimates don't factor in the costs of these steps; if you skip them, you may not get good, lasting results.
Remodeling now could be a great idea, especially if you or your family work or study from home. Many of us have been exploring ways to make our homes more comfortable in the past two years.
​However, remodeling today also requires patience due to current labor and material shortages. While remodeling Susan's kitchen, we faced COVID-related delays on flooring and cabinetry. In these situations, we keep the process moving smoothly by getting and offering clarity on any supply chain issues that come up.
Typically, until all materials reach the house, we're in constant communication to firm up lead times and know as soon as possible if there are going to be delays, so we can modify our plans and keep our clients in the loop. Accounting for production issues, we like to put in our orders asap to avoid delays—we'd rather get everything onsite or in our warehouse at the earliest, than have our clients experience delays.
At B+K, our goal is to elevate your kitchen by enhancing its most beautiful features, while creating a fresh new look and flawless feel. With us, you get the best design recommendations, a smooth experience, and a beautiful, high-quality finish every time.
But we don't just go by proven expertise and the latest designs—to us, your goals and visions matter most. Through in-depth surveys and guidance, we help you zero in on what you really want, to create a space you and your family will love for years.  
If you'd like us to design your kitchen or bathroom, explore our design packages, which are available for purchase. We are able to ship cabinets nationwide and work with you virtually if you are outside of the DC Metro area.
*Please note the total does not include appliances, countertops, and change orders. 
The project also included a powder room remodel.