Kitchen styles can be inspired by anything. It could be your childhood home, a beautiful place you visited, your dream travel destination, an image on Instagram or Pinterest that instantly caught your eye, or simply a kitchen you came across at some point in your life. Memory could also inform its design in a powerful way, as designer Gil Schafer explains in the video below.
When you remodel your kitchen, you have an opportunity to recreate something you connected with and make it a part of your home and everyday life. The possibilities are endless. Every time you set out to do some research on kitchen styles, we're sure you see several brilliant ideas that you would love to explore. Or, perhaps you find it challenging to identify a style that expresses your personal taste and preferences.
Through our work as a full-service design-remodel company, we have brought to life a wide range of kitchen styles to suit the individual tastes of our clients. That's how we know that selecting a style needs careful consideration and in-depth discussion. What can help you settle on one is getting clarity on the basic kitchen styles first.
You may have heard people describe their kitchens as "farmhouse", "French country", "cottage", or "coastal". While these descriptions convey aesthetic and feel, they don't tell you enough about the basic kitchen style that they might be rooted in. Today, there is a lot of fluidity in how these kitchen styles are defined, so different people may classify them differently. However, when you're working with a kitchen designer, it's a good idea to know a few basic styles so you can choose a direction to move in before detailing out the specific aesthetic.
In this guide, we will look at these styles:
1. Traditional
2.  Modern
3. Contemporary
4. Transitional
Homestratosphere's research indicates the kitchen styles listed above also happen to be the top choices today:
Keep reading to learn what makes each of these styles unique!
1. TRADITIONAL KITCHENS
Traditional kitchens are defined by careful details. They are designed for:
Because quality is a priority for traditional kitchens, they favor long-lasting natural materials such as wood over manufactured materials. For countertops, granite, quartz, and marble are timeless choices.
Warmth and comfort are important criteria that a traditional kitchen must meet. To achieve that softness and luxury, they use muted color palettes.
Elegance and sophistication are achieved through adornment. Crown moldings, wainscoting and beaded inset cabinetry for example, can help add tasteful embellishments to your kitchen. Your cabinetry is the perfect place to incorporate this. Instead of simple cabinetry styles that work for modern kitchens, you could opt for a raised panel. Glazes and antique finishes are also widely used for traditional-style cabinetry to enhance the natural wood aesthetic.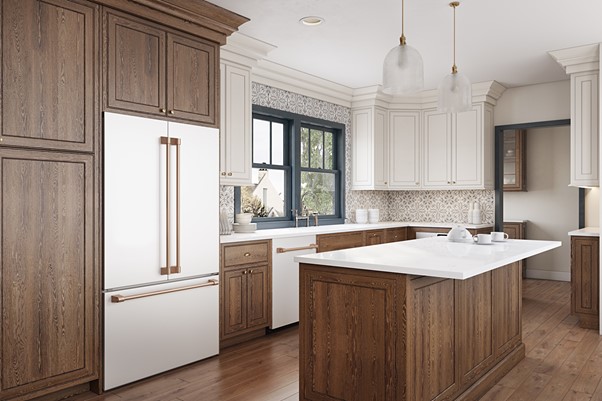 While adornment is important, subtlety is also key to a traditional kitchen. While its countertops may showcase the bold patterns of natural stone, the backsplash of a traditional kitchen tends to be simple and functional.
Adding beautiful, ornate light fixtures to your traditional kitchen will complete the look.

At Bath Plus Kitchen, we often recommend traditional-style kitchens to clients with beautiful historic homes. Northern Virginia neighborhoods, for example, are filled with such houses. But sometimes the interior of these homes is lacking compared to the exquisite exterior. That's where our team can step in. We can help you match the interior of your home to the traditional look and feel of the exterior. Our experts will work with you to create a traditional kitchen that you and your family will enjoy for many years.
A note on 'modern' and 'contemporary' kitchens
The terms 'modern' and 'contemporary' are often used interchangeably. However, they actually mean very different things. Modern kitchens are aligned to the design movement in the early 20th century, with well-defined guidelines on what elements can be included. Contemporary kitchens are, as the name suggests, kitchens designed based on current trends. There can be overlap where modern styles inspire contemporary design, but they are two distinct types of kitchen design.
2. MODERN KITCHENS
These modern kitchens began to emerge around World War I. They were a departure from the well-adorned traditional kitchens, leaning towards simpler designs instead. They prioritize:
Sleekness
Innovation
Boldness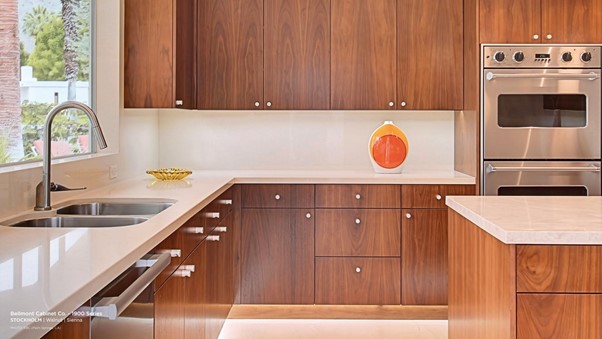 Angular designs and flat surfaces give modern kitchens their sleekness. This is evident from their cabinetry, with their flush doors with smooth surfaces. This approach continues through the furniture of a modern kitchen, favoring angular over adorned.
Hardware and accessories are kept to a minimum to give the sense of measured and manufactured uniformity that translates to perfection. Overall, these kitchens look elegant yet uncomplicated. They have clean lines and an openness to manufactured materials such as ceramics and plastics. Many still use natural materials for flooring and countertops, but without embellishment. Like traditional kitchens, modern kitchens prefer simple backsplashes. Contrast created by bold color palettes is also something you will see with many modern kitchens. Appliances and utensils in bright colors can create tremendous visual interest and signal innovation.

In our work in Northern Virginia, Maryland, and Washington, DC, we have come across many homes that were perfect for our clients in every aspect other than the kitchen. While we try to highlight the most unique and charming features of older kitchens such as original stained-glass windows, these spaces are often completely outdated. That's when we recommend a modern kitchen design, which will update the space and make it functional, neat, and vibrant.
3. CONTEMPORARY KITCHENS
These kitchens demonstrate new and evolving trends. They are generally considered to be kitchens designed for life in the 21st century, which means they factor in current requirements and preferences. They focus on:
Convenience
Functionality
Minimalism
Like modern kitchens, contemporary kitchens prioritize sleekness and clean lines. Contemporary kitchen cabinets tend to have flat panels without any furrows. Their doors covering the entire frame for a seamless appearance. That seamlessness continues when appliances are hidden behind cabinet doors.
Minimalism and spaciousness are key here. Neat layouts that prefer horizontal lines elongate the space and make it look airy and open.
Smart storage solutions and integrated appliances also make it easier to keep the kitchen clean and organized, which is essential to someone with a busy 21st-century lifestyle.
4. TRANSITIONAL KITCHENS
A favorite of many Bath Plus Kitchen clients, transitional kitchens are the perfect blend of contemporary and traditional design elements. They offer the warmth of a traditional kitchen with the sleek, functional style of a contemporary kitchen. Our clients love being able to create their own unique look and feel by selecting their favorite traditional and contemporary elements and putting them together with our design experts.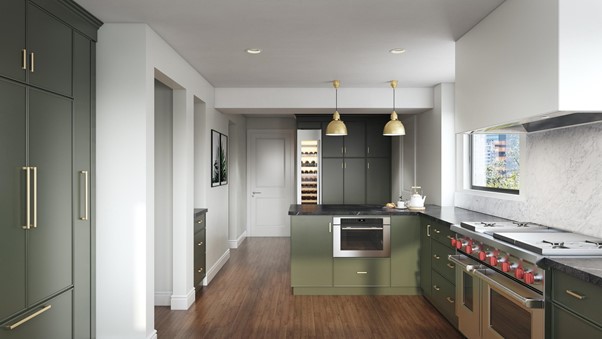 This is an example of a transitional design we completed in Alexandria, Virginia. Notice the simple and clean lines, and how the neutral colors create a nice meeting place for the cabinets, the range, and the beautiful wood floor. This works especially well with the open design and creates a smooth continuity between the kitchen, dining room, and living room.
We hope learning about these basic kitchen styles helps you choose what you want to live with long-term over what looks good today. Once you settle on that and think about your own personal style, you can dive deeper into the aesthetic you love and choose from options such as:
Coastal – Beautiful blues and greens together with bright whites can give your kitchen a coastal theme. These kitchens bring in as much natural light as possible. They include lively elements in places such as the backsplash.
Cottage Kitchen – A cottage kitchen is as cozy and cheerful as it sounds. Hardwood flooring and a soft color palette offer comfort. Charming embellishments, light fixtures, and hardware add character.
Craftsman – These kitchens showcase natural materials. That's why the cabinetry and countertops are top quality. Features such as a large kitchen sink are designed to be functional and stylish.
Eclectic – Practical layouts combined with diverse design elements make eclectic kitchens unique and welcoming. Unexpected finishes and details are blended together, so there is plenty of room for creativity and expression of personal style.
Farmhouse – Simplicity and rustic charm set the tone for a farmhouse kitchen. They have practical details such as large apron-front sinks and open shelving, which can look incredibly stylish. Natural materials such as wood, together with soft finishes, make these kitchens warm and welcoming.
French Country – French country and farmhouse kitchens have a lot in common, so they can be confused. They both use natural materials, rustic details, and bright whites. However, while farmhouse kitchens use defined lines and a casual style, French country kitchens are softer, with a more feminine and refined elegance.
These are many more kitchen style options to choose from, which a good kitchen designer can guide you through. Before you meet with one, here are a few questions you can ask yourself:
What's more important to you – cutting-edge appliances or timeless elegance?
What countertops do you find most attractive and suited to your needs – natural stone or a manufactured material?
Factoring in how busy your lifestyle is, how much time do you have to clean and maintain your kitchen?
Is there a style from any particular town, city, or county that fascinates you?
How much time would you and your family want to spend in the kitchen?
Take this fun quiz from Houzz to get a sense of what your perfect kitchen style might be.
We recommend keeping these answers in mind before you dive into your new kitchen design. During our initial consultation with our clients, we like to learn these types of details to help us understand what matters to them and what would delight them every day. We know a beautifully- and thoughtfully-designed kitchen can be a source of joy and comfort for years, so we work closely with our clients to deliver that. If you'd like to learn more about how we can create your kitchen with high-quality materials and design, get in touch with us here. 
Key references: