Transform Your DC Area Kitchen with sleek Contemporary Kitchen Cabinets
Problem:Your kitchen is outdated. It's dark, shabby, traditional and you hate it. You see the builder grade cabinets with raised arch center panels and cringe. Simply, you're embarrassed by your kitchen and don't invite people over because of it.
The good news is it's not your fault. And it's likely we've seen a lot worse kitchens. Outdated kitchens are prevalent throughout the Northern, VA and DC Metro area. Many homes were built in the 20s, 30s, 60s, and 70s.
Even homes built within the last 10 to 20 years could likely use new cabinets. That's because the cabinets installed are builder grade with a warranty of a one to 3 years on average. Compare that to ten years to lifetime warranties offered by ​our cabinet companies​.
Enter the Contemporary Kitchen
Here at Bath Plus Kitchen, we're always excited about the future. We love helping you turn your ordinary kitchen into something extraordinary, and nothing transforms a boring, outdated kitchen like contemporary kitchen cabinets. In the Northern Virginia/DC area, using kitchen space to full effect is a big priority, and you may want to simplify your kitchen design to make more of the space you have.
Contemporary (also known as modern) kitchen cabinets give your space a sleek and simple style that stands out from the everyday while offering maximum functionality and durability. Contemporary kitchen cabinets and kitchen designs all share many of the same features, but still allow for full customization and one-of-a-kind results that will astonish your guests for years to come and make your kitchen a sanctuary.
Also Read : Transitional Kitchens in Northern Virginia and the DC Metro Area
Let's take a look at some of the features of contemporary kitchen cabinets and see what contemporary kitchen designs can do for your home.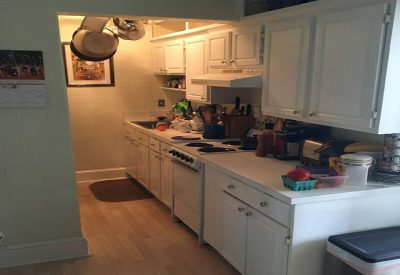 What Makes a Contemporary Kitchen?
In many ways, contemporary kitchen cabinets reflect a "less is more" ethos. It's all of the style with none of the frills – functional designs elegant in their simplicity. Contemporary kitchen cabinets are the most important element of a contemporary kitchen. Contemporary kitchens reflect the simple lines and styling of their cabinetry while incorporating all of the most up-to-date innovations for results that stay fresh year after year. Here are some elements common to all contemporary kitchens and contemporary kitchen cabinets: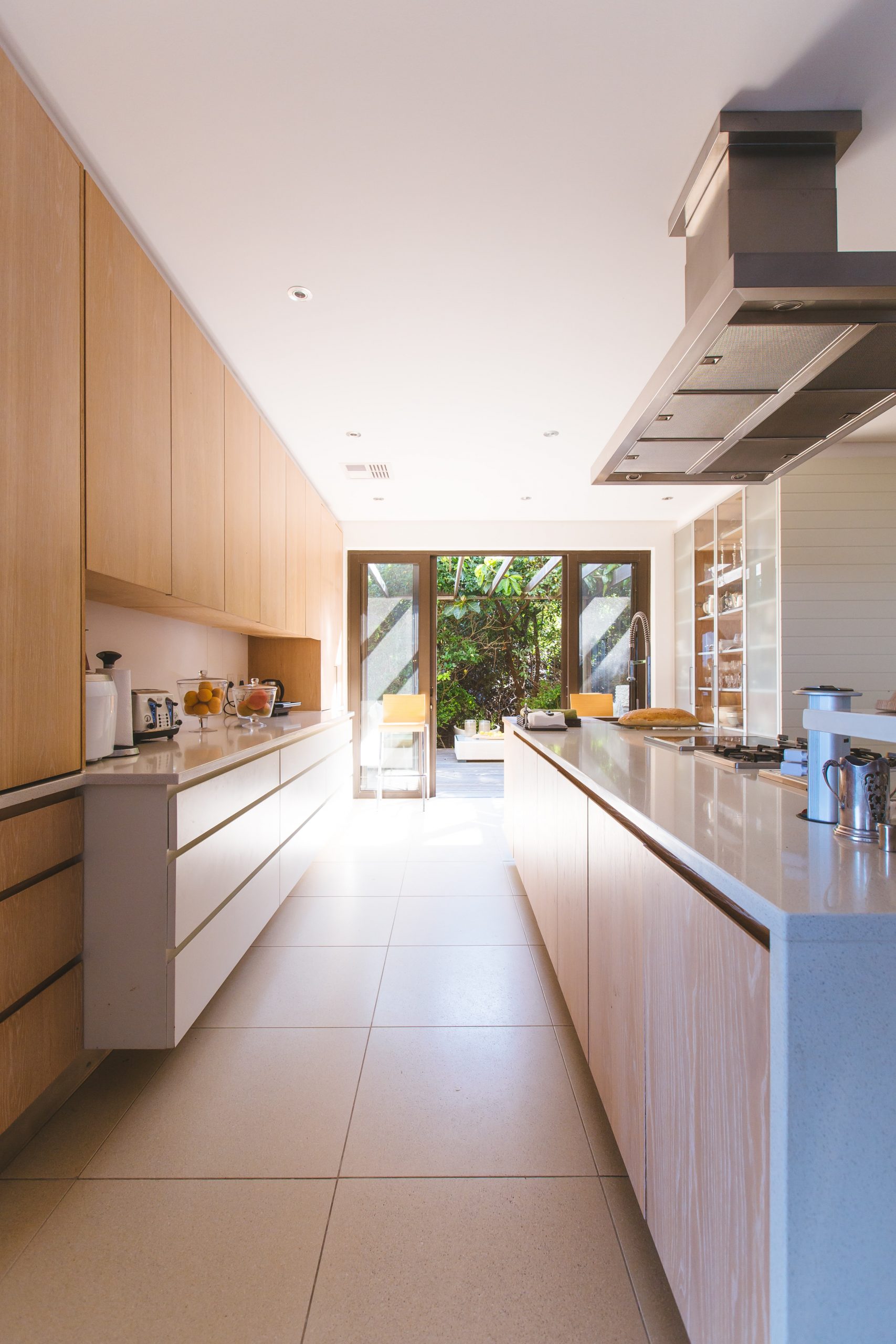 Clean, simple lines. ​You won't find much in the way of intricate detail in a contemporary These designs stick with simple shapes and lines that make kitchens very calming and inviting. This means slab doors and no fancy molding or millwork, making for smooth edges and surfaces all around.
Frameless kitchen cabinets. ​Contemporary kitchens feature frameless cabinetry. Frameless cabinets are a must for the sleek lines associated with contemporary kitchen cabinets, and they offer 15% more usable storage space. Frameless cabinets can also be less expensive than traditional, framed cabinets, as they involve less material and labor in construction.
Stainless steel appliances.​Contemporary kitchen designs feature stainless steel appliances for an ultra-contemporary look that pairs wonderfully with contemporary kitchen cabinets. Again, the focus here is on timeless style and durability that's easy to maintain. Stainless steel appliances will become focal points in your contemporary kitchen and define your work triangle, so this one is non-negotiable for most contemporary designs – go stainless or go back to the drawing board.
Sleek cabinet hardware and drawer pulls.​Here we see that less really can be more. contemporary kitchen cabinets use minimalist hardware and recessed door and drawer pulls for an elegant look that's very functional and not too busy. Like other elements of contemporary kitchens, this ensures timeless beauty that never goes out of fashion and is easy to maintain.
Simple color schemes.​contemporary kitchens often use monochromatic designs or color schemes with very subtle contrast. This is not a hard-and-fast rule, however, and adding a splash (or more) of vibrant color is one way you can make your kitchen truly yours.
Contemporary finishes.​Contemporary kitchen cabinets use contemporary finishes that offer a durable beauty which anchors contemporary kitchen designs. These cabinets often use acrylic, high-gloss, and laminate finishes that reflect a European influence. There is almost no limit to the range of available finishes and colors, so you'll be sure to find the combination that works for your kitchen and your life.
Contemporary lighting.​No contemporary kitchen is complete without the most contemporary LED lighting. contemporary kitchens feature under-cabinet lighting that can be used as both task lighting and ambient lighting, as well as pendant and recessed lighting featuring very simple, contemporary designs. You can also add crown and toe-kick lighting for another great way to personalize your contemporary kitchen with the latest and greatest tech.
What Does a Contemporary Kitchen Remodel Look Like?
A kitchen remodel will transform your home like no other single project. This is never truer than when you're updating your old kitchen with a contemporary design. Let's take a look at one remodel we recently completed and see how you can customize your kitchen with just the right amount of contemporary to fit your lifestyle.
Also Read : 10 Mistakes to Avoid When Planning a Kitchen Remodel in Washington, DC.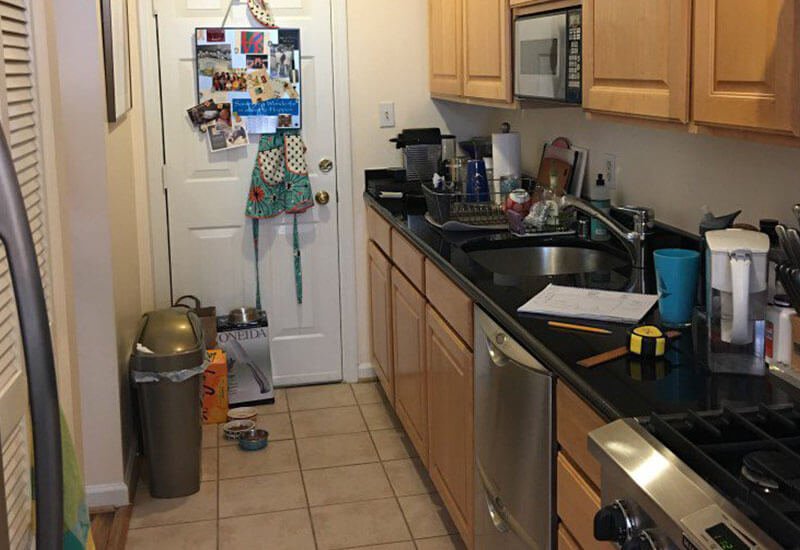 This is the kitchen on the day we went to take measurements. As you can see, these outdated cabinets didn't go too well with the stainless steel appliances. You'll also notice that the kitchen is very poorly lit, with shadows dominating large parts of the work areas. This small space was simply far too busy, and the discordant design features gave the room a "thrown-together" feel. Our client wanted a unifying
design that would transform this space into something more than just a collection of cabinets, countertops, and appliances.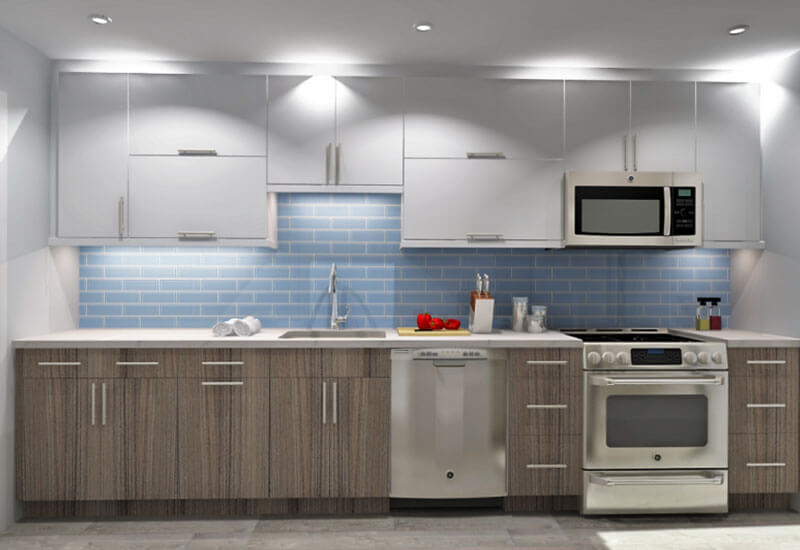 The final design was a very contemporary one. You can see how the new color scheme opens up the room in concert with new and improved lighting. The blue tile backsplash added a touch of color, and the effect of the under-cabinet lighting on the tile is simply magical, especially when the lighting is dimmed for ambience. Our client chose to go with more traditional door and drawer pulls, but the simple elegance of the hardware takes nothing away from the contemporary design and clean lines of the frameless cabinets. The result is a contemporary, more functional kitchen that's simply a more pleasant place to be – and won't be going out of fashion anytime soon.
ANOTHER TAKE ON CONTEMPORARY: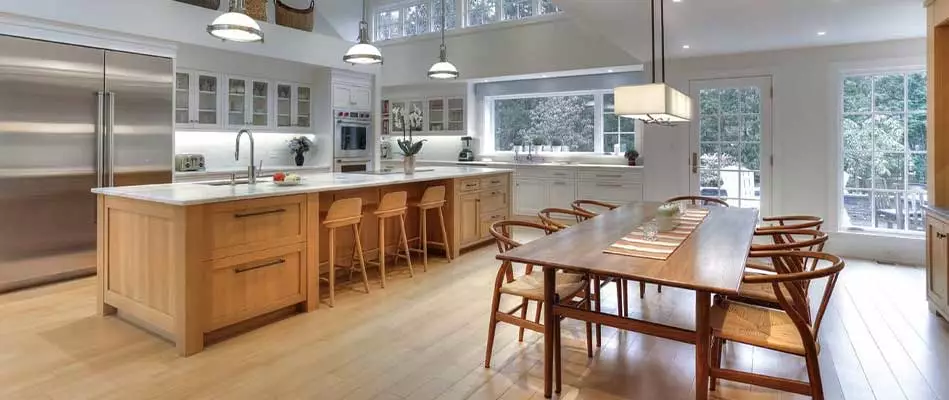 This design features all the elements of a contemporary kitchen with a traditional flare. The inclusion of wood veneer and amber glass adds a little traditional comfort to this otherwise thoroughly contemporary kitchen, demonstrating that different design elements can easily make your contemporary kitchen unique. Notice the clean look of the contemporary kitchen cabinets and the way the lines in the tilework accent the wood veneer. This is a great example of an up-to-date design that successfully blends a little old with the new.
Also Read : Plain & Fancy Cabinetry: Cabinets Made Especially For You
AS CONTEMPORARY AS IT GETS: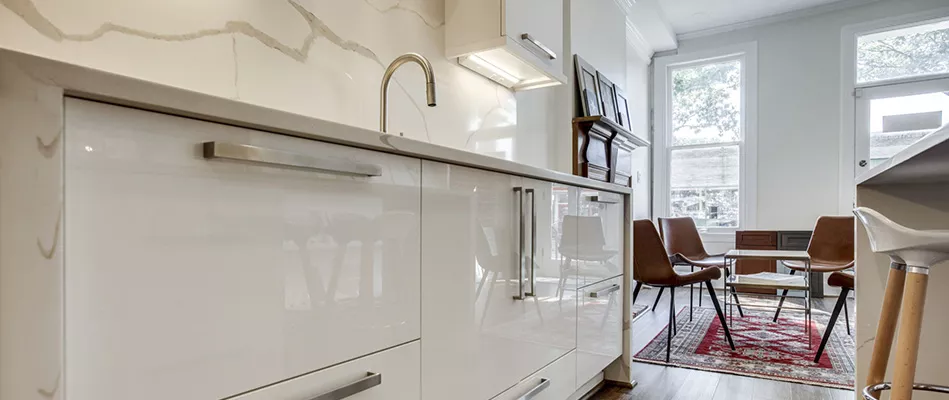 Here we see a good example of a fully contemporary kitchen. Notice the prevalence of simple shapes and smooth lines, especially on the upper cabinets. Here the ethos of simplicity is taken all the way, right down to the island stools, which have a kind of industrial look. The contrast between the horizontal lines created by the cabinets and the patterned backsplash and countertops really wakes this room up, and the wood floor adds a touch of warmth.
If you're planning a kitchen remodel in the Northern Virginia/DC area, a contemporary kitchen might be what you want to take your remodel to the next level. We'd love to hear from you and show you all the ways contemporary kitchen cabinets and design can transform your outdated space into a dream kitchen.