Is a new kitchen design something you need to start thinking about? Like many people, you may have felt your kitchen was great when you first bought your home. You probably checked every detail you could think of to make sure it would be comfortable and work well for you and your family. But cut to a few years later, and you find yourself wondering why you thought the cabinetry was well-planned and the countertops easy to maintain. Or, perhaps you've simply outgrown the style and space that once felt perfect. It's something we've seen many of our clients in Virginia, Maryland, and Washington, DC go through.
We can find ourselves dreaming of a new kitchen design for different reasons. But if you're not sure whether you're actually ready for a remodel, we have a list of questions that you can ask yourself.
1. Does the flow of the space work for me?
When you clean your kitchen, if you find that things go back to being messy and disorganized really quickly, it's a good idea to reevaluate the flow of your kitchen. That flow depends on how items are placed within the space, including everything from the kitchen island to your spices. You can reevaluate this and make some adjustments. However, there is a limit to how much you can change within an existing design. From our years of experience as a full-service design-remodel firm, we know that sometimes a new kitchen design is the only way to create a flow that actually suits your needs and makes cooking and cleaning up a lot easier.
2. Is the style still a good fit for me?
A style that may have been interesting and chic a few years ago could look dated now. Especially if you opted for something very bold and trendy that has since fallen out of style. To find out how much you really need to change, consider key aspects such:
Flooring
Countertops
Seating
Metals used in fixtures, handles, and cabinetry hardware.
3. Am I able to store things comfortably and stay organized?
Both spacious and small kitchens can have storage problems, and they all come down to planning with your specific storage needs in mind. If you haven't assigned spaces to different items in your kitchen, you may find them piling up on the countertop, causing clutter and confusion about where to find what you need. Think of the last time you cooked a big meal. Were you able to find all the ingredients you needed, and were they kept fresh through proper storage? Was putting everything back a challenge? How easy it is to get everything together – including utensils, tools, and cookware – can determine how usable your kitchen actually is. If your kitchen design is getting in your way, you may need to rethink it.
4. Do my appliances work efficiently?
Upgrading your appliances is a good idea when they aren't functioning smoothly, have outdated features, don't fit the bill aesthetically, or consume a lot of energy. Another thing to remember is that technology is making its way into our appliances in new and interesting ways. You can now control your fridge temperature as well as make sure your steak is done to perfection with innovative cooktops over Wi-Fi. How do your current appliances stack up against today's future-ready appliances with their impressive capabilities? Think about how you want to use your kitchen and ask yourself if you have the required tools and gadgets to achieve that. For some inspiration, take a look at Millo's smart worktop to see how technology could soon transform the way you cook:
5. Do I have enough counter space?
A mistake some people make is only considering the active tasks around cooking – such as chopping and prep work – when evaluating their counter space needs. What can get forgotten is landing area requirements, i.e., where you will place items from the fridge, sink, or stove temporarily. Taking these steps into consideration, you may realize you need more room. Other factors that can influence this include how many people generally cook a meal; whether it's just one or if other family members like to join in.
6. Is the lighting planned well for both function and aesthetics?
There isn't one clear answer about what kind of lighting works best for a kitchen; there are several. For a better look and experience, incorporate ambient lighting, task lighting, pendant lights, as well as decorative lighting. Take a look at your current space and see how many of these you have and what you can add to tailor the lighting to suit your needs. Plan these together to make sure you have the right lighting for your requirements wherever you are in the kitchen. Watch this video to see how you can do this:
7. Have there been any major lifestyle or family changes that my space needs to accommodate?
Has your family grown since you moved in? If there are more people living with you now, it's a good idea to reevaluate and see if the kitchen accommodates them well. This could be in terms of workspace (if your family cooks together) or kitchen seating. If you need to make your kitchen safer for kids, take the right precautions and see if you need to fix any sharp edges or add locks to lower cabinets. When you're assessing this, think about each member of your household and what they might struggle with now or in a few years.
8. Should I consider universal design requirements?
As mentioned above, it's important to think about how you and your loved ones plan to use the space in the long run. Universal design helps you make the space more accessible and comfortable to others who live or may live with you at some point, or even for yourself as you get older. Take a look at your kitchen as well as at other rooms in your house and see if there are any aspects you can fix to create safer, more usable spaces for everyone at home.
9. Does the space help me host guests more comfortably, or does it make it more stressful?
If you are facing storage issues or are finding it difficult to keep thing organized on a regular day, guests certainly won't help. The flow of your space and how well it is planned can determine how comfortable you feel inviting other people into your home and kitchen. When you have guests over for a meal, for example, it can be stressful, but your kitchen design shouldn't add to that stress. Instead, it should help you find and do everything with ease.
10. Is there an upcoming event for which I would like to complete my kitchen remodel?
If you foresee yourself becoming busy with work or something else in the near future, plan your remodel so that it is completed before you need to shift focus. Or, you may want your new kitchen design brought to life before the next big family visit or event. It's good to be clear with your remodel team about this beforehand, so the project stays on track. Read about how we helped one family complete their kitchen remodel in just 8 weeks.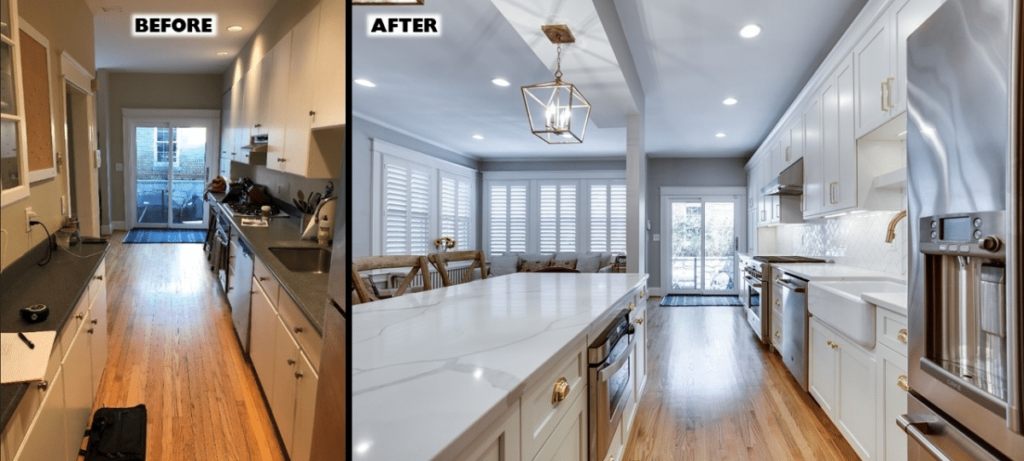 While answering these questions, if you felt strongly about making some of these changes or wanting an upgrade before a specific event, it's time to consider a remodel. The wow factor is priceless, but there's so much more a remodel can do for your home, including:
Boost your home's resale value
Help you sell faster in case you decide to at some point
Improve safety
Improve energy efficiency and sustainability
Reduce certain repair and maintenance costs in the long run
Ready to dive in? Start working on your new kitchen design with Bath Plus Kitchen through our new virtual design process. It offers:
A set of resources to help you explore your options and envision your dream kitchen or bathroom more clearly.
An online questionnaire to help you share that vision with us in detail
A Google Meet to give us a chance to interact and get on the same page before we proceed
Physical samples that will bring the showroom experience to you at home, enabling you to interact with the materials in a way videos and images won't allow you to.
This way, you can make progress on your remodel plans from the comfort and safety of your own home. Once the design is complete through this virtual process, we will select a date to begin the remodel and take it from there.
As you work out your reasons to remodel, also consider the challenges that come with it and how you can prepare for them. Make the process easier by choosing your project team carefully, doing your research on extra costs, and keeping your family's comfort and convenience in mind as throughout the process