Kitchen styles are described in many different ways. Sometimes, descriptions focus on layout and important features. At other times, you'll notice they explain themes or aesthetics. In our previous blog, we explained the basic styles that define a kitchen, and listed some specific looks that clients request. Here, we will talk about those looks and a few of the choices that can help you achieve them.
A remodel is an opportunity to recreate something you connected with and make it a part of your home and everyday life. The possibilities are endless. Whether you have something specific in mind or are finding it challenging to identify a style that expresses your personal taste and preferences, this blog will help you settle on the right choice for you.
Through our work as a full-service design-remodel company, we have brought to life a wide range of kitchen styles to suit the individual tastes of our clients. We know it takes careful consideration and in-depth discussion before you can select a style.
Before you start thinking of color palettes and finishes, we recommend learning about some basic kitchen styles first. Once you have a clear understanding of those, this blog will help you zero in on the final look you want to achieve.
In this guide, we will look at these well-loved kitchen styles:
1. Coastal
2. Cottage
3. Craftsman
4. Eclectic
5. Farmhouse
6. French country
COASTAL
When you see beautiful blues and greens made vibrant by bright whites, it's likely that you think of the ocean. This kitchen style is a natural fit for a beachside home, but it also would make sense for anyone who loves the ocean and wants to experience a little of that coastal brightness every day.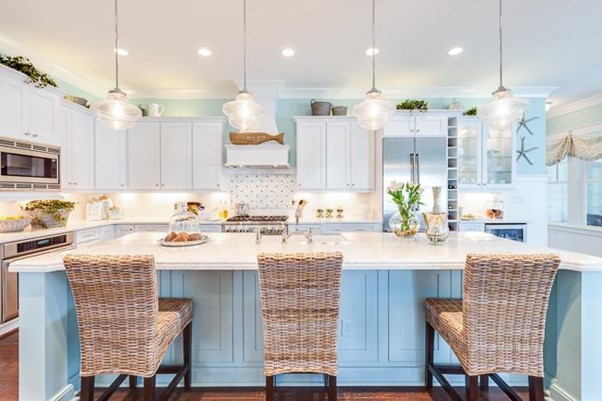 Get the look
Create the right palette, using colors you see at the beach. This visual by Grande interiors demonstrates how you can pick the right hues:
Natural light plays a big role in creating a coastal aesthetic. Keep things light and airy by opting for door and window styles that incorporate clear glass.
Crisp white walls will reflect the light beautifully and create a feeling of spaciousness. For wall, floor, countertop, and cabinetry finishes, it's important to maximize the effect of natural light. To achieve this choose satin and gloss finishes instead of matte to reflect more light. If there are spaces that don't get enough natural light, you can add lighting that feels natural and bright. Consider adding dimmers, so you can control the brightness, depending on the time of day.
You can get creative with the backsplash, for example by blending ocean colors in wave-like patterns.
Furniture styles can vary with a coastal theme, but traditional hardwood is a great option. Choose natural stains and organic-looking finishes. Also, for cabinetry, think about whether you want a sleek modern or sturdy traditional look and choose the door faces accordingly.
COTTAGE KITCHEN
Cozy and cheerful, a cottage kitchen is designed to bring you joy and comfort. Soft colors with sturdy-looking furniture and cabinetry make it a warm and welcoming space.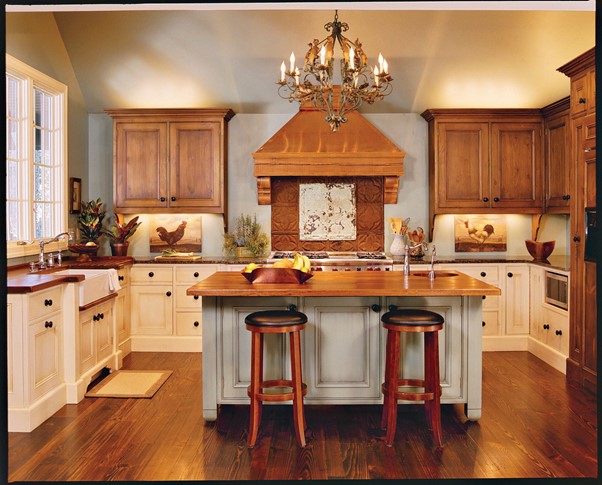 Get the look
Soft, warm, natural-looking colors tend to be the right choice for a cottage kitchen. A palette like the one below could work well:
Charming embellishments, light fixtures, and hardware add character to a cottage kitchen.
Consider going for traditional kitchen cabinetry that resembles freestanding storage cupboards from years ago.
When we think of a cottage kitchen, we picture a kitchen that's used well to make incredible home cooked meals. Functionality is key, so features such as a large farmhouse sink would be right at home here.
Open shelving creates a sense of informality, which is very important in a cottage kitchen.
Hardwood flooring adds warmth and sturdiness.
Cheerful lighting using pendant lights add both brightness and softness.
CRAFTSMAN
These kitchens showcase natural materials, and are all about quality, convenience, and ease-of-use.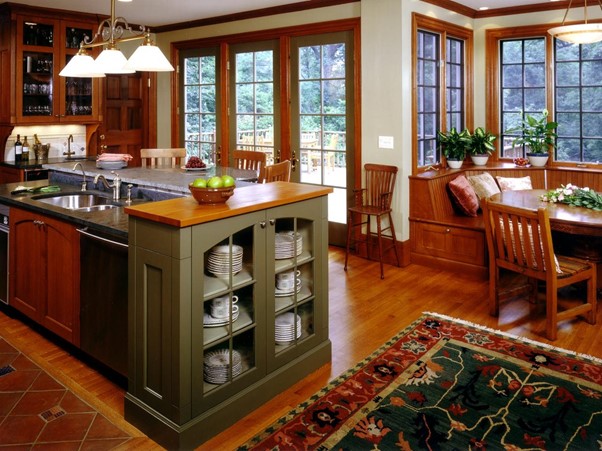 Get the look
Use a palette that makes you think about experiences in nature, such as a walk in the woods:
Make sure that your cabinetry is top quality. Real wood is an excellent choice here. Hardwood veneers would work beautifully as well. Try rich stains and finishes that add depth.
Features such as a large kitchen sink are designed to be functional and stylish.
Most elements of a craftsman kitchen are traditional, sturdy, and clean. You can, however, get a little more creative with the lighting and the backsplashes. For example, you could opt for industrial light fittings or a backsplash with patterned tiles to create a unique look.
ECLECTIC
Practical layouts combined with diverse design elements make eclectic kitchens unique and welcoming. Unexpected finishes and details are blended together, so there is plenty of room for creativity and expression of personal style.
Get the look
There are no specific palettes or design choices that define an eclectic kitchen, and that's precisely the point – it's a space that you can design by combining different, often unconnected, elements that appeal to you. You can find inspiration anywhere and create your own color palette like the one below:
Blend bold and subtle elements to create a space that is expressive but not overwhelming.
 Homedit suggests these 5 steps:
– Build a funky kitchen island
– Mix themes such as futuristic, rustic, and contemporary
– Display everything
– Pay attention to texture
– Play with colors
FARMHOUSE
Simplicity and rustic charm set the tone for a farmhouse kitchen. These kitchens are well-equipped to make cooking with the family comfortable and inviting.
Get the look
Choose soft colors that are relaxing and welcoming.
Include practical details such as large apron-front sinks, which can look incredibly stylish.
For cabinetry and flooring, choose natural materials such as wood, together with soft finishes, which make these kitchens warm and welcoming.          
Build a kitchen island, which will help your kitchen accommodate more people when you are cooking together.
Instead of focusing on hiding your appliances and other things away, display them with open shelving.
Adding details such as shiplap will instantly give the space a rustic yet clean look.
FRENCH COUNTRY
French country and farmhouse kitchens have a lot in common, so they can be confused. They both use natural materials, rustic details, and bright whites. However, while farmhouse kitchens use defined lines and a casual style, French country kitchens are softer, with a more feminine and refined elegance.
Get the look
Choose a soft color palette that does not take attention away from elegant details on the cabinetry and other fittings, hardware, and lighting.
Skirted cabinetry is a good choice for a French country kitchen, and would give it a traditional look.
Similarly, you can use crown molding, added to the tops of cabinetry.
Enrich the space with rich textures, high-quality materials, and charming accessories and hardware, but keep the colors muted.
These options suggest two things:
1. It's important to know which basic style you love the most, so you can select the cabinetry, flooring, layout, and lighting accordingly.
2. There are suggestions but no fixed rules when it comes to palettes and overall look and feel; they can accommodate your personal preferences comfortably, as long as you follow the basic guiding principles.
A good kitchen designer will help you work through these options to find the perfect fit for you. However, it's helpful to have a sense of what you want to achieve before you meet with one. Here are a few questions you can ask yourself:
What's more important to you – cutting-edge appliances or timeless elegance?
What countertops do you find most attractive and suited to your needs – natural stone or a manufactured material?
Factoring in how busy your lifestyle is, how much time do you have to clean and maintain your kitchen?
Is there a style from any particular town, city, or county that fascinates you?
How much time would you and your family want to spend in the kitchen?
You can also take this fun quiz from Houzz to get a sense of what your perfect kitchen style might be.
We recommend keeping these answers in mind before you dive into your new kitchen design. During our initial consultation with our clients, we like to learn these types of details to help us understand what matters to them and what would delight them every day. We know a beautifully- and thoughtfully-designed kitchen can be a source of joy and comfort for years, so we work closely with our clients to deliver that. If you'd like to learn more about how we can create your kitchen with high-quality materials and design, get in touch with us here. 
Key references:
https://www.hgtv.com/
https://www.housebeautiful.com/
https://www.houzz.com/