Kitchens through the decades have evolved keeping those of us in the kitchen remodeling industry on our toes. Probably the biggest change is the idea of the kitchen.
To clarify, the kitchen of 2019 is the hub of the home. Today's ideal kitchen is bright, open and likely has an island or two with as much seating as possible. Above all, it's where everyone wants to be and it's killing the dining room. Contrast that to the small, dark and walled-off-on-all-sides 1950s kitchen.
It feels nostalgic, memorable and sometimes inspiring to look at designs from the past five decades. Kitchens have changed a lot over the years. And some styles have even come back around.
So, let's take a walk down memory lane and peek in on these kitchens through the decades.
THE 550's KITCHEN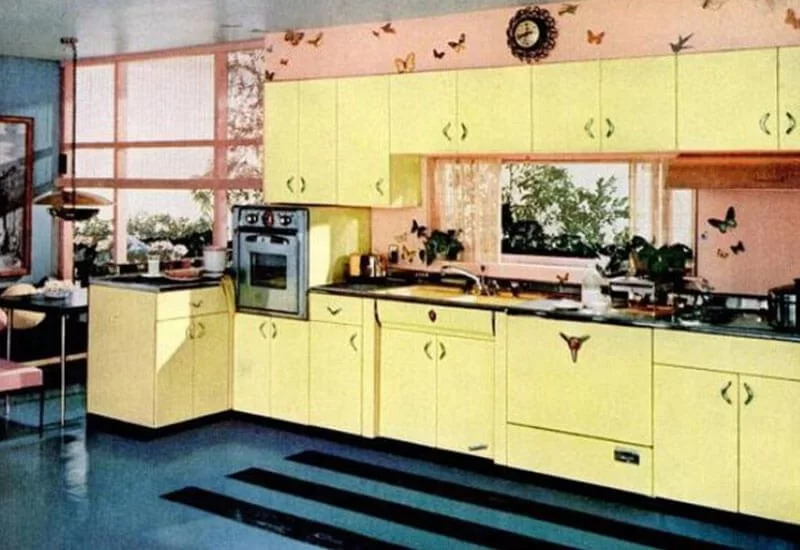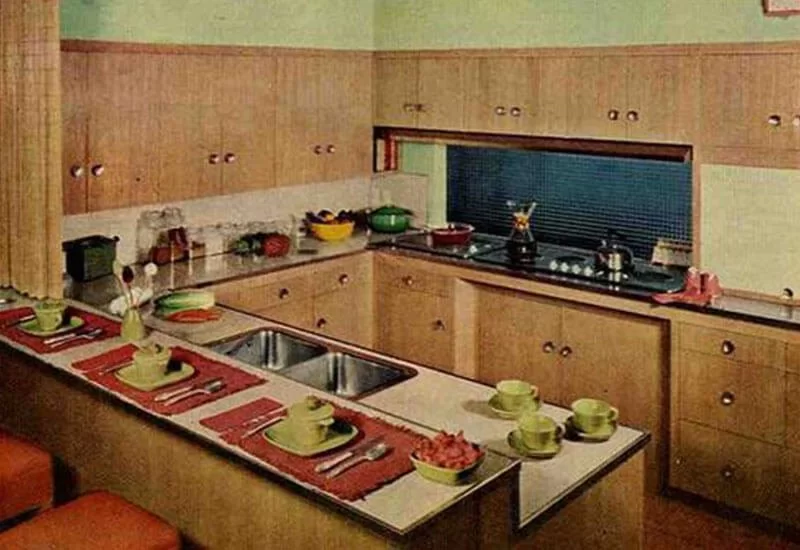 Kitchens in the 50's were known for bright pastels, bubble-shaped appliances and colorful linoleum. These characteristics created bright, charming spaces for the whole family to come together. While many things remain the same from 50's kitchens, such as the unified cabinetry, wall ovens and electric or gas appliances, many design aspects have changed.
Brightly colored steel cabinets were all the rage in the 50's. In contrast, the 1970s saw wide adoption of particle board cabinets due to its affordability over steel and plywood. Opting for less color, many homeowners decided to go with a rustic vibe and chose knotty pine for their cabinets.
Most 50's kitchens had Formica countertops with metal banding around the edges. Another popular trend was colored appliances to match your cabinets. You almost miss those yellow and blue dishwashers that were so common in the 50's!
There was a wide range of kitchen styles in the 50's. For example, you had everything from sleek and contemporary to country cute. Meanwhile, wood was commonly used for the cottage look, while many contemporary kitchens had white cabinets and appliances.
But in every 50's kitchen, there was a lot of color and geometric design. In other words, expect the walls to be full of pastels, and the linoleum to be colored and checkered. Linoleum was a major advance for the 50's kitchen. Because it meant a softer walking surface, a variety of colors and a near seem-less fit.
There's no doubt about it, 50's kitchens had a lot of character, and many people still love the look today. Retro kitchens are coming back in a cutting edge way, highlighting some of the favorites from 50's kitchens, such as the color, the rounded appliances and the checkered floors.
THE 60'S KITCHEN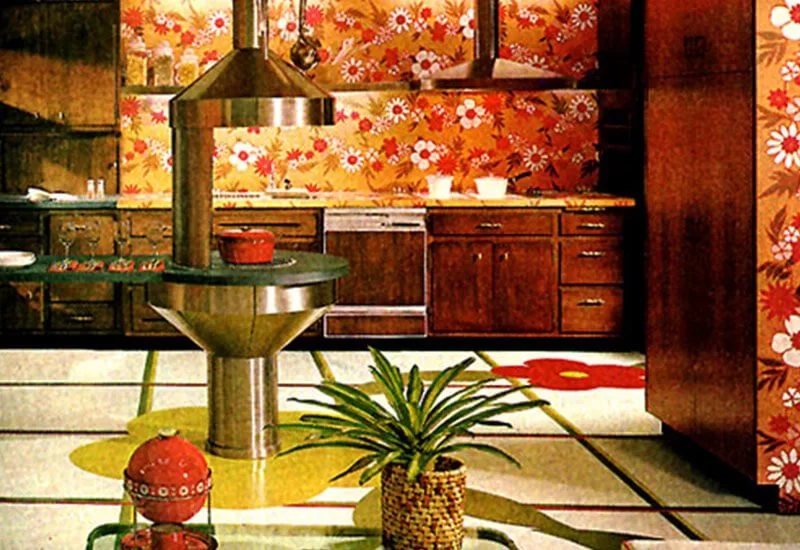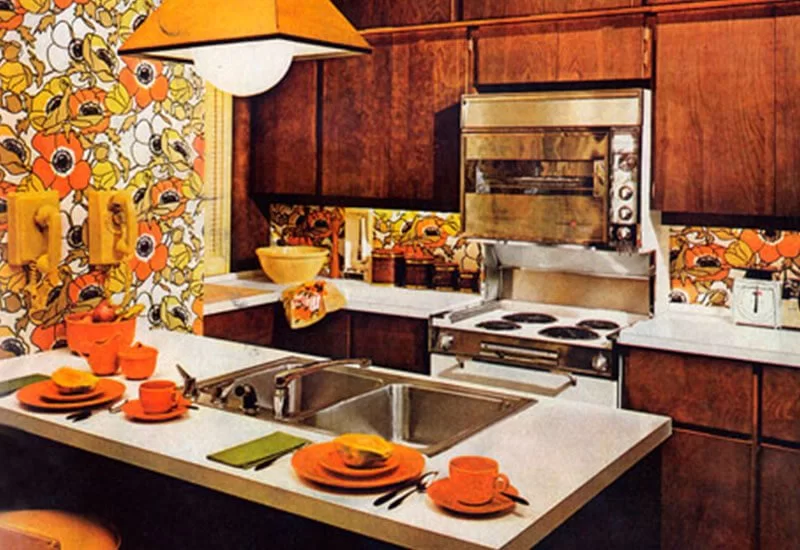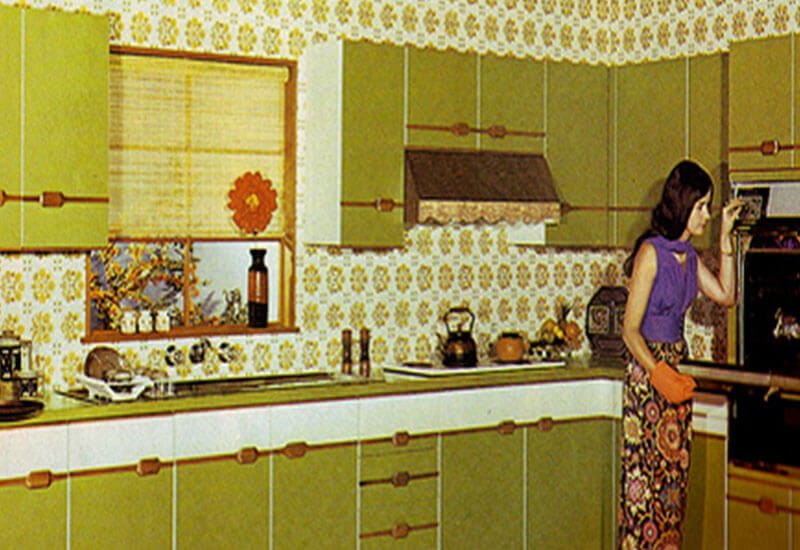 Kitchens from the 60's were all about bright, kooky colors, everything from mod orange to lime green. Further they also started incorporating a more modern design with straight lines.
These kitchens valued functionality and utilized every space available to them. This made them perfect for entertaining and enjoying company.
Every kitchen from the 60's was full of color. From brightly colored cabinets to floral wallpapers, the kitchen was a space that was full of light and bright accents.
Many kitchens from the 60's still went the route of brightly colored appliances that matched the cabinets. However, this is also the decade that we started to see some stainless steel appliances.
Some kitchens favored the woodsy, suburban chic look that was so popular in the 60's. These kitchens were decked out in wood cabinets with rustic charm.
When we think of the 60's, it's hard to forget the shag rugs and the minimalist furniture. People valued space and functionality in these days. Every space had a function, and this provided for easy clean up and entertaining. The open space concept started to become popular, and placing the dining room and kitchen within one space became more common. Moreover, kitchen islands replaced bulky cabinetry to give kitchens a more open feeling. Storage space and work space was a valuable commodity in these days.
The 60's were full of bright, fun kitchens and many modern kitchens now reflect some of the straight lines and concepts that came out of the 60's.
Pops of mod orange or sunny yellow are commonplace in modern kitchens now. In short, kitchens from the 60's gave us design concepts utilized through the decades and into today.
THE 70'S KITCHEN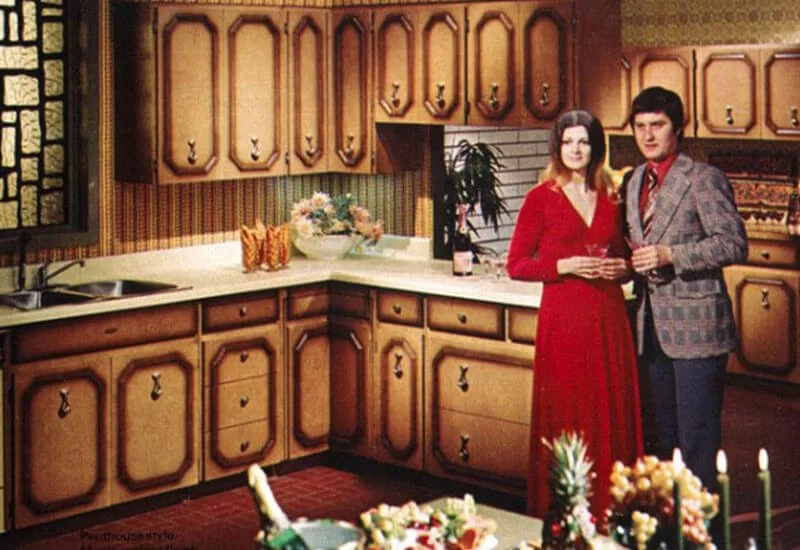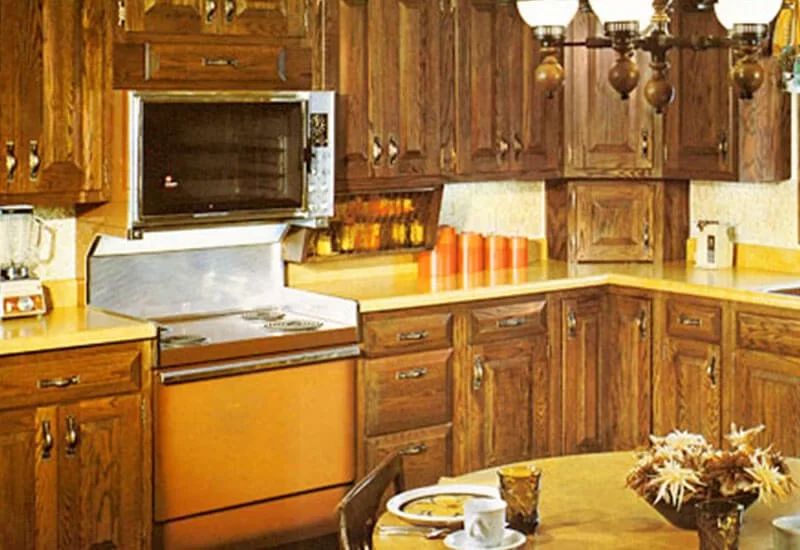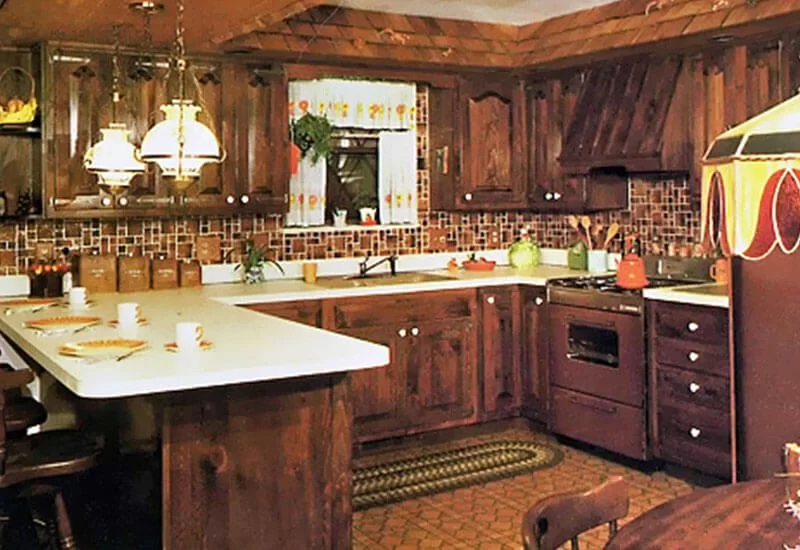 Where the 60's were all about bright colors, the 70's were about earth tones and muted colors. Relaxation was the goal of these kitchens. However, functionality and space was still very important.
The 70's kitchen brought the family together for dinner and conversation.
If you remember the 70's, you know harvest gold and avocado green were the colors of the decade. You saw everything from appliances to cabinets in these colors.
The natural, wood palette was a common design too. Most cabinets were now wood. And many people used wood accents in other areas as well, including on the ceiling and as window accents.
Wallpaper was still a common sight as well, boasting many different patterns, from floral to geometric. Embossed linoleum-lined the floors, with many different designs and colors. And the two usually never matched each other. In the 70's, the mismatched kitchen was a design choice.
Some features from these 70's kitchens can be seen in retro kitchens today.
The gold and green colors are commonly used as a throwback to this decade. However, the wallpaper and linoleum hasn't made it's come back quite yet.
THE 80'S KITCHEN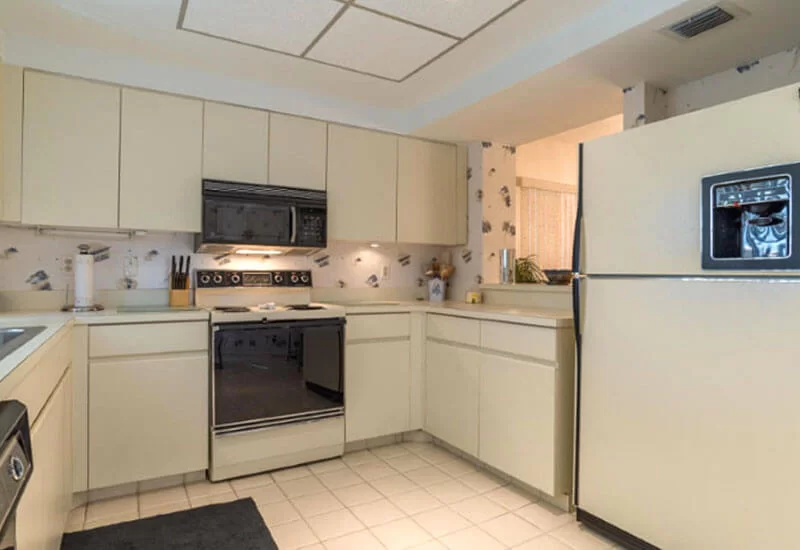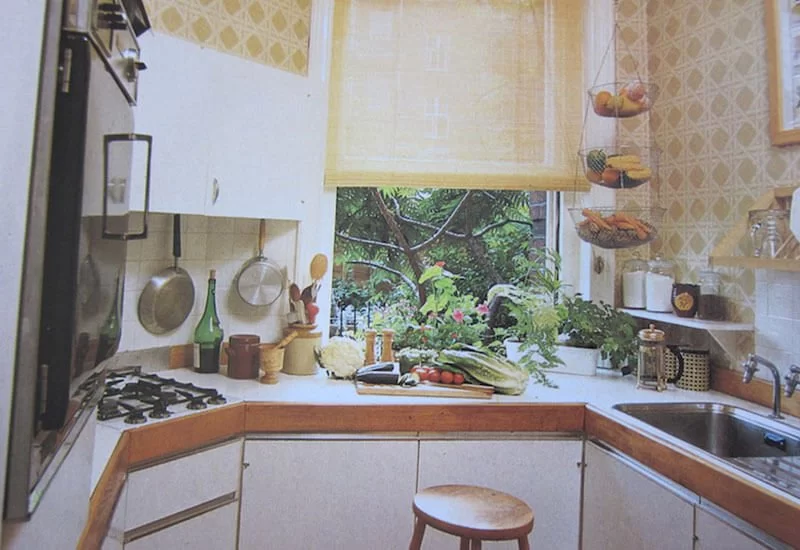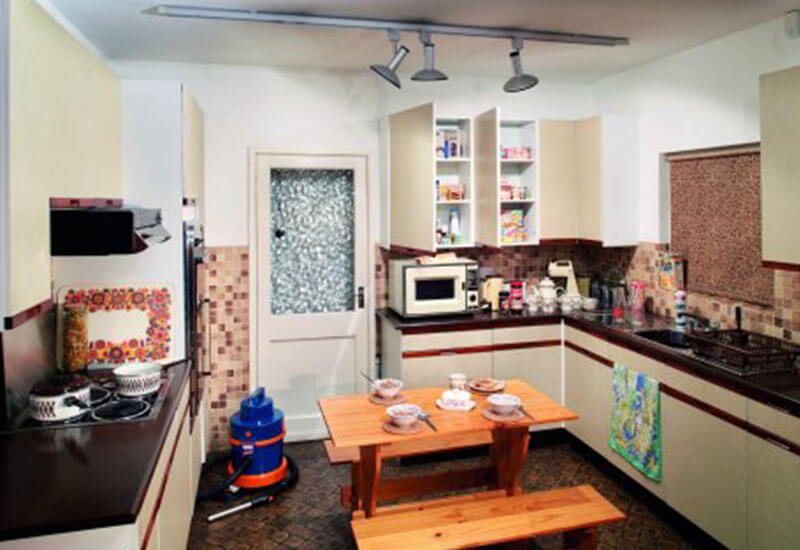 Kitchens from the 80's were brighter, lighter and whiter. White cabinets became the design trend and good lighting was a must-have. Kitchen shapes changed and appliances started to come in the simple white and black variety.
In contrast to the 50's and 60's, Kitchens through the 80's were much calmer than the previous two decades. Cabinet stains were much lighter, including the wood stains. And a lot of people started opting for white cabinets.
Laminate cabinets emerged in the 80's and many kitchens adopted the "Euro-style" cabinet, which was a white cabinet with a wood trim. People of the 80's didn't struggle with questions like painted vs stained cabinets.
Another popular design concept were cabinets without handles, to give the kitchen a smooth, combined look. Likewise, countertops pretty much came in three choices, white tile, white or ivory Formica and butcher block Formica.
U-shape kitchens with continuous Formica countertops added counter and cabinet space. Pantries to the right of the fridge also became very popular, as many families needed a larger space to store their dry goods. Meanwhile, appliances started to come in three options, white, black and ivory.
Above all, the 80's kitchen was a contrast from the colorful moods 60's and 70's. Neutral colored cabinets, counters, and appliances brought consistency to kitchen design. However, walls and curtains still provided colorful, floral patterns as accents.
Many people might still consider an 80's kitchen out of fashion. But there are many design concepts we still use today, such as neutral options with pops of color and valuing bright, light kitchens.
THE 90'S KITCHEN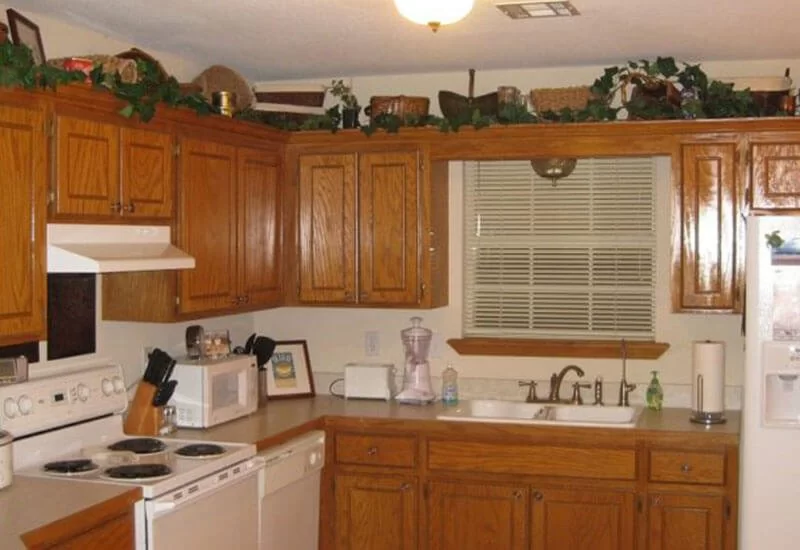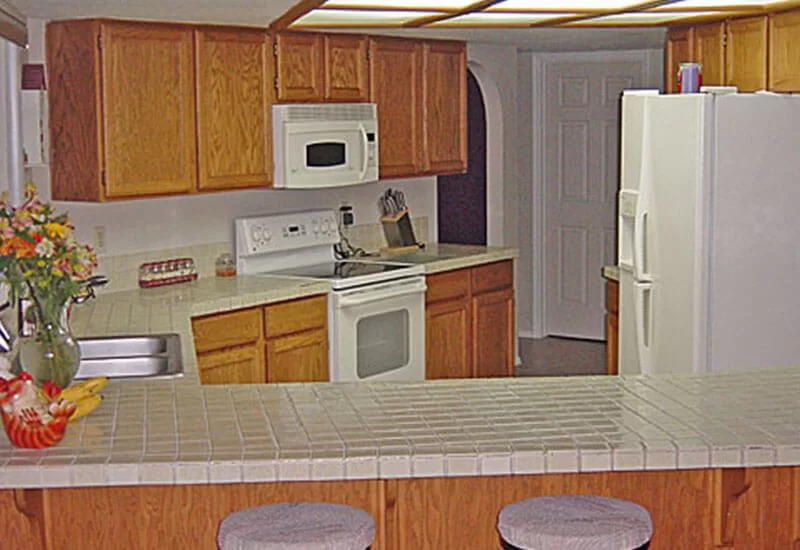 Kitchens through the 90's decade became even more minimalist in nature. People were craving Friends, they wanted serene, soothing spaces for the center of their homes.
Light oak finishes and all-white appliances were on trend. And many people put away their countertop appliances and knick-knacks in exchange for a simple fruit bowl. Oak cabinets with light laminate or tile countertops were a mainstay in kitchens from the 90's.
People loved the charming countryside appeal of these designs. And don't forget about the pastel paint and floral wallpaper. Because this was thought to add even more charm through the kitchens of the 90's decade.
To top it all off, brass hardware was everywhere! Brass added a warm look to the country style kitchens from the 90's.
Kitchen lighting from the 90's was commonly a box light or a single overhead light. And while many kitchens were still being built in the U-shape from the 80's, many other kitchens were adopting islands into their designs. This brought friends and family together in one space, and added counter and work space to the kitchen.
The 90's came with many design changes, including rattan furniture and floral chintz.
But many concepts are still used in kitchens today. Kitchen islands are a must-have for many modern kitchens.
And many designs are going back to the minimalist, serene vibes found in kitchens from the 90's.
CONTEMPORARY KITCHENS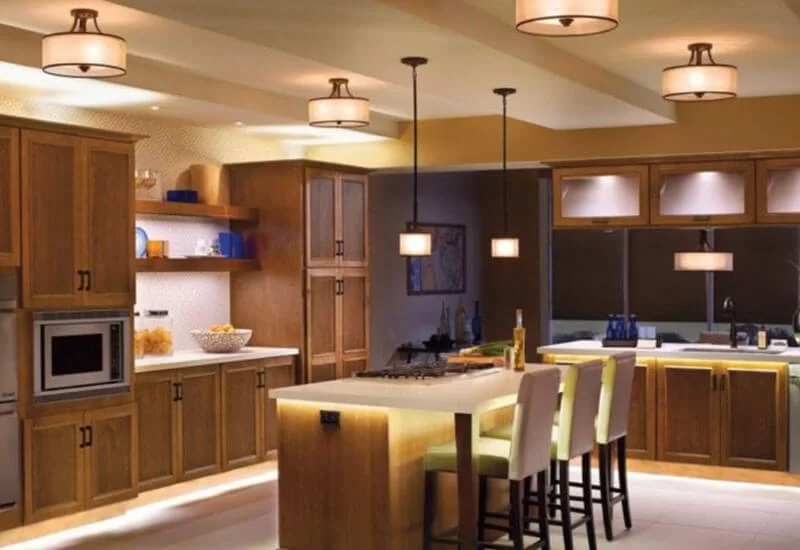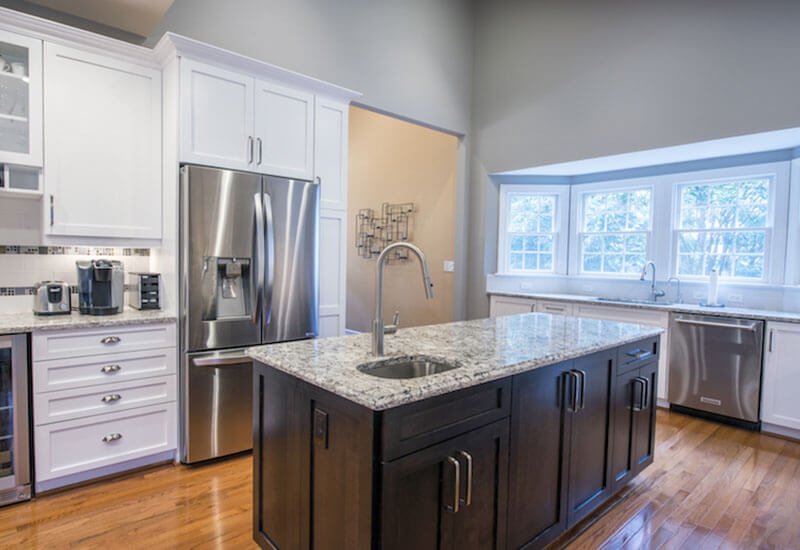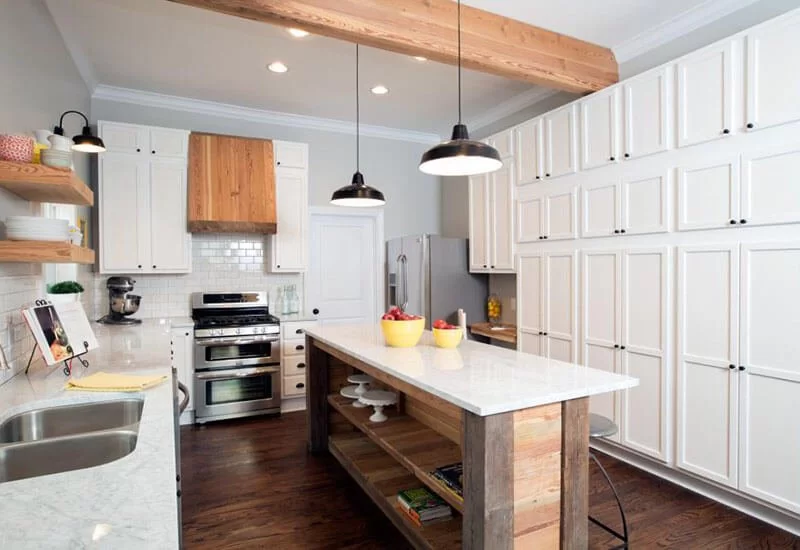 Contemporary kitchens are all about creating open spaces that are great for entertaining and everyday living. Focusing on creative storage space ideas allows for ample work space and open dining areas for the whole family to enjoy.
Many current kitchens also value bringing the outdoors indoors with large windows and ample lighting. These contemporary kitchens allow us all of the creature comforts, while looking beautiful and sleek.
The contemporary kitchen focuses on straight lines and a minimalist design. Large cabinets allow for uncluttered counters. Islands are a popular feature that offer more storage space and bar seating. And open concepts are the envy of most homeowners. With the kitchen, dining room and family room all connected, contemporary homes are perfect for entertaining and family get-togethers.
Most contemporary kitchens focus on a neutral color palette, sticking to gray, beige, taupe or white. Also many designs feature contrasting colors, like light cabinets with dark counters and floors or vice versa.
Contemporary appliances are stainless steel. And many contemporary kitchens adorn wooden touches either with wood cabinets, flooring or an exposed wood beam overhead.
Recessed lighting and under-cabinet lights offer more light in the contemporary kitchen. Further, pendant lights can be added for a touch of style.
Contemporary kitchens are the result of five decades of kitchen design. To sum up, they incorporate small touches of style from each decade. Everything from the bright white designs of the 50's to the minimalist vibes of the 90's, there's a little bit of every decade in our contemporary kitchens today. At Bath Plus Kitchen we are curios to see how Amazon's HQ2 will impact kitchens through the decades to come in the city, National Landing.