With so many options to select from it can be a difficult task to figure out which countertop material is the best fit for your new kitchen design. Yes, it is easy to get distracted by the look of a countertop but there are some other factors that should figure into your decision makings, such as price and yearly maintenance. Below are some of the most popular countertop materials on the market right now.
Quartz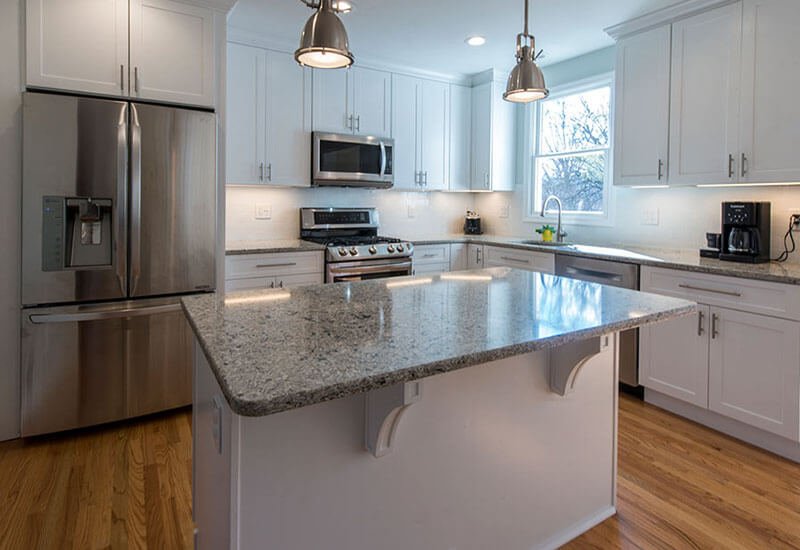 Quartz is a great material to use for countertops and has been becoming increasingly popular over the years. One of the best things about this product is that it is extremely durable and is low maintenance. Quartz countertops never have to be resealed and they are scratch-resistant and they resist stains and bacteria growth. Quartz comes in a wide array of modern color selections and is made by an optimal fusion of quartz and resin materials.
Granite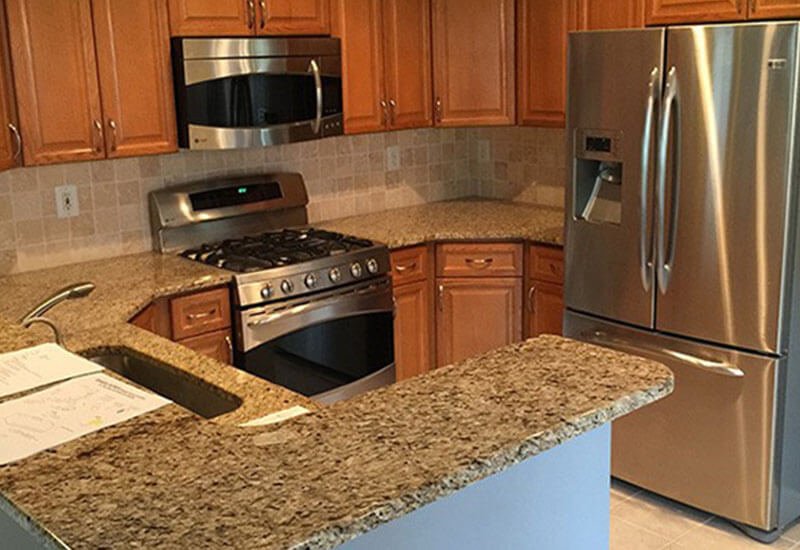 Granite is one of the most popular countertop selections. Granite is available in a variety of different shades, such as blacks, whites, greens, corals, and beiges and no two pieces are exactly alike. These countertops are extremely durable and can withstand splashes, heat and knife nicks, and other everyday wear and tear. On the downside, granite does need to be sealed every year or so, depending on how hard you use the surface. Also, since granite is so heavy you will need to make sure that you have very sturdy cabinet boxes to place it on.
Marble / Limestone / Soapstone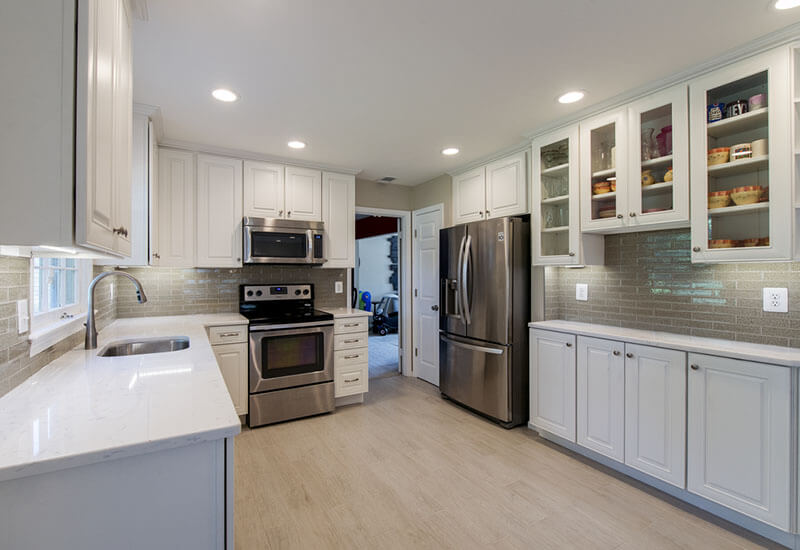 Marble / Limestone / Soapstone countertops such as marble, limestone, and soapstone are also beautiful options for countertops. Natural stone counters are available in a variety of colors and they just scream elegance when you walk into the room. One thing to consider is the fact that these other stone options are much softer than granite and they do require greater care and are a less durable option. As with granite countertops, you will need to seal these natural stone countertops every 6 months to 2 years.
Corian
Corian countertops are a great option if you are looking for a low-maintenance countertop surface. Corian is easy to clean and is non-porous so it will resist stains. Corian is available in numerous colors and patterns and in some cases, you can even create your own custom color option. While the production time on these is often a bit long it is well worth the wait time. Many customers love this option because you can also use this product as a backslash and have the countertop seamlessly connect the two, preventing dirt and grime from getting into the seams.
If you think that one of these countertops would be perfect for your kitchen remodel, or if you'd like to explore even more countertop options out there you can call us at (703) 755-0479 or schedule a consultation here.