Same kitchen, same aesthetic, same designer, different cabinetry lines. What does that look like?
When a client came to us for a kitchen remodel, we worked on a few renderings, showing what different cabinetry lines can offer them. Here's a look at the same kitchen with two different lines – Waypoint's stock cabinetry, which allows some modifications, and Dura Supreme's custom cabinetry.
Waypoint (stock cabinetry with some modifications)
Stock cabinetry is pre-built and sold at stores or directly by manufacturers. They have more readily-available designs and sizes than custom cabinets. The downside, though, is that they don't always fit perfectly into your space, so you need to be prepared to make some compromises.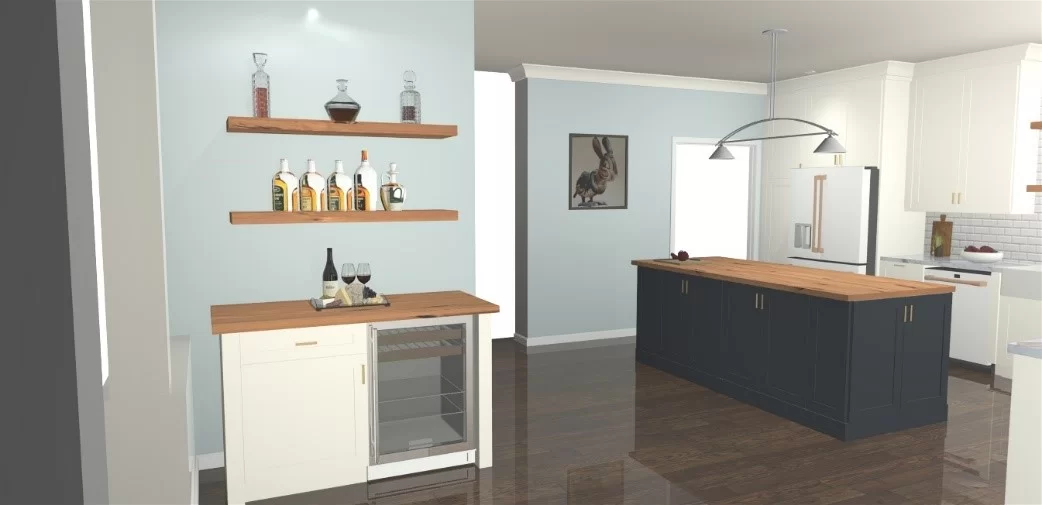 Client's kitchen, rendering with Waypoint.
Dura Supreme (semi-custom/custom cabinetry)
With custom cabinetry, manufacturers work with different dimensions and layouts based on the customer's unique needs and preferences. It is expensive in the short run, but tends to be better value in the long run, because it can be designed to fit your space perfectly; it won't restrict or hinder your kitchen functionality or flow, so you won't need to replace it in a hurry. Custom cabinetry gives you more options in terms of design, material, size, and finish.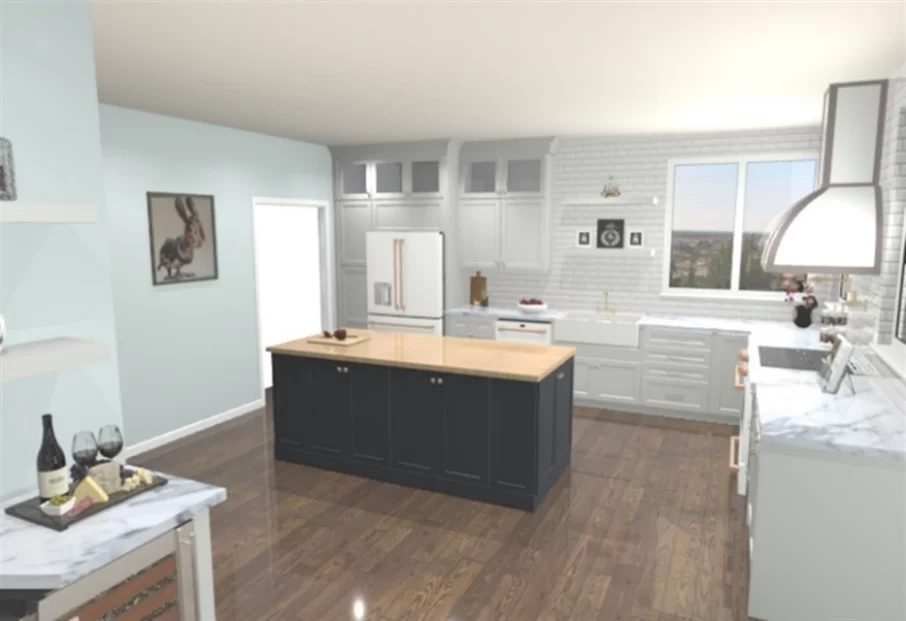 Client's kitchen, rendering with Dura Supreme
Helping our clients make the best decision
In general, there are a few things that go into choosing a cabinetry line:
Budget – This is another important factor. We help our clients compare pricing. We also create renderings because we believe our clients should be able to see what they get at different price points before making a final decision. Learn more about kitchen cabinetry costs and the design choices that affect them.
Design – Once a client knows which cabinetry lines can deliver what they want on time and within budget, they can compare the final look and feel, as well as little details and differences between them.
Through our consultation process, we share relevant information and high-quality renderings to help our clients make the right choice.
What did the client choose?
After considering all the information we offered and evaluating the renderings, the client chose Waypoint. This cabinet line offers a lower lead time and price point than Dura Supreme does, which makes it a practical choice. They're able to do this because they offer stock cabinets with some modifications.
What we love about Waypoint
While Waypoint cabinetry gives you the benefits of stock – lower cost and lead time – it does not compromise on quality. Made in America, as opposed to mass-produced in China, Waypoint cabinetry is made to last; all Waypoint cabinets come standard with plywood ends so they'll stand up to years of use. While custom cabinetry may sometimes be beyond reach, we believe quality never should be.
Waypoint also has well-thought-out options and modifications that give us a good degree of flexibility as kitchen designers such as:
25 door styles
3 finishes – Cherry, Maple, and painted.
10 wall height options
8 modifications:

Reduced depth
Increased depth
Void door
Void top drawer
Matching interior
Inverted frame
Cabinet front only
Recessed toe kick
These options made it possible to give our clients what they were looking for. Here's what they selected: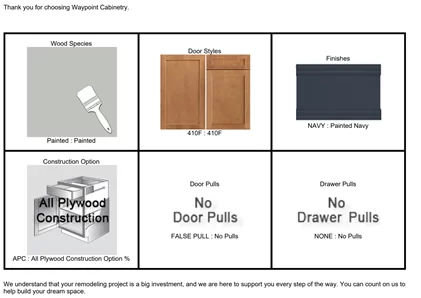 We did, however, encounter certain challenges with Waypoint in this kitchen.
Challenges we faced working with Waypoint's options.
They don't offer taller wall cabinets.
They don't offer wood tops, so those had to be sourced separately.
We couldn't customize widths and heights
These are some issues that have to be worked around while installing stock cabinetry. Because we are committed to working with only top-rated manufacturers, you know you'll get high-quality, beautiful cabinetry no matter which of our cabinetry lines you choose. However, semi-custom and custom cabinetry certainly have their pros.
Would Dura Supreme have had any advantages over Waypoint in this design?
      1. Customizable widths and heights for a better fit.
Dura Supreme lets you customize widths and heights, which would have helped us overcome some of the challenges we encountered in this client's kitchen with Waypoint. Better customization options make Dura Supreme easier for us to work with as we design your dream kitchen – it helps us give customers the best possible recommendation to create your perfect kitchen.
      2. Framed as well as frameless
Durapoint offers both framed and frameless cabinetry, while Waypoint only offers framed. Take a look at the cabinet specs below to see the difference.
Waypoint specs
Here's a drawing of a standard Waypoint base cabinet. They are constructed using high-quality materials and hardware, making them a good option if you want framed cabinetry. They don't, however, offer frameless cabinetry, which lends itself well to contemporary kitchen styles.
Read: 2021 kitchen cabinetry trends to refresh your home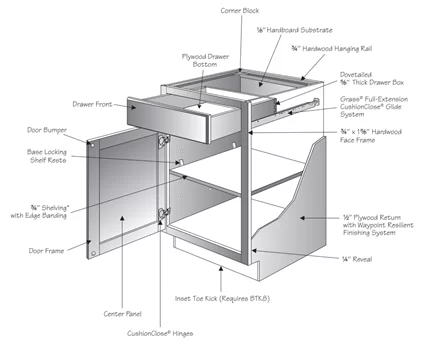 Dura Supreme specs
Dura Supreme offers both framed and frameless cabinetry, as seen below.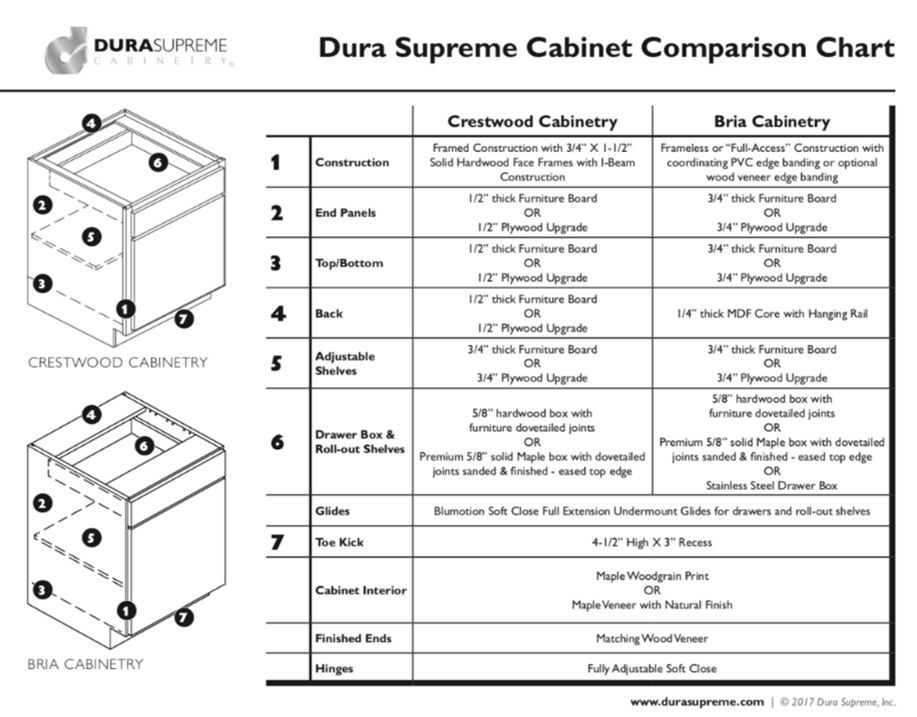 3. Tighter reveals
The space between doors, drawers, and cabinets, or "reveal", is tighter in full-overlay Dura Supreme cabinetry than in Waypoint's. This creates an overall cleaner look, as shown below: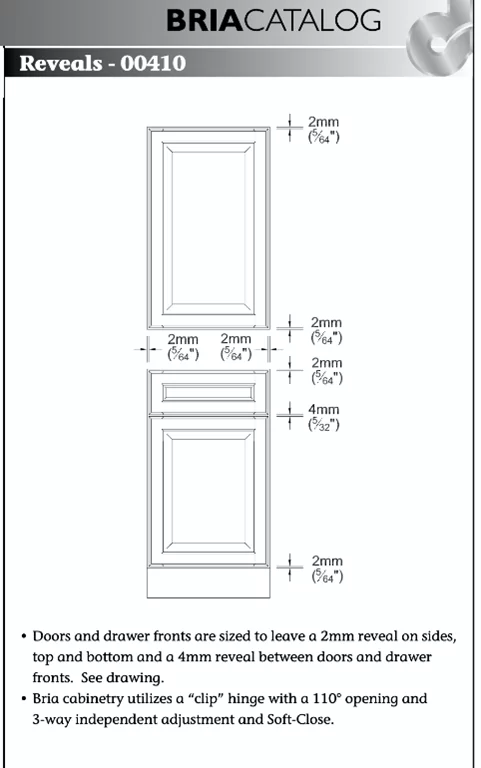 4. Paintable door that retains its smooth finish
Dura Supreme offers a paintable door made of a high-density fiberboard. The benefit of this material is that it does not expand and contract. Waypoint, on the other hand, only offers painted cabinetry in a maple species; with this option, there is the risk of hairline fractures wherever you have joints.
      5. A wider range of options for door styles, finishes, and more
In addition to offering both framed and frameless, Dura Supreme gives you many choices to help you achieve the look you want:
53+ door styles
Multiple wood species and paint options
34 wall height options
63+ custom modifications.
With Dura Supreme, you are sure to get quality cabinets with lots of options for your home. They have been producing quality kitchen cabinets for over 50 years, and our clients love them. They deliver the perfect balance of precision, quality, and value, allowing their clients the options they want without breaking the bank.
Here's a more detailed comparison of what Dura Supreme offers as compared to Waypoint.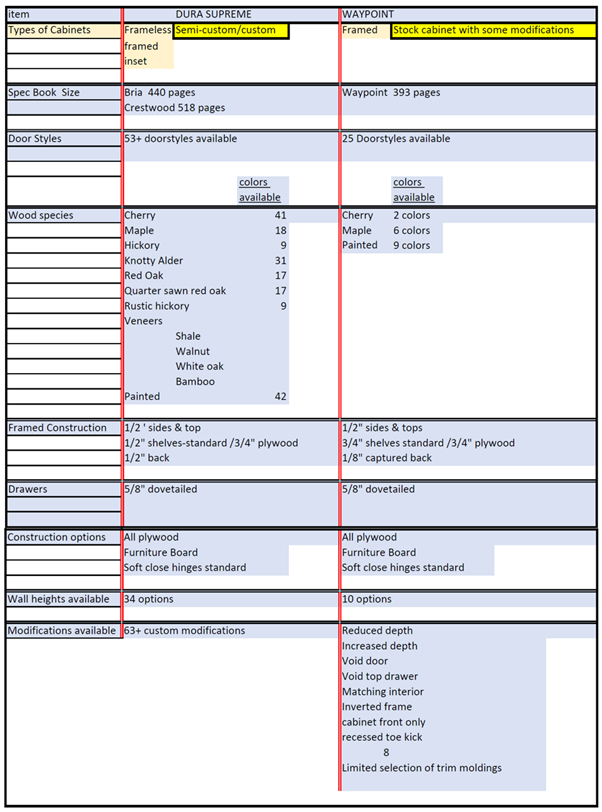 Reasons you may end up replacing stock cabinetry sooner than you think
With cabinetry by top-rated manufacturers such as Waypoint, you can rest assured that they will last. Their selection is well-designed, made from quality materials. But durability alone doesn't shorten the lifespan of your kitchen cabinetry; there are many other reasons you may end up replacing them, most likely with custom cabinetry that will solve the issues inherent to stock cabinetry. Here are three:
They look outdated
Limited options can often mean compromising on getting the right aesthetic. In the client's kitchen we showed you in this blog, framed vs. frameless is an example of how you may need to accept an older style when purchasing stock. The frameless options Dura Supreme offers look sleek and contemporary, which would give your kitchen a much more up-to-date look. If you pick a style that's already on its way out, chances are, you'll find your kitchen looking outdated much sooner than expected. As a result, you may start thinking of new cabinetry fairly soon. Choosing custom cabinetry, on the other hand, could keep your kitchen looking new for much longer.
Better organization
Custom cabinetry means custom organization. Everyone has a unique set of requirements and preferences when it comes to how drawers and shelves are set up. Custom cabinetry allows you to dive into these details and make sure your space is tailored beautifully to your specific needs. With stock, you'll get a good setup, but you may find yourself changing how you store and arrange things in your kitchen to suit the cabinetry rather than having it designed to suit you.
Other upgrades at home
Over time, you are likely to upgrade your kitchen and home with sleeker appliances and better quality items, i.e, nicer things. You may reach a point where your cabinetry doesn't fit in with the evolving look and feel of your space. When that happens, you're likely to start rethinking your cabinetry and wanting to up the luxe factor to align with the rest of your space.
Verdict
Choosing a manufacturer such as Waypoint can certainly help you achieve a beautiful kitchen on time and on budget that suits you now. However, it may not be the right fit for you down the road, not too far into the future. That's why we always encourage our clients to envision the space they really want as part of their remodel preparation process. It helps to think a few steps ahead!
Budget and time permitting, we believe exploring custom options offered by a manufacturer such as Dura Supreme can give you better results in the long run.
Of course, at the end of the day, it comes down to what you want to accomplish within a certain timeframe and budget. With a strong design team and high-quality cabinetry lines like ours, you're sure to find the best way forward for your kitchen remodel at a price point that suits you, with beautiful results guaranteed.
Want our expert recommendations on your new kitchen? Get in touch with us here.