Kitchen cabinetry costs surprise many first-time remodelers. It can be very expensive and will take up a significant percentage of your kitchen remodel costs. The good news is, if you plan well, you can find the perfect cabinetry for your budget. Knowing your options will help you make better choices that fit your priorities. To help you find the most suitable aspects to focus your expenditure on, we've put together the different choices you will need to make while selecting your cabinetry.
1. Installing new cabinetry vs. refacing existing cabinetry
Cabinetry has one of the biggest parts to play in creating the look of your kitchen. Some homeowners opt to simply reface their cabinets. This entails steps such as covering cabinet boxes and sides, adding new cabinet fixtures, and installing new drawer fronts. Refacing costs less than getting brand-new cabinetry.
Still, most kitchen remodels involve a change of cabinetry because homeowners want to update the kitchen's aesthetic and improve functionality with new features and storage ideas. This decision will mean costs for removal, new cabinetry, and installation. Unless you are quite skilled, get a professional to do this for you, or you could damage your walls. For safety reasons, cabinet installation is best left to qualified professionals as well. This can be around 40-50% of the kitchen cabinetry costs. Full-service remodel firms such as Bath+Kitchen will take care of the entire process for you, from design to installation.
2. Custom or semi-custom vs. stock cabinetry
Custom cabinetry tends to be the most desirable choice for many reasons, closely followed by semi-custom. Stock cabinets work well for smaller budgets, but you are likely to find a limited selection of materials and styles there. That's why our clients prefer the custom and semi-custom options we offer via top-rated manufacturers that prioritize quality and variety, such as Bellmont, Dura Supreme, and Plain & Fancy.
3. Natural wood vs. engineered materials
You can expect engineered materials such as MDF and particleboard to cost less than solid wood. There are some excellent MDF doors out there for you to choose from that are high-quality and beautifully-designed, such as Bellmont's shaker-style door:
These often look new for longer than some solid wood doors do.
If you love the classic look of solid wood, consider factors such as grain, color, and construction. Also, you'll find that each wood species comes with its own price. Oak and Hickory can be more affordable than Maple or Cherry. Here are some popular choices:
Red Oak
White oak
Hard maple
Hickory
Cherry
Birch
Ash
Pine
4. Traditional vs. Contemporary door styles
There are different basic kitchen styles you can opt for such as traditional, transitional, contemporary, and modern. For traditional and transitional kitchens, raised panels express the desired aesthetic well. These kitchens favor detail so cleaner styles wouldn't have the right impact. These more ornate or decorative door styles will cost more than slab doors, which are suited to contemporary and modern kitchens.
Other styles that can increase your kitchen cabinetry costs are mullion frame doors and open frame doors, which require glass inserts. Some clients opt to make these the predominant door style in their kitchen. A more budget-friendly option is to use a few of them as accents while using solid panels for the most part. Choices like these will shape your kitchen cabinetry costs.
5. Glaze vs. laminate
Cabinet finishes vary considerably in terms of cost. Glazed doors can offer a beautiful vintage look but can be much more expensive than a laminate. That said, there are a wide variety of laminates to choose from today, ranging in quality and price. Explore Bellmont's door finish gallery to get a sense of how many options there are and what kitchen aesthetic they're best-suited to.
Dura Supreme, another cabinet manufacturer we work with, breaks their door finishes into three main categories – contemporary, painted, and stained. We also work with Plain & Fancy, who let you customize your color (try out their Custom Color Picker and save your favorites!) in addition to offering an exquisite selection of door styles and finishes.
With these well-reputed manufacturers, you can rest assured that anything you select will be high-quality and look beautiful in your home.
6. Drawer base vs. standard base
Drawer base cabinets are more expensive than standard base cabinets. By designing strategically, you can create a combination of drawers and shelves that work for you, like in the kitchen below: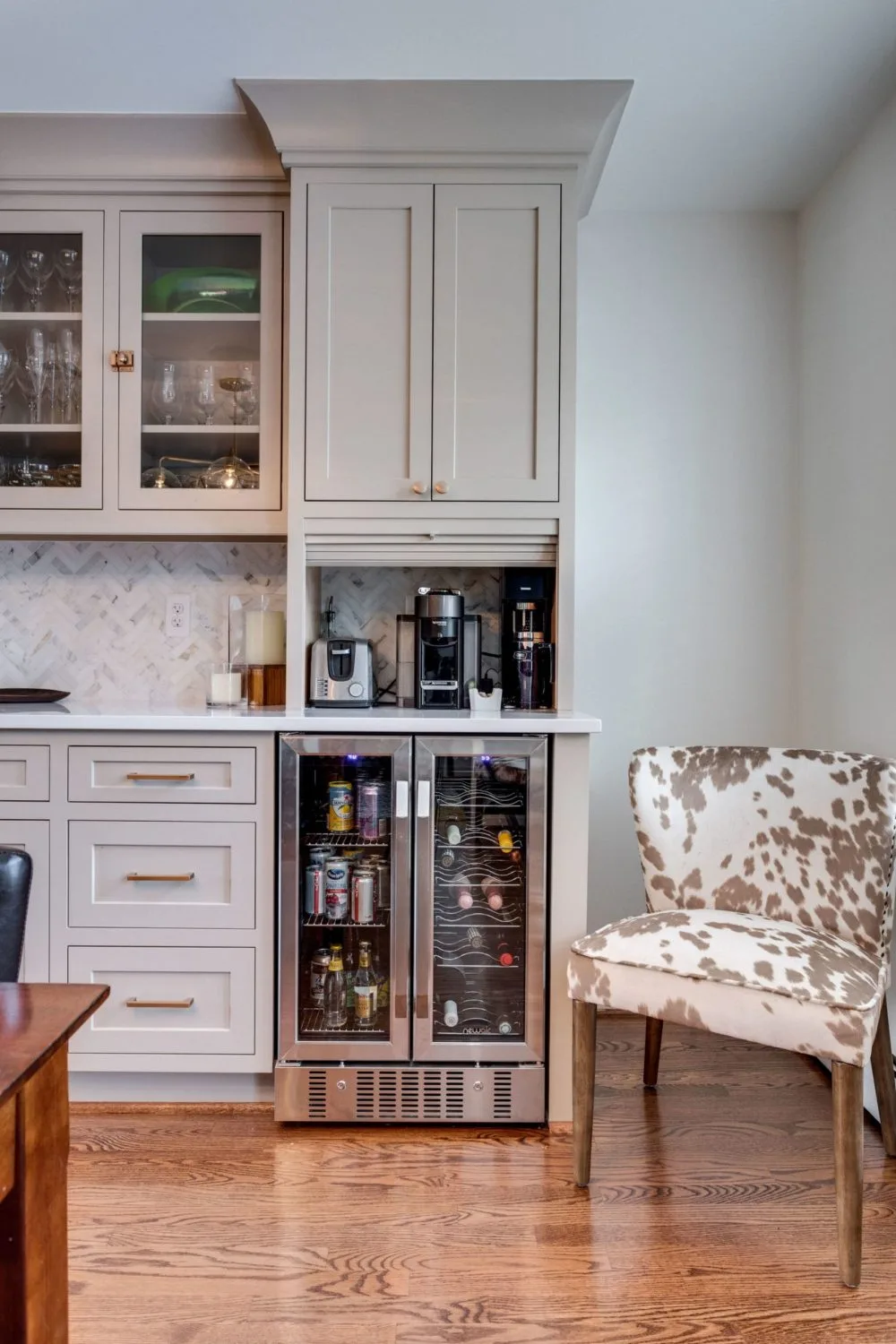 The red arrow points to a standard base cabinet with 1 drawer and 2 drawers. The blue arrow points to a 3-drawer base cabinet. You can also get 2 drawer and 4 drawer base cabinets. How you design this will impact your kitchen cabinetry costs.
Then, the drawers themselves come in a range of designs, all priced differently.
Soft-close, dovetail drawers are the starting point for all of our kitchen cabinetry. They have solid ⅝" thick sides with a ¼" plywood bottom and 75-pound load capacity. Drawer sides and bottom are protected with a clear UV cured-coating.
Upgrade options include:
Walnut drawers with additional hand sanding. This gives you tight, flush joints and two coats of clear catalyzed conversion varnish for durability.
Alder drawers with additional hand sanding. Similar to the walnut drawers described above, this gives you tight, flush joints & two coats of clear catalyzed conversion varnish for durability
LEGRABOX drawers by Blum. Key features:

Slim 1/2" thick drawer sides constructed with a powder-coated steel finish in a mid-tone grey.
A higher load capacity – 88 pounds standard and 150 pounds for 42 to 48" wide drawers.
The soft close guides feature progressive runners, providing fluid-like running of the full extension action.
Unlike standard wood drawers, their drawer faces are attached directly to the LEGRABOX drawer sides with a concealed mechanized coupling bracket. This gives you an additional ⅝" of storage.
The Ambia-line of accessories is designed specifically for LEGRABOX drawers.
7. Framed vs. Frameless
Framed cabinets work well with more traditional kitchens and can cost around $500-1000 less than frameless cabinetry. If you want a sleek aesthetic that's similar to a lot of contemporary European styles, frameless is the way to go. Not sure what the difference is? Bath+Kitchen's Eric Shipe explains it in this video:
8. Made in the USA vs. cheaper imports
Considering several crucial factors such as quality, design, aesthetic, safety, longevity, and ecological impact, we highly recommend choosing cabinetry manufactured here in the US. There are many cheap alternatives available today that can even be ordered online, but they come with their own price. Many of them are low quality and won't last. In addition, there are potential health and safety risks. Their negative impact on the environment is an important consideration as well. At Bath+Kitchen, we work exclusively with top-rated US cabinet manufacturers to ensure you always get quality cabinetry that is safe for your home. We take the time to study quality carefully and are transparent with our clients about every detail of the cabinetry they choose.
Other factors – considering your space
In addition to your preferences, it's essential to evaluate your specific space and note any unique features as well as constraints that need to be factored into the design. Some of the options below could work well for your kitchen, giving you the kind of look and experience you want. Again, what you choose will shape the total cost of your cabinetry.
30" high wall cabinets with a soffit (a structure used to fill the space between your cabinets and the ceiling or hide wiring) above will be more affordable than a 36" or 42" high wall cabinets with fascia and crown molding. If an existing soffit needs to be removed, there will be additional labor costs.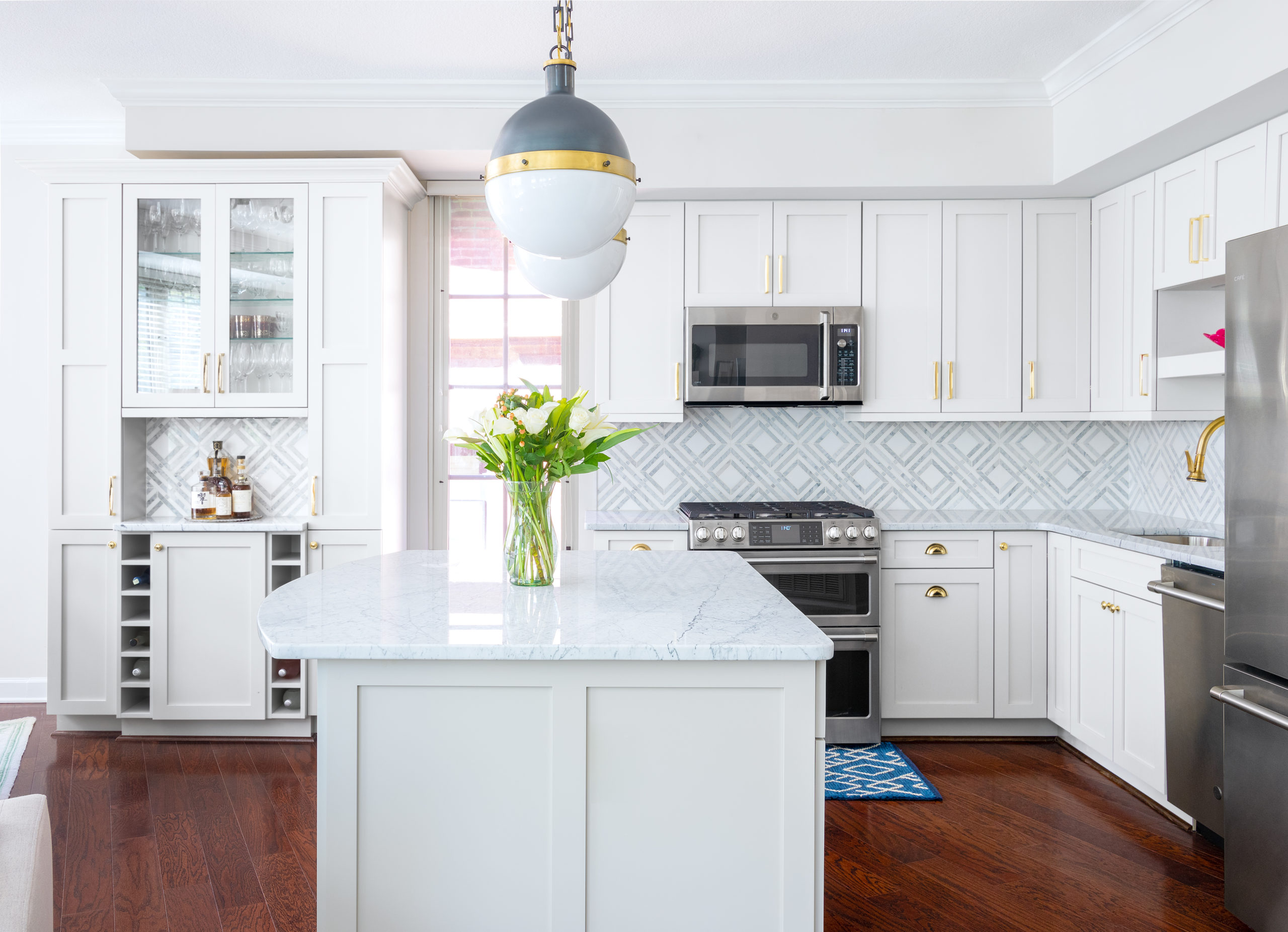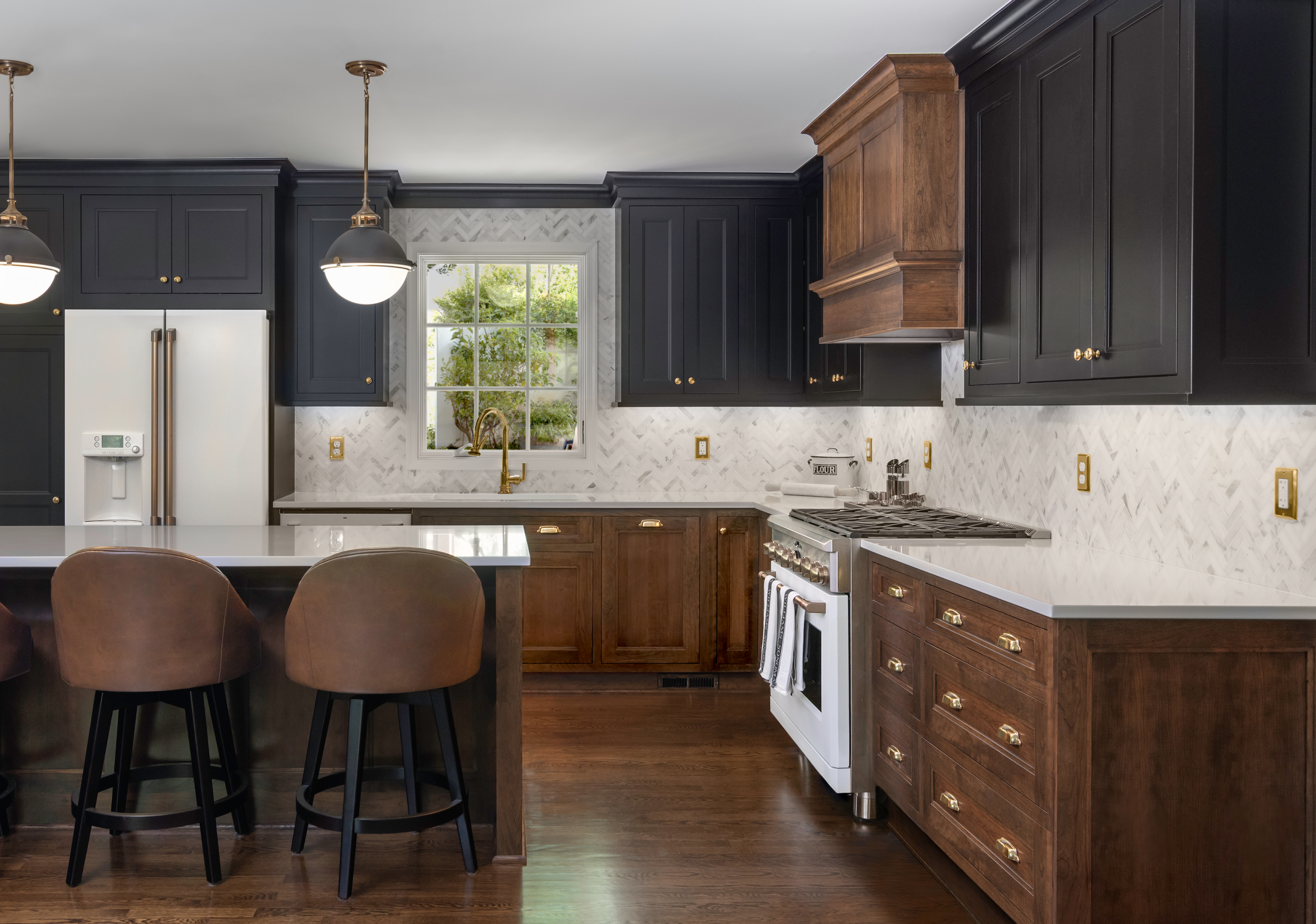 If you have 9'+ ceilings, choosing stacked cabinetry can look impressive and elegant. However, they can add thousands to the cost of your project by increasing your kitchen cabinetry costs. Here's are some stacked cabinets we've done for clients in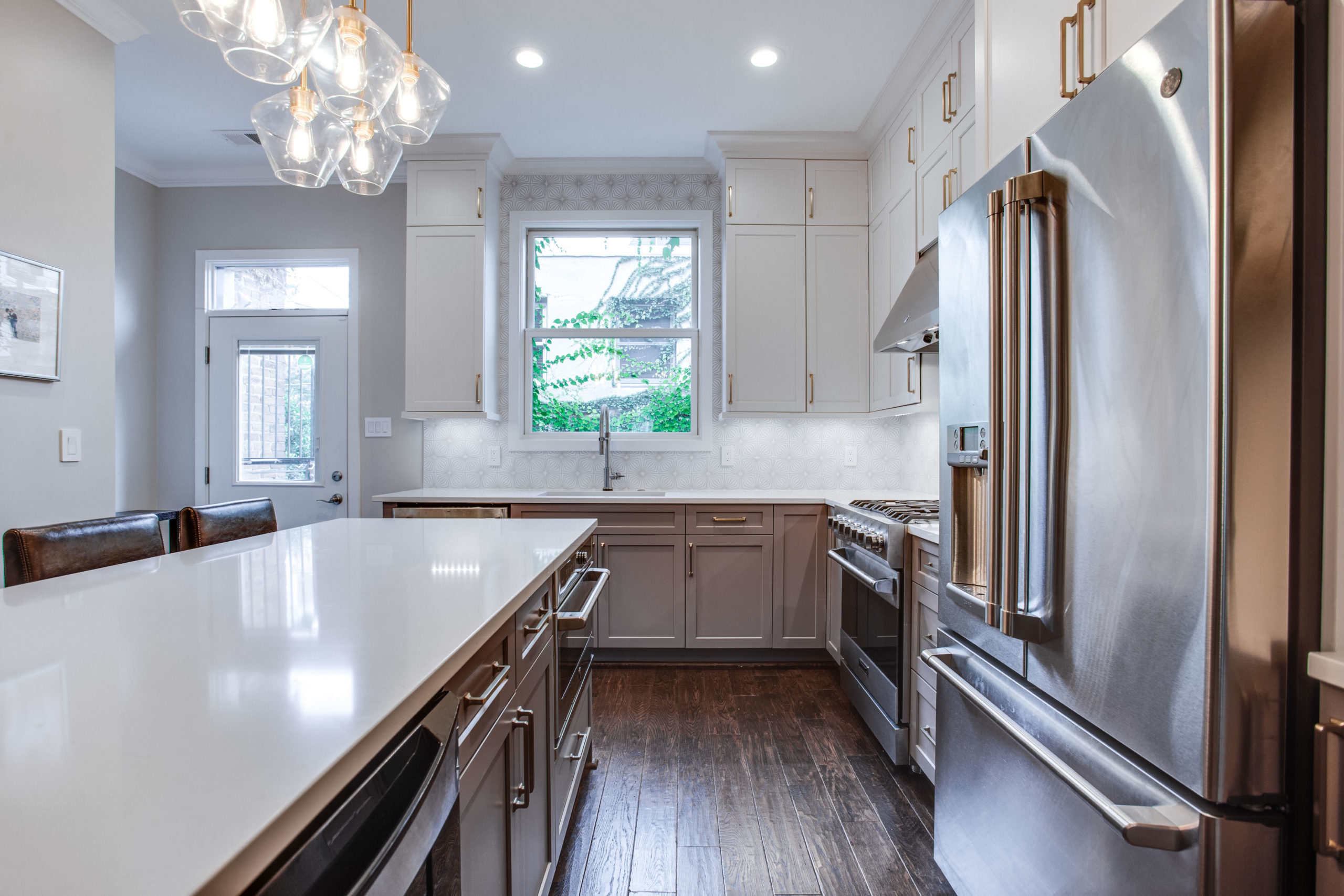 Here are some 9' ceilings without stacked cabinets from some of our remodels (Washington, DC, Del Ray, and Vienna, VA).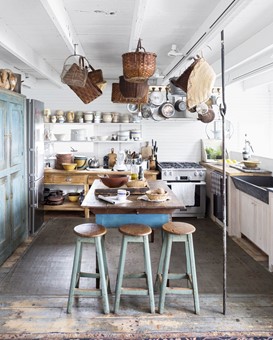 Wall cabinets with glass doors and/or mullions.
Here's what they look like in a contemporary kitchen we remodeled in Arlington, VA: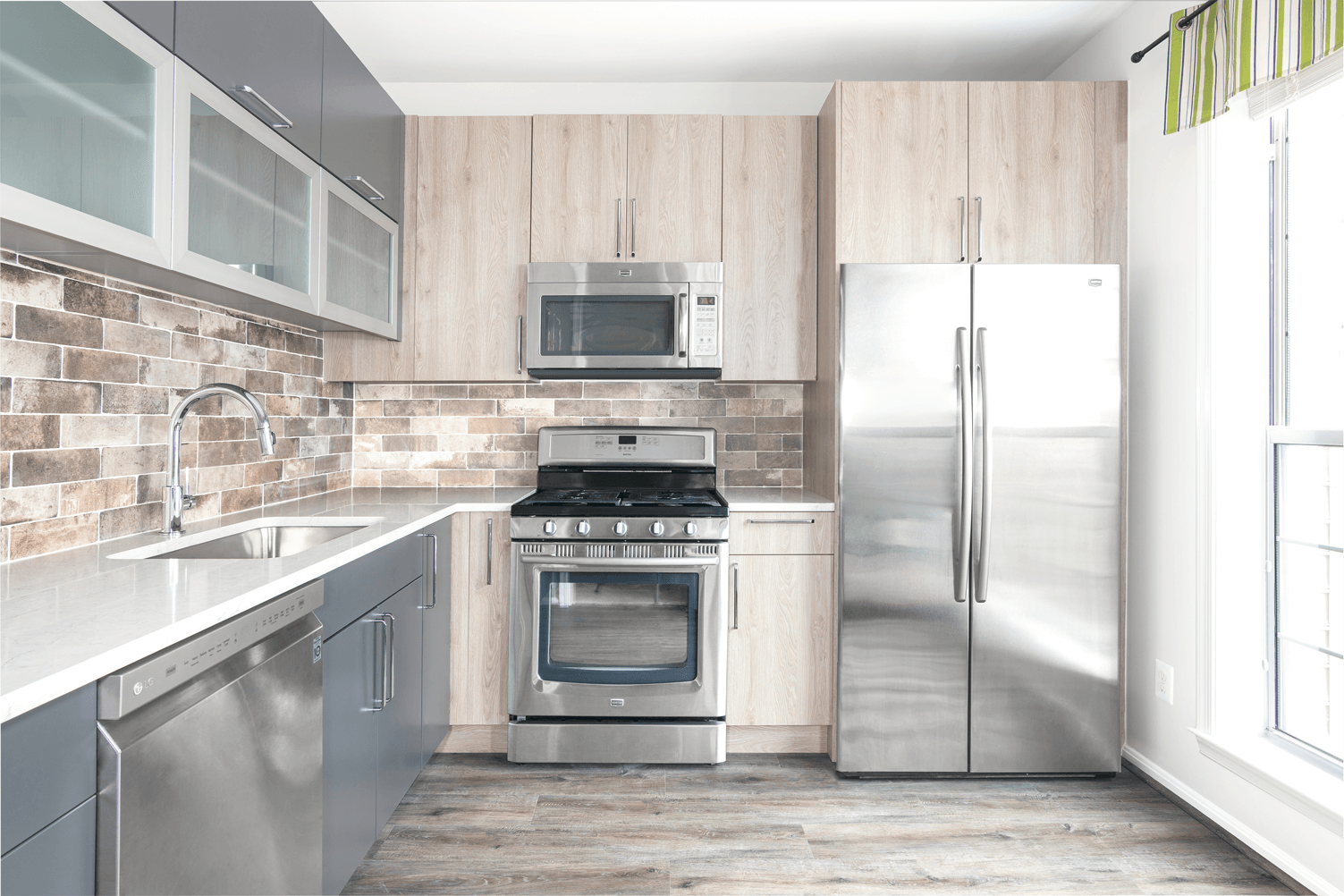 Tip: When choosing wall lift up cabinets, consider ceiling height as the doors will require additional space to open up fully.
There are different types to choose from as well, illustrated below: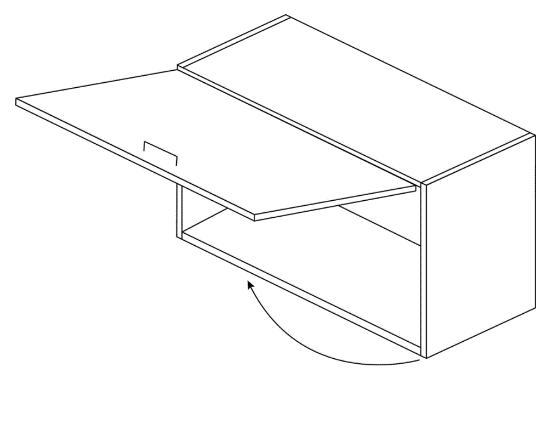 Wall Lift up door, about 33% more than tilt up doors, allows for an easier to reach handle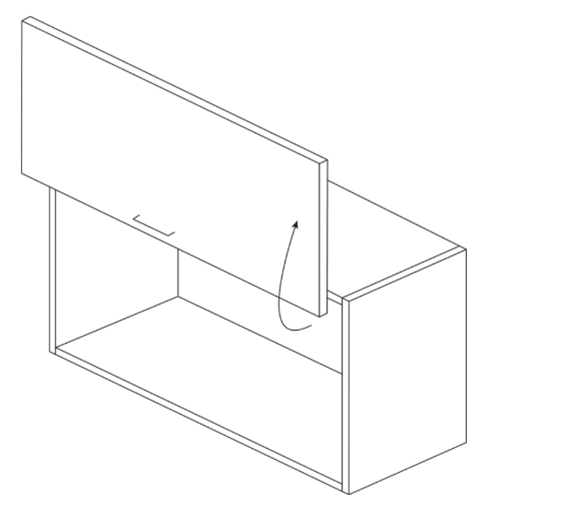 Wall lift over the top about 41% more than tile up doors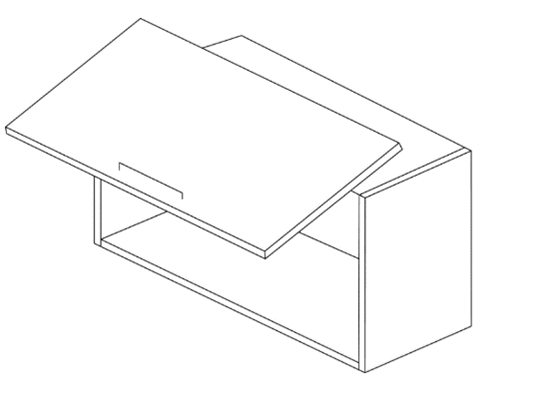 Wall bi-fold tile up doors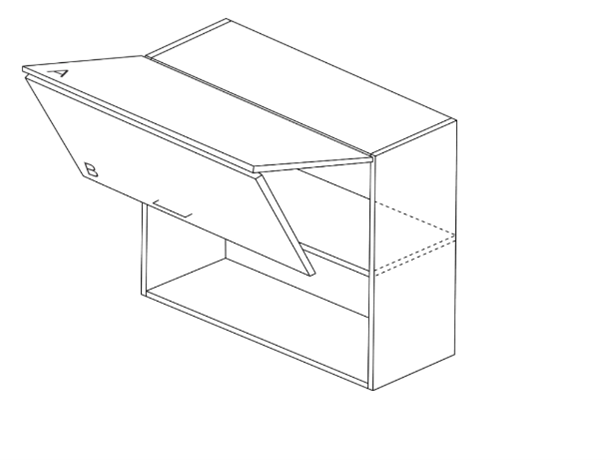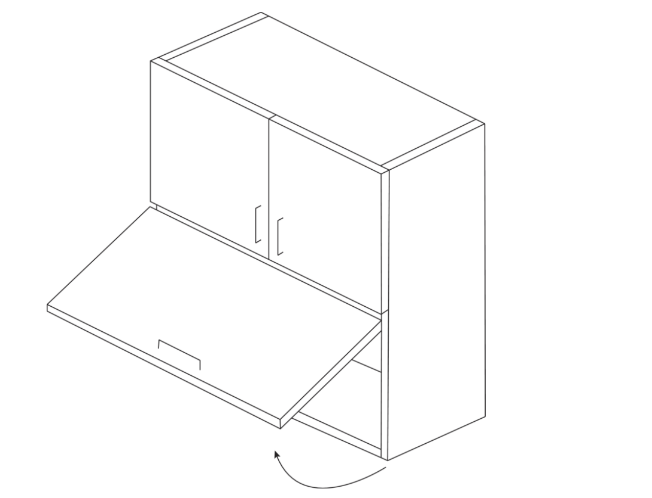 About accessories
From basic accessories that keep your budget in check to elaborate pieces that enhance the look (and cost) of your cabinetry, there are so many options to choose from. You could find exactly what you're looking for at Kessebohmer – premium German manufactured accessories, Rev-A-Shelf, or the Ambia-line of accessories designed specifically for LEGRABOX drawers. If your budget can accommodate it, these additional features can enhance your cabinetry experience:
Tip-On push to open drawers, a mechanical drawer system that doesn't require electrical.
Accessory inspiration from the Bath+Kitchen store.
From reasonably-priced to expensive, there are many interesting options to explore. Here are a few:
Hopewell Bar Pull 15 Inch (c-c) Ash Gray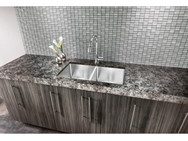 2. Nouveau Bamboo Door Pull Back-to-Back 18 Inch (c-c) Brushed Satin Nickel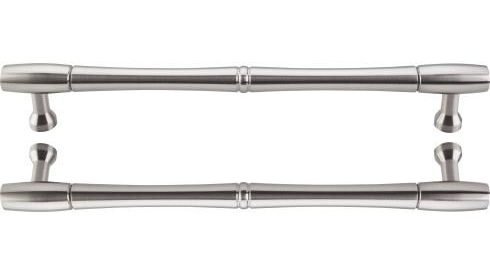 3. Cabinet Latch 2 Inch Antique Copper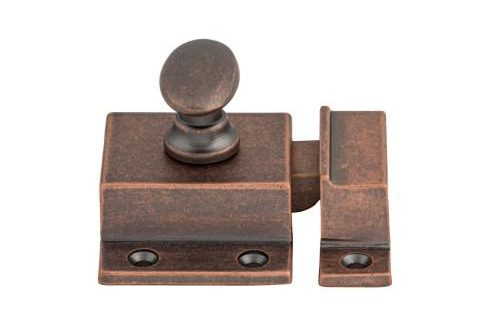 4. Cobblestone Pull 3 3/4 Inch (c-c) Coal Black
5. Aspen Flat Sided Pull 4 Inch (c-c) Silicon Bronze Light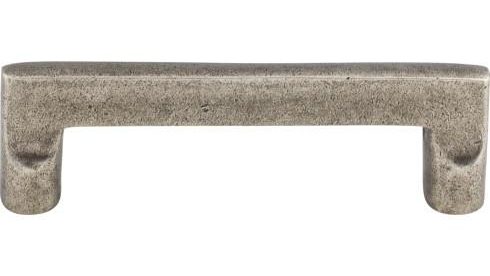 Getting ready to design and order new cabinetry? Here are 5 of HGTV's cabinetry trends for 2021 to help you get started:
Side-by-side color combo cabinets (as opposed to up and down).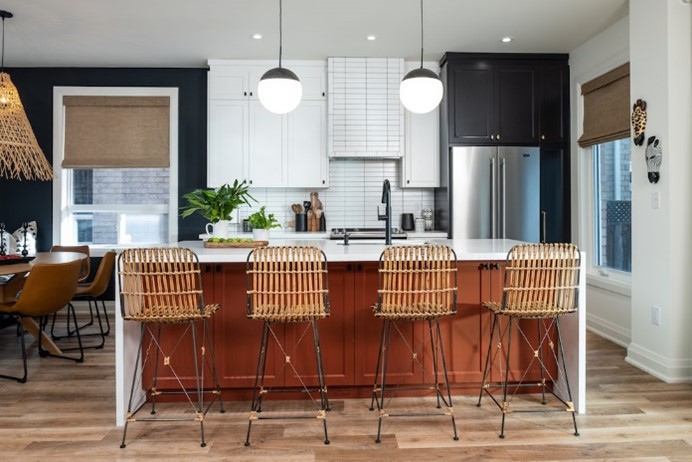 2. Glass door cabinets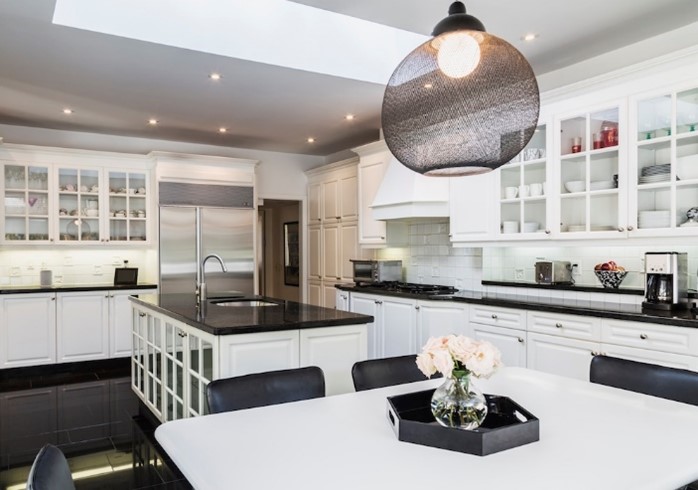 3. Natural wood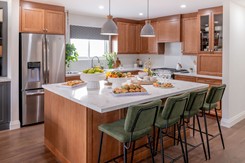 4. Luxe pulls and mix-and-match hardware (eg: knobs and handle pulls)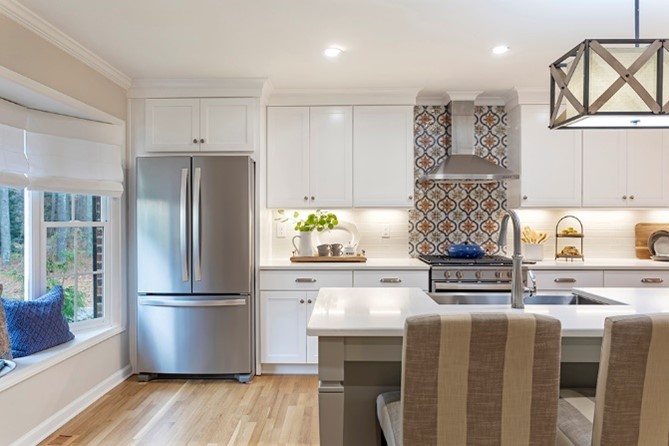 5. Under-cabinetry lighting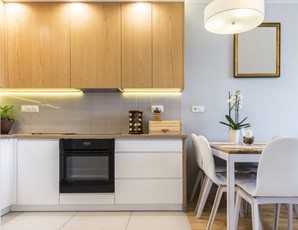 When you plan your budget for your kitchen remodel, we suggest making high-quality cabinetry a top priority. Kitchen cabinetry costs may feel high, but it's important to look at the big picture – your cabinets have the power to shape the look and feel of your kitchen while also improving resale value. It's an investment and, several years of experience and many happy clients later, we can help you plan it to perfection!
Key references: