Unlocking new design possibilities with laminate cabinetry
Why many kitchen designers and homeowners are choosing laminate cabinetry over traditional materials to create modern luxury spaces.
"Is laminate cabinetry really better for my kitchen than solid wood?"
Short answer – yes. Especially if you, like most homeowners in the US today, want to create contemporary-style spaces with a sleek and elegant look and feel. More and more of our clients are choosing laminate cabinetry for a number of reasons and are thrilled with the results and experience. However, many of them have had their doubts in the beginning, which they discussed with us during our consultation process. In this blog, we're going to address some of those misconceptions and show you why laminate cabinetry can be a great choice for your new kitchen. 
TOP 3 MISCONCEPTIONS ABOUT LAMINATE CABINETRY
While discussing laminate kitchen cabinetry with us, here are some concerns clients bring up:
Misconception #1: They're cheaper than solid wood, so they must be poor quality
One reason laminate cabinetry is cheaper than hardwood is that it uses engineered materials such as MDF for the core, which can bring the costs down. But this isn't a compromise on quality – MDF has some advantages over solid wood. For example, it doesn't warp the way wood does when it comes into contact with moisture. Then, there is the surface, which can be made from high-quality materials with a luxe finish. We can assure you, no one thinks "budget" when they see some of the exquisite laminate cabinetry made by world-class manufacturers such as nobilia.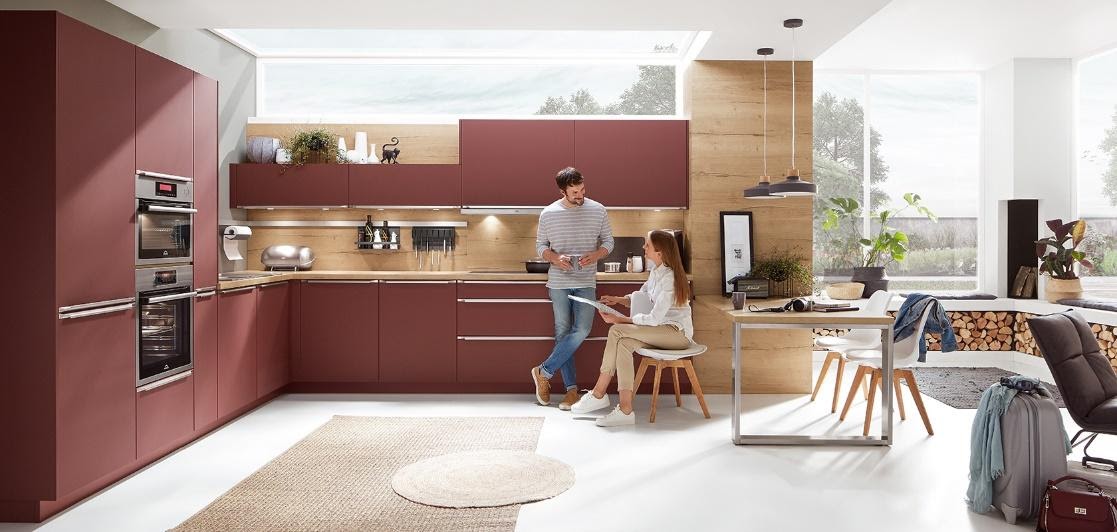 EASYTOUCH 963, Rust red ultra matt by nobilia
Misconception #2: They don't look as beautiful as hardwood cabinetry
While this is a matter of taste and preference, we believe laminate cabinetry's limitless range of options almost guarantees you'll find exactly what you're looking for to create your perfect kitchen. You can even find laminates that give you the color uniformity, and ease of maintenance of natural hardwood, such as Textured Laminate, pictured here to the right. They offer so many colors and finishes to explore that anything you envision for your kitchen can be brought to life with high-quality laminate cabinetry!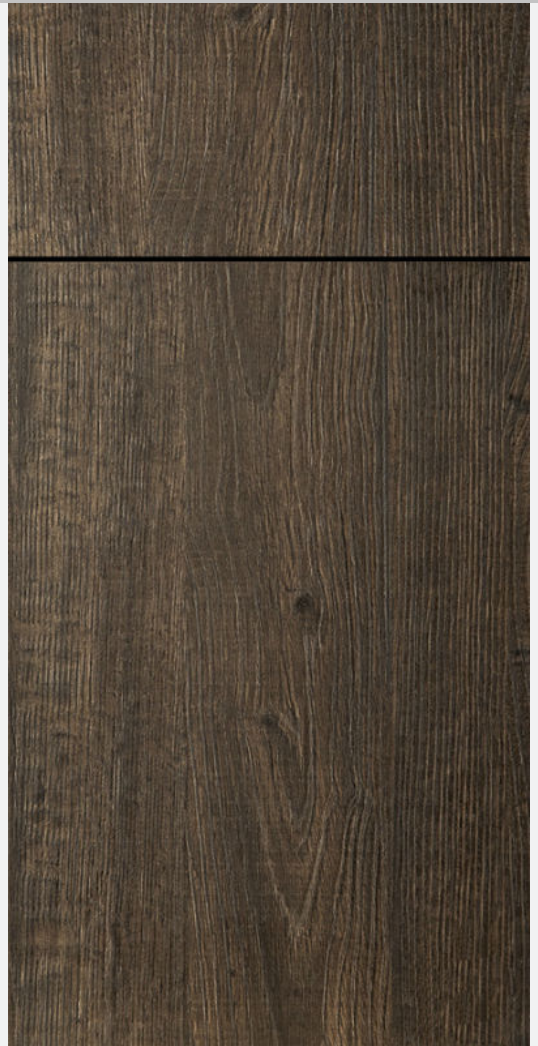 Misconception #3: They won't last as long as hardwood cabinetry
Unlike natural wood cabinetry, laminate cabinetry has innovation on its side. Research and the testing of new materials are making it possible to create everything from flawless high-gloss to perfectly-textured finishes that are scratch-resistant and easy to maintain. Because of this, your laminate cabinetry can look brand new for years.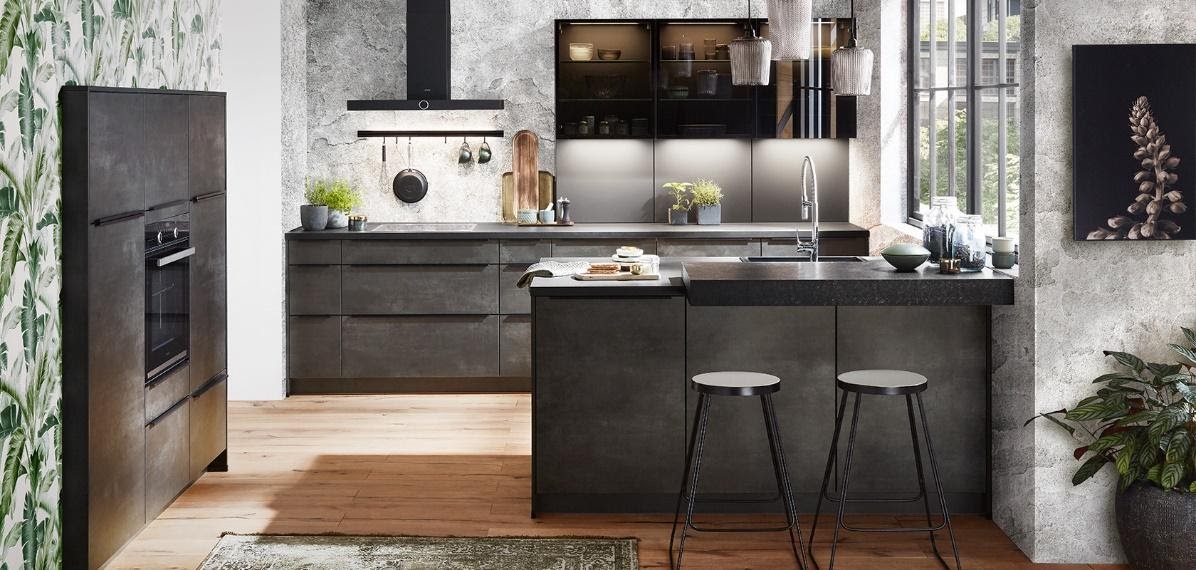 SPEED 288, Black concrete reproduction by nobilia
Laminate cabinetry will give you plenty of space for creativity and expression, and that's why our designers are always happy to take our clients through all the options available to them. Set up a consultation to learn more about how your kitchen would benefit from laminate cabinetry.
GET TO KNOW LAMINATE CABINETRY THROUGH THESE TOP MANUFACTURERS
As the US market continues to move from traditional or transitional to contemporary, laminate cabinetry is gaining popularity fast. People are recognizing that they offer great value, being more affordable and easier to maintain. From a design point of view, clean lines are incredibly appealing today as well. These are some benefits that come up in our discussions with clients as we take them through our cabinetry lines – nobilia, Adelphi, Plain & Fancy, and Durasupreme. We work with these manufacturers because they are quality-focused, allowing us to deliver beautiful cabinetry that's designed to last. Some of these manufacturers source from Alvic, Fenix, and Northern Contours who ensure the highest quality. Keep reading to learn about their products and see just how many options laminate cabinetry can offer you!
ALVIC
Since 1965, Alvic has specialized in fabricating furniture components with the European look, which is in high-demand in North America now. High-gloss European boards in particular are making waves in kitchen design, so much so that Alvic has opened a manufacturing plant in the US to meet that demand. Here's a look at their products: 

Alvic's Luxe collection has an attractive high gloss finish decorative panel that also offers excellent physical and mechanical performance. Their lacquered surface components have the highest scratch resistance in the industry and can create a clean, spotless mirror effect.
.
Luxe PLUS adds a new dimension to high-gloss cabinet components. It offers a higher level of brightness, perfection in reflected images, exceptional stability, even in environments of extreme humidity and temperature, and eco-friendliness, as well as resistance to scratching, cracking, abrasion, and impact.
Syncron Structured Panel Lines showcase textured panels with realistic decorative designs that customers love. Through their exclusive manufacturing process, Alvic controls every aspect of thermofused melamine board production to produce a complete match between texture and design.

Zenit offers Alvic's toughest matte design boards. In contrast to the Luxe lacquered panels, Zenit offers a deep, super matte finished panel with a silky soft feel and excellent resistance to abrasion. These boards can be used to manufacture all kinds of furniture as well as decorative products.
FENIX NTM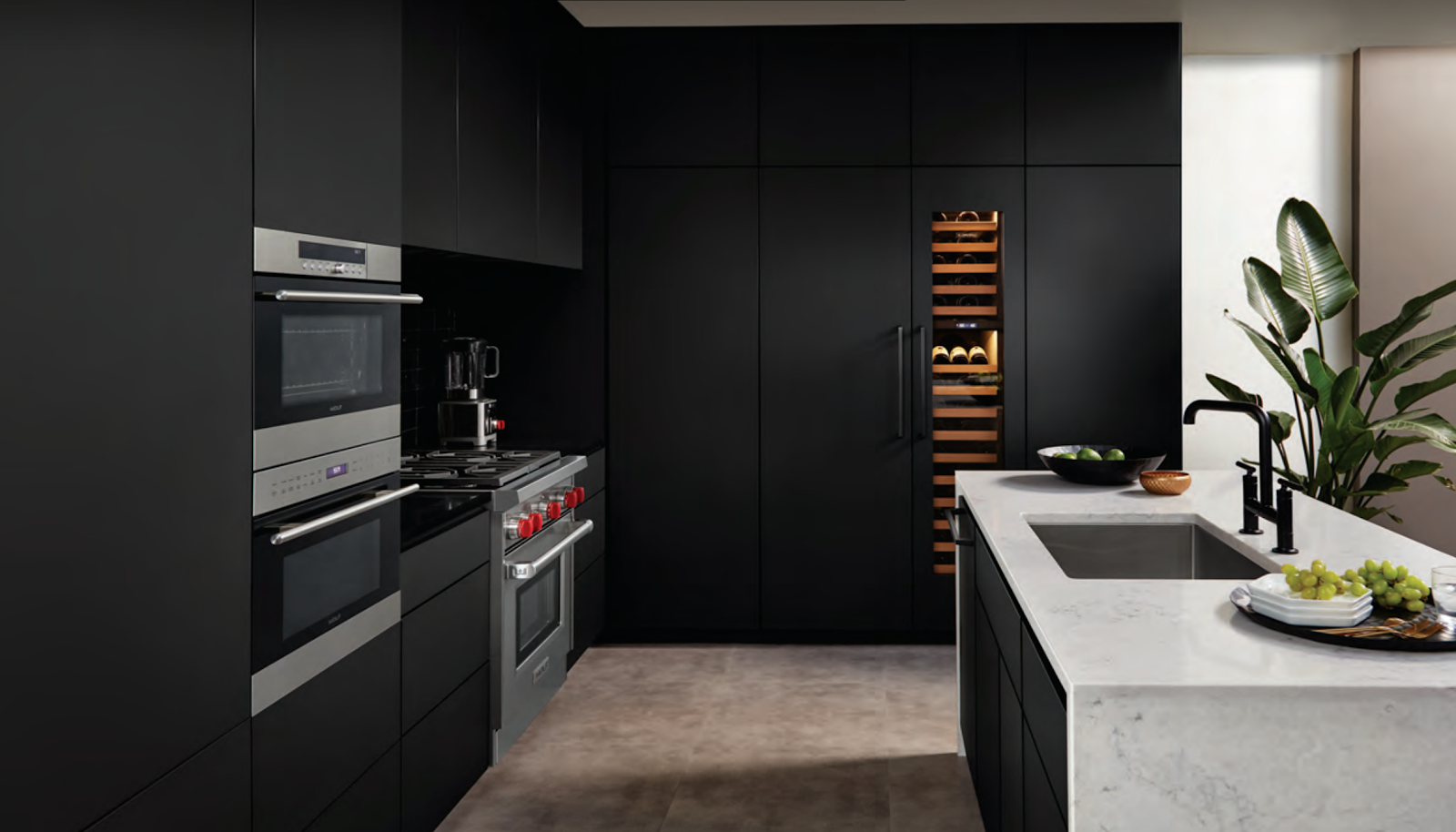 An innovative, extremely matte material, Fenix NTM is the next step forward in surface technology. Its features include:
Anti-fingerprint
Soft touch
Enhanced anti-bacterial properties
Resistance to dry heat
High resistance to acid solvents and household agents
NORTHERN CONTOURS 
Northern Contours believes in the importance of providing unique, design-
driven products to the industry. They offer a variety of cabinet doors and components
to fit design styles, from contemporary and modern to transitional or traditional. Their versatile products are perfect for creating custom looks. 
Northern Contours Laminates
Matte2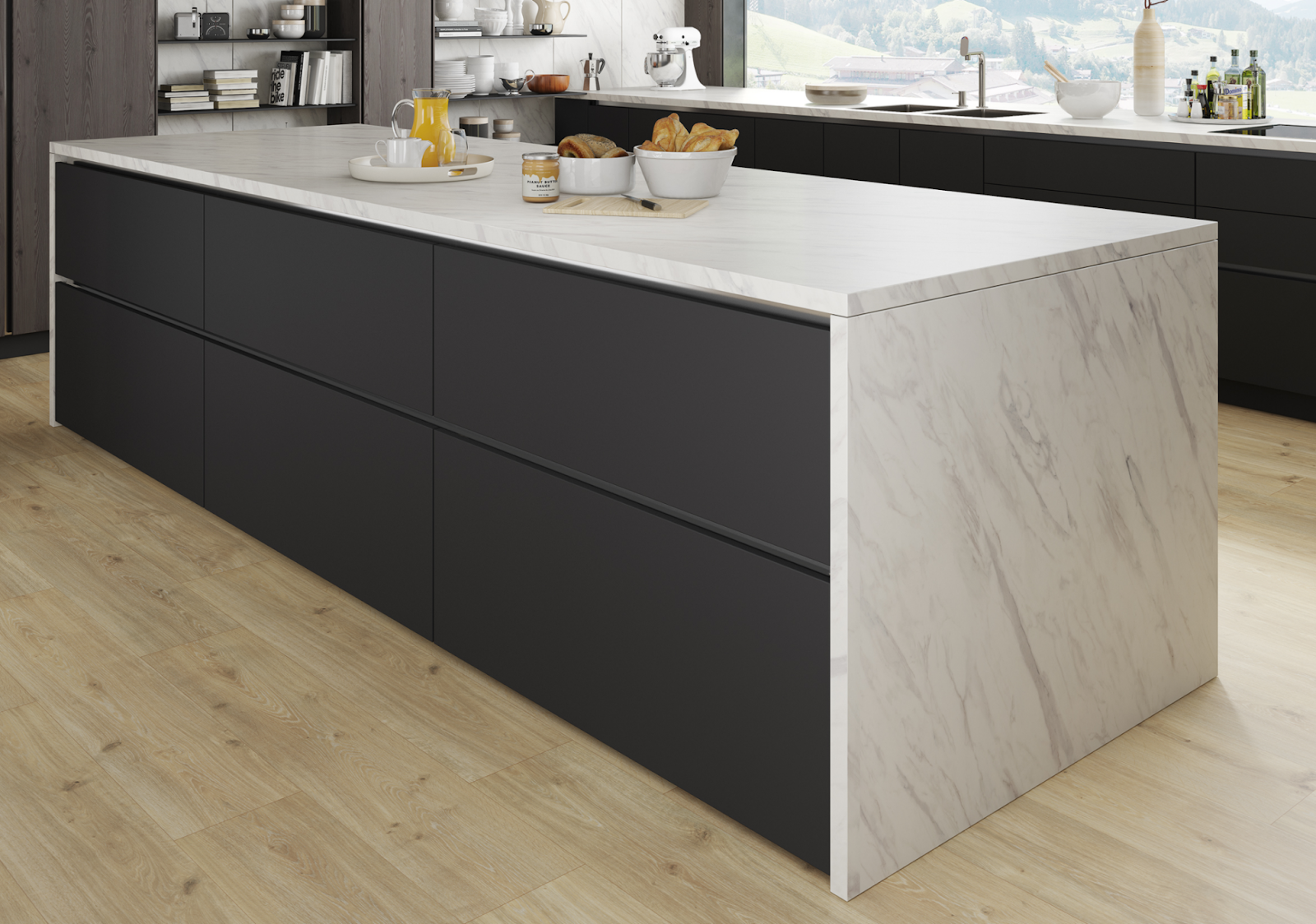 This is a more economical alternative to Nothern Contours' SmartMatte 3DL (described further down). It is matte lacquered thermally fused laminate (TFL) on an engineered core. Its features include: 
Anti-fingerprint
Heals micro-scratches with heat of friction (use Magic Eraser)
Silky, soft-touch matte finish
Laminate specifications
Textured TFL specifications
Textured thermally fused laminate (TFL) is made by fusing a resin-impregnated sheet directly to a substrate. Heat and pressure activate the resin in the saturated TFL sheet, creating a cross-linked bond with the engineered core. The resulting embossed texture adds a natural look to your designs. Components will have the same textured TFL on face and back.
Acrylic and wired specifications
High gloss Acrylic components feature an ABS (Acrylonitrile Butadiene Styrene) colored layer, which is permanently fused with a clear, ultra-high gloss acrylic top layer. ABS is an ecologically responsible, impact resistant, mechanically and thermally resilient, high quality thermoplastic. High gloss Wired 2DL is PVC material for flat lamination only. Available with standard TFL backer or double-sided Acrylic.
Board specifications
The "board" refers to the core of the door. The laminate is wrapped around this.
Components are made with a high quality, CARB Phase 2 ATCM 93120 compliant, 3/4″ engineered core. An engineered core provides a stable, consistent substrate, virtually eliminating warping. LEVEL components have the option of a color-coordinated TFL back or matching material on the face and back.
Northern Contours SmartMatte 3DL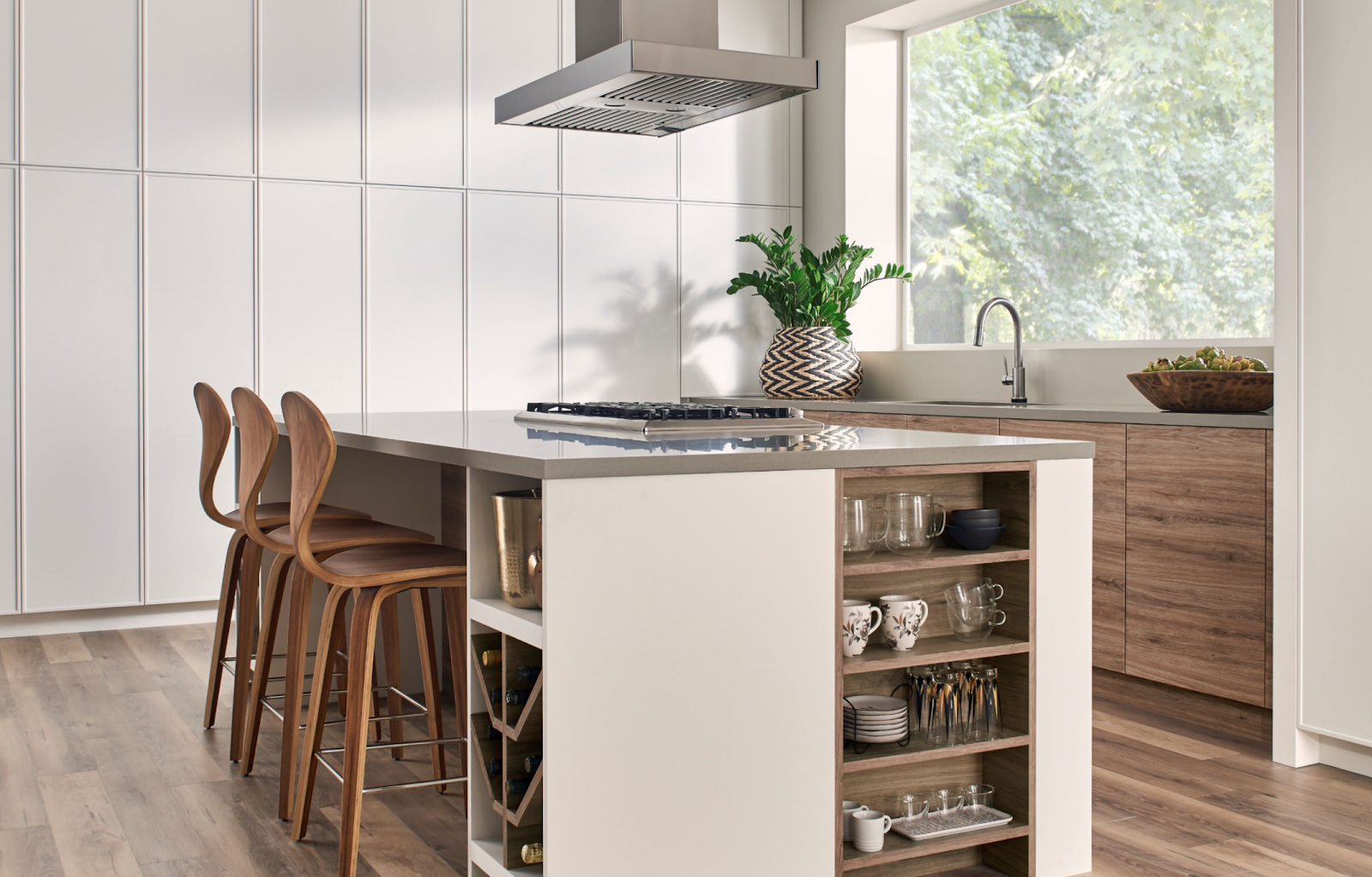 Northen Contours describes SmartMattes as "the NEXT generation of 3D Laminates". They have a soft, silky matte touch, and combine fashion and function to create cabinet components with amazing engineered features such as: 
Healing of micro-scratches and anti-fingerprint properties
Anti-fingerprint
Self-healing with heat of friction (use Magic Eraser)
Design Inspiration: Try a contemporary take on a shaker door. Pictured below (L to R) are the Shaker, Shaker Shallow, and Shaker Slim doors by Northern Contours.
In the video below, Bath Plus Kitchen's Eric Shipe explains why the 'Slim Shaker' may be the cabinet door style for you if you're looking for something more modern: 

Board specifications
Components are made with a high quality, double refined, CARB Phase 2 ATCM 93120 compliant, 3/4″ engineered core. An engineered core provides a stable, consistent substrate. Component backs are thermally fused laminate (TFL) and come in a variety of color or woodgrain options. 3/4″ Ultra Low Emitting Formaldehyde (ULEF) core with a White TFL back option is available on select door styles by request. 3DL Surfaces are produced using 1″ engineered core.
Northern Contours Veneers
Veneers offer a slice of real wood. This means that each veneer has unique characteristics and variations specific to the species. Variations in grain and color are inherent in the veneer, because of the natural characteristics of wood. Northern Contours uses veneer grades based on standard HPVA specifications.
Board specifications
Components are made with a high quality, CARB Phase 2 ATCM 93120 compliant, 3/4″ engineered core. An engineered core provides a stable, consistent substrate, virtually eliminating warping. Ultra Low Emitting Formaldehyde (ULEF) options available by special request. Northern Contours reserves the right to use a particleboard core of equal density in certain situations.
THOUGHTS ON SUSTAINABILITY
If you like the idea of real wood in the form of veneers, reconstituted wood veneer is a more sustainable variation of this. It is an engineered product that gives you superior color and grain consistency while also offering an environmentally responsible alternative to endangered or extremely rare wood species. For example Plain & Fancy offers stunning Reconstituted Wenge and Reconstituted Fumed Oak that would be perfect for a more organic look. 
Another option to consider for sustainability is Cabinets, with PET doors. They describe it as giving plastic a "new home". Here, discarded plastic water bottles become a high-performance PET Film. What's great is that each door is made from approximately 25 recycled water bottles. 
While there's no denying the timeless beauty of solid wood cabinetry, the various finishes, door styles, and sustainability advantages made possible by laminate cabinetry are certainly worth considering when you're ready to create your dream kitchen. It's a whole world of options to explore, and we'd be happy to guide you through it! Ask us about our services to get started.