2021 kitchen cabinetry trends are showing a new interest in both contemporary design and a return to nature. In our blog on 2021 kitchen design trends, we looked at how so many preferences have emerged and grown as a result of the COVID-19 pandemic. If you're considering a kitchen remodel, these trends can be a wonderful source of inspiration and help you create a space that meets your evolving needs. Before we look at some 2021 kitchen cabinetry trends, here's a list of kitchen design choices we expect to see more of this year:
●       Open layouts
To create a single shared space, barriers such as walls and doors are eliminated and distinct functional areas are integrated into a single shared space.
●       Large islands
Islands can provide seating and storage, making them very appealing to homeowners looking for flexibility. Some clients are even opting for a second island.
●       Smart appliances
Device charging, entertainment, and emergency power for essential appliances such as fridges are going to become more important in 2021.
●       Organic, natural textures and tones
2021 kitchen design trends tell us that we can expect to see more stone, marble, natural wood, and earth tones. Incorporating more organic materials and textures into interiors helps people de-stress and connect with nature.
●       Mixing cabinetry color and finish
Popular choices will be painted and wood grain, with a different color on the island. We saw this last year as well with the kitchen design trends for 2020.
●       Clean kitchen styles
Research by NKBA shows that the top kitchen styles are likely to be contemporary, transitional, organic/natural, and minimalistic. This suggests that, on the whole, cleaner looks will be preferred to more ornate traditional styles.
●       Modern-style countertops
In line with the kitchen styles that are becoming more popular, kitchen countertops will also take on a modern aesthetic. Solid surface countertops that are homogenous are an excellent choice for a clean look.
●       Sinks with smart features
Smart faucets and innovative sinks are going to be important 2021 kitchen design trends as people upgrade to more professional functions.
●       Flooring is hardwood, luxury vinyl plank, or tile
Some popular choices this year will be hardwood, luxury vinyl plank, and tile (ceramic or porcelain).
●       Under-cabinet lighting and flexible lighting controls
Flexible and passive lighting controls are anticipated to be more popular than traditional switches. Under-cabinet lighting is expected to be prominent as part of a sleek, contemporary look.
●       Large windows and French doors
This helps bring in more natural light. When designed well, they create a smooth transition from indoors to outdoors as well as a sense of openness.           
●       Integrated entertainment or outdoor kitchens
Building on the desire for more open space, indoor-outdoor kitchens and living areas are growing in popularity. We can also expect people to spend on premium lighting, fireplaces, comfortable furniture, and outdoor cooking appliances.
To dive deeper into this and get more specific, it's great to look at kitchen cabinetry trends, which both inform and respond to overall kitchen design trends.
As homeowners integrate kitchen, living room, and office spaces, cabinetry preferences are changing. There are many factors to consider, such as: 
●       Creating consistent design, aesthetic, and color schemes through kitchen and living spaces.
●       Keeping the kitchen well-organized so it's easy to tidy.
●       Maximizing storage efficiency and space
●       Making everything easy-to-use for all family members who may be spending more time at home now.
At Bath Plus Kitchen, we work with cabinet manufacturers at the top of their game, who are known for their style expertise and consistent quality. View our portfolio to learn about the work we've done with their gorgeous cabinetry.
These manufacturers are on top of (and, often, ahead of) the trends, so we believe that when it comes to 2021 kitchen cabinetry trends, they can offer incredible ideas and inspiration. If you're considering a kitchen remodel, keep reading to find what top trends these cabinetry design experts are catering to now!
2021 kitchen cabinetry trends – 10 trends to look out for now
Slab doors
For Plain & Fancy, a top-rated cabinet manufacturer we work with, vintage cabinetry was the top-selling style. In 2020, those dropped to 5%. Instead, their customers are choosing slab doors, like the ones in the picture above. Here, you can see white acrylic cabinetry in full overlay, creating a very clean and bright look. On the base and wall cabinetry are slab doors that enhance this clean, contemporary aesthetic. For warmth and contrast, the designers chose flat panel doors in walnut with a natural finish for the island and accent wall. This is a great way to add character and uniqueness to your new kitchen while still maintaining sleekness.
White and custom color finishes
White and off-white finishes have been popular for a while, and Plain & Fancy expects them to remain favorites. Of these, their Cascade White finish has been the biggest winner. One door style in a white finish that has been doing well is their Vogue door style.
Plain & Fancy also believes custom color will continue to be a popular option. They are committed to helping their customers "dream in color" and choose from their extensive gallery of colors or even create their own shade. We highly recommend testing out their Custom Color Picker to find shades you love (which you can then add to your 'Saved Favorites'). Here's a snapshot of what it looks like:
Custom Color Picker by Plain & Fancy.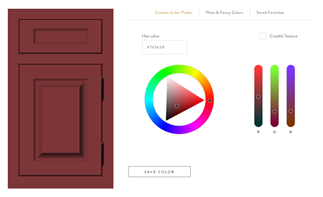 We love it when our customers come to us with an exciting color option and an openness to explore interesting palettes. Our designers enjoy hearing about your personal preferences so they can dive deeper into customization and help you create something fabulous. That said, sometimes it helps to get a little inspiration from the color trends of the year. Plain & Fancy's Shane Achey notes that what's in style can differ depending on whom you ask. He shares what color experts at Sherwin-Williams, Valspar, and Farrow & Ball have chosen, summarized below.
'Most Popular Kitchen Cabinet Colors in 2021' shared by top color authorities
●       Sherwin-Williams: Urbane Bronze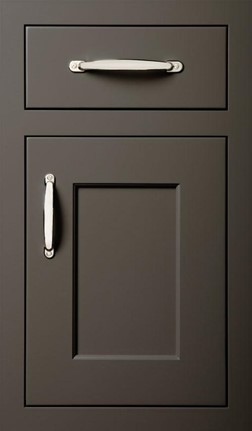 A lot of us are drawn to more calming tones now, making grey neutrals a popular choice. The Sherwin-Williams color marketing director explains that color such as Urbane Bronze makes it easier to establish the home as a personal haven during times of uncertainty. It's also safe to bet that this color won't go out of style anytime soon. 
Tip from Plain & Fancy: Layer with complementary tones, including not only beige paints but also, white oak or ash cabinets. Copper and wrought iron details can instantly add a hint of sophistication to any space decked out with this neutral hue.
●       Valspar: 12 muted hues
These colors include shades of blue, grey, and cream, with something for everyone in this modern collection. Giving each color its own webpage, Valspar offers an in-depth exploration of every hue, including a quote from an expert, why it's trending, how to style it, and a 'how it feels' video with a sound bath.
Farrow & Ball have also chosen multiple colors for 2021. These shades tend to be earthy, along with a few rich colors. They have divided these into four categories – Rich and Warm, Clean and Timeless Blues, Earth Colors, and Natural Greens. Here's a look at their 'Rich and Warm' set:
 We hope these trending colors serve as an inspiration and help you discover new design possibilities, especially for your kitchen cabinets.
White oak
This year, we expect white oak to remain a hot seller. Plain & Fancy notes that from top-grade cuts to the rustics that were once considered low grade are all varieties of white oak will stay in demand. They predicted this popularity a few years ago, introducing 14 beautiful white oak finishes in 2018: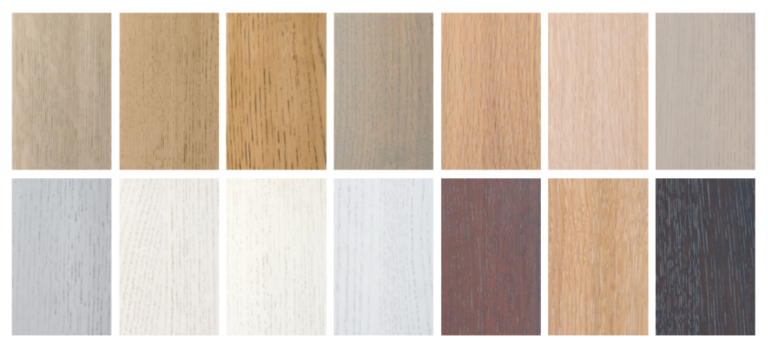 How do you know if it's the right option for you? Plain & Fancy Purchasing Manager Rick Yohn says, "it is a great look for those customers that appreciate the natural beauty of wood. Six of our new finishes (Silver Shore, Driftscape, Weathered Shore, Narvik, Montane, and Lynx) are very transparent finishes and will not hide color variation. Again, great for those who love that wood look."
They offer an exciting option for contemporary kitchen designers – reconstituted rift white oak – in the two-door styles shown below, Allegro (L) and Chicago (R).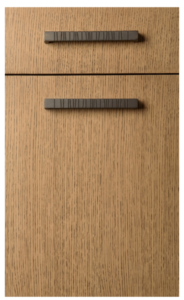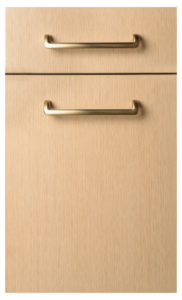 Frameless cabinetry
While designing their dream kitchens with us, many of our clients are drawn to Bellmont's Euro-style, built-to-order frameless cabinets. They're certainly not alone in choosing this contemporary style over traditional framed cabinetry.
Framed cabinetry – In this cabinetry style, the door hinges are attached directly to the frame, which strength and sturdiness. Rails and stiles are used to create a face frame, similar to a picture frame. One of the great things about frameless cabinetry is that they offer flexibility with adjustable shelves and the option to use many different doors. They work well with a more traditional style.
Frameless cabinetry – Instead of securing door hinges onto a frame as you would with framed cabinetry, they are secured directly to the inside of the box. That way, all you see after installation is the flat door and drawer fronts. This creates a sleek, simple aesthetic that works well with a more contemporary style. The two main reasons homeowners today are choosing frameless cabinetry are:
●       A cleaner look
●       Better accessibility and space.
As Bellmont explains it, "the full-overlay, flush-fitting doors, and drawers offer unobstructed interior access, giving you more storage space and organizing options than traditional face frame cabinets."
Bath Plus Kitchen's Eric Shipe demonstrates the differences between framed and frameless cabinetry below.
Wall-to-wall cabinetry and made-to-measure kitchen design

Because of the growing preference for open layouts and more integration of indoor and outdoor spaces, kitchens need to be easy to clean and reorganize.

Wall-to-wall cabinetry makes it easier to keep your kitchen looking neat. It gives you freedom from worrying about keeping open shelves tidy. On a busy day, you can still pack everything away into your spacious kitchen cabinets and have your kitchen looking clutter-free.
When the goal is to maximize storage space and functionality while keeping things looking organized, a made-to-measure kitchen design fits the bill. Nobilia offers a flexible height system and made-to-measure kitchen design that supports more creative freedom in planning. To them, this was the next logical step in their grid reorganization. They are combining a more consistent line layout with increased planning reliability, a surplus of storage space, and quality improvements in the details. This system offers a new level of personalization and flexibility while still achieving a holistic, perfected look through optimized symmetry. All of these updates align perfectly with the 2021 kitchen cabinetry trends we're seeing.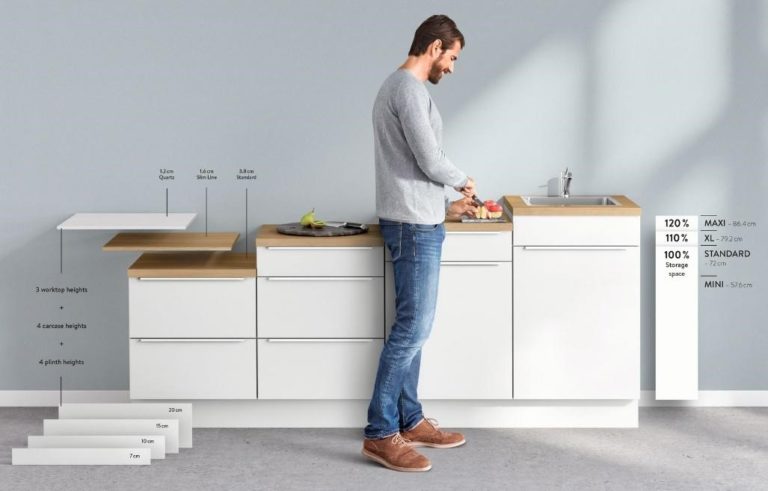 With their made-to-measure kitchens, you get wonderful benefits such as:
●       More side depth. What Nobilia says is true – you never have enough storage! That's why they increased the storage space of all their wall cabinets and dresser units with a new side depth of 350 mm.
●       Continuous fronts. These create an especially linear look.
●       Flush fronts. To optimize the design lines, all Nobilia's shelf units are now produced with front flush as the standard. These shelf units can also be supplied with adjustable shelves for a surcharge to provide even more flexibility.
Nobilia understands their clients' aesthetic and functional priorities for their new kitchens. They believe flexibility, individuality, and storage space are what customers want, and they're determined to provide this in new and innovative ways while still adhering to their high standards of quality and design every single time.
Contrasting finishes
If you want your kitchen to reflect world-class contemporary design, look no further than Nobilia's fronts and trends. These reflect the biggest 2021 kitchen cabinetry trends to look out for. Take a look at what's new at Nobilia to see how they pair different finishes to create stunning kitchens:
●         Warm Concrete Shade
Nobilia describes concrete as the epitome of modern industrial style. As customers lean increasingly towards a more natural, pared-down, organic feel, they offer this new, warm shade of Terra grey for their RIVA range as a "contemporary interpretation of cool coziness". The dark wall unit offers contrast.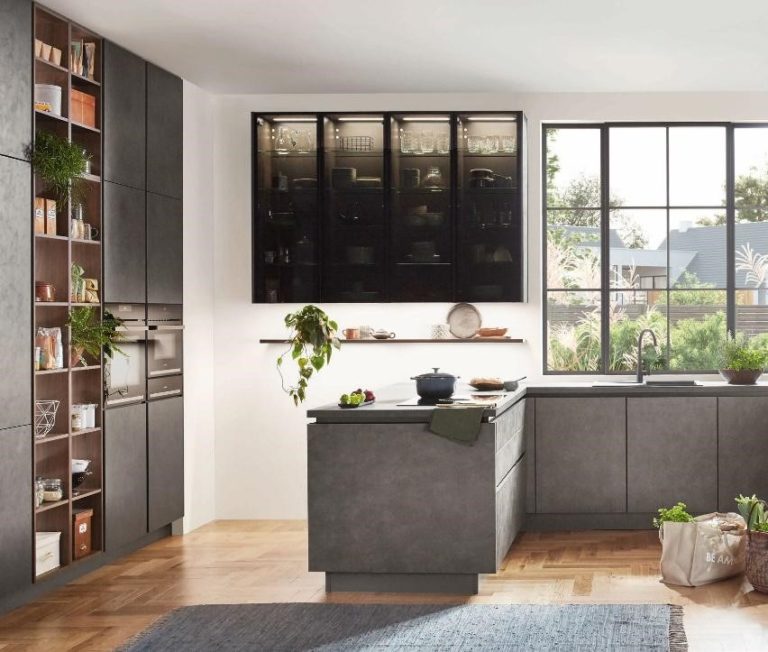 ● Elegant Wood Appearance
Nobilia's new walnut décor embodies pure elegance and caters to the current demand for a more natural feel. The matte black carcass pairs beautifully with it to create a sophisticated look.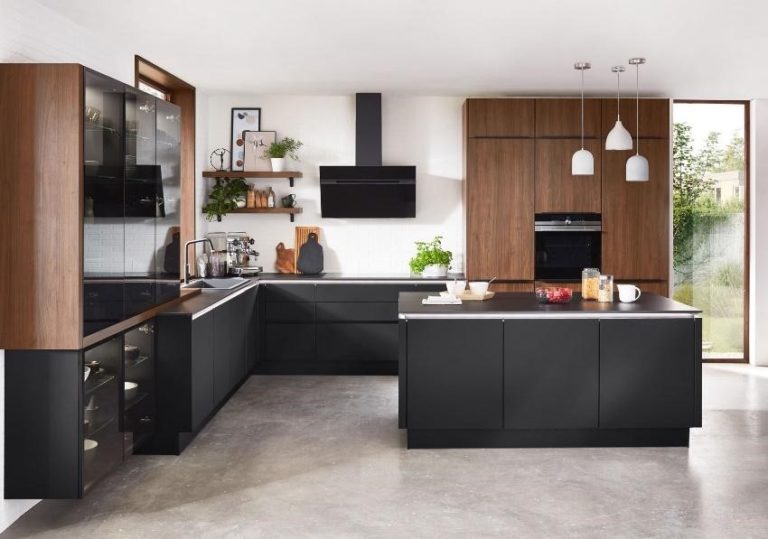 ●       Cottage-style cosiness
Their NORDIC doors deliver the cottage-style coziness with a new framed door in a white, genuine lacquer design. The result: Fronts with a minimalist look, inspired by popular Scandinavian style. The wood aesthetic on the island and backsplash add a touch of traditional comfort.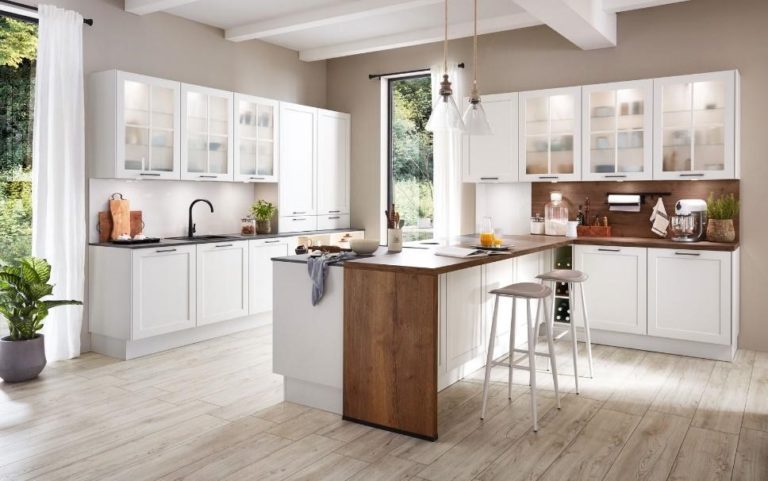 ●       Glass appearance with wow effect
Nobilia's new ARTIS line offers fronts and upright panels made of polymer glass. ARTIS thus offers a virtually unlimited range of products. The satin matte finish glass appearance achieves a stunning depth effect and sets the scene for exquisite designs in kitchens, bathrooms, and living areas. In the kitchen below, the flawless glass finish contrasts beautifully with the wood aesthetic.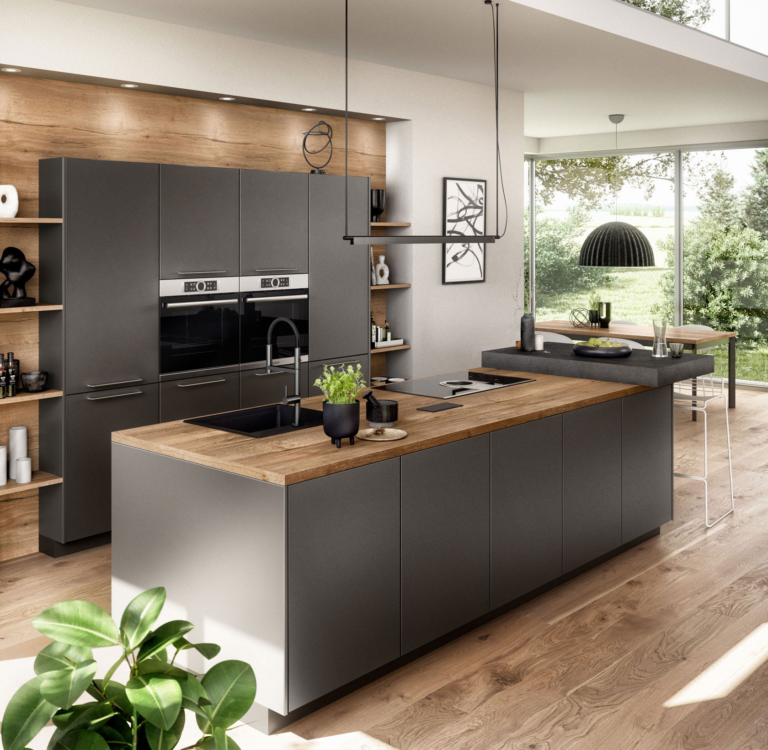 Nobilia demonstrates that the possibilities are endless when it comes to creating a contemporary kitchen that expresses your individual preferences and taste. We also love how they're changing perceptions of laminate cabinetry, showing how beautiful, high-quality, and versatile they can be.
Clean lines and minimalist design
Clean, contemporary kitchen design is a clear winner when you look at 2021 kitchen cabinetry trends. Bellmont delivers this with their VERO series, inspired by Italian minimalist design. It boasts a true absence of handles that emphasizes clean lines and soothing symmetry for an elegant, harmonious look. What goes into achieving that? There are three key features:
●       Linear rail technology – Bellmont's sleek and simple integrated rail system provides a slender, unseen channel for easy access to drawers. This gives it a clean, crisp appearance. Without interference from handles and hardware, your kitchen becomes more efficient, making it inviting to do more there.
●       Clean lines – Precision-cut frameless cabinets give you straight lines, minimal gaps, and pleasing geometric patterns. This makes visual transitions between materials and color palettes smoother.
●       Uninterrupted access – Without handles and hardware, you can focus on the real stars – the door styles and complex finishes. It reinforces the lack of clutter while enhancing the convenience of the handle-free frameless design.
Nobilia offers excellent options in the realm of handle-less designs, achieving clean looks like the one pictured below.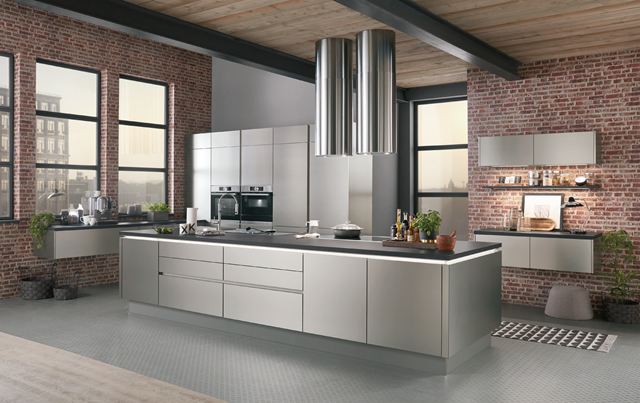 Their Handle-less Line N kitchens are available in 11 ranges and 49 front designs. These kitchens are available in all carcass colors. The entire range of surrounds with all 47 worktop décors and 94 upright colors is available. Nobilia also offers recessed handles in 9 colors. The L profiles for horizontal recessed handles can be equipped with LED lighting for a surcharge.
Sleek integrated finger-pulls


Another way to allow the beautiful cabinetry faces to shine unobstructed 

is

 integrated finger-pulls, offered by top manufacturers such as 

Dura Supreme.

 They offer two sleek and sophisticated Integrated Pulls, now available with both Crestwood and Bria Cabinetry.  These built-in hardware options are perfect for contemporary and transitional designs and are available with a beautiful, brushed Aluminum finish.
Recessed design lighting


Nobilia makes sure every aspect of your kitchen is perfect, including 

recess design

. They create decorative and functional wall views with elegant panels. Their niche cladding selection is gorgeous, artistic, and unique, and would look stunning when highlighted by recessed lighting. This is something we expect to see more of in 2021 kitchen cabinetry trends.
An exciting feature they offer for this includes the ability to switch back and forth between cool white and warm white lighting, as Eric Shipe demonstrates in the video below.
Nobilia's lighting systems are designed to illuminate workspaces as well as to create an atmosphere. They understand – and we agree – that lighting requires careful planning and consideration. After all, when you invest time and resources in your gorgeous new kitchen, you wouldn't want unimaginative lighting to take away from the elegance and ambiance you've worked hard to establish!
Here are two valuable tips from Nobilia to make sure your lighting is doing your kitchen, including your new cabinetry, justice:
●       Ensure that work area lighting is uniform and shadow-free as far as possible in order to optimize day-to-day tasks in the kitchen.
●       In addition to general room lighting, creating additional small islands of light, mainly near the seating areas in the kitchen, makes for a homely and comfortable ambiance. Thanks to efficient LED technology and modern control options, this can be realized simply and cost-effectively.
Walk-in pantry


Walk-in pantries are great especially if you love to cook and/or have a large family. For starters, they offer more storage space with floor-ceiling cubbies, shelves, and drawers. The generous space means things are easier to organize which in turn means they are easier to access and use. All of this can make cooking more appealing and can even minimize food wastage when ingredients get used instead of lying forgotten in the back of a cabinet or drawer. When planned well, your walk-in pantry can accommodate certain appliances that don't have a permanent spot on your kitchen 

counters

 such as a juicer or slow cooker.
If this item on our list of 2021 kitchen cabinetry trends sounds good to you, you'll love the NEW Pass-Through Tall Cabinet from Dura Supreme, designed for creating a seamless walk-in pantry.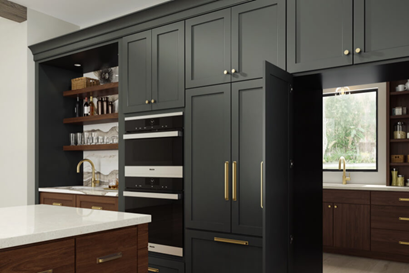 Dura Supreme's New Larder Cabinetry is another great option to consider, pictured below:
These cabinets are highly functional and are designed with a number of internal storage features that will help you keep most countertop clutter items and small appliances behind beautiful cabinet doors. They offer specialized internal options such as:
●       Storage Center
●       Beverage Center
●       Baking Center
●       Optional organizational features such as apothecary drawers and a flat Roll-Out Shelf
Looking at these 2021 kitchen cabinetry trends tells us that homeowners today want to create contemporary spaces that prioritize comfort and ease. Clean looks and even cleaner design will make your kitchen efficient, organized, and a joy to spend time in!
Ready to discuss your new kitchen cabinetry with our design experts? Get in touch with us here.