Many 2021 kitchen design trends have emerged as a result of the COVID-19 pandemic, which has altered how and where we spend our time. Many of us are likely to continue working from home and spending less time in public at least until late 2021, which is when experts predict an epidemiological end to the pandemic for the US. This is influencing how we design our homes, including our kitchens.
Homeowners are now showing a greater desire to invest in their homes, making them more comfortable to spend long periods of time in. What we use our homes for has changed, so the way we design these spaces is changing as well. Organizations such as the National Kitchen & Bath Association have observed these changing design inclinations in their predictions for 2021 kitchen design trends. Here are a few key trends.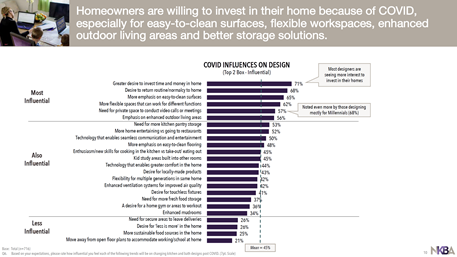 1. Open layouts
An open-plan kitchen and living room is a popular design choice for modern homes, as 2021 kitchen design trends indicate. Here, barriers such as walls and doors are eliminated and distinct functional areas are integrated into a single shared space. It can happen either by reconfiguring an existing space and merging two rooms, or by designing a single space from scratch. Here's how we executed this during a kitchen remodel in Washington, DC:
The goal is to create, after evaluating the pros and cons, a multi-functional space that meets your family's needs. It's going to be a room where people will relax, eat, and work – perhaps all at once. These ideas can help you make the space work better:
Try multi-functional or multi-purpose furniture, such as a bookshelf with a convertible desk or end tables that also serve as movable laptop stands.
Try to make the room feel dynamic and flexible with movable elements such as doors or walls that can transform the space as needed.
When it comes to creating these separate spaces, think beyond partitions – false ceilings, furniture, and carpet can be used to differentiate spaces as well so you can have a kitchen, dining room, relaxation area, and office nook all in the same room in a way that stays organized.
If you have a central column in the middle of your space, extend it into a small partition that can make the flow of the space more interesting while also serving as a storage space.
Use color or texture to create different zones within the space, which will suggest a change of purpose as you move through the room. This year, NKBA predicts the popular color choices to be restorative, earthy, and deep with a touch of brightness:
a) Blues and greens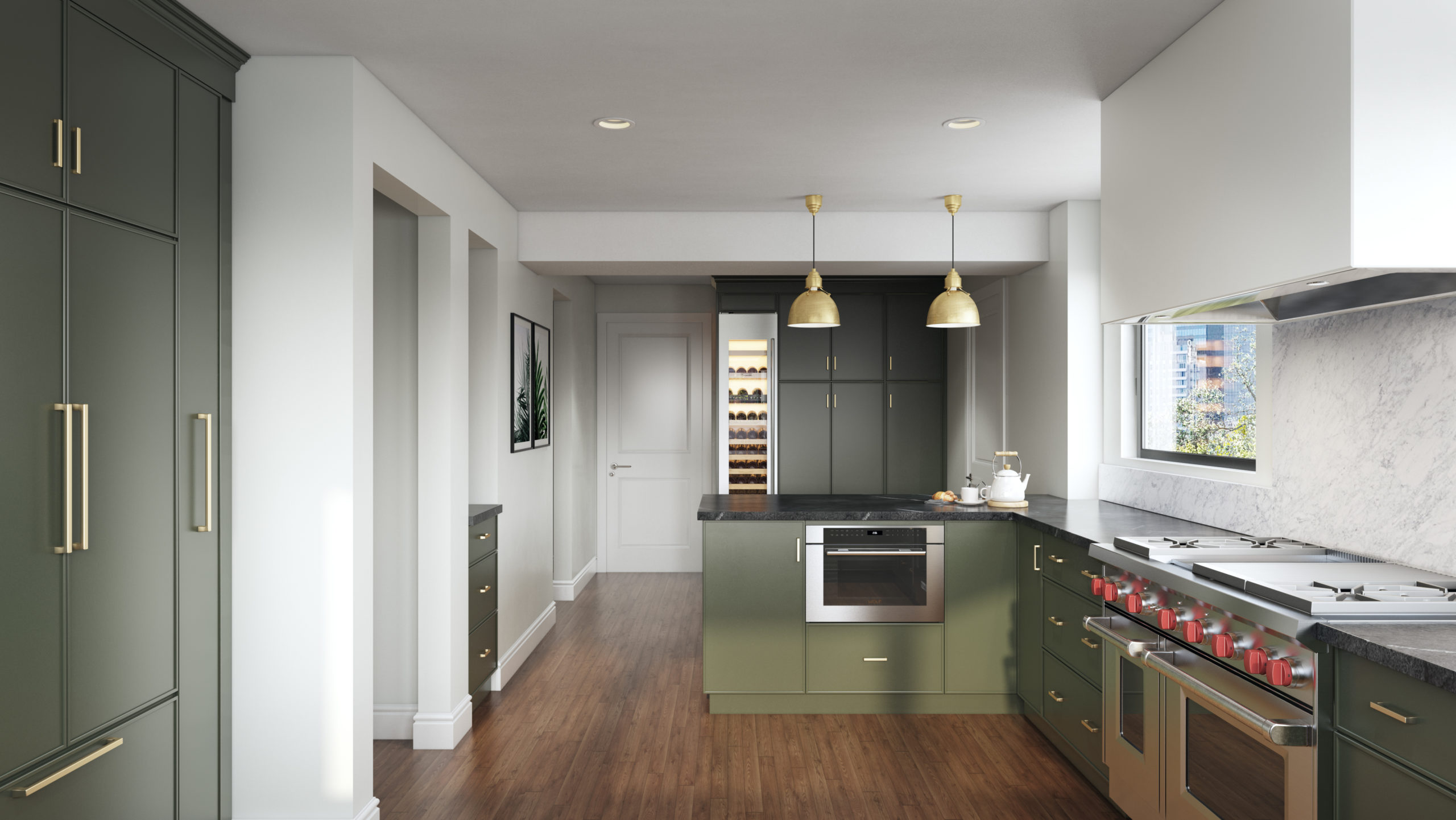 b) Neutral tones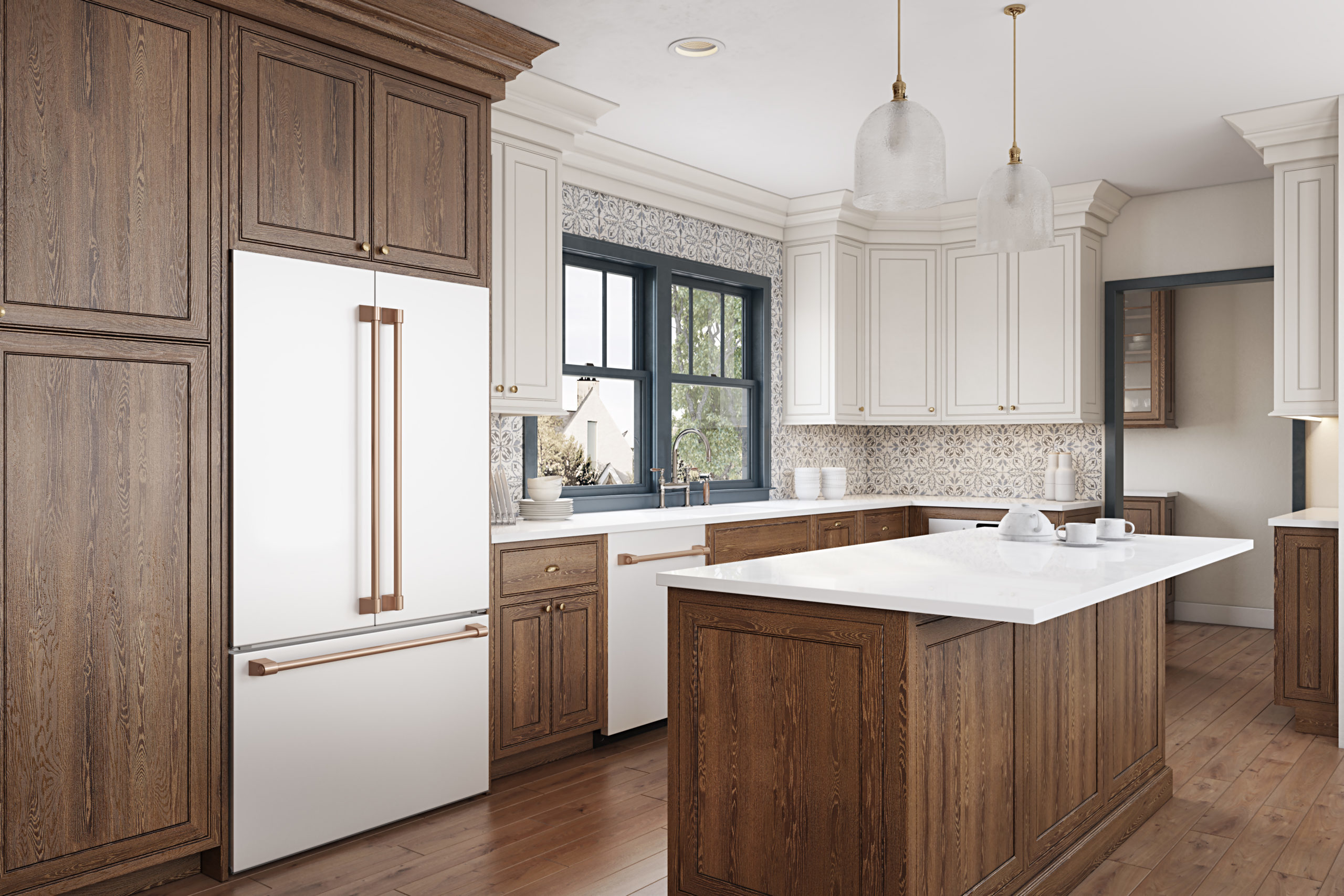 c) Dark tones that suggest resiliency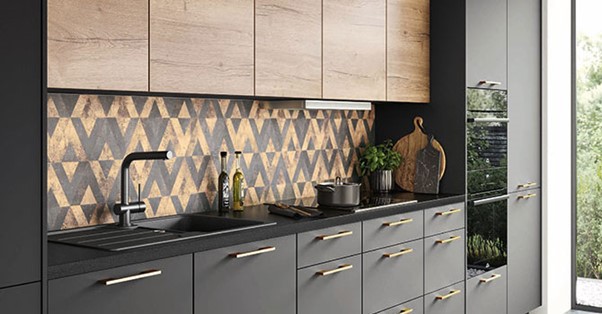 d) Dependable greys / concrete looking cabinets & counters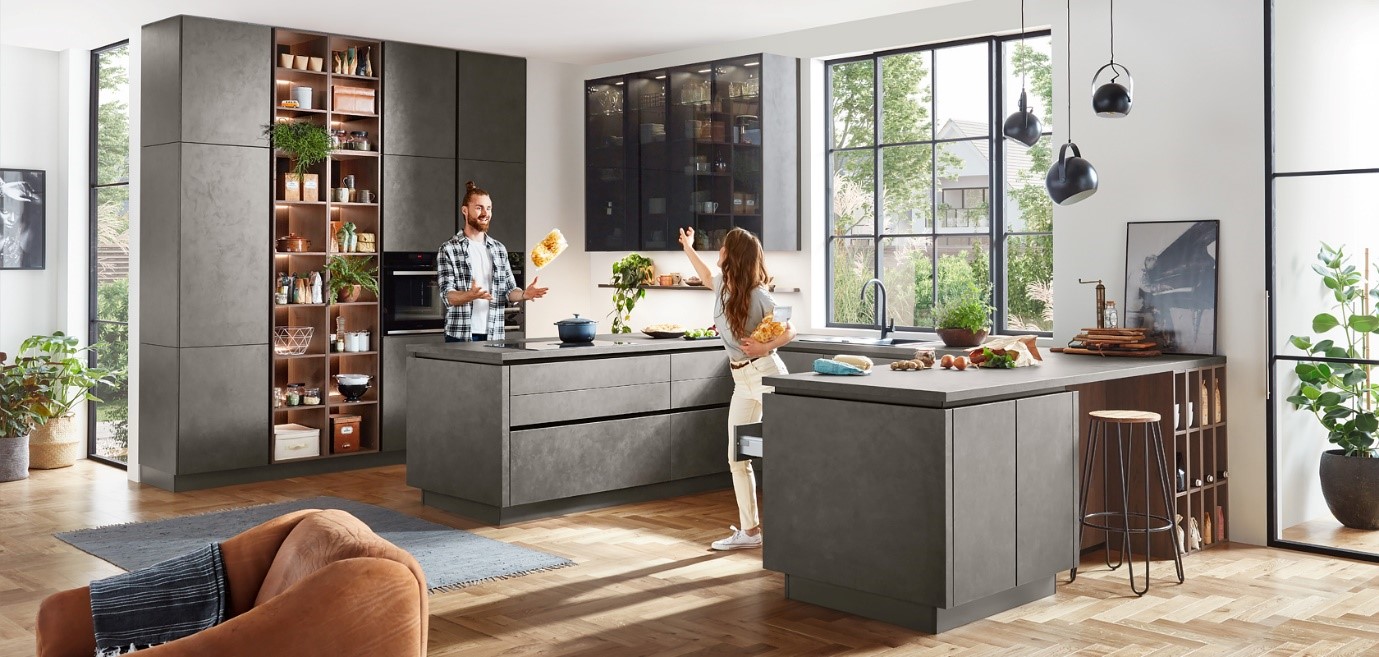 As you select your color palette, consider the mood you would like to create for you and your loved ones
2. Large islands
We expect to see more requests for large islands in 2021. Since people are trying to maximize the functionality of common areas of their homes, anything multipurpose that offers flexibility is going to be considered seriously. Islands can provide seating and storage as well as the option to incorporate some great features that serve cooks and diners alike, including:
Appliances such as microwaves or warming drawers
A sink for food prep
A cooktop and oven
A booth with a dining table
A display of beautiful crockery, perhaps a set you like to use for guests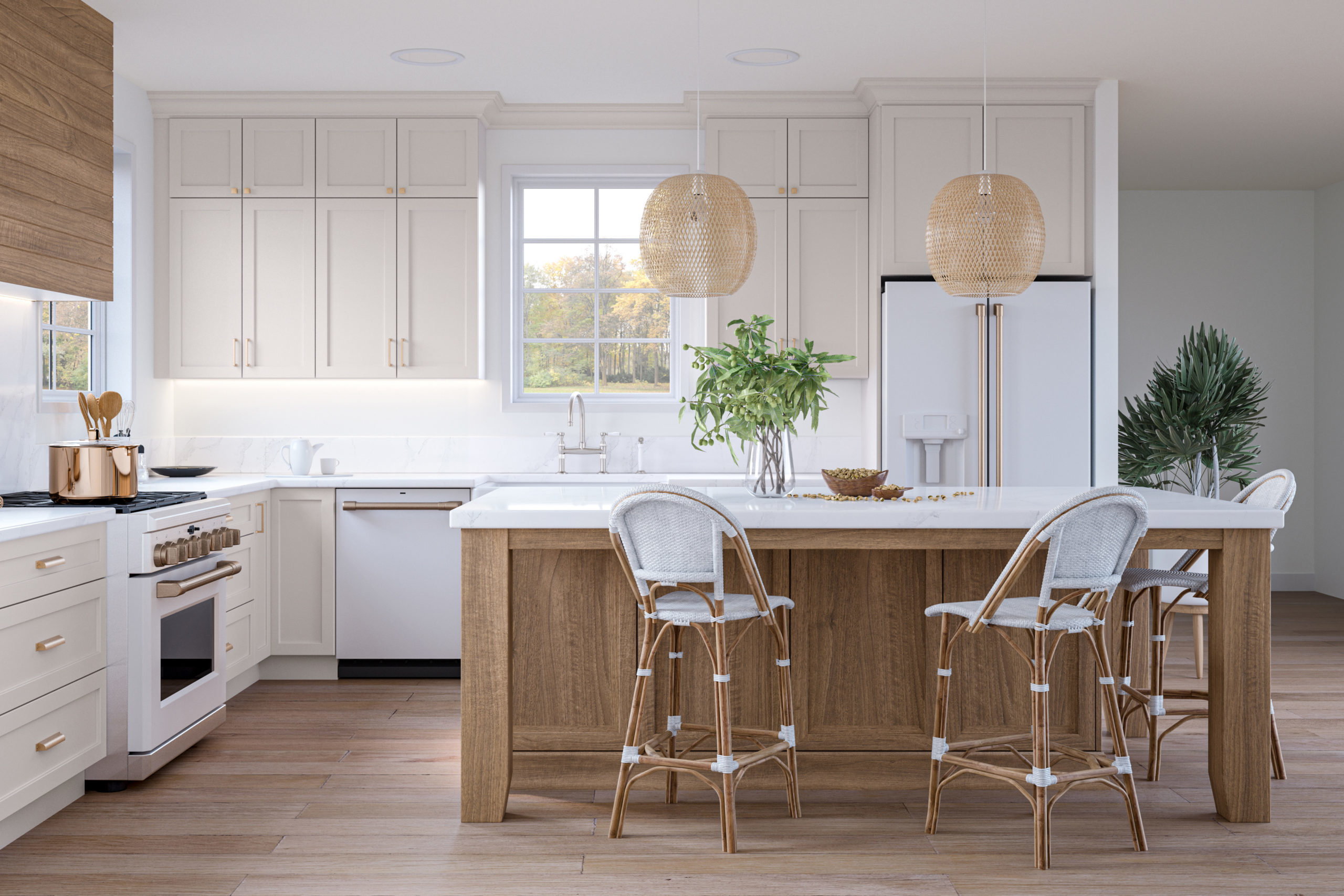 You can also add a second island if you have the room. Just make sure the islands aren't too close together, so it's comfortable to move around and use the space. Too much space can also feel awkward and uncomfortable.
Tip: When building a kitchen island, think ahead to future appliances and features you might want to add, so that you can plan the plumbing and electrical work accordingly.
3. Appliances – emerging technology and aesthetics
Device charging, entertainment, and emergency power for essential appliances such as fridges are going to become more important in 2021. Many homeowners will prioritize building a smart kitchen with products that are more efficient, more precise, and safer. These are typically connected via IoT technology, Bluetooth, or Wi-Fi.  Sometimes, they can be controlled by voice assistants such as Amazon Alexa or Google Home assistant. For ideas, take a look at some picks by PCMag.com.  This year, we are likely to see more people relying on technology in the kitchen in different ways, such as: 
Grocery ordering and inventory assistance
Monitors and alarms
Voice-activated digital assistants
Smart cooking devices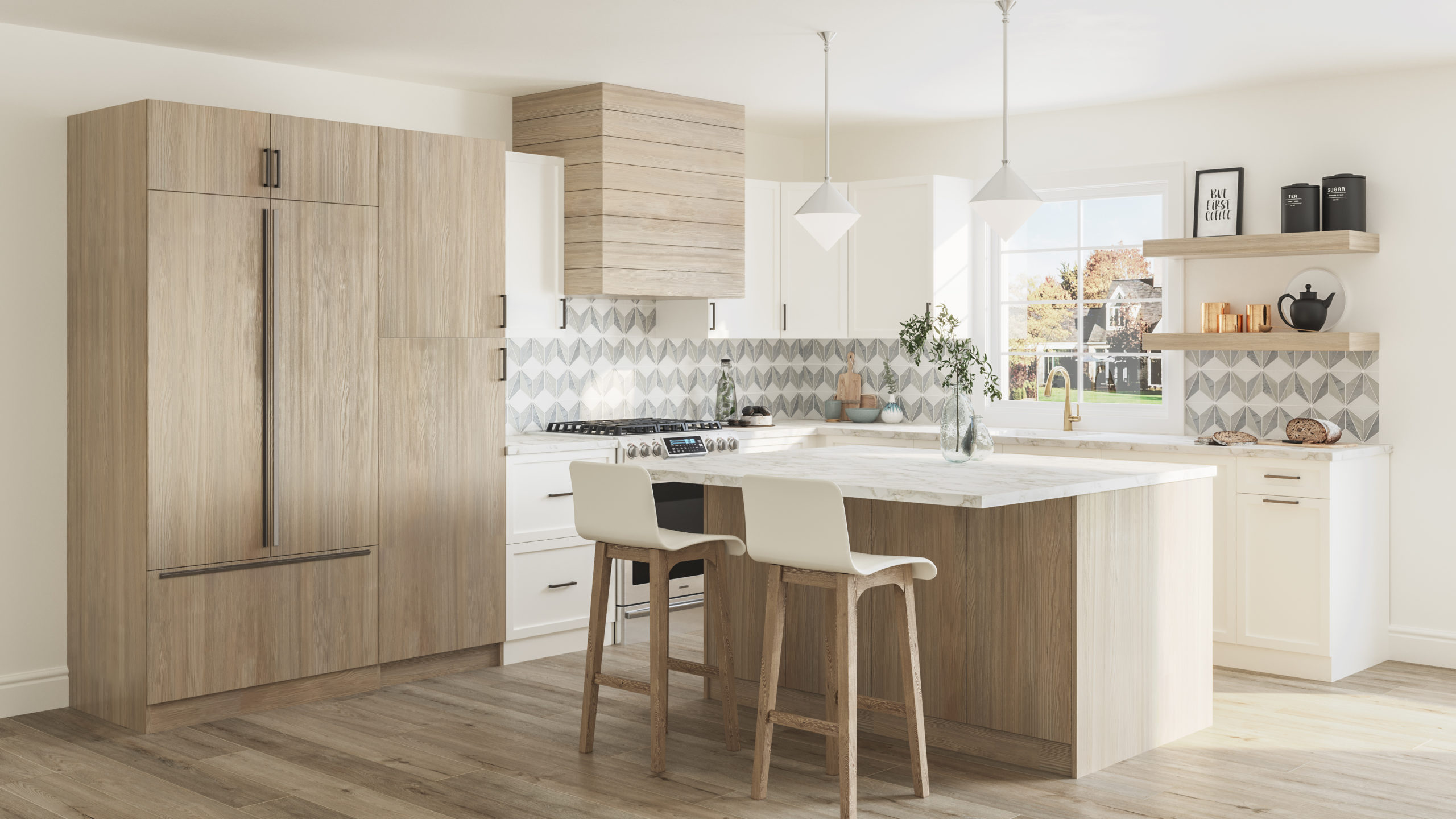 Aesthetically, stylish appliances such as French-door refrigerators will be popular.
4. Organic or natural materials
As people try to de-stress and find new ways to connect with nature, they are incorporating more organic materials and textures into their interiors. 2021 kitchen design trends tell us that we can expect to see more stone, marble, natural wood, and earth tones. Indoor plants and sustainable materials – including reused materials and bioplastics – are great choices, too. This helps bring nature and the outdoors into the home, which gives us a break from a world that runs on mass production and industrial growth that destroys nature.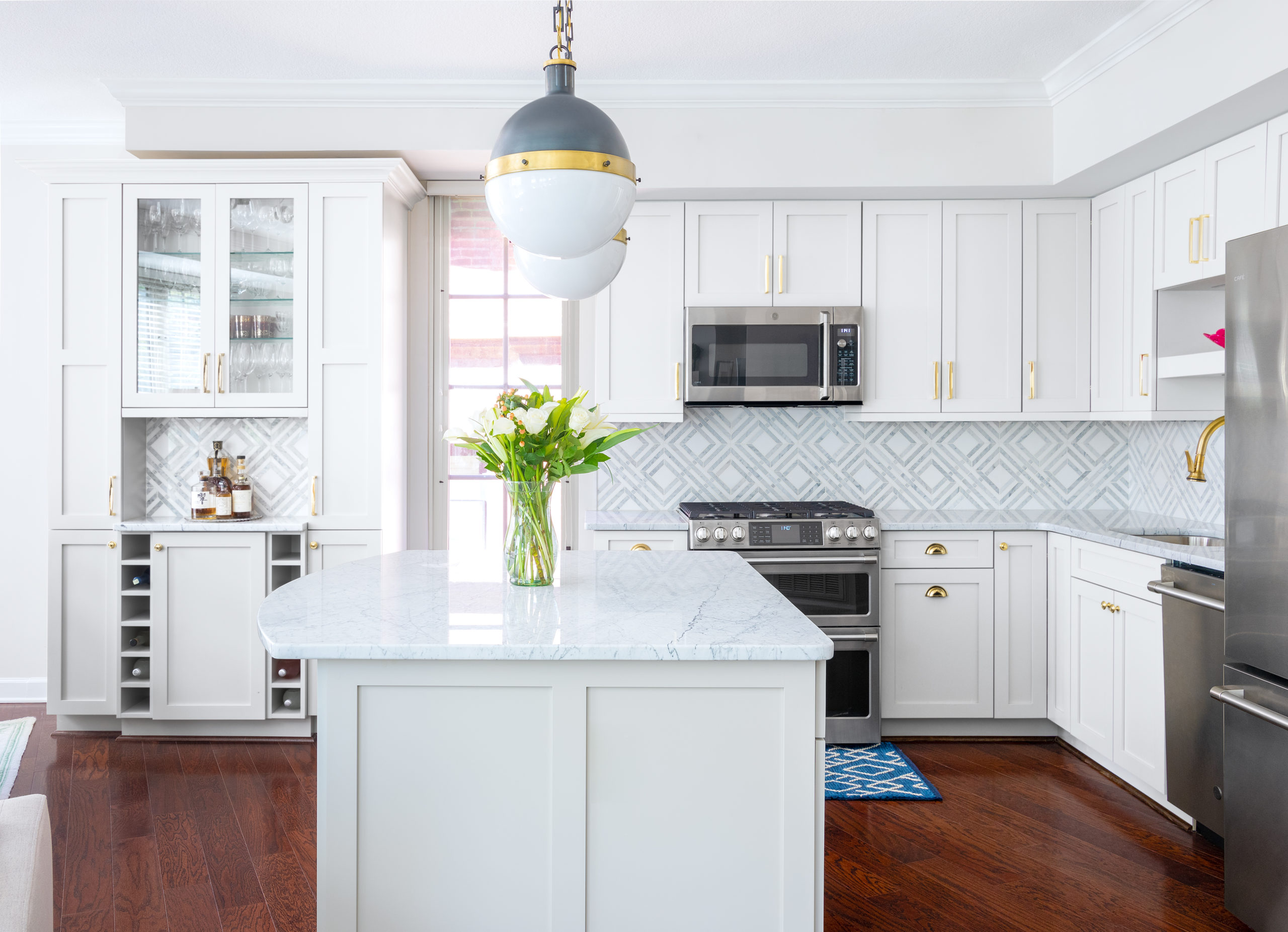 5. Cabinetry and other storage
Popular choices will be painted and wood grain, with a different color on the island. We saw this last year as well with the 2020 kitchen design trends. Also, more innovation can be expected here. All-white cabinetry is versatile and classic, but we might see a dip in its popularity this year. Designers can explore new ways to add contrast to an all-white kitchen, such as bright colored or even dark kitchen islands. Mixing finishes and adding pops of color can work well. For those looking to change their cabinetry altogether, a few options could be:
– neutral and natural tones that are soothing.
– greens and blues that can be uplifting.
– deep, dark jewel tones such as black, navy, emerald green, and plum for a dramatic feel and luxurious atmosphere. Modern homes in 2021 are likely to incorporate a lot of black and dark tones.
6. Clean kitchen styles
Research by NKBA shows that the top kitchen styles are likely to be contemporary, transitional, organic/natural, and minimalistic. This suggests that, on the whole, cleaner looks will be preferred to more ornate traditional styles.
Something to keep in mind is that "clean" doesn't mean dull; it can be made creative and interesting when designed well.  As Plain & Fancy – a top-rated cabinetry manufacturer we work with – puts it, "modern kitchens don't have to be sterile and without detail." In the kitchen featured below, they use smooth natural wood grains, waterfall granite, and other unique details to create a kitchen they describe as "worthy of being called American Contemporary".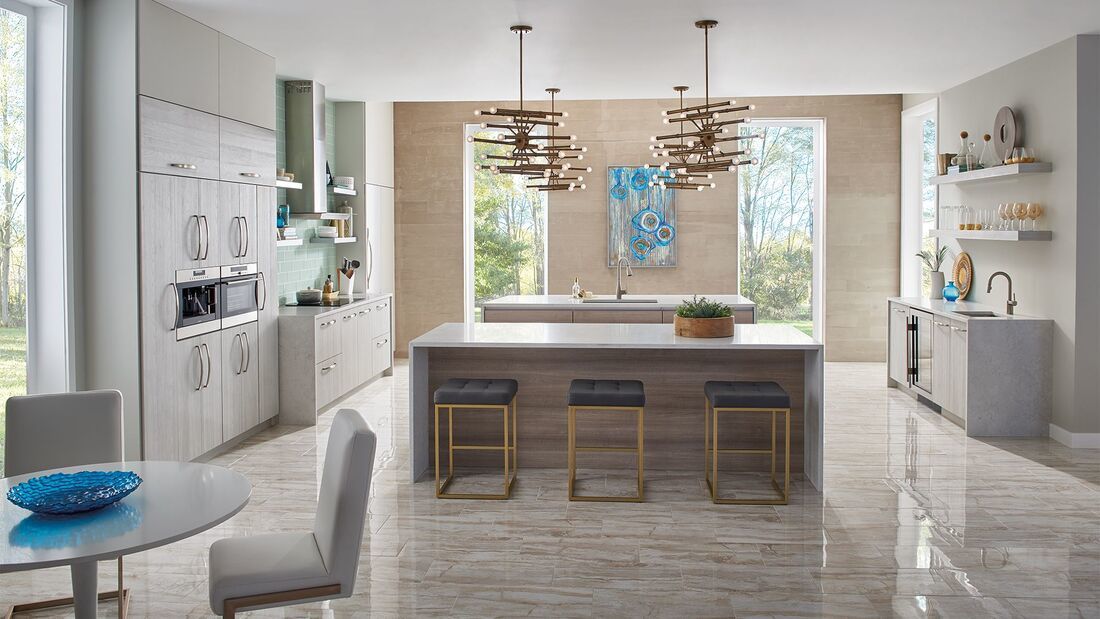 Here, base and wall cabinetry use Plain & Fancy's Milano door style with a North Cove finish, in full overlay. The islands use the same Milano door style in a different finish, Rockway Beach, in full overlay.
7. Modern-style countertops
In line with the kitchen styles that will be popular, kitchen countertops will also take on a modern aesthetic. Solid surface countertops that are homogenous are an excellent choice for a clean look. Functionally, too, they make sense because they are non-porous. They also have certain other qualities that them a great option:
Antimicrobial – as we work harder to keep our kitchens cleaner and safer, these surfaces can help.
Much harder than multilayer countertop substances – sturdier countertops are essential for a kitchen that is going to be used often.
Resistant to dents, scratches, and other physical abrasions – this will help preserve their finish and clean look even after heavy usage.
Resistant to heat – this will keep your countertops looking new for longer.
Simple to maintain – with more family members venturing into the kitchen to expand their culinary skills, easy maintenance helps.
Quartz will remain a popular choice as well. If you're not sure which way to go, this comparison by The Spruce may help: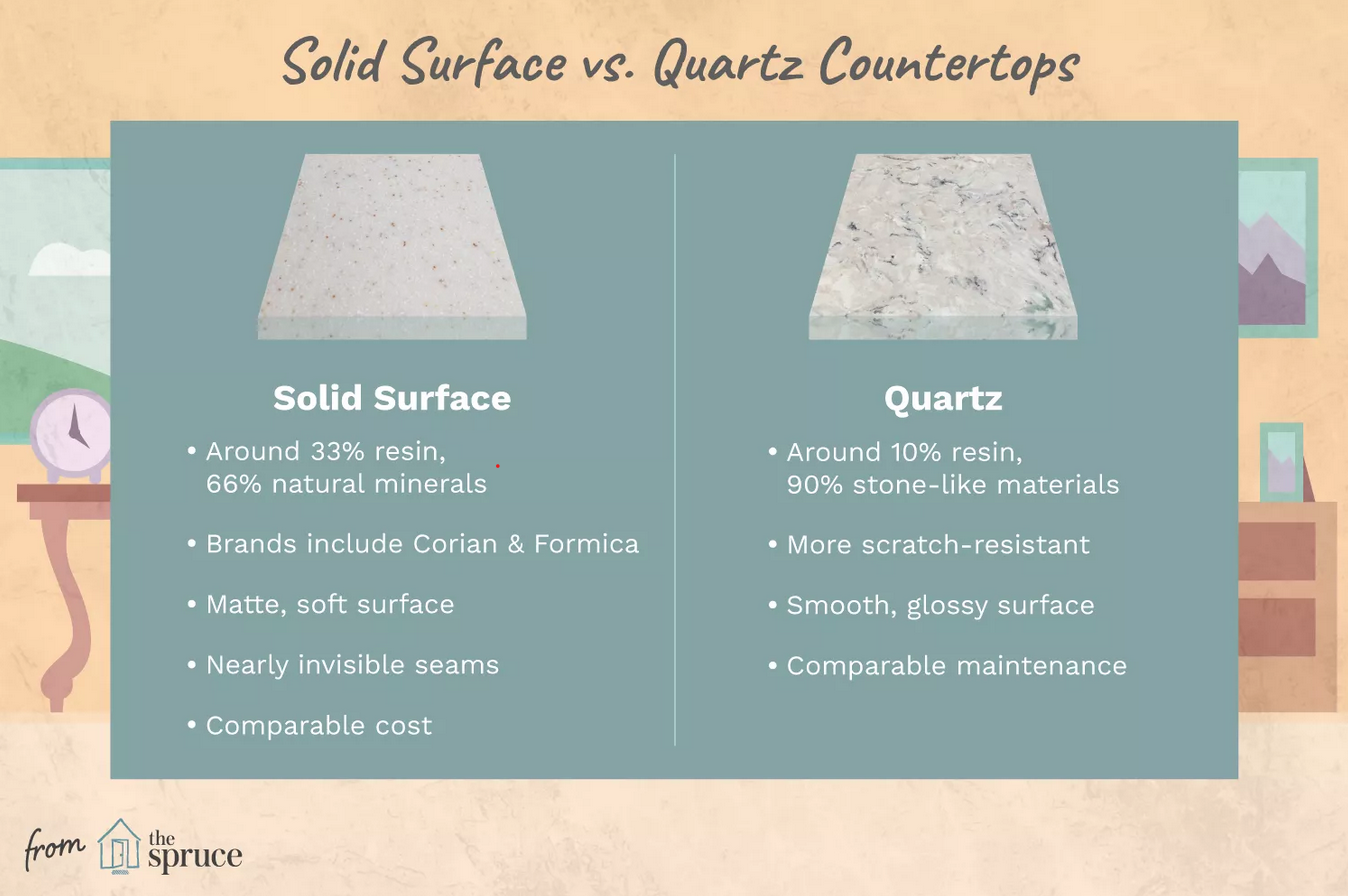 8. Sinks
Smart faucets and innovative sinks are going to be important 2021 kitchen design trends, as people upgrade to more professional functions.  Designers believe that both stainless steel and white single bowl will be popular, and apron or workstation sinks will dominate.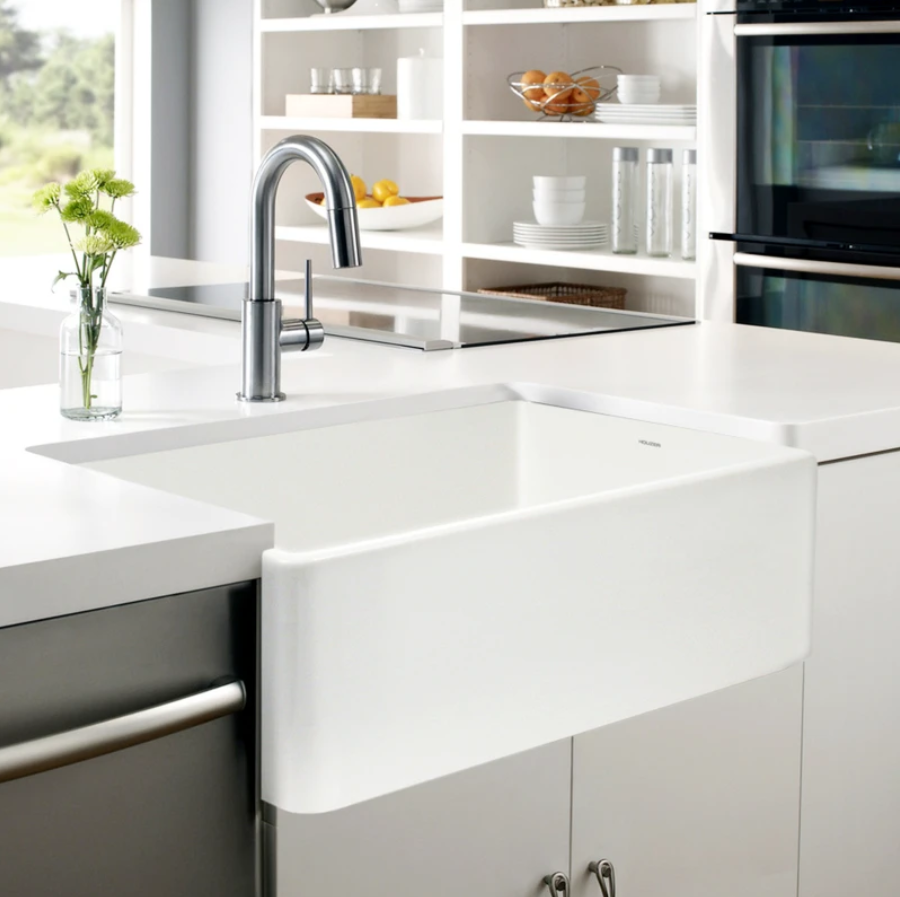 9. Flooring
Some popular choices this year will be hardwood, luxury vinyl plank, and tile (ceramic or porcelain).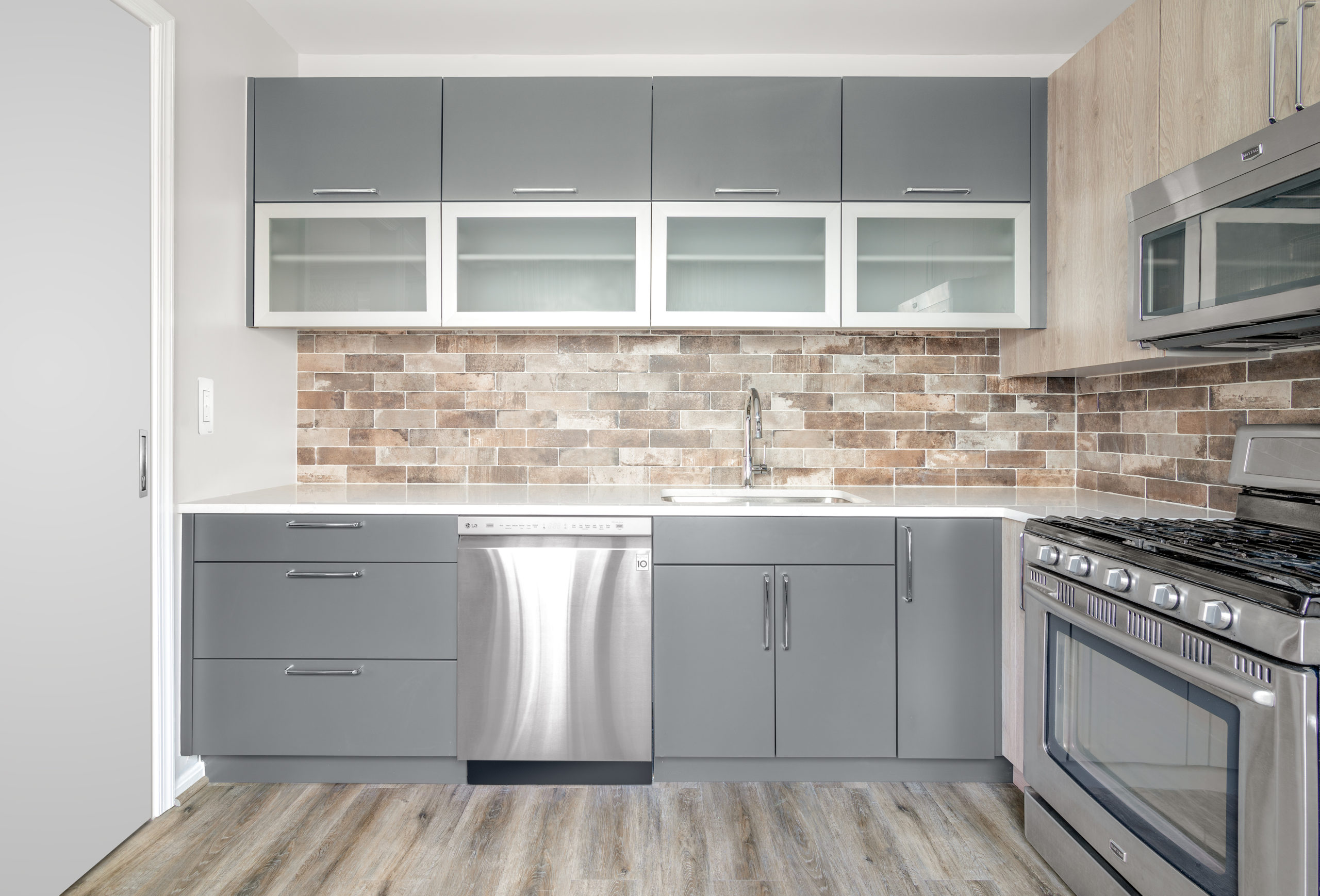 10. Lighting
Flexible and passive lighting controls are anticipated to be more popular than traditional switches. Under-cabinet lighting is expected to be prominent, as part of a sleek, contemporary look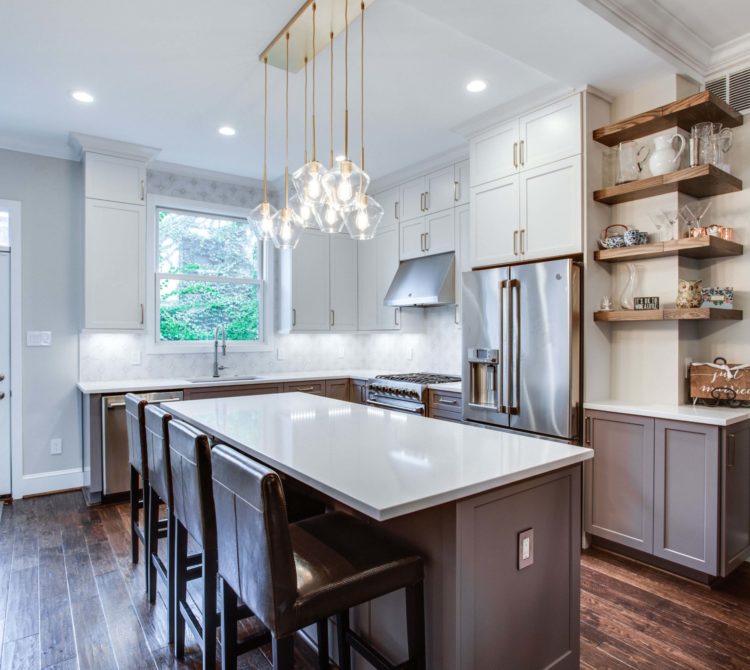 11. Windows
An important aspect of bringing the outdoors in is adding more natural light. Large windows and French doors help accomplish this. When designed well, they create a smooth transition from indoors to outdoors and a sense of openness.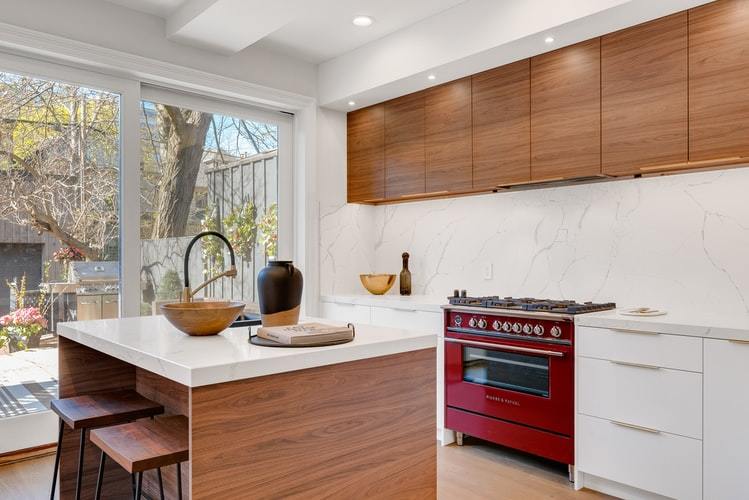 12. Integrated entertainment or outdoor kitchens
Building on the desire for more open space, indoor-outdoor kitchens and living areas are growing in popularity. With the restrictions imposed by the coronavirus pandemic, industry pros report that the demand for building and enhancing these spaces is growing faster, together with new planning strategies and impressive new amenities. These spaces have helped many people reconnect with family, hobbies, and nature.
Privacy and ambiance are two important aspects of setting up an outdoor living space. Privacy screens and shade structures will be smart investments. We can also expect people to spend on premium lighting, fireplaces, comfortable furniture, and outdoor cooking appliances. Grills are growing more sophisticated, as are accompanying appliances such as warming drawers. Balancing comfort, convenience, and luxury will shape the 2021 kitchen design trends.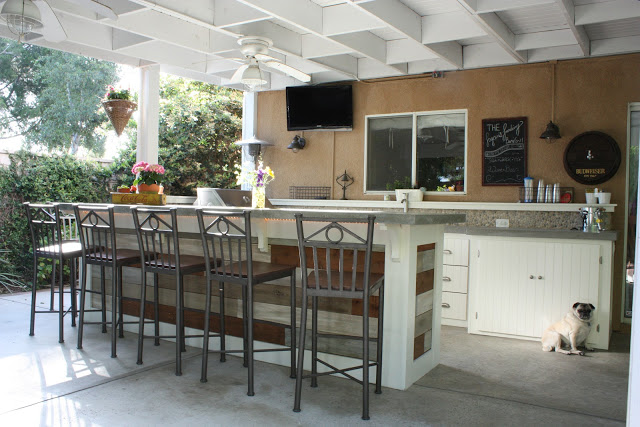 Some practical features to consider adding:
Durable outdoor sink
Outdoor bar or a counter that can double up as a temporary bar
Task lighting
Ice maker
Bins for trash, recycling, and compost, so you don't have to sort it out later.
Dishwasher, if you have the space for it and plan to cook outdoors often.
Permanent or portable? Fully-functional or simple? Consider your cooking style. Do you love grilled fish or a hamburger cooked over a charcoal barbecue? What about pizza cooked in an outdoor brick oven? Perhaps a tandoor or a smoker?
In short, think of how you will handle food prep, cooking/serving food, and accommodating guests.
On the whole, we believe kitchen remodels will focus on creating comfortable spaces based on people's experience over the last year spending more time at home and realizing what matters to them. At Bath + Kitchen, our designers love helping our clients zero in on what they really want and like, so we can work together towards a clear vision. Learn about our consultation and design process and begin your journey to your perfect kitchen today!
Key references: