Not All Kitchen Remodel Estimates Are Equal
If you're due for a ​kitchen remodel​, you've likely found yourself overwhelmed with choices. There is a dizzying array of available options for everything from tile to appliances, at every price range, which can make estimating kitchen remodel costs a real headache. Here at Bath Plus Kitchen, we've tried to simplify the process while offering our clients a full range of options; the result is our "good/better/best" system, which quickly and easily adjusts your estimate to reflect exactly what each option will cost – including materials, labor, and management, in an easy-to-read format.
When budgeting it also helps to refer to the annual ​Cost vs. Value report for the Washington, DC Metro Area.​ In the report they assess a midrange and upscale kitchen that's 200 square feet and has 30 linear feet of​ cabinets​. The average for a mid range kitchen is $64,514. Upscale is $128,117.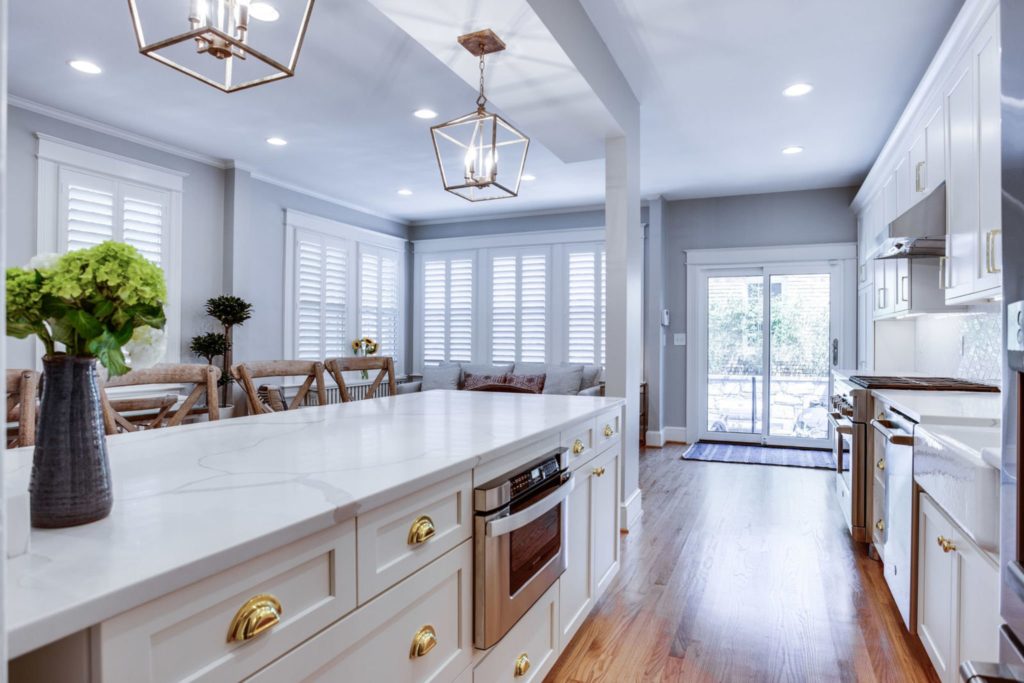 How it Works: Choose Good, Better, or Best
Step 1: Visit Our Showroom
To start, you'll want to schedule a time to visit our showroom located at 1215 King St Alexandria, VA. There you'll have the opportunity to meet with one of our designers to discuss your project and style interests. You can touch and feel materials to get a sense of what works for you. The initial goal is to get a sense of what level of materials you like most. From there we can begin to define a budget.
Step 2: Choose Good, Better, or Best
Because there's what the heart wants and what the wallet can afford we offer you three options for each purchase category. You mix and match these options to your liking. As you do so, our spreadsheet generates a detailed, itemized estimate that shows how each option affects the total project estimate. The three available options (good, better, and best) are based on the quality of the components and design. We offer several high-quality lines of cabinets, tile, hardware, flooring, countertops, and fixtures at all price ranges, and we are a General Electric appliance dealer.
L-Shaped Kitchen Example
Choosing Cabinets
Let's do some kitchen pricing for an average, L-shaped kitchen. The first thing to do is to count the cabinets in your current kitchen (if pulling and replacing) or take a guess at how many you'll need. In this example kitchen we'll say it has 11 cabinets. It also has an old closet we plan to remove and replace with a pantry cabinet, which counts as 2 cabinets for estimation purposes. We now have a total of 13 cabinets. We choose our quality level (good usually being a semi-custom line, better usually being an upgrade to plywood cases or a nicer finish, and best usually being high end inset or acrylic cabinets) and enter this total of 13 into the appropriate box. Immediately we'll see a comprehensive estimate based on this choice. The cost of cabinets can range from around $600 per cabinet for a stock cabinet to more than $2,500 per cabinet for a high-end, custom cabinet. Keep in mind the more accessories a cabinet has the higher the cost of the cabinet becomes. Also opting for more drawer base cabinets instead of base cabinets with doors will end up costing more.
We've seen that most homeowners prefer to opt for the flexibility of a semi-custom line over a stock line, so we'll say that in this case, the estimates are: $9,075 for our good option, $13,673 for our better option, and $32,500 for our best option.
Choosing Countertops
Here again, there is a range of available options. Using an average square footage for estimating purposes, our three countertop options come out to $2,830 for our good option, $3,342 for our better option, and $4,010 for our best option. It's important to say here that we highly recommend quartz countertops, as they need very little maintenance and offer a great return on investment. Quartz is less porous than other stone countertops, and as such, requires no sealing. This means less maintenance, no stains, and no chipping or flaking – all at costs comparable to marble or granite.
The Kitchen Sink
Let's move on to the sink for our next example. For our kitchen estimate, a basic, undermount, stainless steel sink is our good option, coming in at $350. Our better option is a zero-radius sink, coming in at around $600. And our best option is a cast iron apron sink, which runs about $1,150. We have many options for fixtures and hardware, which we'll customize to suit your taste, but which still fall under one of our three categories. For our purposes here, we'll say our faucet options are $350, $490, and $980.
Tile and Backsplash
This is an area where homeowners usually like to do a little showing off, and one where you can literally spend whatever you want. It's easy to fall in love with custom tile, and some of these can range to over $100 per square foot. That being said, basic subway tile starts at around $5 per square foot, and our best options usually run about $52 per square foot. For this example, we'll say the options are $263, $525, and $972. And of course, if you do choose a custom tile, we can work with that also.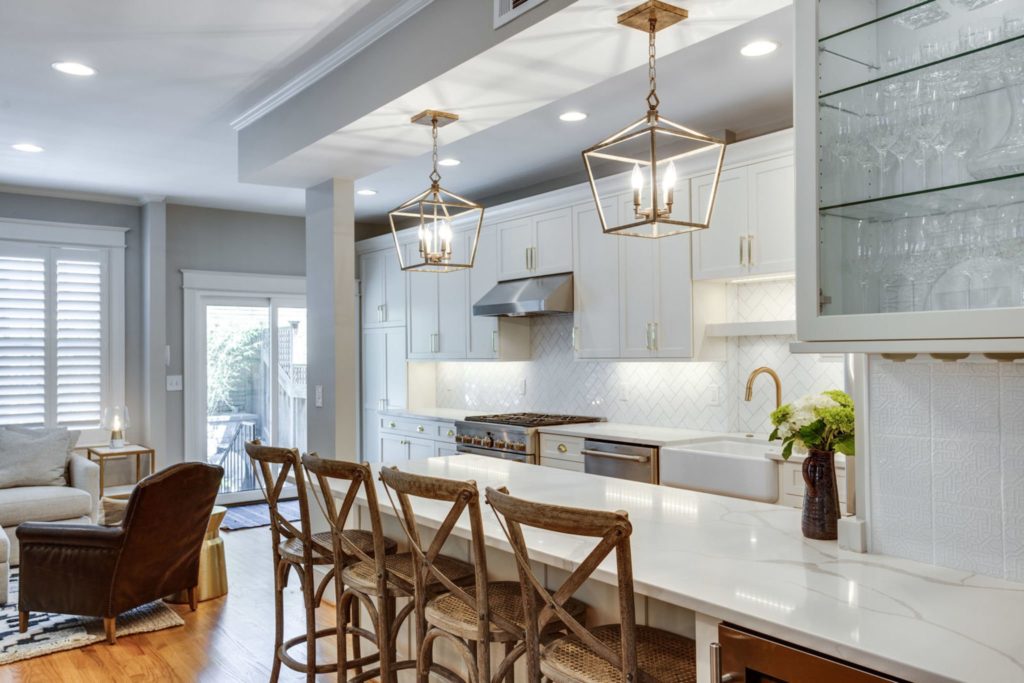 Hardware and Fixtures
Here at Bath Plus Kitchen, we offer more hardware than you can shake a stick at. At prices normally ranging from $5 per unit to $22 per unit, and in a myriad of styles, you'll find a lot of great choices here – and if you want $100 a piece hardware, we have that also. For this estimate, we'll say our options are $105, $251, and $464.
Totals (without appliances)
Now let's look at total costs. This is only a partial estimate (we skipped things like materials and labor, as well as some smaller items like lighting and garbage disposal), but if we fill in the blanks, we end up with estimates for the entire project (without appliances) ranging from $23,000 to over $40,000. It's important to mention that the mixing and matching of options means an almost infinite number of possibilities within this range, which makes it easy to fine tune your estimate to match your budget.
We Offer Appliances Also
Bath Plus Kitchen is a General Electric appliance dealer, and we are proud to offer their Café and Profile lines. Our cost estimator works for appliances, too, and it's just as easy to include appliances in your estimate as it is anything else we offer. We've found that most homeowners prefer our exceptional GE appliances (which mostly fall into our good and better categories), but some do want premium luxury appliances, which we are happy to provide.  For customers who do choose our GE appliances, we are able to offer them a discount of around 10% off retail plus any incentives or rebates they're entitled to. As you can see, this really makes Bath Plus Kitchen a one-stop kitchen remodel destination for the DC metropolitan area.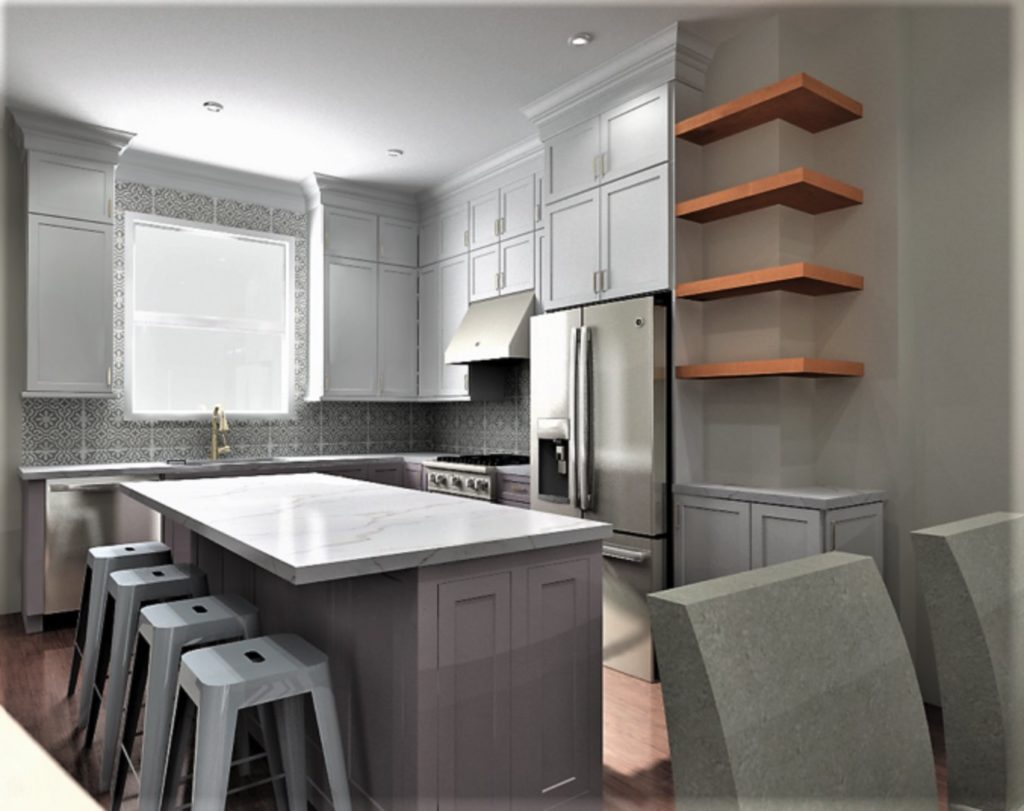 Investment Analysis and Return on Investment
Your kitchen is the most important room in your home, and the place where you'll see the highest return when you sell your home. Ask any realtor, and they'll tell you "kitchens sell houses." That's what makes our kitchen estimator such a useful tool – it allows you to see where you're investing your money in relation to how that investment might affect resale price. For example, you might find that quirky hardware pattern you love really isn't cost-effective when it's time to sell your home and potential buyers don't like it. Or you might find that spending more for a sink can substantially raise the wow factor in your kitchen without a substantial upcharge. The point is you'll have something you can see that's adaptive to your choices and gives you the information you need to invest in a new kitchen wisely. Who wouldn't want that?
Thanks for reading, and we hope to see you soon here at Bath Plus Kitchen. If you have any questions, or would like to see a detailed report on kitchen return on investment, please email me at eric@bathpluskitchen.com. Until then, happy living!