If you are planning a kitchen remodel you might think it easy to choose from the types of kitchen cabinets available. However, there are many more decisions to be made when it comes to selecting your dream cabinetry.
In addition to choosing from framed cabinets or frameless cabinets, you'll need to pick from stock, semi-custom or custom cabinet options, select finishes and inserts, and different door shapes!
Consequently, if you don't know the particulars of all your options, it is quite overwhelming. With that in mind, we cover the difference between all the types of kitchen cabinets and options and details you can select.
Framed Cabinets vs. Frameless Cabinets
One of the tough decisions you'll be faced with is deciding between framed cabinets and frameless cabinets. Therefore, we've outlined the pros and cons of both types.
Framed Cabinets
Framed cabinetry lends itself to the traditional. And, the frameless look was a popular European manufacturing style. Today, both styles are widely available here in the United States.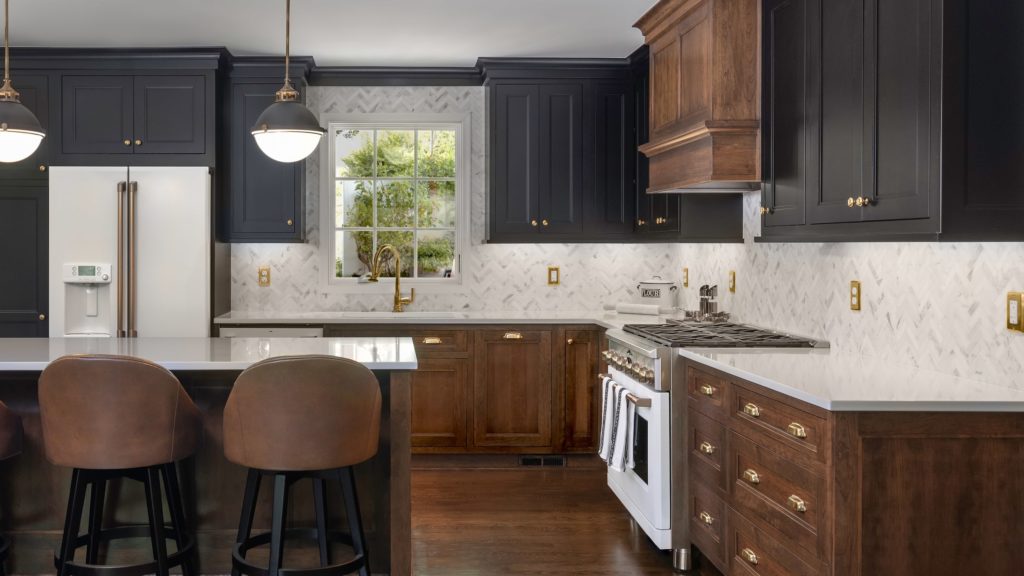 With framed cabinets rails and stiles are used to create a face frame (think picture frame). In this style of cabinetry, the door hinges are attached directly to the frame. This helps give the cabinet strength and sturdiness.
Face frames are 1 1/2″ wide. Without a face frame (frameless cabinets) the case of the cabinet is exposed. Typically cabinet casing is 3/4″ thick. The end result is the sides of each door and drawer opening are 1 1/2″ wider. Also the same goes for the tops and bottoms of the cabinet opening, it' is also 1 1/2″ wider.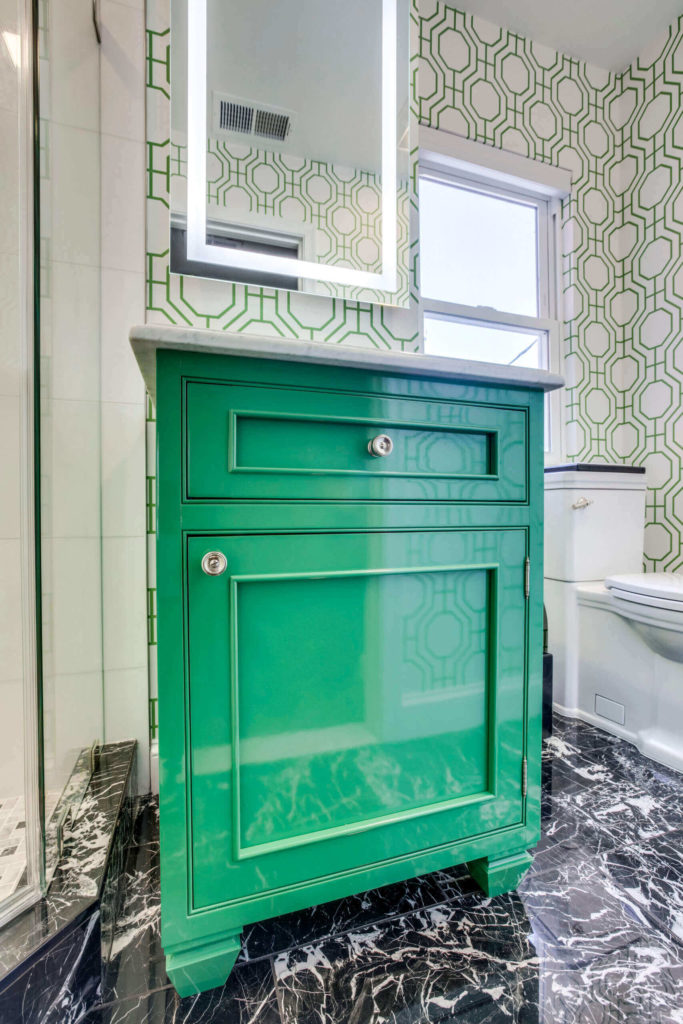 Framed cabinets often have adjustable shelves and support many different types of doors. As a result, they provide homeowners with many design possibilities. The photo above shows framed inset cabinetry.
Frameless Cabinets
Frameless cabinets have a more contemporary look to them. Using thicker casing for construction keeps them sturdy. This cabinetry type features door hinges secured directly to the inside of the box, instead of onto a frame. After they have been installed, all you will see are the flat door and drawer fronts. This helps to provide a sleek, simple aesthetic that many homeowners love.frameless cabinets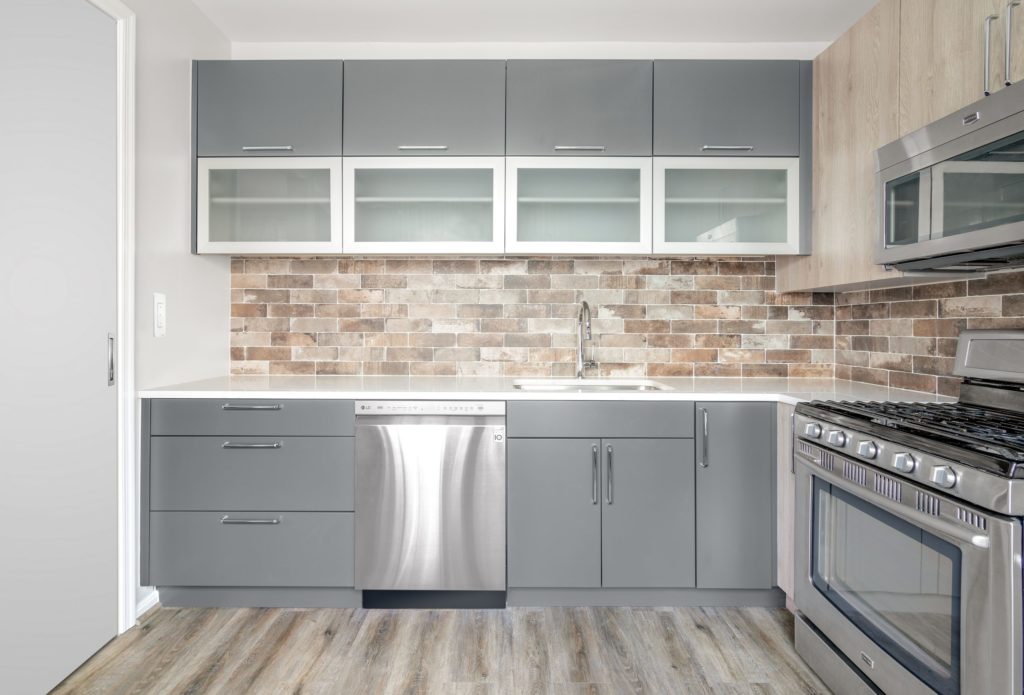 The overall look is clean without the center stile coming down in the middle of two cabinet doors. This allows for more accessibility and more space! The above photo shows full overlay frameless cabinetry.
Also Read : Picking the Perfect Kitchen Cabinet Doors
Stock, Semi-Custom & Custom Kitchen Cabinets
The extent of customization you choose for your kitchen cabinets dictates the size and layout of your space. For smaller kitchens, going fully custom with your cabinets might prove to fit your budget nicely. While a large kitchen might require stock cabinets to be affordable. Below you'll find the specifics of the three types.
Stock Cabinets
A great option for the budget-minded, stock cabinets are the most affordable option. With stock cabinets, you are limited in sizes, styles, and colors. If you are considering this option be prepared to make some compromises to your layout and maybe even your style. Generally, for stock cabinetry, we work with Waypoint Living Spaces.
Built in the USA, each cabinet WayPoint makes with American pride and expert craftsmanship. Their design focus is on creating kitchen and bath cabinetry with high style and optimal function. Learn more about Waypoint Living Spaces.
Semi-Custom Cabinets
Semi-Custom Cabinets come built-to-order. With these, you get a lot more of a selection to pick from than you do with stock cabinets. Consequently, available cabinet widths come in 3" increments starting at 9" wide. Semi-custom cabinets generally allow you to choose your wood species, door style, and color. If you have a specific vision in mind and your budget allows, you will have to compromise less going this route over stock cabinets. We use Dura Supreme Cabinets for our built-to-order and semi-custom cabinets.
With their ranges of beautiful frameless cabinets, made-in-America Bellmont Cabinets makes both semi-custom and custom styles. Each of their Euro-style cabinets is made in America. Their offerings include three product series of contemporary, modern, and Italian minimalist style ideal for today's homes.
Additionally, we carry Minneapolis-based Dura Supreme Cabinets offer a myriad of cabinet options for today's stylish homes. Their types of kitchen cabinets include flat panel cabinet doors, raised panel cabinet doors, slab cabinet doors, and mullion/accent cabinet doors. Each style comes in a myriad of stain, paint, and wood options. Find out more about Dura Supreme Cabinets.
Custom Cabinets
Custom Cabinets are just that! These cabinets come fully customized to customer requirements. As a result, modification possible for your cabinetry to fit to within a 1/16" measurement. Primarily, they can be created to fit any space that you've dreamed up. Usually with custom cabinets there are even more door styles and wood species to choose from. You also have the option to do any paint color. We use Plain & Fancy Cabinetry for our high-end custom cabinets.
Highlighting the expert craftsmanship of the Pennsylvania Dutch, Plain & Fancy Cabinets custom make each of their luxury cabinet designs in Schaefferstown, PA. Their offerings include fully custom high-end cabinets in traditional, transitional, and contemporary styles to fit today's homes. Learn more about Plain & Fancy Cabinetry.
Cost Comparison of Stock, Semi-Custom vs Custom Cabinetry
In regards to price differences between semi-custom and custom cabinetry, there are a multitude of variables. Generally, the price difference has more to do with the wood species and door style than anything else. For example, cherry wood will typically add 40% to the cost of the cabinets compared to birch wood. Other wood species include maple, oak, walnut, and alder. If you're interested in doing framed inset cabinetry that tends to add 10 to 15% to the cost of the cabinets. In comparison, painted cabinets have a 10% upcharge to them.
Kitchen Cabinet Quality vs Cost
Stock cabinets start at $70 per ft. These cabinets are the most inexpensive of the cabinet types and can save you money on the front end. However, because of the lesser quality materials used, their aesthetic and functionality may wane over time. As well, due to their pre-production, you will be limited in style and finish much more than if you chose semi-custom or custom cabinets.
Semi-Custom Cabinets start at $150 per ft. These mid-level cabinets are semi-custom and offer the best choice for many homeowners looking for a balanced mix of quality and price. Custom options for these cabinets include size, materials, style, finish, molding and trim, and matching accessories.
Custom Cabinets start at $500 per ft. Premium top-tier generally offer the most options in terms of configuration, storage, and functionality. They are made with higher-end materials, hardware, and stylization and tend to be considered a luxury product. For that reason, fully custom cabinetry gives you the exact look and performance you desire but for a premium price.
Also Read : Tips for Surviving Your Kitchen Remodel
Frequently Asked Questions About Types of Kitchen Cabinets
What makes a good quality cabinet?
With so many cabinet products to choose from, it can get a bit stressful trying to determine what is a quality cabinet vs a cheap one. Typically, well-built cabinets have a slew of features you should be on the lookout for including:
Solid wood drawers
Dovetail joinery with no staples or particleboard
Fully extendable drawer guides
The finishing process for painted or stained cabinetry
Quality of the wood, are you getting grade A lumber?
Why can't I just have my cabinets refaced instead of buying new ones?
Refacing is certainly an option if you want to save money. However, we don't recommend it as many issues arise when refacing cabinets. Hence, they cost you more money than you saved over time. When replacing door and drawer fronts the front-facing section of the cabinet frame will need to be replaced. This ensures the doors/drawers and cabinet match. As a result, shifting or peeling of the laminate refacing begins to show ugly seams over time.
Finally, refacing makes little financial sense as the majority of cabinet remodeling cost (70%) is the cabinet door. So, if you are going to replace the doors and drawer fronts, why not buy all new cabinets?
What are the best brands for the types of kitchen cabinets on the market?
To provide our clients with the best range of cabinet products in terms of selection and cost, we searched for the best brands of kitchen cabinets. The brands we offer are by far superior in terms of quality and options. We are a certified dealer and installer of several top cabinet brands including Fancy & Plain Cabinetry, Dura Cabinets, Waypoint Living Spaces, and Bellmont Cabinets. To learn more about our cabinet brands visit our kitchen cabinet resource page.
Finally, we invite you to learn more about cabinetry for your kitchen remodel. Be sure to visit our blog regularly for more information, tips, and tricks. In addition, if you need help with your kitchen remodel project or choosing from types of kitchen cabinets available, please get in touch with our team for a consultation.