Are you planning a Washington, DC kitchen remodel?  You can save yourself time and headache by reading this post on Washington, DC kitchen remodel secrets.
At Bath Plus Kitchen we've spent thousands uncovering these kitchen remodeling secrets.  Because we want you to enjoy your kitchen remodeling experience we've made this report free.
If you're considering a Washington, DC kitchen remodel we encourage you to take the first step and contact us.  Above all, the biggest mistake is to forgo a kitchen remodel and regret it years later.  If your kitchen is dated or non-functional you owe it to yourself to at least meet our team of experienced kitchen designers.  If you decide to hire us, we promise you'll love your new kitchen.
A little information can go a long way toward your perfect Washington, DC kitchen remodel.  So let's look at the 10 best kitchen remodel secrets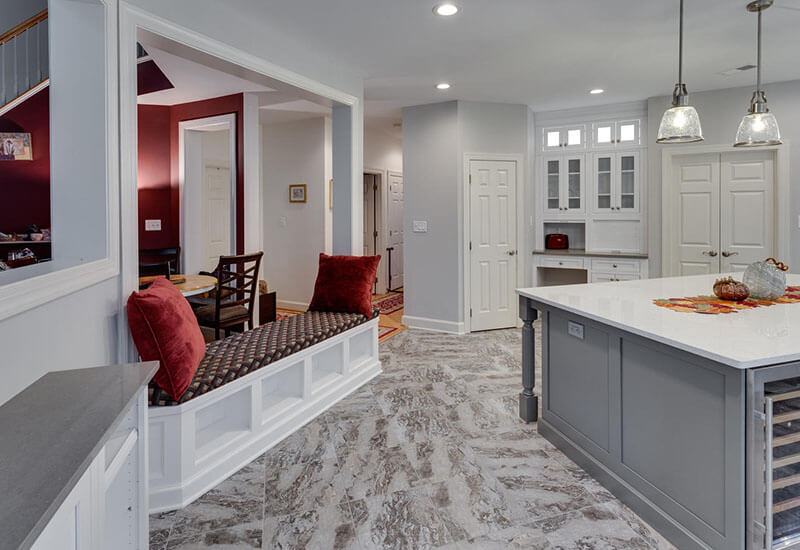 1.  Washington, DC Kitchen Remodel: Paying luxury prices for RTA cabinets imported from China.
Unfortunately there are many cabinet dealers selling homeowners in the Washington, D.C. area a bill of goods. And all too many homeowners who are happy to oblige. Therefore, you want to avoid getting hosed on kitchen cabinets it's important to pay attention here.
Don't get me wrong, I don't like paying more money than I have to for something. The problem is when I pay top dollar to find out later I got ripped off.  In other words, with cabinets being the largest ticket in item in most homes you'll want to pay attention here.
It's important that you visit a showroom. Ours is a quick trip from the District. You can schedule your visit here.
At our showroom you'll have the opportunity to see cabinets in person, understand how they are built, where they are built, and review brochures. You'll also get a sense of how cabinet prices compare. A showroom with cabinets ranging from upscale to semi-custom or builder grade will have a lot to offer you.
Before making the trip visit the kitchen cabinet dealers website.  Meanwhile, see what cabinet lines they carry to get a quick sense of what's available. If all of the lines are imports from China they shouldn't cost more than $600 per cabinet. Run if someone is trying to sell you an RTA (Ready To Assemble) China import for more than that.
Big picture view: how cabinet companies compare
Upscale Cabinetry $
At the top are high-end luxury kitchen cabinets. Our Plain & Fancy Cabinetry line fits the bill here. Plain & Fancy Cabinets will typically price anywhere from $1,500 to $3,800 per cabinet.
Features & Benefits of Plain & Fancy Cabinetry:
Hand-sanding – all finishes areas are sanded by hand.  As a result, this creates a very smooth finish in preparation for paint or stain.
2 coats of primer & 2 coats of paint.  The primer is in the same color as your paint.  Therefore, you'll have a thick layer and a beautiful layer of painted cabinets that will hold up for decades.
Cabinets joined together to form one larger cabinet.  This eliminates seams and makes it easier to install cabinets for your Washington, DC kitchen remodel.
Walnut cabinet interiors & walnut species are available if you're interested in stained cabinets over painted.
Lighting integrated and routed into the cabinets.
Lights that open when you open a door.
Motorized doors and drawers that open and close with a gentle touch or push of a button.
1" thick cabinet doors are available.
Full custom down to 1/16th of an inch.
Popular Custom Cabinetry $
If you don't quite need all of the luxuries that come with a fully-equipped high-end cabinet but still want a lot of customization then a popular custom cabinet line is for you. Durasupreme Cabinetry is our line we recommend you consider. You'll love these cabinets and all that they have to offer.
Features & Benefits of Dura Supreme Cabinetry: 
Full custom down to 1/16th of an inch.
Custom paints, possible to select any paint.
Choose between frameless full-overlay cabinets and inset.
Wood species include cherry, maple, knotty alder, red oak or quarter-sawn red oak, hickory or rustic.
You can add glazes, heritage paint, weathered finishes, heirloom to heavy heirloom, and patina to heavy patina.
Semi-Custom Cabinetry $
If you're looking for a simple kitchen remodel consider a stock or semi-custom line of cabinets. Our Waypoint Cabinetry line is a semi-custom line. It offers a lot at a competitive price point. This line will compete against the big box stores.
You'll also need to choose between framed and full-access / frameless kitchen cabinets.  Framed kitchen cabinets are the more traditional style, using frames on the fronts of cabinets to give cabinet boxes strength and for attaching door hardware. Framed cabinets use a variety of door styles and are adaptable to many designs.
Full-access / frameless kitchen cabinets, because they have no frame, are made with stronger boxes to compensate for the structural loss. Therefore, hardware mounts directly to the cabinet boxes, giving frameless cabinets a very sleek look. Frameless kitchen cabinets also offer easier access and even larger drawers, as there is no frame to account for in their design.
Above all, choosing the right dealer for kitchen cabinets is crucial to a successful Washington, DC kitchen remodel.  First, you'll want to work with a kitchen cabinet dealer who's trained and experience in kitchen design.  For example, of our designers at Bath Plus Kitchen studied kitchen design in school.
Likewise, they're a member of NKBA, which keeps them up to date on the latest trends in kitchen design.  Further, our kitchen designers attend factory training.  We learn first-hand how cabinets are made and stay abreast of all of the intricacies that go into designing a kitchen.  Consequently, our kitchen designers are well prepared and the go to experts for all things kitchen cabinets and kitchen design.  In short, we're the easy choice for your Washington, DC kitchen remodel.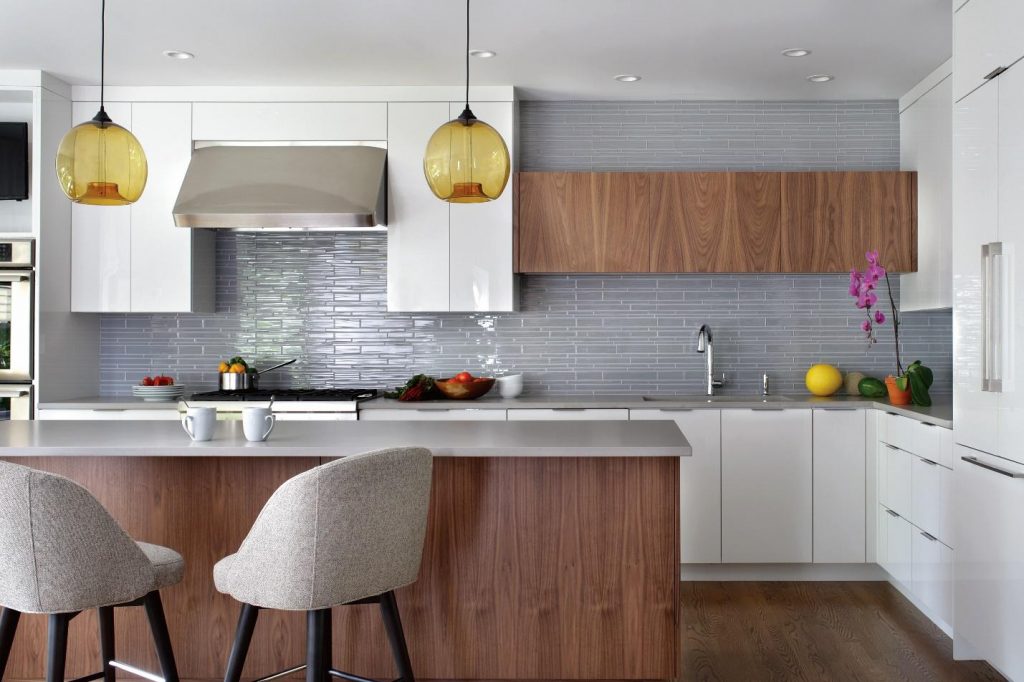 2.  Washington, DC Kitchen Remodel: Making assumptions about removing walls.
Many Washington, DC kitchen remodels include opening up space by removing walls. This can have a marvelous effect, but it may be quite costly if the walls in question are load-bearing walls. These walls often contain ducts, plumbing, and radiator piping, which can make removing them unaffordable for some. If you're planning to remove a wall, make sure you work with a contractor who has a working relationship with an engineer – this will drastically cut down on uh-ohs.
3.  Washington, DC Kitchen Remodel: Relying on a builder to design your kitchen.
The key to your new Washington, DC kitchen remodels is working with a kitchen designer who both understands your needs and has access to cabinet lines that will meet them.  Also, you want a designer who understands modern, transitional, and traditional kitchen design.  It's important to do your research on the cabinet lines offered by your designer. We've seen some kitchen designers and remodelers carry three or four stock cabinet lines imported from China and try to pass them off as 'luxury'. Don't find out after the fact, understand what you're paying for in a cabinet.
Also Read: Painted vs Stained Cabinets, What's Best for  Your Kitchen? 
Also, be sure to take a look inside your walls early in the design phase – making small holes in the wall will allow you to look inside and see what you're dealing with. Consider doing this as soon as the decision is made to attempt to remove a wall, as you may find that moving your wall is far too expensive for your budget.
If you're taking out walls you'll want to work with a kitchen designer who works with an engineer. This is crucial. Many kitchen designers are all too eager to spend hours on design without knowing for sure whether or not a wall you want to remove is load-bearing.
It's a good idea to consult kitchen designers one-on-one. This helps keep you in the know and in control of your kitchen remodel. Great kitchen designers can offer insight and ideas you won't get anywhere else, and they often have an understanding of styles that can make your vision something tangible.
There's nothing quite like seeing your vision take shape with the help of the right kitchen designer.
4. Washington, DC Kitchen Remodel: Taking too much advice from friends or relatives.
Chances are you don't know many engineers or designers. But when it's time for something like a kitchen remodel, suddenly your friends and family can become experts. Free advice is often bad advice, and you're generally better off putting your trust in professionals you're paying to give you advice.
When it comes to kitchen remodeling in Washington, DC you never want to make assumptions. Shortcuts or workarounds have a record of not working out. We do this every day and still don't make assumptions. If we're unsure about something we'll seek the advice of an engineer, master plumber, or master electrician. You should do the same.
5. Washington, DC Kitchen Remodel: Not designing for flow and functionality.
If your design is too cramped for free movement or your layout is wrong, you're going to end up with a kitchen that's no fun to use. This is unacceptable in the most important room in your home. Be sure to leave sufficient space for walkways, and don't neglect the importance of including a proper kitchen triangle in your design.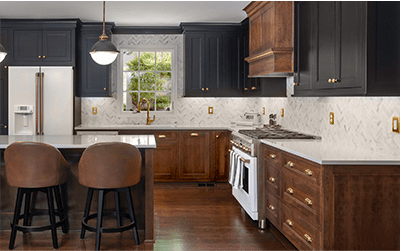 6.  Washington, DC Kitchen Remodel, forgetting about lighting.
Many homes in Washington, DC have small kitchens with little lighting. A happy kitchen has the right lighting when and where you need it. Designing for lighting is important, and you'll want to work closely with your designer to understand how to make lighting work best for you.
This includes sufficient task lighting, general lighting, natural lighting, and accent and ambient lighting. You'll want to look at all your available options, including under-cabinet, in-cabinet, pendant, recessed, and chandelier lighting.
At Bath Plus Kitchen we believe lighting is perhaps the most important element of a major kitchen remodel. That's why we carry Task Lighting and Hafale Lighting, two of the leading lighting companies. By working with Bath Plus Kitchen you'll have access to the latest in under cabinet, in-cabinet, toe-kick, and crown lighting.
If there's an opportunity in your Washington, DC kitchen remodel to add natural lighting you should consider it. For inspiration check out kitchen remodeling project where we opened up the back of the house to add three sets of french doors with transoms.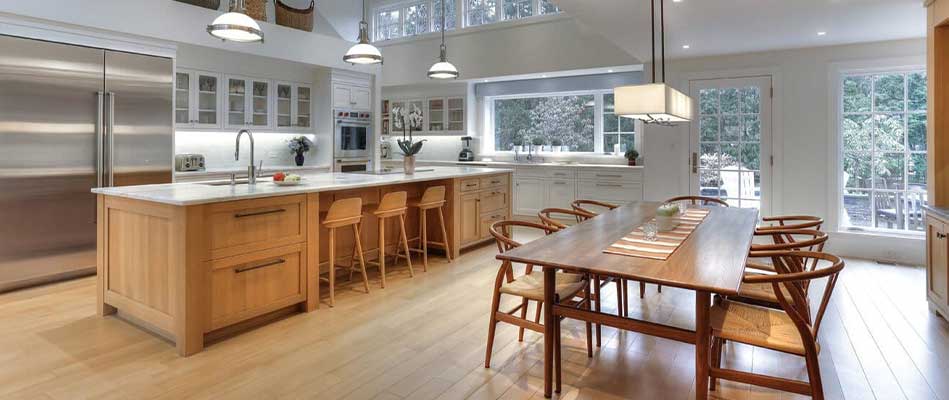 7. Washington, DC Kitchen Remodel: Trying to save old kitchen cabinets with paint.
If your existing kitchen cabinets are in good shape, you might consider repainting them instead of replacing them. Our advice: don't do it. Far too often, the result is a kitchen remodel that looks like what it is – a partial Washington, DC kitchen remodel with old cabinets. Your old cabinets will look their age next to all the new features in your kitchen, and by the time you see the full effect, it may be too late.
Another reason for not painting your Washington, DC kitchen cabinets is it's a bad investment. Most homes have builder grade or shop-built cabinets. By paying to reface or paint you're throwing good money after bad.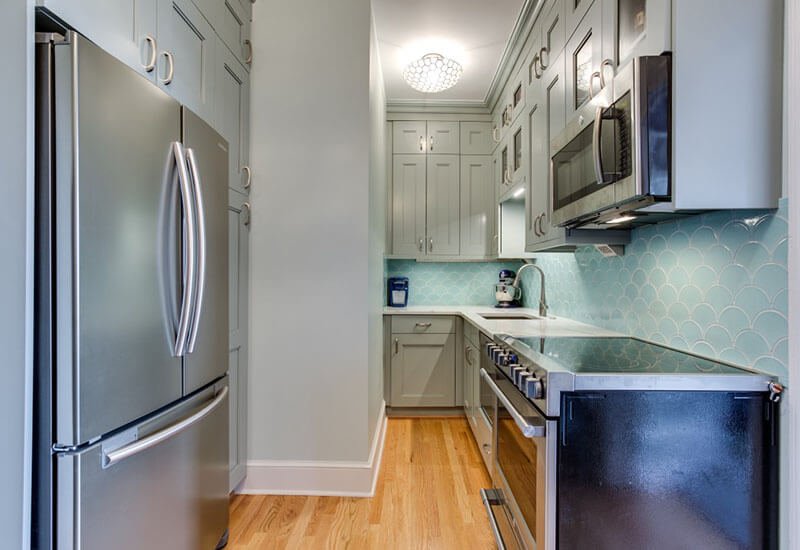 8. Washington, DC Kitchen Remodel: Refinishing old floors that should be replaced.
Beautiful, old, wood floors are great, but those magazine-quality refinishing stories of old floors usually leave out a couple of details. Chances are if you live in Washington DC your floors are over 80 years old. At that age they've exhausted their useful life. Also the floors have likely been refinished two, three, or even four times.
Also Read: Bathroom Remodeling 
It's a wise decision to invest in new floors and start fresh for your kitchen and your home. You'll have the opportunity to update the floors to a wider plank. 5" wide and 7 ½" wide planks have been the major trend in flooring for a few years now. If you'd like to stick with the traditional 2 ¼" wide consider darker floors, which contrast nicely against white kitchen cabinets.
9. Washington, DC Kitchen Remodel: Not having a budget or not sharing it with your designer.
If you're just starting out we recommend reviewing the Cost vs. Value Report for Washington, DC kitchen remodel.  The report provides you with averages for mid range and upscale kitchen remodels.  And it will give you at least a starting point for what to invest in your kitchen.  To clarify, every Washington, DC kitchen remodel is a custom project and varies greatly from one to the next.
Having a realistic budget and sticking to it will help you to get the most out of your Washington, DC kitchen remodel.  As a result, your designer will know where to go for an upgrade and where to save.
For those of you looking to do more than a pull and replace (keeping a similar kitchen layout) you should have money set aside in your budget for unplanned expenses. Especially if you live in an older home and/or are looking to take out a wall. The more involved your Washington, DC kitchen remodel is, the more likely it is that you'll have at least one problem that creates unplanned expenses.
Bonus  Tip: Washington, DC Kitchen Remodel: Rushing the design phase.
Are you in the early stages of considering a Washington, DC kitchen remodel?  Most importantly, take action now.  Certainly if you have a larger project.  We see people think about a kitchen remodel for years.  Suddenly a life event happens and that kitchen remodel you've been waiting on has to get done now.  As a result, it's never too early to get started.
To sum up, we recommend you plan for two to three weeks of kitchen design of for small to midsize pull and replace kitchen remodels. For large or luxury high-end kitchen remodels plan for 45 to 60 days for your design.
To clarify, that's design time.  You'll want to allow additional time for your kitchen cabinets to be built.  Most semi-custom to custom kitchen cabinet lead times range from 5 to 12 weeks.
Washington, DC Kitchen Remodel, Conclusion
We've covered ten topics in this article that are typically discussed and addressed in our design phase. Now that you know what to look for, you're much better equipped for an easier, smoother kitchen design and remodel.  In conclusion, you are now prepared for your Washington, DC kitchen remodel.
If you have any questions about your kitchen or bath remodel, please contact us or schedule a time to visit us at our showroom at 1215 King St Alexandria, VA 22314.  Above all, we'd love to help make your Washington, DC kitchen remodel a reality.
Also Read:
Kitchen Cabinets Arlington, VA 
Bathroom Remodeling Falls Church, VA 
Sources:
https://bathpluskitchen.com/featured-custom-kitchen-cabinetry-alexandria-va https://bathpluskitchen.com/kitchen-cabinets
https://bathpluskitchen.com/furniture-board-vs-plywood-cabinets/
https://study.com/academy/lesson/load-bearing-wall-definition-identification-construction.html
https://en.wikipedia.org/wiki/Kitchen_work_triangle
https://bathpluskitchen.com/kitchen-remodel-estimates