Today, many homeowners are choosing laminate over traditional solid wood cabinetry for a number of reasons. Our clients love them. Our designers are unlocking new design possibilities with them. That's why we have, increasingly, been creating many beautiful kitchens in Virginia, Maryland, and Washington, DC using stunning laminate cabinetry. If you've just completed a kitchen remodel and are eager to keep your new laminate cabinetry looking fresh for years, proper cleaning and maintenance are key. Keep reading to learn how to look after your new laminate cabinetry.
What kind of laminate cabinetry do you have?
To know how to maintain your laminate cabinetry, it's essential to know exactly what material it's made of since that will determine the care and maintenance needed. Of course, a good kitchen designer will be sure to explain the materials used in your kitchen and alert you to any important dos and don'ts. However, we always encourage homeowners to do their own research as well to deepen their understanding of what their kitchen needs so they can collaborate better with their designer or contractor. That's why we like to share as much information as possible through our blog posts. Read: 2021 kitchen cabinetry trends to refresh your home
3 popular cabinet fronts and their pros & cons
Veneers 
Veneers are made using slices of real wood. Because of this, each veneer has unique characteristics and variations specific to the species. You will see variations in grain and color, which are natural characteristics of wood.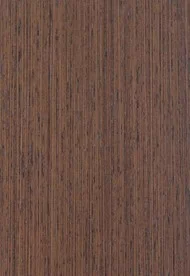 Pros:  Veneers can help you achieve the natural wood aesthetic you want without solid wood, which immediately makes it more sustainable. To help protect endangered or extremely rare wood species, you can go one step further and opt for an even more sustainable variation of this – reconstituted wood veneers. This is an engineered product and a more environmentally-responsible option. It gives you superior color and grain consistency. Plain & Fancy, one of our cabinetry lines, offers some beautiful options – Reconstituted Wenge (pictured left) and Reconstituted Fumed Oak.
Cons: Wood veneer sheets require more skill in installation than most other laminate sheets do. That's why it's important to select a highly-rated cabinetry manufacturer.
Acrylics
Acrylics give your kitchen a gorgeous, high-end and on-trend look. Their mirror-like sheen makes kitchens look glamorous. They're well-loved because they retain their color and sheen for years.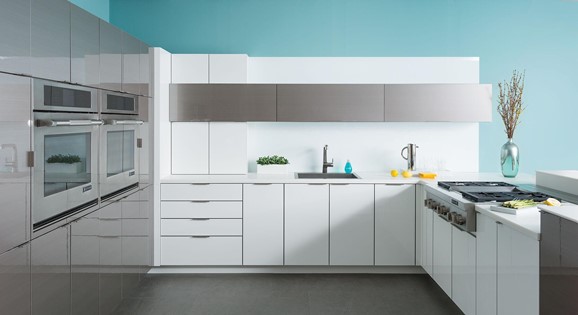 A Dura Supreme kitchen featuring the Allura door style in "White Gloss"
Pros: For anyone who wants that brilliant and flawless look, acrylic finish laminates are a wonderful choice. You can get this reflective high-gloss finish in a wide range of color options, making it possible to bring some very creative design visions to life. These surfaces are moisture-resistant and UV-resistant, which means they won't warp or fade easily.
Cons: Perhaps unsurprisingly, this beautiful look isn't cheap. Acrylic finish laminates are quite expensive. While they are durable in many ways, you'll need to take extra care not to scratch them. Also, be prepared to clean fingerprints off them quite frequently! 
Rigid thermafoil (RTF) or 3DL
This is a vinyl laminate that adheres to an MDF core, like Bellmont Cabinetry's Thermofoil (pictured left). Through specialized production and wrapping techniques, these surfaces are able to offer a smooth appearance. 
Pros: Because of that smooth appearance, they can replicate the look of natural materials such as wood or marble beautifully. They fit contoured surfaces and edges so perfectly that they look seamless and even natural. You can get them in a range of solid colors as well as printed designs. Their moisture resistance is high. 
Cons: If you opt for RTF, you'll need to take special care when it comes to appliance placement and use. This is because these surfaces have poor heat resistance. One way to work around this is to use protective heat shields. 
As you can see, laminates are produced in different ways, using different materials. That's why it makes sense to customize your care and maintenance approach to suit those specific materials. 
Cleaning and maintenance tips for your laminate cabinetry 
Always check with your kitchen designer or remodel company for any special instructions that need to be followed. Here, we offer a general guide that will suit popular laminates, which will give you a great starting point for care and maintenance.
Laminate cabinetry is very easy to maintain. It is resilient and will stand the test of time with very little effort from you. Aside from being durable, some materials today can even repair certain types of damage, like the options FENIX offers. These have incredible properties such as thermal healing of superficial micro-scratches. Watch the video below to see how it works:
It's important and helpful to know the specific features and requirements your cabinetry has. But in general, all you need to do is pick the right products and keep a few simple rules in mind. Northern Contours, which many of Bath Plus Kitchen's cabinet lines source from, suggests a few guidelines that are very easy to follow. Keep reading to see what they recommend.
For 3D laminates, 5-piece & 2DL wired   
 Regular cleaning  
Use a soft cloth or sponge.

Mix soap and water to create a mild solution.

Gently wipe surfaces, making sure to avoid heavy pressure and continuous scrubbing. Plain & Fancy explains this in the video below:



Cleaning stains  
First, test in a non-visibility location. 

Try to avoid spraying any product directly onto the surface.

Use common household cleaners without abrasives.

For ink stains, try diluted rubbing alcohol.

To degrease, use a small amount of Dawn dish soap diluted or Simple Green® in a 50/50 mix with water.

Don't scrub the surfaces; use a soft damp cloth or sponge to wipe gently. It should take just 10-20 strokes to remove most stains.  

You can use the same method for veneers, but we recommend consulting your contractor/manufacturer.
Disinfecting surfaces  
Start by cleaning the surface to remove any dirt (see tips under 'regular cleaning').

Next, prepare your disinfectant solution – mix 20mL (4 teaspoons) bleach and 1L (4 cups) water.

Wear disposable gloves and test for one minute on a non-visibility location. If that spot looks fine, you can proceed to wipe the entire surface. 

If using reusable gloves, keep them specifically for cleaning and disinfecting.  
Note: Never mix household bleach with ammonia  
Cleaning products to avoid
Even if you're dealing with a stubborn stain, please avoid the following products. 
Avoid products containing acetone, acid, and ammonia.

Avoid solvent-based cleaners, paint thinners, and wood preservatives.

Avoid all abrasive liquid or powder cleansers.

Avoid all abrasive materials, brushes, scouring pads, and scrapers.  
These products can do permanent damage. Instead, call an expert if you're stuck.
Note: It's important to check the terms of your warranty; using any cleaning agent outlined under 'Cleaning Products to Avoid' will void the warranty.
For acrylic surfaces
Once the protective film is removed, these high-gloss surfaces become more scratch-resistant over the first few days. You can accelerate this process by lightly polishing the surface immediately after the film is removed. To do this, use a clean microfiber cloth with one of the polishes listed below:  
Regular cleaning  
Use a wet microfiber cloth or chamois.
Make a mild soap solution (soap and water).
Work lightly while blotting surface; avoid applying too much pressure.
Lightly apply polish and buff as needed to maintain the acrylic finish.
Never dry wipe the acrylic finish.
Cleaning products to avoid  
Avoid cleaners containing abrasives, ammonia, acetone, thinners, or methylated spirits.
Avoid paper towels, brushes, scouring pads, or scrapers.
Avoid most solvent-based cleaners and harsh chemicals such as sink and toilet bowel cleaners and thinners.  
Note: It's important to check the terms of your warranty; using any cleaning agent outlined under 'Cleaning Products to Avoid' will void the warranty.
For all products, avoid excessive heat and steam. 
Protecting laminate cabinetry from appliances that produce heat or steam 
Without the right precautions, some of your most loved and used kitchen appliances can cause your new kitchen cabinets to become damaged very quickly. Look out for built-in appliances such as fridges, dishwashers, and self-cleaning ovens, as well as countertop appliances like kettles and slow-cookers. Some tips: 
Self-cleaning ovens 
It's a good idea to install a heat shield between cabinet doors/drawer fronts and the self-cleaning oven. This is due to the extremely high temperatures vented from self-cleaning ovens. When you use self-cleaning mode, be sure to open all doors and drawer fronts near the oven.
Small appliances  
Any small appliances that produce high heat or steam, such as electric kettles, should not be used directly under the cabinet doors.  
Heat and moisture can melt and discolor laminate cabinetry fronts. Check appliances for any vents and make sure they are installed in a way that won't impact your cabinetry. It's crucial to discuss these points with your kitchen designer, and be sure to take their advice on positioning and installing appliances! They may suggest tweaks that weren't what you had in mind but will ultimately keep your kitchen in great shape for longer.
Once you have a clear idea of the dos and don'ts, maintaining laminate cabinetry is very simple and straightforward. Following these tips will help you preserve the beautiful finish of your new cabinetry for years, contrary to the common misconception that laminate cabinetry won't last as long as hardwood cabinetry. In reality, high-quality laminate cabinetry can look brand new for years with the proper care and maintenance. 
Want to know what type of cabinetry is right for your kitchen? Fill out this form to begin working with the Bath Plus Kitchen design studio! 
Key sources
http://www.northerncontours.com/ 
https://www.architecturaldigest.com/