Are things looking good for the remodeling industry in 2022? Short answer—yes. The demand for home renovations continues to grow, along with several interesting trends, which we will talk about in this blog. 
One thing to keep in mind is the impact of the COVID-19 pandemic; it shaped trends across industries, including the remodeling industry. It has had a strong influence on the way people design their homes, especially their kitchens and entertainment areas. Prior to the pandemic, many people used their homes primarily for rest at the end of a busy day or week. Now, people are using their homes as places to work, recharge, and entertain. And they're remodeling their homes to better support their new lifestyles, priorities, and wellness goals. That's why we're seeing a growing interest in open living spaces, outdoor entertainment areas, and well-appointed kitchens. 
At Bath+Kitchen, we specialize in bespoke design and custom-build services that help our clients personalize their spaces, down to the last detail—which is precisely what more and more homeowners are looking for. Increasingly, we're getting specialized requests from clients, indicating that they want more than just standard features, and we're happy to offer creative, cutting-edge solutions via top-rated manufacturers such as Nobilia, Bellmont, Durasupreme, and more. 
Aside from the decisions people are making during the remodel process, in line with their changing preferences, we're also seeing changes to the design and remodel process itself. Also, there are many factors beyond the control of the homeowner and the remodel firm—lead times and labor shortages, for example—that you will want to keep in mind if you're looking to upgrade your kitchen. To find out what homeowners like you are choosing and to learn how remodel firms are supporting their needs, keep reading!  
What's going to shape the remodel industry in 2022?
Here are 7 trends we expect to see more of:
1. There will be more high-quality renderings in the design process
Above: 4K definition render by BPK, created for a client
Below: HD render by BPK, created for the same project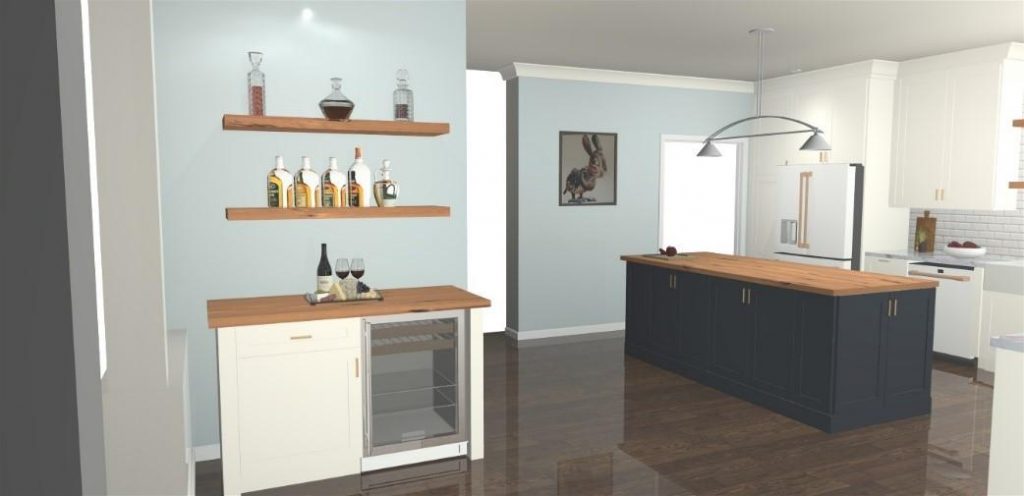 Many remodel firms, Bath+Kitchen included, introduced or refined their virtual design consultation services when in-person home visits weren't a safe option. Since then, digital renderings have become more popular, as people began to recognize their value for both the remodel firm and the client. These renderings make it possible to give project estimates without a site visit. At BPK, we create high-quality renderings that help our clients see how their preferences all come together, so it's easy to spot things that don't work and make adjustments accordingly.  Renderings give people the opportunity to see different layouts, finishes, appliances, and fixtures before they make any permanent decisions. This leads to more successful outcomes, which is why we offer 4K Resolution Renderings in our Premium 4K and Ultra 360 Design Services packages. Now, we also offer 3D animations, taking these renderings to the next level.
Renderings also make it possible for clients to see different variations of the same design in detail, so they can choose what suits their preference and budget best.
Read: Remodel Review: Waypoint vs. Dura Supreme Cabinetry
That's why we're likely to see more and more kitchen remodel companies switching from traditional methods to renderings, or at the very least, using them more often in their design process.
Tip: Request renderings with your top cabinetry options, so you can compare before you choose one.
2. Investment in home improvement continues to climb
Per www.statista.com: The value of homeowner improvements and repair expenditure in the United States from Q1 2015 to Q1 2021 with forecast for 2022(in billion U.S. dollars)
Over the past year, we've seen a growing investment in home improvement. The demand for kitchen remodels, in particular, has been increasing at a steady pace over the past few years as homeowners realize how much value a well-designed kitchen can add to their homes. During our consultation process, many homeowners like to discuss how to make changes strategically to boost the resale value of their homes. This is one reason the remodeling industry in 2022 is likely to do very well. Tip: When planning your next remodel, request a professional opinion on how to enhance your home's resale value.
3. Millennials are graduating from DIY to pro
After getting their feet wet with repainting and other DIY projects, millennial homeowners are now bringing professionals in to help them customize and improve their homes. This is likely to make them a top contributor to the remodeling industry in 2022. One reason is that millennial homeowners are looking to make their homes more personalized. As frequent users of apps such as Pinterest and Instagram, these clients tend to see a lot of design inspiration on a regular basis, and know what they like. They have many ideas to discuss, so it's important for the design team they work with to help them zero in on what they actually want. 
Another reason millennials may prefer professional help now is the time and cost investment; many DIY projects, if not planned and executed well, can add up and become expensive in the long run. Going the professional route may be the more time- and cost-efficient option.
Tip: Choose a kitchen designer who is receptive to your ideas and considers what you need, rather than going by standard features and trends alone.
4. Millennials' increased focus on wellness could spell success for smaller markets
For a multitude of reasons, including the option to work remotely now, many millennials are looking to invest in homes outside urban areas. As they seek better work-life balance and a more active, healthier lifestyle, millennials are looking for opportunities to move away from city homes and office buildings. For many, wellness is a "daily active pursuit". Because they have a strong influence on trends across industries, we're likely to see more interest in homes away from city centers, which is great news for smaller markets within the remodeling industry in 2022.
5. Lead times continue to be unpredictable due to supply chain and labor shortages
According to this New York Times article, "the shortages have been exacerbated by a home renovation boom that defied the recession. In 2020, as the U.S. economy fell by 3.5 percent, spending on home repairs and improvements rose more than 3 percent, to nearly $420 billion, according to Harvard University's Joint Center for Housing Studies. Since March 2020, monthly online spending for home improvement products and appliances was, on average, 74 percent higher than pre-COVID levels."
In short, there's a renewed interest in renovating their homes, together with the labor shortages that have resulted from the pandemic's impact on the economy. As a result, contractors, designers, and other service providers involved in the remodel process are struggling to meet demand, which is adding to the longer lead times. As BPK's Eric Shipe explains in this Washington Post article, it helps to choose materials based on lead times. For example, "consider more affordable laminate cabinets, especially given long lead times for painted and stained cabinetry".
Tip: Being patient will save you a lot of stress right now, since the wait lists for contractor availability and access to raw materials and appliances are longer than ever.
6. There may be more interest in CRM software to make the most of the increased demand
A good CRM will help with various functions such as Client Tracking, Contract Management, Project Management, Quotes/Proposals, Sales Pipeline Management, and Scheduling. This can make a business more efficient and prepared for great opportunities. For remodel firms, good CRM software can help meet growing customer expectations and needs. It can help automate routine tasks as well, such as sending out automated emails to clients and contractors that remind people about upcoming deadlines and due dates.
For businesses looking to grow within the remodeling industry in 2022, a good CRM can help significantly by making it easier to keep track of current clients, prospective clients, and leads.
7. Interest in wellness design and sustainability will keep rising
"It's no surprise that many wellness features were associated with homes selling faster than expected," said Zillow home trends expert Amanda Pendleton, commenting on recent home sales. Flex spaces, outdoor living, smart features – these are all things that align with clients' wellness goals. Here's a look at wellness features that Zillow says, after examining over 220 features and 1.4 million home sales in 2020, helped boost prices:
Steam ovens: 4.9% sale premium

Hot tubs, inground spas and Jacuzzis: 1.7% sale premium

Zen gardens: 1.5% sale premium

Smart/touchless toilets: 1.0% sale premium
Tech upgrades and redesigned spaces can also boost resale value. The remodeling industry in 2022 will be heavily influenced by consumer preferences in line with wellness-focused design. This will extend to sustainable building materials, smart home technology and energy-efficiency. So, we're likely to see more sustainable building materials such as bamboo and cork flooring, as well as recycled steel, brick, and glass. Smart homes will include smart glazing, smart lighting, smart security, and home automation. For greater energy efficiency, clients may be interested in solar, geothermal, LED lighting, smart thermostats, heat pump water heaters, and high-efficiency appliances.
Main takeaway for homeowners: Things may take longer, but your options are growing
Remember, with good design and planning, you can get a gorgeous kitchen within your budget. If you're looking to give your kitchen a makeover, we offer a full suite of bespoke design and custom-build services. Our process is designed to take the guesswork out of your remodel and guide you every step of the way. With our team, you can rest assured your vision will be understood clearly, ensuring that you get the right colors, materials, and styles to suit your preferences, budget, and practical needs. Bath+Kitchen's goal is to craft you a new kitchen that will give you the aesthetic and experience you dream of!

Ready for your next remodel? Reach out to our team.