If a kitchen that makes entertaining a breeze is something you'd love to have, this blog will help you identify what's important to you so you can get a clear picture of what you want. While you may not need to put out extra chairs at the table this year, it remains a wonderful time to do something special for the loved ones who live with you or who can visit you safely. Given the year we've all had, it might be a good idea to focus on comfort and relaxation, and still make this holiday season memorable.
As the heart of your home, your kitchen plays a significant role in making sure your guests have a good time. If you're someone who loves to entertain, it's probably important to you to make your space warm and welcoming, regardless of how long or short your guest list is. To create a kitchen for entertaining, you can start by adding some of these features to your existing kitchen. And, if you're planning a complete remodel, why not go all out and create a beautiful space that you, your family, and your guests will want to spend more time in?
Since the purpose of a kitchen remodel is often to improve its functionality and aesthetic, the tips we've put together are great for anyone who wants to do more in the kitchen and who would love other members of the household to participate as well. With the right storage solutions, work areas, and practical features, your kitchen is likely to be busier than ever, complete with soul-soothing food and conversations!
Here are some ideas on how you can create the perfect kitchen for entertaining:
1. Open plan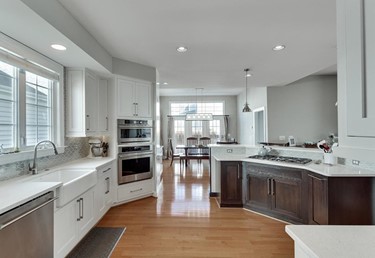 When you picture your guests in your kitchen, do you see them mingling comfortably, or are they looking for the quickest route to the living room? If it's the latter, you might want to consider an open plan kitchen. This is becoming an increasingly popular option because of how spacious it makes your kitchen feel and how it can improve the flow of the whole house.
2. Kitchen island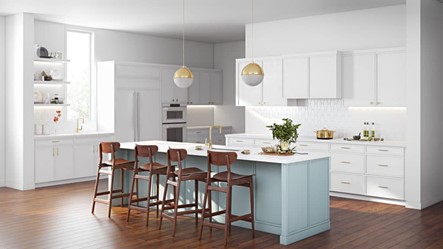 If you're talking to a designer about creating a kitchen for entertaining, one of the first things they might suggest is a kitchen island. Not only does it offer an additional work surface to help you prepare elaborate meals, it also gives more options for storage and functionality. You can consider installing additional kitchen appliances here, such as a second microwave to make reheating food quicker. Prep sinks and slide-out cutting boards can come in handy, especially when there are a few extra cooks in your line-up. Or, perhaps you just want an informal space for guests to enjoy while you work. People tend to gravitate towards a kitchen island, so having one is a great way to bring fun and activity into the kitchen. It can give everyone a way to spend time together more comfortably.
For larger kitchens, two islands can be a fantastic way to go; you could use one as a workspace and the other for seating.
Since a kitchen island is versatile, you can decorate it for a specific occasion or pile it high with irresistible treats. It can also work as a bar if you don't have a dedicated space for that, making your pre-dinner cocktails look professional. The idea is to use the space in a way that works best for you and your guests.
If you're not sure how best to plan your kitchen island, speak to our highly-experienced team – we'd love to talk to you about your requirements and help you find the best design solutions for your space.
3. Storage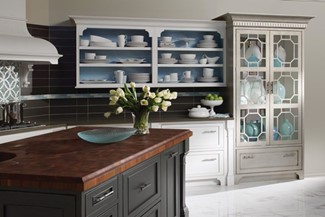 A kitchen that gets easily-cluttered can feel disorganized and unwelcoming. Carefully designed cabinetry and storage will help you access everything you need quickly, which also makes putting things back easy. If you're running late with food prep or have a last-minute visitor, a well-organized kitchen can help you get everything done and cleared up swiftly, making the process less stressful. Something to keep in mind: when you're relaxed, your guests feel relaxed as well.
4. Countertops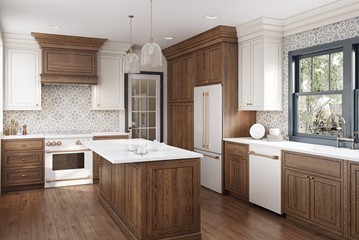 You want your countertops to look luxe and lovely while also being resilient and easy-to-maintain. There are several options to choose from today, which experts like the Bath Plus Kitchen team can tell you about. Another factor to consider is countertop height. In addition to the standard height countertops, you can also include some taller countertops. As you design a kitchen for entertaining, keep in mind that adding variety and versatility like this is a great way to go. It will help you adapt to impromptu situations and new ideas (sometimes from guests) more easily. 
5. Separate stations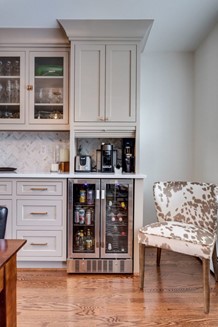 The master chef of the house is unlikely to appreciate crowding and confusion while they're trying to create a beautiful meal. To keep them from throwing in the kitchen towel, create work stations for different prep tasks.
For example, you can have a section of your countertop for preparing your ingredients, stocked with knives and chopping boards. Or, you might want to put someone in charge of coffee, tea, hot chocolate, and other warm beverages. They will need all the appliances – such as a coffee maker, milk frother, and kettle – and the cups to be in the same space, so no one needs to get in anyone's way to find these things.
For cocktails and other drinks, a wet bar can be a sophisticated, dedicated space. Here, try to include everything needed to serve drinks quickly, including adequate glassware for different drinks and a sink. Designed well, this can be another informal spot for guests to hang out in.
Designated spaces for specific functions can improve collaboration in the kitchen and add personality. They also make it easier for people to contribute if they'd like to.
6. The right appliances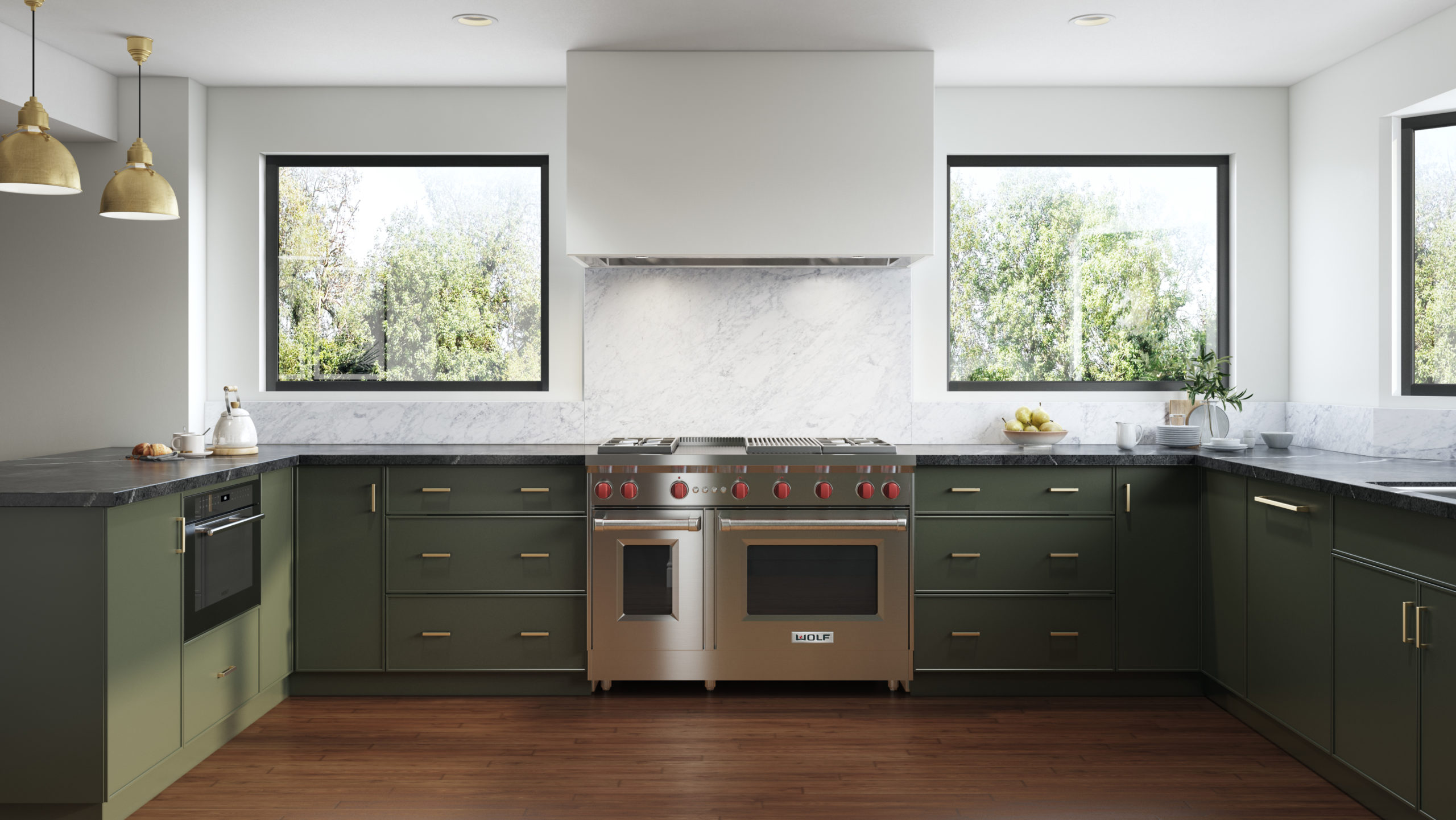 When you design a kitchen for entertaining, think about what you're likely to be cooking or serving and try to get the appliances that can help you accomplish those things with ease. Some appliances to consider:
Ice machine

Relying on ice trays to keep your guests' drinks chilled isn't the best option. Sure, you can always buy bags of ice as needed, but how cool would it be to have an actual ice machine in your home! It's something that would require a little planning in terms of space allocation as well as plumbing. However, once set up, you probably won't want to look at another ice tray again.
Cooktops or ranges with multiple burners

Putting a hot meal on the table gets trickier when there are several different things that need to be cooked or reheated at once. Here, a cooktop or range with a generous number of burners can help. Having the option is great, and it might just support your culinary endeavors on a regular basis as well.
Warming drawers

This may sound indulgent, especially if you already have a stove and microwave to heat food, but warming drawers offers a few features that make them worth considering. They can help to cook and defrost food as well as to keep it warm. They can also warm plates, which will delight your guests.
Wine fridge

These are fast becoming more popular, especially as the range of options available grows. They can fit seamlessly into your kitchen. Some even have dual temperature control to allow you to have red and white wine at their respective correct temperatures. While this is a luxury, it's also incredibly practical.
7. Open shelving and glass cabinet doors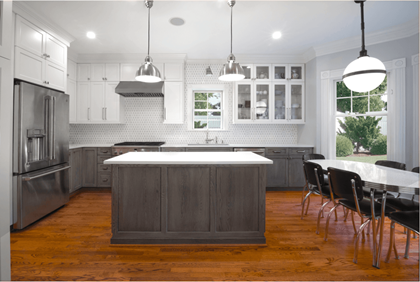 Help your guests find what they need so they can feel more at home. One way to do that is through open shelving and glass kitchen cabinet doors. Even if you prefer to keep most things concealed to minimize visual clutter, you can plan a few places where guests can see things they typically need – such as plates, mugs, silverware, and napkins – which will help them get comfortable without feeling like they need to bother you with every little request. You can also use such spaces to display special crockery or appliances that add charm to your kitchen décor.
As you think about what you would like to display, also think about what you would like to keep tucked away. For your kitchen to feel like a relaxing space to spend time in, consider making parts of it feel like a living room – a place to unwind. To achieve this, you can downplay certain functional features and appliances. For example, you could select panel-ready refrigerators that accommodate beautiful wooden panels to make your kitchen look "furnished" rather than just "well-equipped". 
8. Seating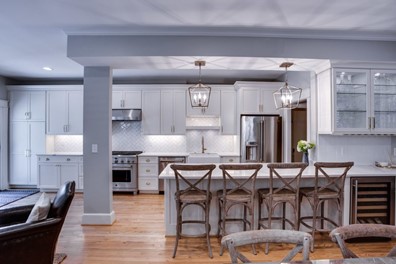 A significant part of creating a kitchen for entertaining is seating that's comfortable and placed well. Look at seating for both the kitchen itself as well as for connected spaces such as the living room or patio. This includes everything from barstools to couches. The idea is to create common spaces for everyone while also making sure there are small, informal spaces to spend time in. If you have a fireplace, think about how you can improve the space so guests can enjoy the ambiance.
Give some thought to your dining table. If it's separate from your kitchen, it helps to create a nook or informal space to eat in, should your guests wish to move or sit down for a quick chat with the host in the kitchen. Even if space is a concern, a good designer can help you find a solution that works for you.
9. Connection to outdoor spaces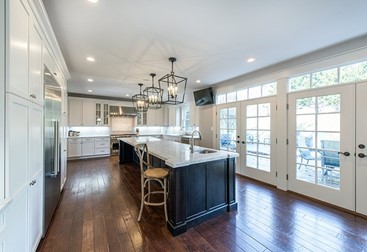 If your kitchen connects to an outdoor space, ensure that your guests have a way to experience it. French or sliding doors can help bring the outdoor experience closer, something that many of us want after spending a lot more time indoors this year.
10. Lighting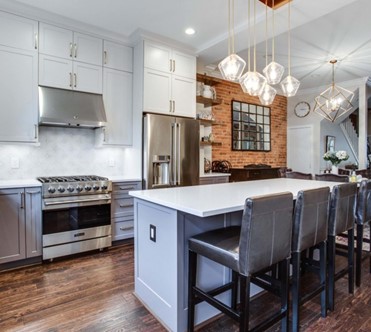 To create the kind of warm, welcoming ambiance that people associate with being at home, you'll need to plan the lighting carefully. Add brightness and cheerfulness in some places and a soft glow in others. For any new kitchen, this is an important step. It's all about creating the right mix for you.
11. Finishing touches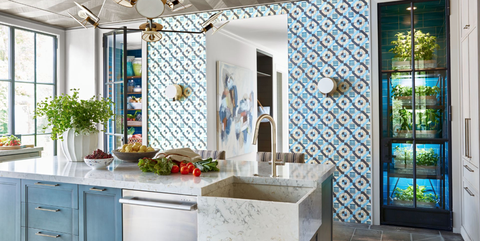 Think of a special feature you would like your guests to enjoy. It could be a high-quality sound system, a flatscreen for sports fans, a grow room for flavorful fresh herbs, or something simple yet elegant such as smart lighting. Try to include features that are practical but also add to your guests' enjoyment (and yours!).
Depending on the extent of your remodel, you can try to create a kitchen for entertaining that connects with the design of the rest of your home, either by being consistent with it or by complimenting it.
To learn what design options, layouts, and functions would work best for you, get in touch with us, and we'll help you design a kitchen for entertaining that will make special occasions more memorable for your guests and everyday cooking more enjoyable for your family and you!
Key references:

https://www.housebeautiful.com/
https://www.thedecorcafe.com/
https://www.dwell.com/